"My home is 16 songs away from my school." It sounds weird, yet pristine, right? Such is the power of music. Amazon Music is a reliable platform where people can browse through their treasured songs and enjoy the time. KineMaster allows people to merge audio with a video and make stubby documentaries or reels. Adding Amazon Music to KineMaster is an amazing amalgamation that can add more gratification to the moments.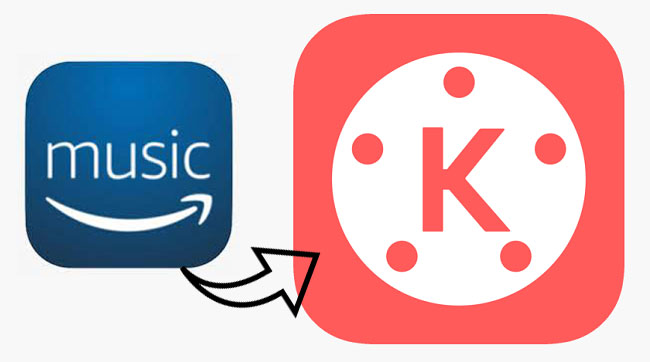 ---
Part 1. The Curtain between Amazon Music and KineMaster
It is well-known to the sophisticated generation that what is KineMaster(along with its features and how to use it). Amazon Music is famous for its large library. Almost every teenager vibe on the songs in the Amazon playlist.
By adding Amazon Music to video, anyone can create an astounding reel, short video, or album video. However, life is not that of a cakewalk. KineMaster doesn't support the use of Amazon Music KineMaster. It is maybe because of the following reasons.
1. The format of the audio file may not be compatible with the structure of KineMaster.
2. The audio may be unscrupulous.
3. Maybe in KineMaster, audio merging is only acceptable from limited music sources.
4. After installation, KineMaster may not have indexed everything from your device yet.
5. Inexorable permissions may not have been ceded to the app.
---
Part 2. The Tool You Need – Tunelf Amatune Music Converter
Don't make a scowling face now. Tunelf Amatune Music Converter is the emancipator for you. The app helps users to add music to KineMaster from Amazon Music. With the help of the Tunelf Amatune Music Converter app, one can successfully merge songs from Amazon Music to KineMaster's s video facility. Not only does Tunelf help to weld Amazon Music and KineMaster, but it also helps users to download albums and playlists from Amazon Music. When you get the downloaded Amazon Music, then you can also add them to other video editing tools like Final Cut Pro and Clips Videos.
Tunelf Amatune Music Converter is an audio transfigure app that helps a person download favorite music albums or songs from Prime Music. It is feasible and handy. It serves another purpose of converting songs into other formats as per a person's need. The app also permits users to retain the downloaded song in a local folder. This feature is infrequent for sure, but with Tunelf, it is possible.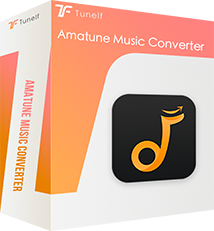 Key Features of Tunelf Amatune Music Converter
Download songs from Amazon Music Prime, Music Unlimited, and HD Music
Convert Amazon Music songs to MP3, AAC, FLAC, WAV, M4A, and M4B
Handle the audio conversion of Amazon Music at a faster speed of 5×
Ensure the output audio quality while retaining ID3 tags and metadata
2.1 Tutorial of downloading Amazon Music to MP3
Step 1: Sign in and Provide Authorization
Firstly, choose the suitable version based on your device and install Tunelf Amatune Music Converter from the official website. Then, when the app has been granted the permissions to make necessary changes, log into your existing account.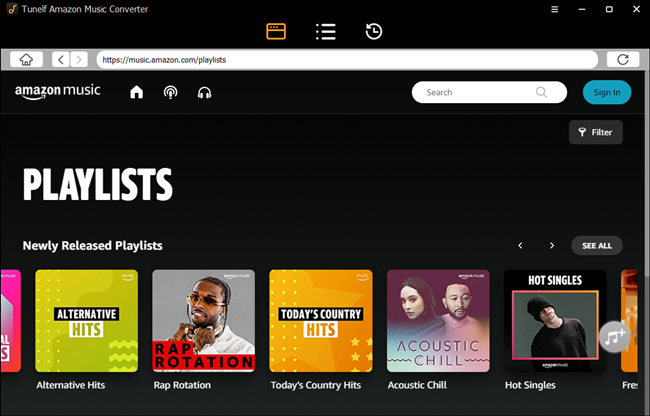 Step 2: Set Output Format and Parameters
Tap the Three horizontal lines to enter the Preferences box, then choose the Advanced tab and pick MP3 as the output format. Users may also customize the conversion speed, bit rate, and sample rate to meet their requirements. To save your changes, press the OK button.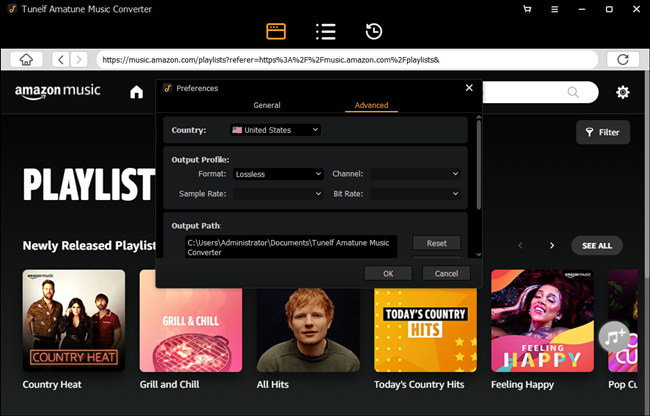 Step 3: Add Amazon Music to the Converter
After getting done with the authorization, fish out the songs you want to download and select them. Open an Amazon playlist or album, then tap on the yellow + icon on the right side. Select the songs you want to convert from the playlist.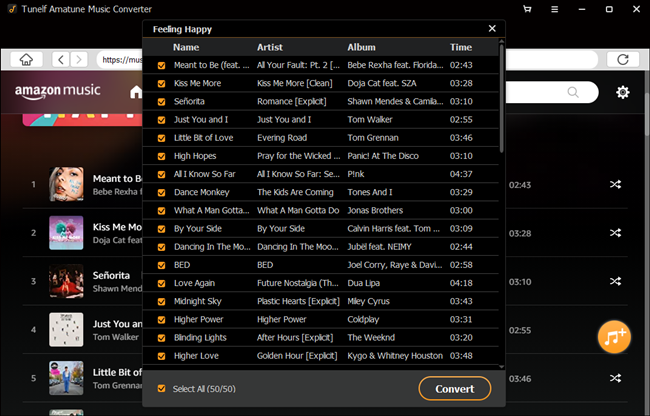 Step 4. Start the Conversion
Once you've uploaded the music to Tunelf, click the Convert button and wait for the conversion and download to complete. As you can see, the newly added audio songs from the Amazon Prime Music platform will be converted and downloaded to your system's hard drive. You may also access Amazon Prime Music MP3 files in the output path, or you can view the downloaded Amazon Prime Music MP3 soundtracks by going to the History menu.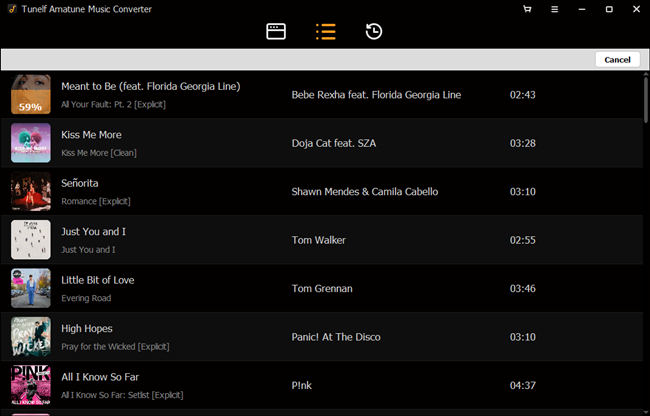 ---
Part 3. How To Add Amazon Songs to KineMaster
After the conversion and download task is taken care of using Tunelf Amatune Music Converter, it is time to use the converted songs in KineMaster. Adding Amazon Music to KineMaster will be a piece of cake from here on. You just have to let the editing interface of KineMaster pop up and then will begin the merging process.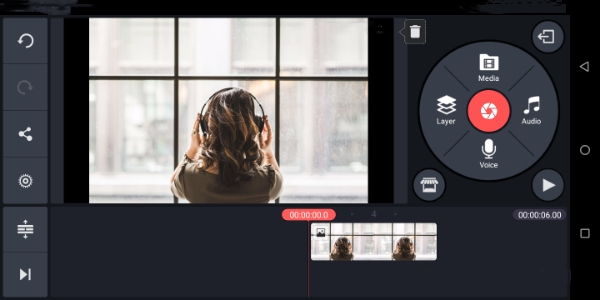 Step 1. Firstly, click on the Import option in KineMaster and choose the converted Amazon songs from the folder.
Step 2. The chosen song will be automatically merged with the video that is already there in the interface. Select the timing and sync the song and video.
Step 3. Finally, click the Export option and choose the format you need. The video will be there in your local folder in a few seconds.
The fabricated video can be saved in any local folder. The video can be shared and posted on any social platform without any complications. Everything is possible through Tunelf Amatune Music Converter and the app is a must-to-try thing for ardent video creators.
---
Part 4. Conclusion
Use Amazon Music in KineMaster by joining hands with Tunelf Amatune Music Converter and you can even get your hands on craigslist. Amazon Music for sure is a profound platform that offers users a wide variety of songs and with the help of KineMaster, one can fabricate spanking new videos. Download Tunelf Amatune Music Converter and use the facilities offered by KineMaster to make sublime videos. KineMaster has numerous editing advantages that can go in the favor of the user. The fusion will be effective for every video creator and there's no dilemma in that. Add Amazon Music to KineMaster and enjoy the thrill of a musical fair.