It's common when we stream music streaming services like Amazon Music on other smart devices like Amazon Alexa Echo. Since only streaming on the app itself cannot meet our various requirements, these smart devices enable us to listen to Amazon Music in more places and occasions. However, with the appearance of smart devices, the issues accompanied occur for different reasons. The most common issue for streaming Amazon Music on Amazon Alexa Echo is that Alexa can't reach Amazon Music.
If you have trouble connecting Amazon Music to Alexa, no worries, we'll tell you the reasons why Alexa won't play Amazon Music and provides solutions to fix this issue. For detailed information, check the below chapters.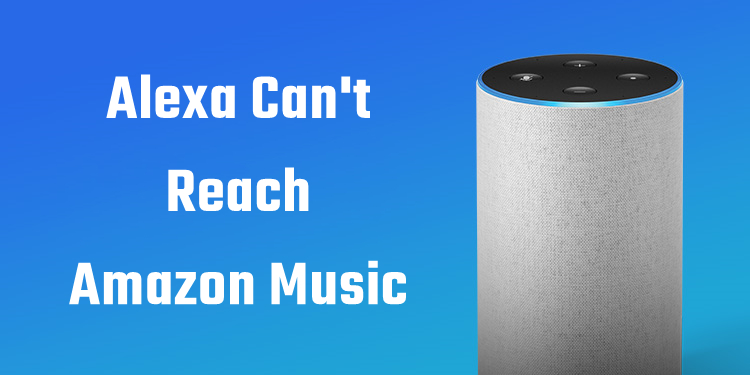 ---
Part 1. Why Can't Alexa Reach Amazon Music?
There are many reasons why you can't play Amazon Music on Alexa. Here're 4 possible reasons that have proven to be influencing factors. And there are also solutions offered if these reasons are tested to be the leading factor. Now we need to figure out what they are first.
#1 Amazon Music server is down.
The most simple but cruel fact is that when you cannot connect your Alexa with Amazon Music, mostly the reason is the Amazon Music server is down. In this case, you have nothing to do but wait for the officials to fix it.
#2 Something is wrong with your network connection.
Another frequently happened situation is you have a bad network connection; therefore, you cannot stream Amazon Music on any device. The streaming of Amazon Music relies largely on the internet connection.
#3 Some music content is restricted or not accessible.
Due to the licensing agreement with the musical companies, Amazon Music will have to remove the titles or albums from time to time. The removed songs will show as greyed out and cannot be streamed anymore. So, you cannot listen to them through Amazon Alexa Echo either.
#4 Your Amazon Music subscription not working.
Your Amazon Music subscription is a must-have item if you want to stream Amazon Music.
#5 Others are streaming with your account on Alexa.
If you are on the limited individual Amazon Music plan, you can only stream on one device at a time. If someone else is using your Amazon account to play music on their device, then you won't be able to play on yours.
---
Part 2. What to Do When Amazon Music Not Working on Alexa?
With regard to the above possible reasons, there're many solutions for each trouble element. If you are going through this issue now, this troubleshooting part will help you with a comprehensive guide with the following specified types.
Solution 1. Check If Amazon Music Server Down
The first thing when you come across the issue is to check the Amazon Music server is not down. Generally, the official website of Amazon Music and its social platforms like Twitter will announce the notice for this. If it is not the case, then move to the next method.
Solution 2. Check Your Wi-Fi Network & Router
If your Wi-Fi network is just too weak or fails to work, then it may cause the app won't respond or work. You can check the signal on your phone or tablet and download something to test the internet speed. If it is weak, try to connect to another strong network. Meanwhile, if many devices are connected to the network, network congestion happens. In this case, disable or disconnect the devices that are not in use to let it works properly.
Solution 3. Check Your Amazon Music Subscription
You need an active subscription to either Amazon Prime or Amazon Music Unlimited to play songs on Alexa. Otherwise, you cannot play your requested songs via voice commands on Alexa Echo. To check your current subscription details, please read follows:
1) Go to amazon.com and log into your account.
2) Click on your profile at the top and select Memberships & subscriptions.
3) Now you can see all your subscriptions on Amazon here.
Solution 4. Restart Alexa Echo & Smart Phones
Now you can try on restart method to remove issues away. You can restart your Alexa Echo device and the smartphone if it's connected to it. Just follow the simple steps:
1) To reset the power cycle of the Echo device, unplug the power cable, and then plug it back in.
2) Remove and reinsert the battery if can restart battery-powered devices.
3) Restart your iPhone, iPod, or Android device by simply turning it off and on.
Solution 5. Check Currently Streaming Devices
When you're about to play Amazon Music on your Alexa Echo device, you'll have to know the streaming devices' limitations. The following is the number of streaming device restrictions on Amazon Music plans.
#1 Amazon Family Plan: members can stream music on 6 devices at a time.
#2 Amazon Individual Plan: members are only allowed to stream music on one device, but the device is not restricted, you can select any device to play on.
#3 Amazon Single Device Plan: members can stream music only on the device they used for the subscription.
Solution 6. Check Linked Accounts
This is important if you have several accounts and log in to the account which subscribed to Amazon Prime or Amazon Unlimited. You need to check the current account using the Echo device now is the account with Amazon Prime or Unlimited subscriptions. If you want to switch user accounts, you can ask 'Alexa switch user' and change it to the correct profile.
Solution 7. Check the Availability of Songs
If Alexa not playing the songs, you command, then you may consider the issue of music availability. Compared to Amazon Unlimited plans, Amazon Prime has fewer music songs offered. So, if you use an Amazon Prime account to play, then it's most likely the song you asked for is not available in the Amazon Prime catalog. Therefore, if you want to listen to more songs through Alexa, Amazon Unlimited is recommended.
Solution 8. Set Amazon Music as Default Music Player
If you ask Alexa to play a song, but it won't respond, then you can try to set your Amazon Music as the default music player on Amazon Music. That is because you have connected many other music streaming services to Alexa, then it can't tell which one you want to use. This will require an Alexa app. To set up, try the steps here:
1) Open the Alexa app on your device and tap the More (three-bar) icon at the left top.
2) Tap Settings > Music & Podcasts.
3) Tap on Default Services and select Amazon Music.
Solution 9. Change Your Country Setting on Amazon
In this case, what you have to make sure of is the current location must match your Alexa devices as well. So, you need to update your country setting on Amazon to your current location. To do that, check below:
1) Go to amazon.com in your web browser.
2) Click on three horizontal lines at the top left corner.
3) Scroll down and select the country flag you see.
4) Click the country name and in the drop-down window select the current country you're staying in.
Solution 10. Transfer Music to Different Country
If you frequently travel, this option is great for you, especially when your country setting on Amazon differs from your current location. If it is in this case, you should move them to your current location, try the steps below:
Step 1. Open music.amazon.com on your PC.
Step 2. Click on your name present at the bottom of the left panel. Select 'Your Amazon Music Settings' from the menu.
Step 3. You will be taken to the settings page. Scroll down and click on 'Move your Music account' if it is showing a different country than your current location.
---
Part 3. Best Way to Stream Amazon Music on Alexa
The above fixes can solve your problem approximately 100%. But there're other issues that come along with the not working issue and you cannot fix them as a whole. In this complex situation, we suggest you use a professional tool to free your Amazon Music playback error. That is Tunelf Amatune Music Converter.
Tunelf Amatune Music Converter is specially designed to bring Amazon Music streaming easily on multiple devices or platforms. With advanced and innovative technology, Tunelf can download Amazon Music offline without any limitations. And it also supports 6 common and popular audio formats for you to convert to. Therefore, it's very easy to play Amazon Music on various kinds of platforms or devices after the conversion. This professional converter provides you with lossless audio quality and protects your original music content during the conversion.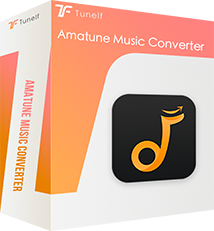 Key Features of Tunelf Amatune Music Converter
Download songs from Amazon Music Prime, Music Unlimited, and HD Music
Convert Amazon Music songs to MP3, AAC, FLAC, WAV, M4A, and M4B
Handle the audio conversion of Amazon Music at a faster speed of 5×
Ensure the output audio quality while retaining ID3 tags and metadata
---
Summary
The reasons why Alexa can't reach Amazon Music vary, you should follow the possible reasons and apply their solutions respectively to fix this issue. Tunelf Amatune Music Converter can let you out of any possible troubles only when you've downloaded Amazon Prime or Unlimited music tracks offline with Tunelf software. Try this efficient tool and get your music tracks everywhere you want!
---
---