As an action-adventure game published by Rockstar Games, Grand Theft Auto V (GTA 5) swept the globe. The game made its first debut on PlayStation 3 and Xbox 360, and later it was available on Windows PC. With Grand Theft Auto 5 finally making its way to PC today, fans are finding all sorts of cool features to personalize the game.
One of the cool things about GTA 5 PC is the ability to upload your own music onto GTA 5's radio stations for playing. The most important thing is that it is not in the usual way of turning down the audio and cracking music in the background. How about playing Amazon Music on GTA 5 PC? Here we'll explore how to play Amazon Music on GTA 5 PC, and let's get started.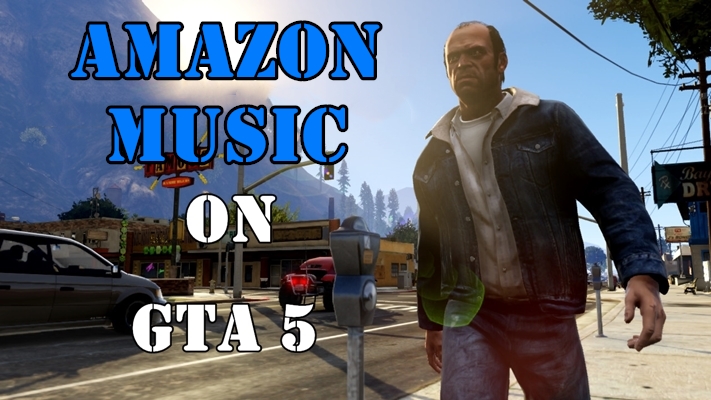 ---
Part 1. Method to Stream Amazon Music to GTA 5 PC
Self-Radio is the music player in GTA 5. It could integrate your tunes into a new radio station, so you can put your own music files in GTA 5 for listening to while playing GTA 5. Though there's no integration between Amazon Music and GTA 5, you still get the means to move Amazon Music tracks to GTA 5 for playing with its built-in music player.
However, not all music files can be played on GTA 5. Currently, GTA 5 only supports playing the audio files in the format of MP3, M4A, and WMA. But all songs from Amazon Music are encoded in the format of FLAC coming with digital rights management although you have downloaded your songs to your device.
So, first off, you need to remove DRM from Amazon Music and convert Amazon Music to a playable audio format compatible with GTA 5. Here you do need the help of Tunelf Amatune Music Converter. It is an easy-to-use yet professional music converter for Amazon Music that can enable you to download Amazon Music songs to several popular audio formats.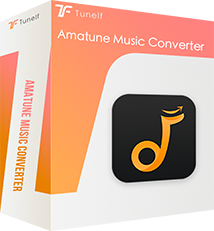 Key Features of Tunelf Amatune Music Converter
Download songs from Amazon Music Prime, Music Unlimited, and HD Music
Convert Amazon Music songs to MP3, AAC, FLAC, WAV, M4A, and MAB
Handle the audio conversion of Amazon Music at a faster speed of 5×
Ensure the output audio quality while retaining ID3 tags and metadata
Step 1 Set the output audio parameters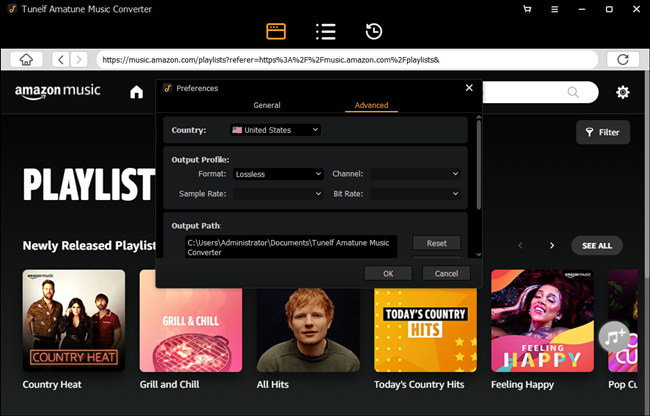 Start by launching Tunelf Amatune Music Converter on your computer then you need to sign in to your Amazon account. Click on the Menu bar, and select the Preferences option to start to configure the output audio parameters. In the Advanced window, there are six audio formats, including MP3, AAC, FLAC, WAV, M4A, and M4B, for you to choose from. From there, you can change the bit rate, sample rate, and channel.
Step 2 Go to select Amazon Music songs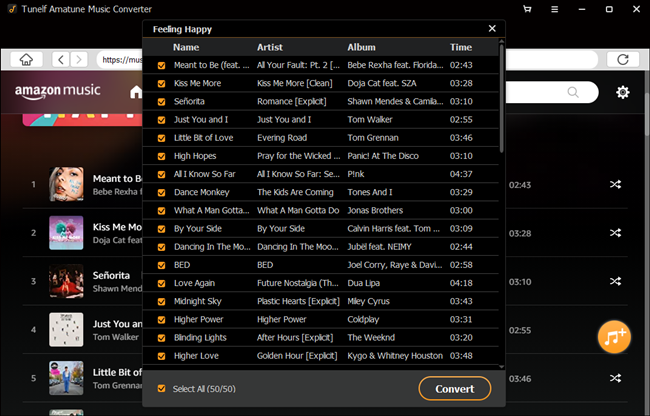 Close the settings window, and you'll be presented with all the songs from Amazon Music in the converter. Head to the album or playlist you wish to download and click the album or playlist to open it. The program will list all songs immediately in the Add window. To add the desired songs to the conversion list, you can check the box next to the track and select songs you want to convert.
Step 3 Download songs from Amazon Music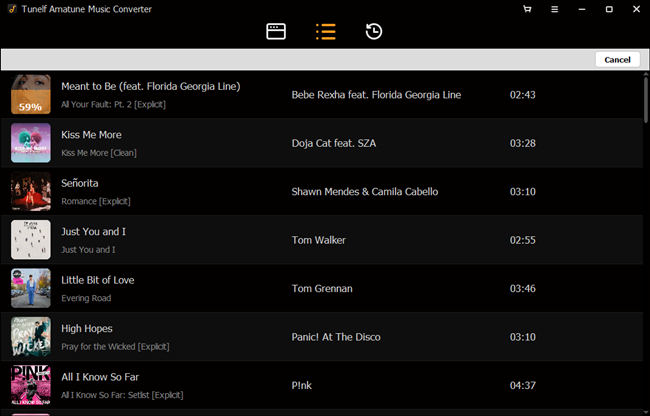 Click the Convert button on the bottom right corner, and Tunelf Amatune Music Converter will automatically download and convert Amazon Music tracks to the default folder on your computer. When the conversion process finishes, you can browse all the converted songs in the history list by clicking on the Converted button. And now you're prepared to stream your Amazon Music songs while playing GTA 5.
---
Part 2. How to Put Song in GTA 5 for Playing
Now all your required songs have been downloaded and converted from Amazon Music to the format compatible with GTA 5. How do you set it up, then? To start the playback of Amazon Music in GTA 5, you have to begin by importing them to your folder in GTA 5. Here's how to import Amazon Music songs into GTA 5 and start your playback.
2.1. How to add your own music to GTA 5
First thing first, you'll need to import your Amazon Music files into the game for playing Amazon Music on GTA 5. Here's how to put Amazon Music in GTA 5.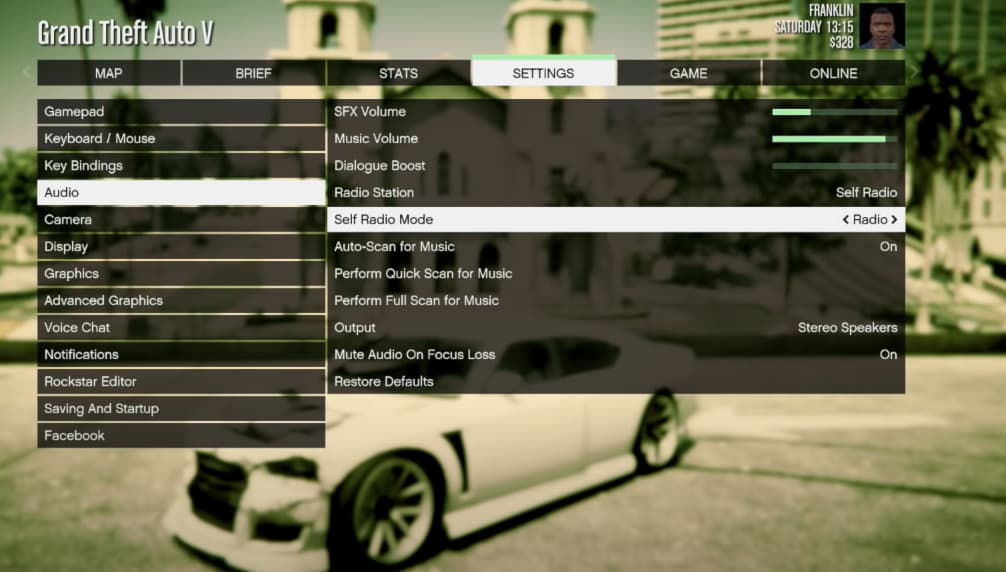 1) Open the My Documents folder on your computer, then navigate to Rockstar Games > GTA V > User Music.
2) Select all the Amazon Music files you want to add to GTA 5 and drag them to the User Music folder.
3) Fire up GTA V on your desktop and go to the menu to choose either Continue to proceed with your existing saved game or select New Game to start fresh.
4) Press the ESC key on your keyboard to open the in-game menu and select Settings from the navigation bar.
5) Touch the Enter key to enter the Game Settings screen and scroll down the menu panel to choose Audio.
6) Choose the Perform Full Scan for Music option under Audio, then the game will go through your Amazon Music files inside the User Music folder.
2.2. How to play your own music to GTA 5
Once the scanning is complete, your selected Amazon Music files will be added to the game. Then you can start to play Amazon Music on GTA 5 PC while playing GTA 5.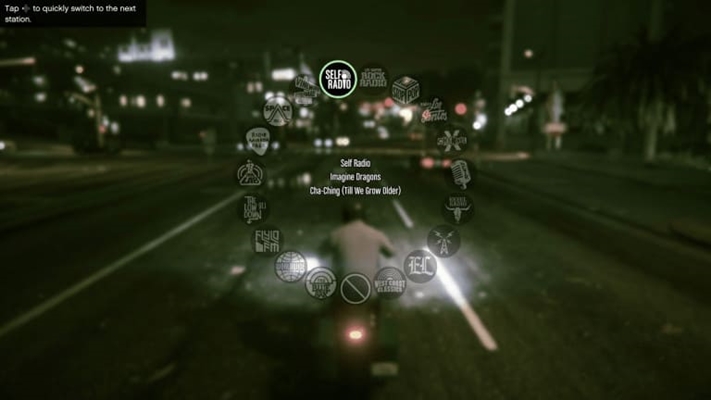 1) Exist the in-game settings screen and restart the game then go back to the game screen again.
2) Go to Settings > Audio, then switch Radio Station to Self-Radio Mode from the list of choices available.
3) Start to play GTA 5 then the car radio in the game will automatically play all the Amazon Music you've copied to the User Music folder.
2.3 Video Demo: Move Amazon Music to GTA5
---
Bottomline
And voila! Your Amazon Music tracks should be blasting out while playing GTA 5. If you want to change the order of your Amazon Music songs on your custom stations, you can do so from Self Radio Mode under the same settings. Additionally, you can enjoy your Amazon Music songs on any device or player anytime.