Now navigation apps offer more entertainment or convenient functions while guiding people to their destinations in daily life. Navigation apps like Google Maps support playing music while driving, which helps us drive safely while enjoying our favorite tracks. Therefore, People who use Waze, which is another navigation app too, would like to know if it is possible to use Apple Music on Waze. If you're eager to know the answer, then you can't miss this post. Now just check this passage to find out!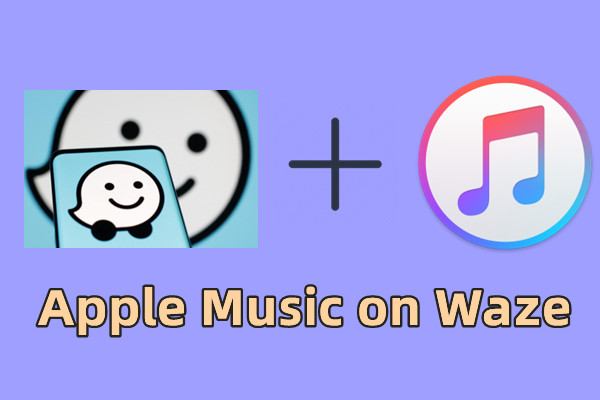 ---
Part 1 FAQs About Waze Apple Music Integration
Firstly, I selected three of the frequently asked questions from the internet and gathered the answers respectively. Reading them will be helpful for your wishes.
1. Does Apple Music Work with Waze?
Yes, this is what we should figure out first. Is it possible to stream Apple Music on the Waze app? Sure! Waze, a popular navigation app, launched an Audio Player within its app years ago, which enables people to listen to music, podcasts, audiobooks, news, and more while ensuring their driving safety. Since its release date as the Audio Player, Waze has offered several integrations with other audio partners, including Audible, Deezer, NPR, iHeartRadio, Pandora, YouTube Music, and Amazon Music. After then, it gradually adds other audio services like Spotify. And this year, Waze has introduced the Apple Music Waze integration to its users.
2. Why Should We Play Apple Music on Waze?
It can be boring if we drive without music, however, switching from apps or using the mobile phone to control the music playback can be dangerous for both you and the passengers on the road. So, we must focus on the road and limit any distractions. That's why we use Apple Music Waze integration whilst driving. You can keep an eye on the roads while listening to Apple songs. But remember that, when using Apple Music on Waze in your car, always slow down the sound volume and be careful as well.
3. Can't See Apple Music on Waze App?
There're some people arguing that the Apple Music integration does not show up on their Waze app. The below steps might be helpful. Please make sure you have downloaded and installed the latest version of Waze on your iPhone.
1) Open the Waze app and log into your Waze account.
2) Tap My Waze and go to Settings.
3) Select Audio Player and tap Show Audio Player.
4) Go back to the main screen of Waze and follow the on-screen instructions to activate.
5) Once down, you can access Apple Music from its built-in Audio Player then.
Let us know in the comments if you have run into similar issues or have found a workaround to get Apple Music to properly show up.
---
Part 2 How to Connect Waze and Apple Music
Right after the Spotify Waze integration, and with several years of effort, this community-driven GPS navigation app has finally filled in the lacked audio services by providing the integration to connect Apple Music to Waze. Users can easily access Apple Music content through Waze's Audio Player via this new feature. And this integration makes it possible to control the music playback while navigating. You can pause, play or switch between songs without the need to open the Apple Music app or switch from apps. Now only iOS users can use this. Here's the how-to guide:
#1 Make sure you're running the latest version of Waze and have subscribed to Apple Music.
#2 If you didn't have the Waze app on your iPhone, go to the App Store to download it.
#3 Open the Waze app and log in with your account credentials.
#4 Wait for a while till it loads up, and tap the Music Note icon at the right side of the app. If it doesn't show up, do the steps in Part 1.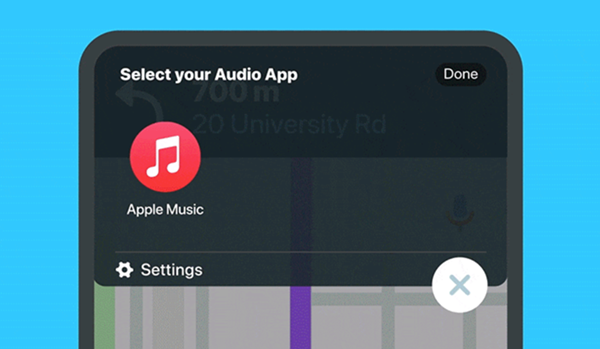 #5 Tap the Audio Player and select Apple Music from the list of apps.
#6 Select Accept to confirm when it prompts you to activate Apple Music for the first time.
#7 Once done, you can stream your Apple Music on Waze with no problem.
Note*: If not done automatically, you may need to return to the homepage on your phone and open the Apple Music app to play a song. After then, open the Waze app and tap the Music Note icon again.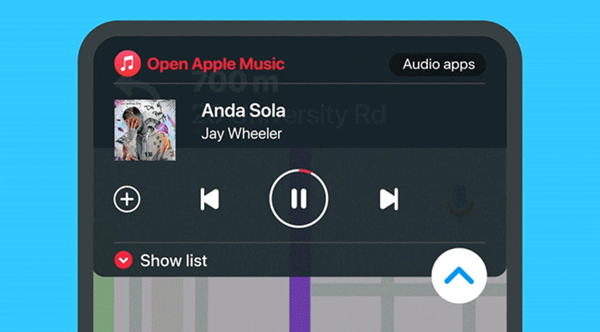 From now on, the Waze app provides you the function to control your Apple Music playing whilst driving. Just like the Now Playing view on Apple Music, you can play/pause, shuffle or repeat a song from the Audio Player. And there's a button called Show List at the bottom, which allows you to see the upcoming songs and select one to play directly.
---
Part 3 How to Play Apple Music in Car Without Limits
Now that you've learned how to connect Apple Music to Waze to enjoy music in the car. But what if you don't have Apple Music subscription? Then you probably cannot get Apple Music on Waze then. So, today, I'm going to share a great method to listen to Apple Music in a car without a premium account, and you don't need the Waze app, either.
As we all know, due to the DRM protection format, Apple Music songs are encrypted with special codes and are limited to playing only on selected apps. In addition to that, all your downloaded songs will be disappeared once your subscription is out of date. Fortunately, you can resort to Tunelf Apple Music Converter for help.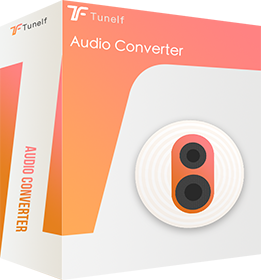 Key Features of Tunelf Audio Converter
Convert Apple Music to MP3, WAV, FLAC, AAC, and other audio formats
Remove DRM from Apple Music, iTunes audios, and Audible audiobooks
Preserve the converted audio with lossless audio quality and ID3 tags
Support the conversion of audio format at a 30× faster speed in batch
Tunelf Audio Converter is an all-in-one audio converter, for it can deal with three types of audio files, including Apple Music, iTunes music, and Audible audiobooks. With Tunelf, you can download Apple Music such as playlists, songs, albums, and artists, and convert them to MP3, FLAC, AAC, or other common formats for playback on any device. Plus, the original high-quality is guaranteed. You won't lose your ID3 tags as well. Below is a simple tutorial that shows you how to use this intelligent software.
Step 1 Import Apple Music playlist to Tunelf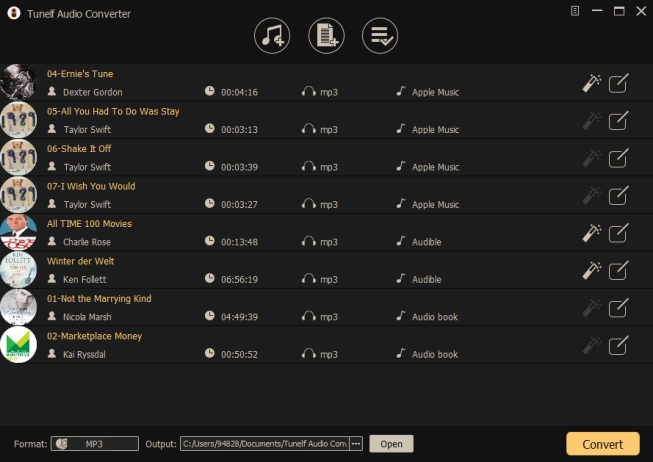 You may need to get registered to unlock the full version of the converter. And you must download and install both Tunelf and iTunes apps on your device. To rip Apple Music, we need these two apps to work accompanied. You can click the add icon on the top of the main screen, it will open your Apple Music Library at once, go browse and select a song or other music track, then it will load into the program. You can also drag and drop the files to add to the program.
Step 2 Set the output audio formats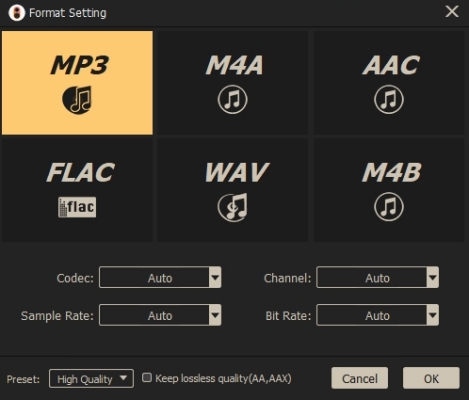 Tunelf supports several main audio formats for you to choose from, you can change the formats to MP3, M4A, M4B, WAV, AAC, and FLAC on the Format setting page. Here we choose MP3 as the output format for it can be played on multiple devices. Under the same page, you can also set codec, sample rate, bit rate, and channel according to your needs. Tunelf can edit the ID3 tags so you can manage your music library with ease.
Step 3 Convert Apple Music to MP3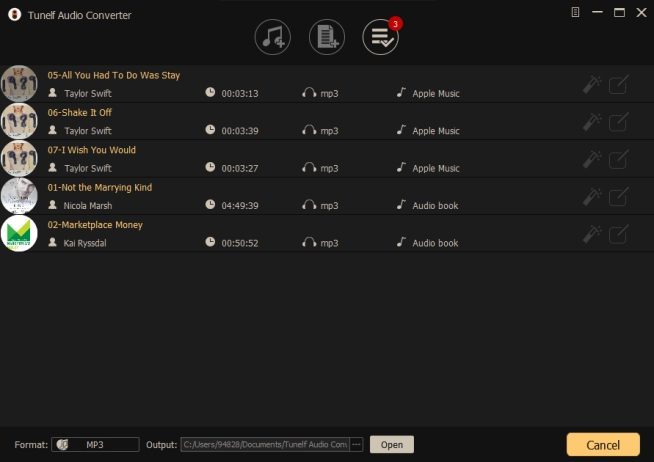 After all of the settings, now you need to click the Convert button to start the conversion immediately. Just wait a few seconds till it is finished. Then you can locate them in your local folder or check them by clicking the Converted icon.
Now you're able to play Apple Music on multiple devices without any problems.
---
Summary
The Waze Apple Music integration is ready; you can connect them for listening while driving. But I'd like to recommend an alternative tool if you don't have enough budget to subscribe to Apple Music. All you need is an audio converter like Tunelf Audio Converter to download Apple songs offline so that you can get Apple Music on Waze. Click the below link to have a try!
---
---