Q: No sound on Audible book. One of my audiobooks has no sound. And others are fine. Has anyone else had this issue? Any suggestions on how to fix this?
If you're an audiophile and want to listen to great audiobooks, Audible is a widely-used app. It has covered a wide range of audiences by offering them multiple types of audiobooks and collecting classics only accessible on the Audible app, which is Audible Originals. However, some people are complaining that Audible no sound when playing some specific audiobooks. And the trouble still exists now. In the following parts, I'll show you some suggestions for the not working issue and the great alternative software for you to enjoy Audible books better.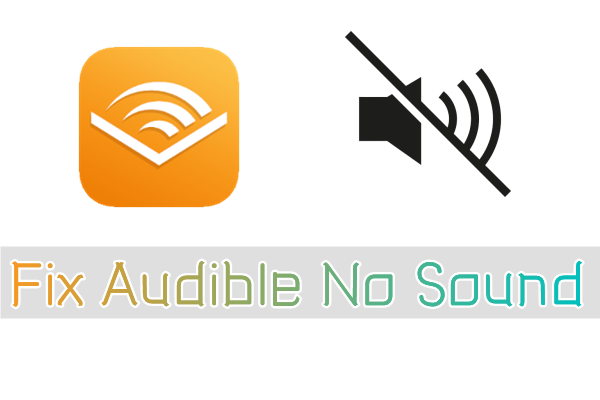 ---
Part 1 Why Audible Playing but No Sound
Suppose you just ended a hard day working at the company and go home, tap the Audible app to continue playing the audiobook you haven't read through. Only to find that the Audible app not working and there is no sound from Audible. You must be down at this moment. So, why does this happen? Perhaps we can get ideas from the influencing factors and solve your problem quickly. To be honest, the reasons can be various, but we can summarize them as follows:
Reason 1. The Audible app is not functioning very well or not running correctly when you're under a poor network.
Reason 2. The title you've downloaded has corrupted files or something problematic.
Reason 3. The device you're currently using to play Audible audiobooks is not compatible with Audible files.
Reason 4. Audio files have been deleted or forcefully stopped for unknown reasons that you hear no sound on Audible.
---
Part 2 How to Fix Audible No Sound iPhone/Android
If you're running into the Audible app no sound when playing audiobooks on mobile devices, here're some feasible solutions you can apply with. First of all, you'll need to check your internet connection. Please make sure that you're under a good and stable Wi-Fi network. If not, change to another workable network or use mobile cellular.
Method 1 Check Sound Volume on Devices
I know this may sound ridiculous, but it's necessary to check the sound volume on your device. Perhaps it is the reason why Audible no sound whilst playing. Sometimes, your device may be muted by default or you have set them before but forget to switch back to the normal mode, you can't listen to Audible audiobooks sound for sure. Now just press the volume button from your mobile phone to enable it to reach the highest volume level to make Audible audio louder to hear. On a Windows PC, you can click on the audio icon at the right-bottom corner or go to Settings > System > Audio to adjust the audio volume.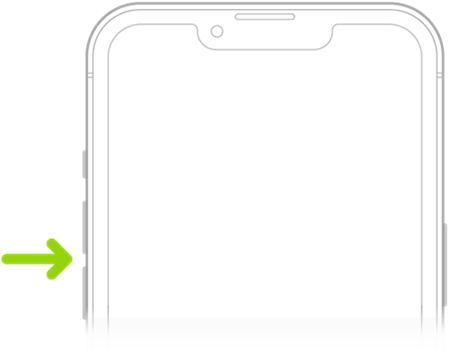 Method 2 Delete & Re-download the Problematic Titles
When you find the audio is missing or has downloading error, it may be caused by incomplete or corrupted files. In this case, the best way for you is to delete the failed files and download them again. Follow these steps to delete and re-download the titles on the Audible app:
Step 1. Open the Audible mobile app and navigate to the My Library section.
Step 2. Find the problematic title you want to delete.
Step 3. Select the book and tap the Red Minus icon in front of the title to delete.
Step 4. Confirm your choice when it pops up a window showing "Delete from device".
Step 5. Go back to your Home page and search for the title in the search bar.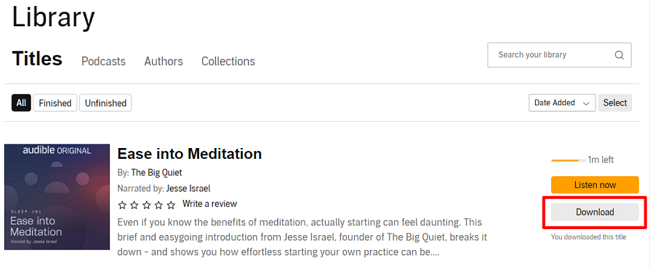 Step 6. Click the Download icon to download the title to your Library again.
If it is the corrupted files that prevent you from playing audio on Audible, then you can fix the Audible app no sound issue by this step.
Method 3 Uninstall & Reinstall Audible
One of the simplest ways is to reinstall the malfunctioning app. After reinstalling, your app will gain a refresh and will run faster. As the procedure on Android and iOS differs, we'll explain them in two paragraphs.
On iOS:
1. Tap and hold the Audible app icon.
2. Select Delete in the Quick Menu.
3. Go to the App Store and search for Audible.
4. Tap Install and launch it again.
On Android:
1. Tap and hold the Audible app icon.
2. Choose Uninstall and confirm it.
3. Open the Google Play Store and search for Audible.
4. Tap the Download button to reinstall it on your Android device.
Method 4 Change Download Settings
Audible book no sound may be caused by poor-quality content. Here this method will show you how to change download settings for your listening audiobooks. On your mobile Audible app, go to Settings > Data & Storage page. In this section, you can change the download quality between Standard or High or change the download format between Single-Part or Multi-Part. In this way, you may resolve some playback errors on Audible books.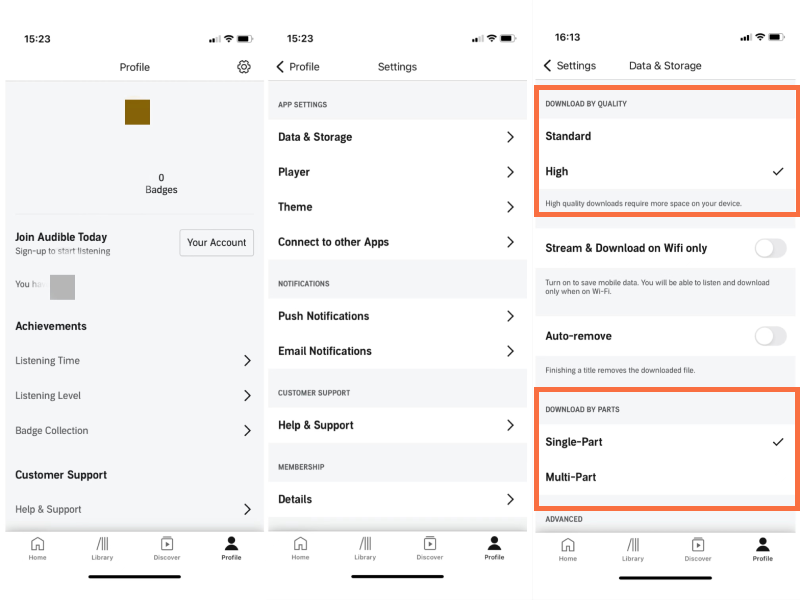 ---
Extra Method: Listen to Audible Books on Other Devices
In addition to the above workaround methods, here is an extra useful tip that enables you to listen to Audible audiobooks well without errors forever. Since in most circumstances, the playback errors come from the Audible app, to avoid the mistakes, we can stream Audible books on other devices. However, due to copyrights restriction, audiobooks from Audible are only allowed to play within its app. It is not compatible with these audiobooks played on other devices. Luckily, this tool can help you!
Here we met Tunelf Audio Converter. Tunelf Audio Converter is absolutely the best tool for converting Audible AA/AAX/AAXC to MP3, WAV, FLAC, AAC, M4A, and M4B. It will download Audible books in lossless quality. The metadata and ID3 tags of Audible books will be saved too and you are allowed to edit them. Tunelf also supports splitting audiobooks by chapter or certain time. You can also tune the parameters of the output audio, such as bit rate, sample rate, channel, speed, etc. With leading technology, Tunelf can convert audio in batch at 30 times faster speed.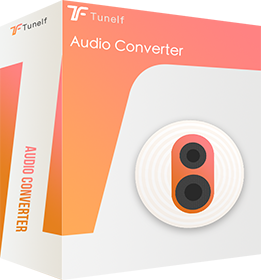 Key Features of Tunelf Audio Converter
Convert Apple Music to MP3, WAV, FLAC, AAC, and other audio formats
Remove DRM from Apple Music, iTunes audios, and Audible audiobooks
Preserve the converted audio with lossless audio quality and ID3 tags
Support the conversion of audio format at a 30× faster speed in batch
Before starting, navigate to the link below to download Tunelf Audio Converter on your computer. There're two versions (Mac/Windows) for you to choose from. Now follow the tutorial to convert your Audible AAXC to MP3 in 3 steps.
Step 1. Import Audible Books to Conversion List
To get full features for conversion, you're supposed to get registered and make a purchase to unlock the full version of this converter. Once done, download and launch Tunelf Audio Converter on your computer or Mac and meantime iTunes app will be opened automatically. You can load the audio files by clicking the Add "+" button or simply drag and drop your target audio files into the program. You can add several files at a time for batch conversion.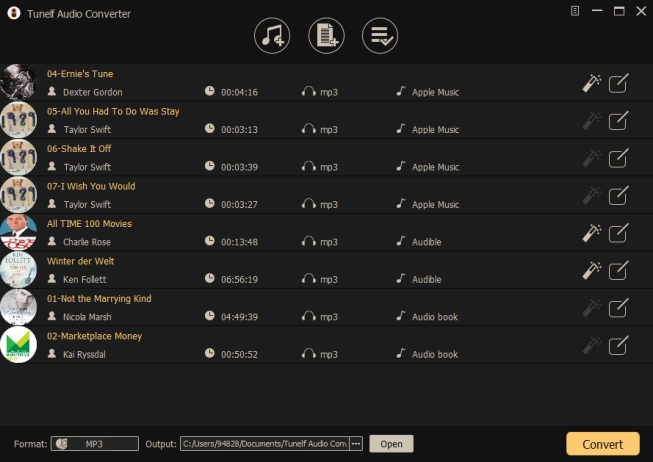 Step 2. Configure the Output Audio Parameters
Once your audio files are loaded, you can click the Edit icon to edit the tag information like title, album, artists, genre, etc. You can also split the audio file via time length or chapters.
Then click the "Format" panel and choose an output format from MP3, M4A, AAC, FLAC, WAV, or M4B according to your needs. As one of the best Audio Converters, you can also customize the audio parameters like codec, channel, sample rate, bit rate, etc.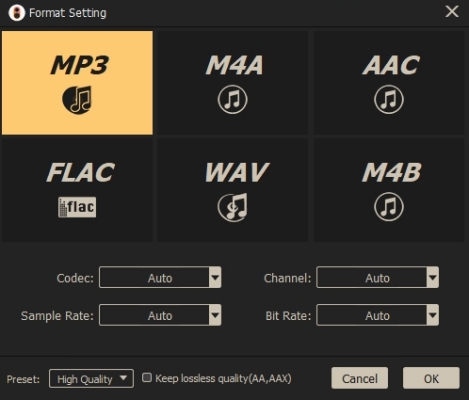 Step 3. Start Conversion of Audible to MP3
Once you've set all the formats and parameters, click the "Convert" button and the conversion will start. You can gain your converted files within a few minutes, and then you can locate them by clicking the "Converted" button and transfer them to any device for enjoying offline.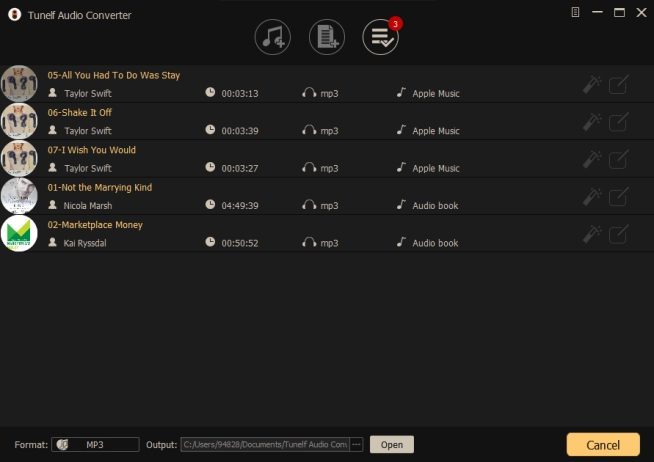 ---
Wrap Up
To conclude, Audible no sound whilst playing audiobooks can be resulted for various reasons. We just listed the common reasons above and shared some popular methods that might work for you. Some fixes might be helpful as a temporary workaround but cannot resolve the problem completely. If you don't want to experience the same issue again, I do recommend you try the final extra method above. All you need is to install a specific tool: Tunelf Audio Converter. After conversion, you can listen to Audible books on multiple devices or players without restriction and will be free of these errors as well.
---
---