The availability of external devices like USB, SD cards, CDs, and the like makes it easy to transfer music to other devices like computers, cars, and even laptops. Many users opt for USB stick storage because of its tiny nature, which makes it easy to move around with. And today, people choose to listen to songs from various music streaming services such as Tidal, Apple Music, and Spotify. So, is it possible to copy Spotify songs to USB for offline listening on other devices?
In fact, it isn't easy as it sounds and especially with Spotify. This music streaming service knows how to lock its users. You can't resist the over 60 million songs that it offers. And that why many users are looking for ways how to copy songs from Spotify to a USB stick for sharing and using on other devices like the car. Here this post uncovers how to download Spotify music to USB stick for playing anywhere.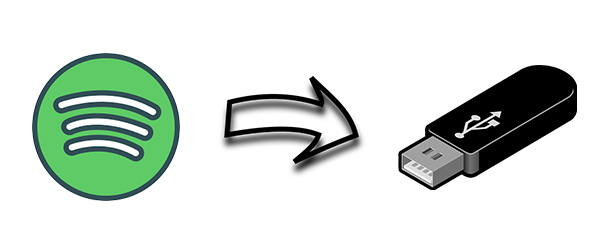 ---
Part 1. Why Isn't It Easy to Copy Spotify Songs to USB
We earlier mentioned that it is a tug of war to copy songs to a USB stick directly from Spotify. Spotify has put measures to protect its music from unauthorized access and playback. There is a DRM-protection technology that ensures that the right protocol is followed if you want to sync Spotify music to any of your devices. This works by encrypting their music and denying access.
Therefore, not even the paid users can transfer songs unless the protection is removed. Nonetheless, users can only play Spotify songs through Spotify applications. But that's not enough for music lovers. Most users enjoy music when they download and transfer it to other devices like USB, CDs, SD cards, and so on.
---
Part 2. Method to Download Spotify Songs to USB
This is a question that we encounter most of the time. And since Spotify offers quality music, many users want to know how to get the cool music for offline playback other than from using Spotify apps. Likely, you can use third-party tools to remove the DRM protection and go ahead to enjoy your music offline from other devices. You do need the help of Spotify music converters, and here we do recommend Tunelf Spotibeat Music Converter to you.
Tunelf Spotibeat Music Converter is reliable when it comes to downloading and converting Spotify songs to offline playable formats. To convert Spotify songs from OGG Vorbis format to MP3 and other popular audio formats directly opens the door for you to copy Spotify music to any device, including a USB stick. Let's check out the features of the tool, and know more about this tool for downloading Spotify music.
1. Retains ID3 tags: This app will give you 100% lossless audio quality, retaining all the metadata information like the title, album, artist, among other information from your original songs.
2. Faster conversion speed: It will get your conversion done faster at a speed of 5×. With this, a 5-minute Spotify song can quickly be converted in a minute.
3. Free update: No more worries with upgraded devices as this app offers you free updates for life.
4. Highly compatible: It works well on the computer running Windows and macOS operating system. It also doesn't give a limit when it comes to supporting various devices like tablets, Apple TVs, car audio systems, among others.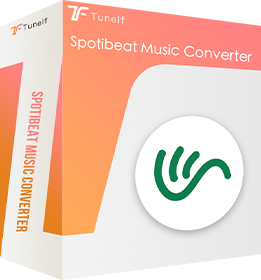 Key Features of Tunelf Spotibeat Music Converter
Download Spotify playlists, songs, albums with free accounts easily
Convert Spotify music to MP3, WAV, FLAC, and other audio formats
Keep Spotify music tracks with the lossless audio quality and ID3 tags
Remove ads and DRM protection from Spotify music at 5× faster speed
---
Part 3. How to Download Music from Spotify to USB Stick
Let's uncover how to convert Spotify songs to MP3 and transfer them to the USB drive for offline listening using the reliable tool. Here is the tutorial on how to download Spotify music to a USB stick for keeping forever using Tunelf Spotibeat Music Converter. When the conversion process is finished, you can now copy Spotify songs to the USB stick. Since the converted music is already saved into your computer, follow these steps to download Spotify music to USB.
3.1 Download Music Tracks from Spotify to MP3
Step 1 Add Spotify music to the converter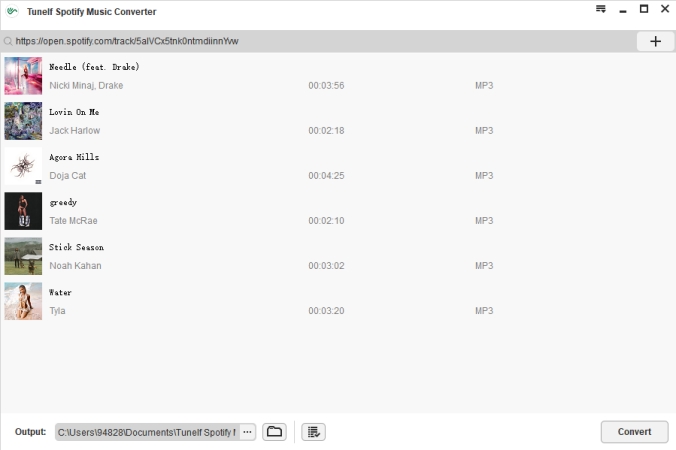 First, launch Tunelf Spotibeat Music Converter on your computer and it will load the Spotify app immediately. To copy Spotify songs to USB, log in to Spotify and open the Library section. Next, select the music you need to copy to your USB stick. You can do this by dragging the music and dropping them to the Tunelf interface. Alternatively, you can copy the links of the songs and add them to the app window.
Step 2 Set the required preferences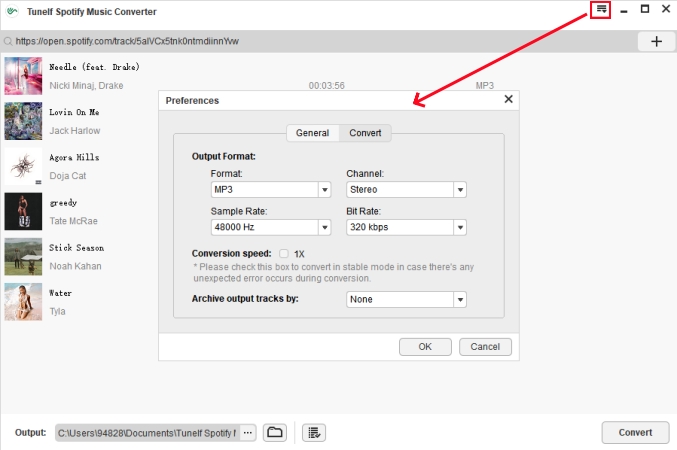 This step lets you set the required preferences once you've successfully added the Spotify songs to the Tunelf interface. To do this, go to Menu > Preference > Convert and set the preferences such as the output format, sample rate, channel, among other formats.
Step 3 Convert Spotify music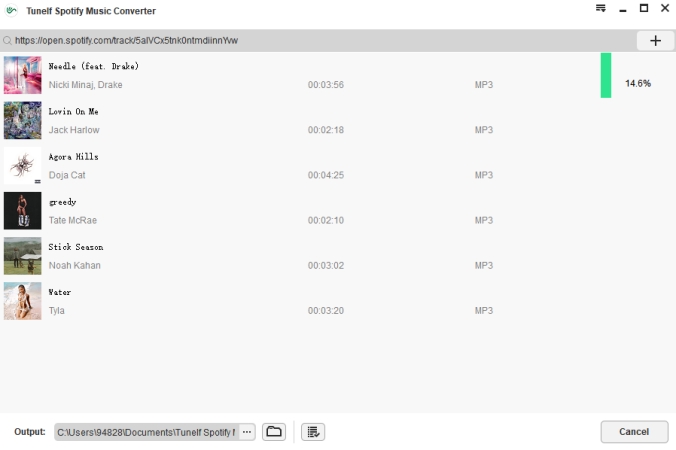 Confirm whether your preferences are alright and then hit the Convert button. Tunelf Spotibeat Music Converter will download and convert your music to MP3 and save them to the computer. You can then transfer them to the USB or other device for offline listening.
3.2 Copy Spotify Music to a USB Drive for Offline Listening

Step 1. Connect USB to the PC: Plug your USB stick drive into your computer via the USB port. Then you can choose to transfer a single song or the entire music folder to your USB.
Step 2. Copy and paste music to USB: Copy the converted Spotify music files that you wish to transfer and paste them into the folder in the USB flash drive.
Step 3. Listen to offline Spotify music: You can now use your USB drive to listen to offline Spotify songs. Furthermore, you are able to use it in your car or other devices with a USB port. You can also share your music with friends and keep the fun going.
---
Conclusion
It would be a wish for everyone to carry along with Spotify music whenever they go. However, it may not be easy especially because of DRM protection from Spotify. Using portable devices like USB, SDs and others is the best option but may prove futile with the enforced DRM protection. This article has tackled the best option to help you quickly copy Spotify songs to USB in a few steps with Tunelf Spotibeat Music Converter.