There are all types and sizes of audio files, but almost all people only have heard of MP3. Once you organize your digital music collection, you might be struck by the number of different audio file formats in your library. Then you will know audio files not only exist in the format of MP3. Is it possible to convert Spotify to WAV? In this article, we'll introduce a common audio format called WAV, and tell you how to download Spotify songs to WAV.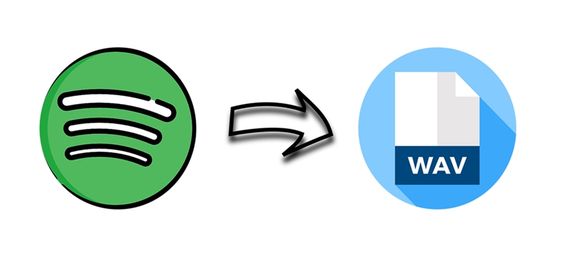 ---
Part 1. What Is WAV Audio Format?
WAV stands for Waveform Audio File Format, and it is an audio file format standard, developed by IBM and Microsoft, for storing an audio bitstream on PCs. Most people assume that all WAV files are uncompressed audio files, but it's not exactly true. Though WAV audio format is uncompressed audio in the linear pulse code modulation format, a WAV file also can contain compressed audio.
As a derivative of RIFF, WAV files can be tagged with metadata in the INFO chunk. But it has poor metadata support, meaning that you can only access the basic information like the title, the album, and the artist. Now you have a basic understanding of WAV audio format and go on reading to learn about the pros and cons of WAV audio format.
Advantages of WAV Format: great sound quality; high compatibility with devices; easy for editing and manipulating
Disadvantages of WAV Format: huge file sizes; poor metadata support; difficulty for common sharing
---
Part 2. Where Can You Play WAV Audios
Uncompressed WAV files are large, so file-sharing of WAV files over the Internet is uncommon. However, it is a commonly used file type. It is mainly used on the Microsoft Windows system for raw and typically uncompressed audio. Meanwhile, Mac systems can usually open WAV files without any issues.
You can get WAV format files from those streaming services like Bandcamp, Beatport, Juno Download, and Traxsource. And those media players like Windows Media Player, iTunes, VLC Media Player, and Winamp can support playing WAV files, as well as applications like DJ software and video editors, allowing editing and adding. If you really choose this format, you should think of the storage and sound quality, as well as which devices you intend to use for playback.
---
Part 3. Best Method to Download Spotify Songs to WAV
Spotify usually uses OGG Vorbis to present their audios. Depending on how much you pay, you can get them at various sample rate, from 96kps on the free tier all the way to 320kps on the premium. In general, Spotify audio quality on the premium is considered a perfectly acceptable way of listening to music on your computer and mobile phone.
With the subscription to Premium Plan on Spotify, you are able to download songs from Spotify for offline listening on your device. And those downloaded songs are saved in the format of OGG Vorbis and cache files are only playable during the subscription. Once you cancel the subscription to Premium, you cannot continue to listen to those songs.
3.1 What You'll Need: Spotify to WAV Converter
Some users prefer to choose the WAV audio format to store their favorite songs from Spotify. How to download and convert songs from Spotify to WAV? For that, you may need a Spotify to WAV Converter. We do recommend Tunelf Spotibeat Music Converter to you. It aims to help users download songs from Spotify and save them into WAV and more popular formats. Let's view its main features.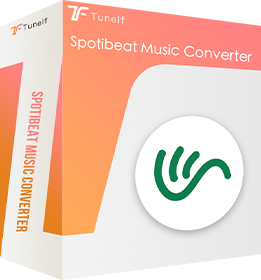 Key Features of Tunelf Spotibeat Music Converter
Download Spotify playlists, songs, and albums with free accounts easily
Convert Spotify music to MP3, WAV, FLAC, and other audio formats
Keep Spotify music tracks with lossless audio quality and ID3 tags
Remove ads and DRM protection from Spotify music at a 5× faster speed
3.2 How to Download and Convert Spotify to WAV
Here you've known that you can use Tunelf Spotibeat Music Converter to convert Spotify to WAV on your Mac or Windows computer. First, you need to install Tunelf software on your computer. Second, you can follow the below steps to convert Spotify to WAV.
Step 1 Choose your preferred songs or playlist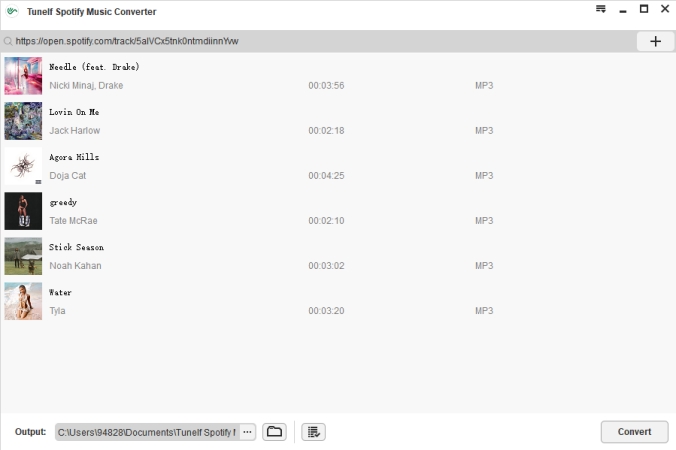 Spotify will automatically load after you open Tunelf Spotibeat Music Converter on your computer. Then navigate to your library on Spotify and find songs or playlists you want to download. For loading your chosen songs into Tunelf software, you can drag them to Tunelf interface or copy the URI into the search box within Tunelf software.
Step 2 Set the output format of Spotify as WAV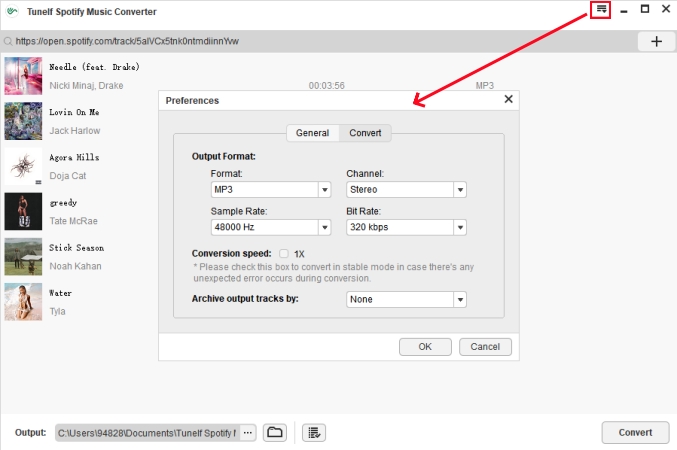 Next, click the Menu bar and choose the Preferences option. Then you will see a pop-up window and switch it to the Convert window where you can start to set the output format. Now you could choose WAV as the output format. To get better sound quality, adjust the bit rate to 32-bit and the sample rate to 48000 Hz then click OK to save the settings.
Step 3 Start to extract music from Spotify to WAV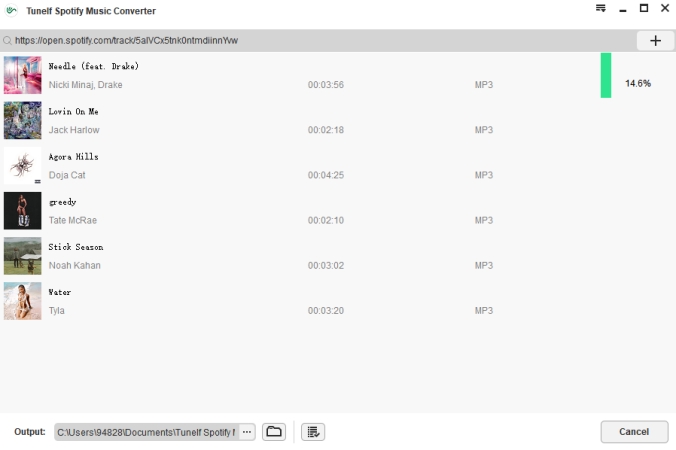 Finally, go back to the interface of Tunelf software and click the Convert button at the bottom right corner. Now your required songs or playlist will automatically download to your computer. After download, you can click the Converted icon to browse all the converted Spotify songs in the converted list.
---
Part 4. How to Record Spotify to WAV for Free
If you want to convert Spotify to WAV for free, then you can consider using a free audio recorder. Here we'll introduce two free audio recorders to you. And then you can record songs from Spotify and save the recordings to WAV audio files.
No.1 Apowersoft Online Audio Recorder
Apowersoft Online Audio Recorder is a free online audio recorder that can help you record high-quality audio from a computer sound card and microphone. It can support the output formats such as MP3, AAC, WAV, FLAC, M4A, OGG, and WMA. As a free Spotify to WAV Converter online, Apowersoft Online Audio Recorder can record songs from Spotify to WAV.
How to Record Spotify to WAV Online
Step 1. Open the website of Apowersoft in a browser and click the Start Recording button.
Step 2. Select the System Sound option and then click Download Launcher to install a launcher.
Step 3. After installing the launcher, go to play songs from Spotify and click the Start button.
Step 4. When completing the recording, click the Stop button to save the recorded Spotify WAV files.
Step 5. Click the Show in Folder button to locate the recorded file in the output directory.
No.2 Spytify
Spytify, a Spotify recorder for Windows, supports recording songs from Spotify while removing ads from Spotify and keeping the high sound quality. It can automatically split songs into separate tracks and save the recordings to MP3 and WAV. With the help of Spytify, you can record and convert Spotify to WAV free on your Windows computer.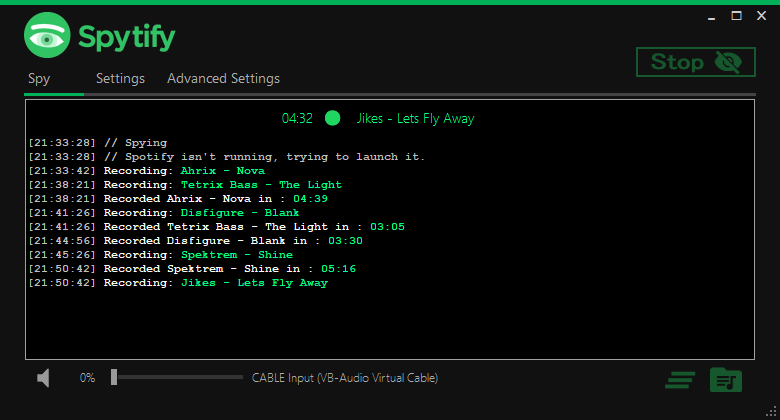 How to Record WAV from Spotify
Step 1. Install Spytify to your Windows computer and then launch it.
Step 2. Click the Settings tab on the recorder and choose WAV as the audio format.
Step 3. Open Spotify and select songs you want to download then click the Start button to record Spotify songs to WAV.
---
Part 5. Can You Upload WAV Files to Spotify?
It's possible to add local files to the Spotify app on your computer. Then you can listen to your local files on your computer and mobile phone with the Spotify app. If you want to upload WAV files to Spotify for playing, you can perform the below steps to start adding your audio files to Spotify.
5.1 Add WAV Files to Spotify on Computers
Step 1. Open Spotify on your computer and click your profile image at the top right corner.
Step 2. From the drop-down menu, select Settings and go to the Settings window.
Step 3. Scroll down to the bottom until you find the Local Files option and then switch it on.
Step 4. Click Add a Source and add any audio files you want to add from the computer.
5.2 Add WAV Files to Spotify on Mobile Phones
Step 1. Launch Spotify on your phone and tap the Setting icon.
Step 2. Under Settings, scroll down to select Local Files and toggle it on.
Step 3. Go back to your library by tapping Your Library, and select the playlist that has your local audio files.
---
Final Words
WAV is usually used in Windows-based platforms and is the standard format all CDs are encoded in. When you choose to download Spotify songs to WAV, you can easily burn Spotify to CDs and play Spotify on Windows Media Player. What's more, you could also share Spotify in the format of a WAV file with your family and friends.
---
---