Now, music online streaming services are so popular among youngsters in daily entertainment. Especially, the Spotify app had achieved great access to enable everyone to know it instead of other streaming apps. However, People are not satisfied with only streaming on its APP. As social platforms grow in popularity now, people are likely to share what they listening to on social media platforms with each other. Recently as most people are asking about. How do you enable Spotify messenger to work? Can I share Spotify songs on messenger with others? The answer is definitely yes.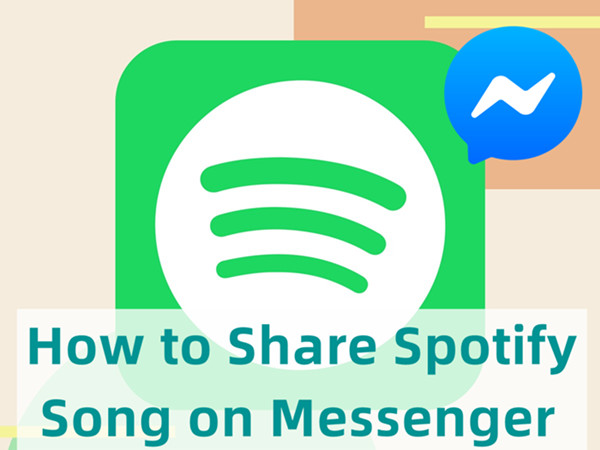 Now the Spotify app allows people to stream songs on multiple devices, including sharing songs on the Messenger app. And in the following parts, we will show you how to share Spotify song on messenger with detailed steps.
---
Part 1 How to Send a Spotify Song on Messenger Directly
In catering to people's public needs, the Spotify APP allows its users to Share Spotify song on messenger in a direct way. You can share whatever you want, including albums, playlists, podcasts, and songs. Now check the below steps to share Spotify on Messenger from your iOS/Android devices.
Step 1. From the Home screen of the iOS or Android device, open the Spotify app.
Step 2. Stream the song you want to share on Messenger.
Step 3. Navigate to the Now Playing view at the bottom.
Step 4. When viewing the song's profile, click the More button (three-dot icon) in the upper right corner.
Step 5. Scroll to the "Share" option.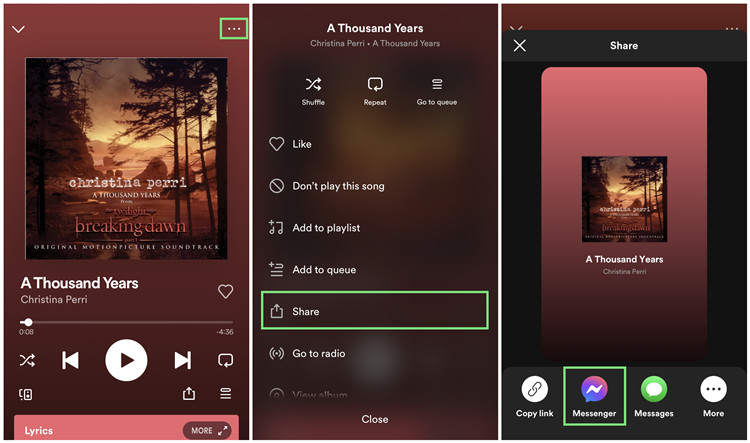 Step 6. In the "Share" preview, you'll see many platforms available in the share list. Here select the Messenger option.
Step 7. When you're sharing the selected song on Messenger for the first time, tap Open in the pop-up. This will open the Messenger app.
Step 8. Select the contact and tap on Send next to the contact's name. Now you have sent your favorite Spotify song to your contact.
---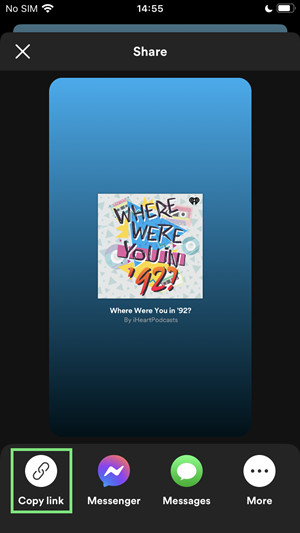 Part 2 How to Share Spotify Song on Messenger via Link
Of course, you can simply share your listening content from Spotify to Messenger via shared links. This is what most people are accustomed to doing so. Here's the how-to guide:
Step 1. Open Spotify and find the song you want to share.
Step 2. Tap on the song and go to the Now Playing page.
Step 3. Tap on the 'three dots' icon at the top right.
Step 4. Choose 'Share' and then choose 'Copy Link'.
Step 5. Go to Messenger and find the person you want to share with.
Step 6. Paste the shared link and tap 'Send' to send the song and your friend can play the song you share on the Spotify app then.
---
Part 3 How to Share Spotify Song on Messenger via Code
Additionally, Spotify offers a similar service as the QR code – the Scannable code. The Spotify code is like a sound or music wave when you see it. You can share any of your Spotify music content on Messenger with others by sharing this Spotify code.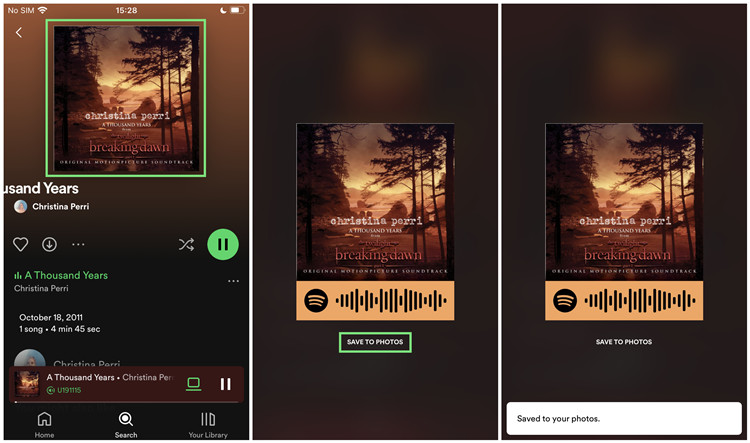 Step 2. On the profile of the selected content, click the More button (3 dots) and you'll see the code under the content's artwork.
Step 3. Tap on the covert artwork of the content.
Step 4. Tap on the "Save to the Photos" button under the cover artwork. Or you can take a screenshot of it.
Step 5. On the Home page of the device, open the Messenger app.
Step 6. On Messenger, go to your contact and send the photo of the code.
---
Extra Tip: Share Spotify on Messenger without Limits
Now you have learned how to share Spotify song on messenger. some people may ask, can I share a Spotify song on messenger directly? Since there is an app like Facebook Messenger Spotify bot which allows you to share your music content from Spotify to Messenger. if you are looking for this app, then unfortunately you can't find or use it. It was an app released by Spotify in 2017 to help people enjoy music better with their friends, however, this integration was soon suspended within a short period due to low user engagement. But please don't worry. In the next. I'll show you one of the great tools to help you achieve this.
Tool Needed: Tunelf Spotibeat Music Converter
Now, let's think about it, what's your purpose to send a Spotify song on Facebook Messenger? That is to share something with others about what you're listening to or what you like. What if you can share Spotify song on Messenger without the Spotify app? Yes, I'm not kidding. With Tunelf, you can simply make that wish come true.
Tunelf Spotibeat Music Converter is a professional and trustworthy software. It was initially invented to bring Spotify music streaming easier and more convenient. For it can only download songs, playlists, albums, and other music content from Spotify, but also convert them to common audio formats like MP3. Unlike other unstable converters which only record the sounds, Tunelf Spotibeat Music Converter makes it possible to download Spotify audio files with original lossless quality and keep their ID3 tags retained as well.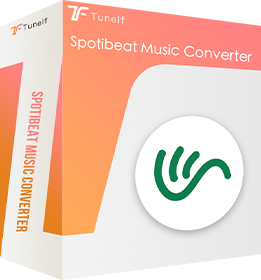 Key Features of Tunelf Spotibeat Music Converter
Download Spotify playlists, songs, and albums with free accounts easily
Convert Spotify music to MP3, WAV, FLAC, and other audio formats
Keep Spotify music tracks with lossless audio quality and ID3 tags
Remove ads and DRM protection from Spotify music at a 5× faster speed
Thus, you can utilize this method to download the songs you like from Spotify and then you can share the song on Messenger in a pretty simple way. Below are the how-to steps:
Step 1 Import Spotify Music for Conversion
When you launch Tunelf, it will run Spotify at the same time. You can just choose a song by clicking Share > Copy Link and paste the link to the search bar, then click the Add + icon to load music files. The other simple way is to drag and drop the music tracks to the program.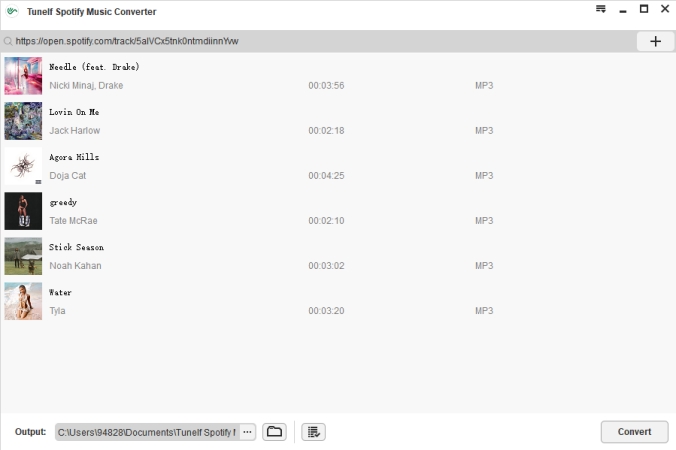 Step 2 Adjust the Output Audio Format
You can see a menu icon on the top right of the interface. Then you can click it and select Preferences > Convert to set the output format. You're allowed to choose formats from MP3, M4A, WAV, FLAC, AAC, and M4B. We've set MP3 as default because it can be played on multiple devices or platforms. And it is also compatible with Sharp Smart TV. The conversion speed is 5x and you can set it to 1x for a more stable conversion.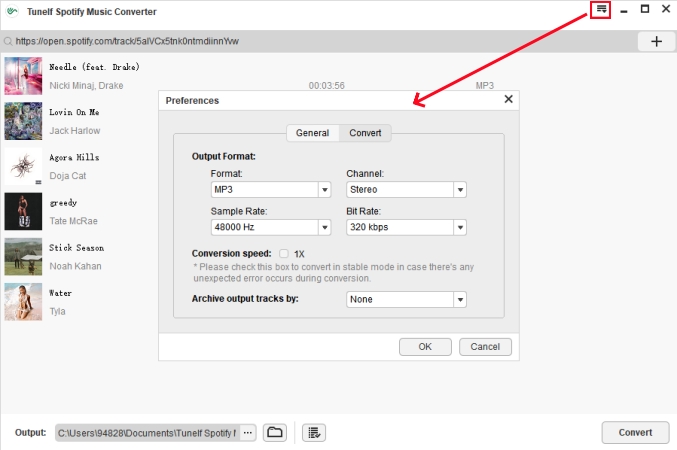 Step 3 Convert Spotify Music to MP3 Local Files
After setting the formats, you can click the Convert button to start the conversion. It's no problem to convert a batch of music files. You'll only need to wait for a short time till it is finished. When the conversion is over, you can easily access the converted music files in your local folder by clicking the Converted icon.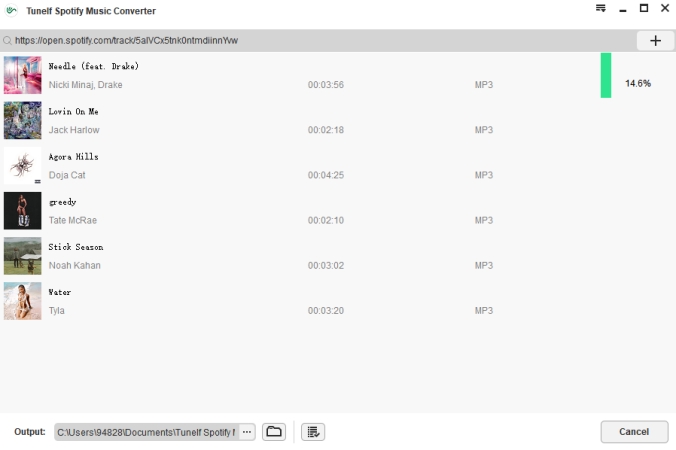 Step 4 Share Spotify Song on Messenger
After that, you downloaded the Spotify music offline as local files. Here comes a simple way to share your local file on Messenger with others.
If you are using Facebook Messenger on your Windows PC or MacBook and want to share music files with your friends, follow these steps.
Step 1. On a Windows or MAC device, use a browser to go to facebook.com.
Step 2. Open the Conversation where you want to send the music file.
Step 3. In the chat, click on the plus icon at the bottom of the chat window.
Step 4. Click on the paper and click the attachment icon.
Step 5. Use Finder or Windows Files Explorer to navigate to the music file you want to send to the contact.
Step 6. Select the file and click on Open. Now your contact will receive the music file.
---
Summary
When it comes to how to share Spotify song on Messenger, you can see the methods available in this post. It's quite simple to share your offline local content on Messenger once you've downloaded the Spotify songs. All you need is this efficient tool: Tunelf Spotibeat Music Converter.
---
---