Since its debut in 2008, Spotify is bringing online music services to more and more countries or regions. And it's such a great pleasure to enjoy beautiful music whenever you want. All you need to do is to open the Spotify app or web player and choose your favorite song to play. Besides, you're able to play Spotify on multiple supported devices, like Apple Watch, Sonos, Yamaha receiver, Xbox, or other smart TVs. However, streaming music on Spotify will not always be the case like this. You may experience some problems while using the service. Spotify no sound is the issue that has been discussed and reported by people in recent years.
It shows as Spotify is playing songs, but there is no sound coming from Spotify. So why did this happen? And in this case, what can we do to fix Spotify no sound problem? You're in the right place! This post will give the answers you need.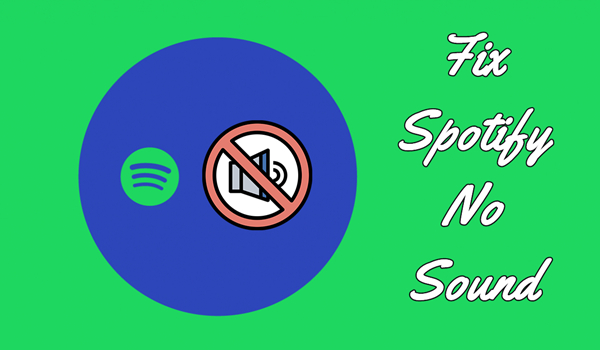 ---
Part 1. Why My Spotify Has No Sound?
The reasons why the Spotify app no sound are various, and each reason has its solutions respectively. We should figure out the deciding part that results in your problem especially when you first face the Spotify no sound issue. We've divided the possible reasons into several kinds as below:
1. You're streaming Spotify music under an unstable internet connection.
2. The Spotify app malfunctions and is out of date.
3. You've overused CPU or RAM.
4. Something wrong with the audio system on your device.
5. More unexpected errors or bugs on Spotify.
---
Part 2. How to Fix Spotify No Sound
After analyzing the possible reasons, it's time to introduce efficient ways to solve no sound from Spotify problem. You can just follow the below steps one by one.
Fix 1 Check your internet connection
We need data or Wi-Fi to enjoy and stream Spotify music online, therefore, the stability of your internet connection ensures your streaming music quality. If you have trouble with streaming Spotify music, try to use other apps to test the internet speed. If it is slow on other apps too, then it may be the failure of your network. In this case, you'd be supposed to change a Wi-Fi connection or use 5G or 4G to load Spotify music.
Fix 2 Check the sound settings on your device
If Spotify playing no sound, you'll need to take a good look at the sound settings on your device. Sometimes, Spotify can be muted by Windows' Volume Mixer. On Windows 10, you can right-click the Sound icon and select the Open Volume Mixer button. Here you can check the sound on different devices, please make sure the sound works for Spotify. On Android or iPhone, you can go to Settings and find out the audio settings on your phone.
Fix 3 Check Bluetooth and hardware
Did you use Bluetooth or Spotify Connect to stream Spotify music? If so, then it's the reason that you hear no sound coming from Spotify. Since you have sent the Spotify music to other devices for playing, you can hear it via the connected devices instead. So, don't worry, just check your devices.
Fix 4 Restart the Spotify app or re-login
Restarting the app is the quickest method to fix the Spotify app no sound issue. I'm not kidding as many people including myself had solved the problem with this simple step. You can give it a try to see if the Spotify app works well as usual after restarting.
Fix 5 Perform a clean reinstall of Spotify
If the above methods cannot help you directly, you can try this method to fix Spotify no sound. Usually, a clean reinstall can remove many mistakes or bugs within the app. You can delete the Spotify app on your device and then go to the Google Play Store or App Store to re-download it. After that, log in to your Spotify account again. And then you'll get a completely new Spotify app that plays music with great sound.
Fix 6 Update Spotify to the latest version
Software bugs or errors are likely to arise when using any app. And they need fixes on them to improve gradually. The Spotify app development process is the same. The software developers behind Spotify are working hard to mend the mistakes within the app and releasing new versions for download. If you're using the older version, then you need to download and install the newly updated version.
Fix 7 Free up your DRM
If your DRM is full, you may come across this problem. As Spotify streaming music needs at least 1 GB of storage space, you should leave enough storage space on your device. You can go to the Settings app on your phone to check your storage use. If there is no more space for running the Spotify app, you'll need to clean up some unnecessary caches and uninstall some apps you no longer use. And you can close some apps to leave more room for Spotify.
---
Part 3. Best Way to Fix Spotify No Sound
If none of the methods listed above can fix your problem, here is the ultimate method that works for you. The best and simple way to fix Spotify no sound is to change the malfunctioning device. We can play Spotify on other devices or media players. But before that, you'll need to download Spotify music first. Though Spotify premium users can download Spotify music as offline playback, these downloaded songs are just caches and cannot be transferred to other players or devices for playing.
So, you need a professional Spotify music converter to get the DRM-free Spotify music songs. Tunelf Spotibeat Music Converter is a great tool among Spotify music converters. Tunelf can download music from Spotify easily and convert them to 6 kinds of audio formats like MP3. The Spotify music files you downloaded with Tunelf will be the physical audio files that are stored in your local drive forever. Therefore, it's easy to play Spotify music on multiple devices. Here is a tutorial on how to download Spotify music offline with Tunelf Spotibeat Music Converter.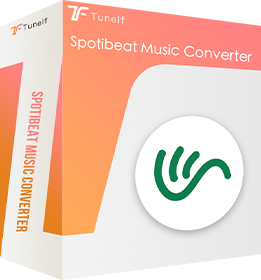 Key Features of Tunelf Spotibeat Music Converter
Download Spotify playlists, songs, and albums with free accounts easily
Convert Spotify music to MP3, WAV, FLAC, and other audio formats
Keep Spotify music tracks with lossless audio quality and ID3 tags
Remove ads and DRM protection from Spotify music at a 5× faster speed
Step 1. Launch Tunelf Spotibeat Music Converter and sign up to get full features of the software. The Spotify app will work with Tunelf software simultaneously. Now you can copy & paste or drag & drop to import music files to the program.
Step 2. Next is the important part of the conversion. You're supposed to customize the output audio settings, you can choose to convert Spotify music to mp3 from a list of audio formats. And you're also allowed to adjust some other parameters like sample rate, bit rate, and channel.
Step 3. Here comes the final part – download and convert Spotify music to mp3 files. Now confirm all of your settings and click the Convert button to start the conversion. Once finished, you're able to check your converted history in the Converted panel and locate where they are.
---
Wrap Up
In the above discussion, we've listed possible reasons why Spotify no sound and explained several potential solutions. So, when your Spotify playing no sound, don't worry, try the steps in this article. And we also offer the best way to fix this issue forever, which is to download Spotify music offline via Tunelf Spotibeat Music Converter. After conversion, you can play Spotify music on VLC Media Player, Windows Media Player, Sonos, VIZIO smart TV or etc. Come on, Try Tunelf Spotibeat Music Converter now!
---
---