A Chromebook is a laptop or tablet that runs Android and full-fledged Linux apps. Thanks to its cheaper price, excellent flexibility, and beautiful appearance, Chromebook has been more popular and used nowadays. You can install multiple apps and enjoy their services on Chromebooks. Tidal Music can be one of the popular streaming services. So, you may ask, can I use Tidal on Chromebook? I can say yes! There are several ways to play Tidal music on Chromebook, and let me share it with you below.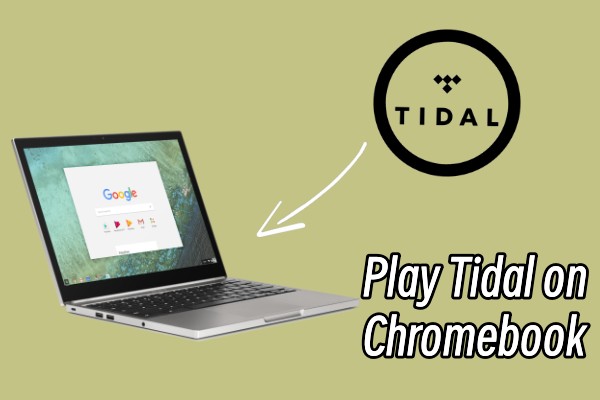 ---
Part 1 How to Get Tidal for Chromebook with Premium
To stream Tidal music on Chromebook, you have two ways to choose from. For newbies to Tidal, you will be given a 30-day free trial to enjoy high-quality tracks on Chromebook directly. Tidal's premium tiers allow you to listen to music with lossless CD quality and even MQA quality. Here is what you can do to get Tidal music on your Chromebook.
Get Tidal on Chromebook via Free Trial
The good news is that you're able to enjoy the free trial promotion offer if you sign up for Tidal for the first time. Follow the instructions below to get the free trial.
Note: If you want to get Tidal premium for more periods, you can check this article: How to Get Tidal Free Trial 3 Months/6 Months/Forever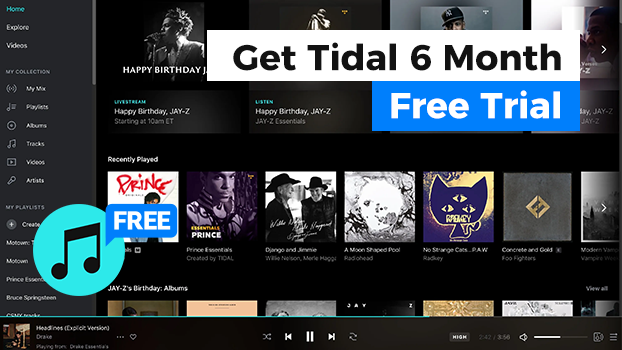 Step 1. Go to https://tidal.com/ and click the Get Started button from the home screen or the Start Free Trial at the upper-right corner to get the subscription.
Step 2. After selecting the Start Free Trial button, you'll be redirected to the sign-up page. Enter your email to create a new Tidal account, or you can choose to log in with Facebook, Twitter, or Apple.
Step 3. Select a subscription plan, "HiFi" or "HiFi Plus". Choose "Standard" or the specific types of "Family", "Student", "First Responder" or "Military".
Step 4. Complete the sign-up session by entering your credit card or PayPal info to set up payment.
Step 5. Once done, you have successfully signed up for Tidal. Now you can listen to whatever you want for free in 30 days.
Once the subscription period is over, you will be charged $9.99 / month or $19.99/month depending on your plan.
Play Tidal on Chromebook via Hi-Fi Subscription
If you have subscribed to Tidal Hi-Fi or Hi-Fi Plus plan, you can stream music from Tidal directly on your laptop. And when your free trial days were gone and you want to keep the premium features, you'll need to sign up for a Tidal premium plan to move on. After then, you can start listening to Tidal music con your Chromebook with ease. Follow the below steps: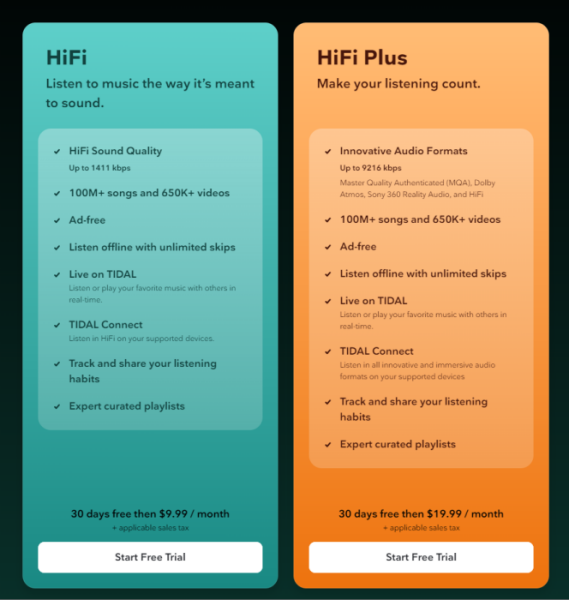 Step 1. Go to https://tidal.com/pricing to check the plans and learn about their main features.
Step 2. Select the suitable premium plan you'd like from Tidal Hi-Fi or Hi-Fi Plus.
Step 3. Sign into your account and enter your payment info to buy the Hi-Fi plan provided by Tidal.
You will be charged $9.99 per month if you choose the Hi-Fi plan, or you'll be charged $19.99 per month for a Tidal Hi-Fi Plus subscription.
---
Part 2 How to Listen to Tidal on Chromebook Without Premium
In the above discussion, we have talked about the methods of how to get Tidal Music on Chromebook, but you cannot do that without a Tidal premium account. What if I don't have a premium account? What can I do to enjoy Tidal songs on my Chromebook? Don't worry, there is an excellent way to solve your problem. Just download and convert Tidal music to other compatible formats, then you can keep these converted music as local files and play them on any devices offline forever.
Tunelf Tidal Music Converter is the professional software you need. Tunelf is designed to remove those encryption codes for protection and convert Tidal music to MP3 and other popular audio formats. It helps you to download music, playlist, albums, etc. to several audio formats so that you can stream them on multiple devices. Thanks to advanced and innovative technology, Tunelf software can protect the original high-quality audio files and preserve ID3 tags as well. So, if you don't have a Tidal Music subscription or want to enjoy Tidal on Chromebook without the Tidal app. That's no problem! Now all you need to do is download Tunelf Tidal Music Converter and do as follows.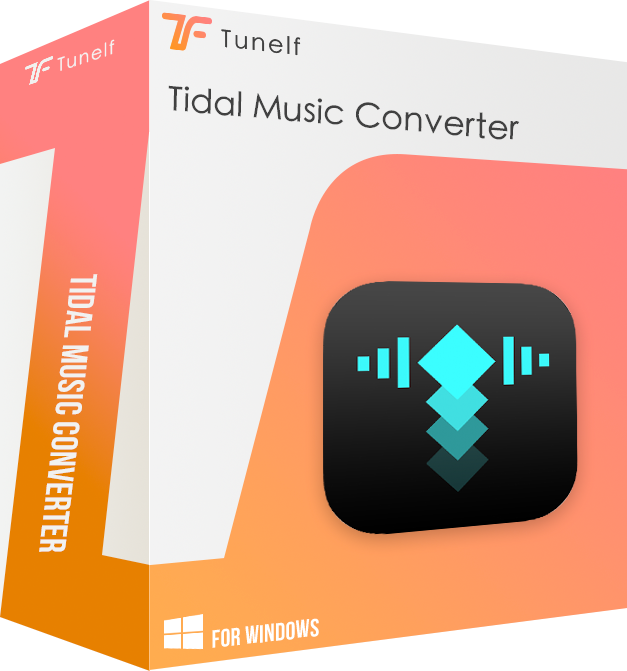 Key Features of Tunelf Tidal Music Converter
Download any Tidal content, including songs, albums, playlists, and artists
Support exporting Tidal music to MP3, AAC, FLAC, WAV, M4A, and M4B
Preserve a whole set of ID3 tag information in the downloaded Tidal songs
Handle the conversion of Tidal music up to 5× faster speed and in batch
Step 1. Import Tidal Music to Tunelf Converter
Start by launching the Tunelf program and it will run the Tidal app on your device simultaneously. Open your Tidal app and go to My Collection or search for a specific song to import, copy the shared URL link of the song, and paste it to the search bar of the converter. Then click the add + icon to import. Another simple way to load is to simply drag and drop.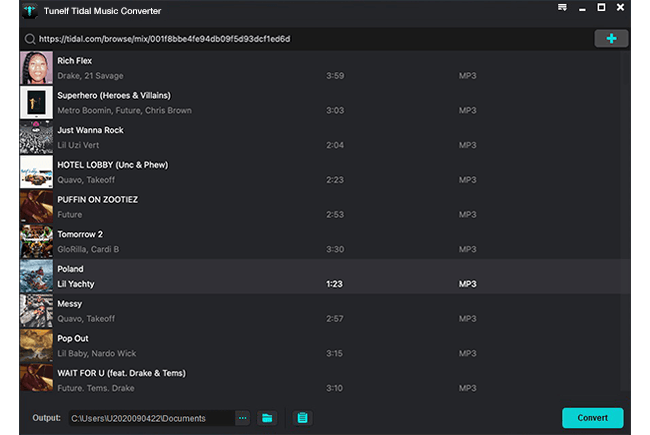 Step 2. Adjust the Output Audio Formats
To enable Tidal Chromebook streaming, you're supposed to set the output formats on demand. The default output audio format is MP3 and you can change it to AAC, M4A, M4B, FLAC, and WAV as well. Just click on the menu icon and go to Preferences > Convert window to set up. Here you can also set the output archive, sample rate, bit rate, channel, and so on for better performance.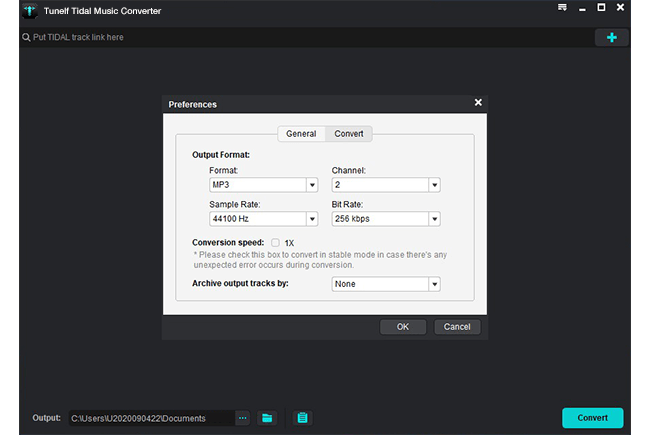 Step 3. Download Tidal Music to MP3 Offline
Now you've selected the output formats and adjusted the parameters, click the Convert button to start your conversion. The whole conversion will be done within a short period as the default speed is 5x fast. When finished, you can locate the converted files in the local folder you've set before or you can click the Converted icon to check your converted history.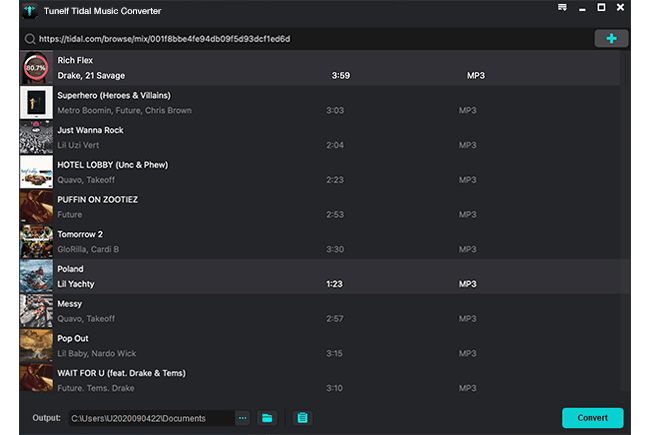 Now you have converted Tidal Music to a popular format successfully, then you can listen to Tidal Music on Chromebook and any device you like. The converted files will be kept as your local files forever, you can listen to them offline at any time.
---
Part 3 Tidal Chromebook App: What You Want to Know
For more tips or information about the Tidal for Chromebook app, this part shares several frequently asked questions attached with answers respectively as follows. After reading, you'll learn more about this feature.
Q1. Does Tidal Work with Chromebook?
Yes, all Chromebook models since 2017 released do support Tidal. Now you can access and run the Tidal app on Chromebook for streaming freely.
Q2. Is It Possible to Get Tidal for Chromebook for Free?
Unfortunately, no. The Tidal music catalog as well as lots of useful features including downloads only belongs to the privilege of those Hi-Fi or Hi-Fi Plus subscribers. But if you're new to Tidal, a great chance is offered to you: you can enjoy the free trial promotion offer for one month officially for free. And partnered with other brands or communication mobile phones, you're able to enjoy the free trial for even more than 6 months.
Q3. Can I Play Tidal Masters on Chromebook?
Yes, and it is said to do so, as long as you have subscribed to Tidal Premium, you're able to enjoy the MQA quality, the so-called Master quality files on the supported devices with ease. As for Chromebook, it resamples all the music tracks when importing, which may desample the original audio quality, you can take Tunelf Tidal Music Converter into consideration as it won't destroy the original high-quality sounds on Tidal.
---
Final Words
To conclude, the Tidal app is now available on Chromebook models, you can download and install the Tidal app on your laptop for accessing Tidal audio tracks. To play Tidal on Chromebook, a premium subscription is required. Newbies are able to enjoy the premium feature for free in one month, others should renew their subscriptions to enjoy the beautiful tunes again. Want to save your wallet? Of course, you can utilize Tunelf Tidal Music Converter this efficient tool to download Tidal music offline for listening without premium. That's it!
---
---