Does Tidal Music work with Denon DJ? I can tell you the answer without hesitation, yes, it does! Denon DJ released a public beta firmware update for its Prime 4 all-in-one standalone system. If you're looking for DJ apps that work with Tidal, you shouldn't miss Denon DJ. Denon DJ is a mainly-used software for Djing. It is one of the first brands that introduce CD technology into Djing and keep producing well-designed DJ controllers, which are all well-regarded with mobile DJs. With the Denon DJ Tidal integration, you can access over 100 million high-quality tracks from Tidal without a laptop. Come and get started with this guide!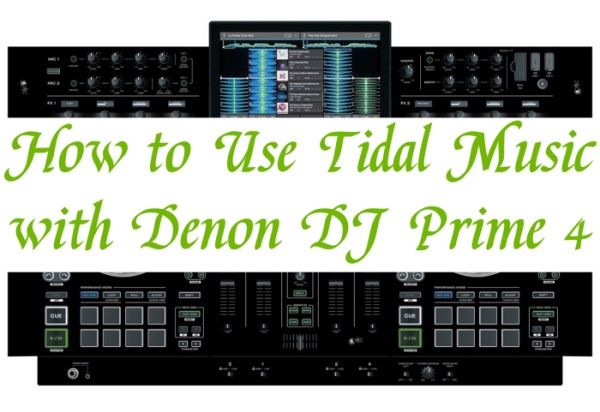 ---
Part 1 Denon DJ Prime 4 Tidal: How to Connect
The Tidal Denon DJ integration was made years ago to better connect Tidal with Denon DJ program. Well, this integration makes it possible to access the internet via an Ethernet connection or Wi-Fi so you can connect to and DJ with music from the TIDAL music streaming service. Here are the how-to steps you may be looking for on Denon DJ Prime 4 Tidal, follow the below steps to link both two services together.
Note
To connect your Denon DJ with Tidal, please update your Denon DJ Prime 4 to firmware version 1.4 or later. And a Tidal premium account is needed as well, since this feature is only available for Tidal premium subscribers.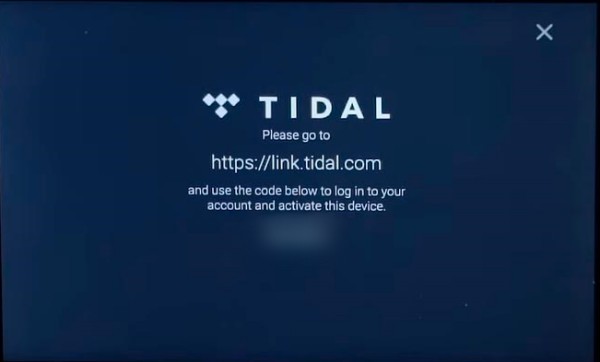 Step 1. On your Denon DJ Prime 4 device, go to the Wi-Fi section on your screen and connect it to a stable one to get started. Or you can connect to a network via hard-wired access.
Step 2. After connecting to Wi-Fi, turn on the Tidal integration and start connecting.
Step 3. After connecting, go to the library collection view on your Denon DJ.
Step 4. Next, tap the media device icon at the upper-left of the library window.
Step 5. Follow the on-screen instructions to link Tidal with your Denon DJ device. Here you can see a code shown on your Denon DJ screen, enter the code to your Tidal account to activate this device.
Step 6. Once done, you now have access to all your Tidal tracks. You can add one of your favorite songs for mixing.
---
Part 2 FAQs About Tidal Denon DJ Integration
After reading the above method, do you still have unsolved puzzles? No more worries, here are more questions you guys may be interested in. You can take them as references for your problems.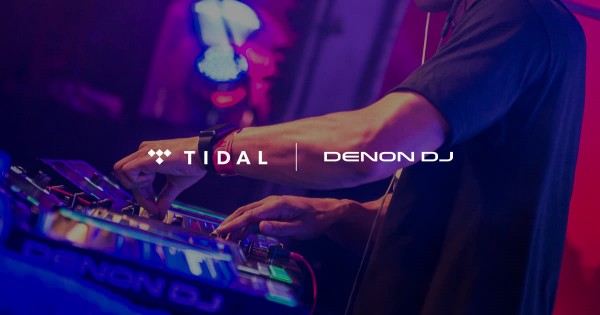 Q1. What Denon DJ devices support Tidal?
Until now, you can stream Tidal on these Denon DJ models: Prime GO; Prime 2; Prime 4; SC5000; SC5000M; SC6000; SC6000M.
Q2. Can I Use Tidal Music with Denon DJ Offline?
At this point, offline mode is not supported on all Denon DJ hardware. Only when you are connected to a stable network, can you stream Tidal on Denon DJ online? Or you can download Tidal music offline by using a professional Tidal Music Converter like Tunelf Tidal Music Converter. After conversion, you can mix Tidal with Denon DJ when there is no network.
---
Part 3 How to Access and Stream Tidal on Denon DJ Offline
As you can see from the above, to mix Tidal with Denon DJ, you should connect both your device and Denon DJ to a good and stable Wi-Fi network. You can do this when there is no internetwork. And you'll need a Tidal premium account to stream Tidal music on it. And moreover, some Denon DJ does not support Tidal yet. So, all of these make it hard work to use Tidal music with Denon DJ. But now it is no longer that difficult, you're lucky to see this article. There is a way to solve all your problems and use Tidal with Denon DJ offline. To get this done, you'll need a tool – Tunelf Tidal Music Converter.
Tunelf Tidal Music Converter is specially designed for all Tidal users to download and convert Tidal music to common audio files so that they can be playable on multiple devices. Why do we need to convert? That is, due to the DRM agreement, Tidal tracks have given their audio files a specially encoded format, which restricts them from only playing on its app. So, we need to change its audio format before adding them for mixing.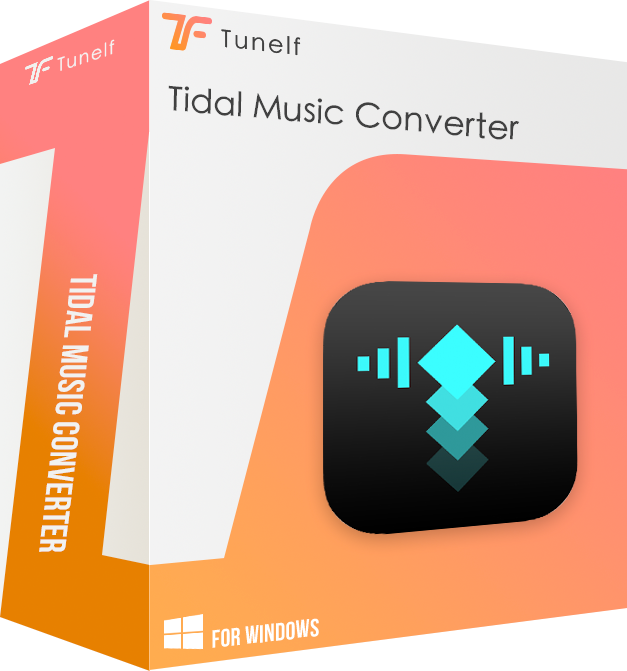 Key Features of Tunelf Tidal Music Converter
Download any Tidal content, including songs, albums, playlists, and artists
Support exporting Tidal music to MP3, AAC, FLAC, WAV, M4A, and M4B
Preserve a whole set of ID3 tag information in the downloaded Tidal songs
Handle the conversion of Tidal music up to 5× faster speed and in batch
How to Download Tidal Music for Denon DJ via Tunelf Software
Tunelf program is this tool. It can tackle the conversions of Tidal to 6 popular audio files and keep the original lossless audio quality. Plus, the ID3 tags including artist name, album, genre, etc. will be retained as well so that you can better manage your music library. Now you'll only need three steps to complete the conversion.
Step 1 Import Tidal Music to Tunelf Converter
Tunelf software offers your free trial version, but you can only download and convert 1/3 of your Tidal track if not purchased. Thus, you'd better get registered and make a purchase to enjoy the full features. When you launch Tunelf, the Tidal desktop app will automatically run as well. Now go to My Collection to select a song or playlist to download. You can simply load in files by a copy & paste or drag & drop.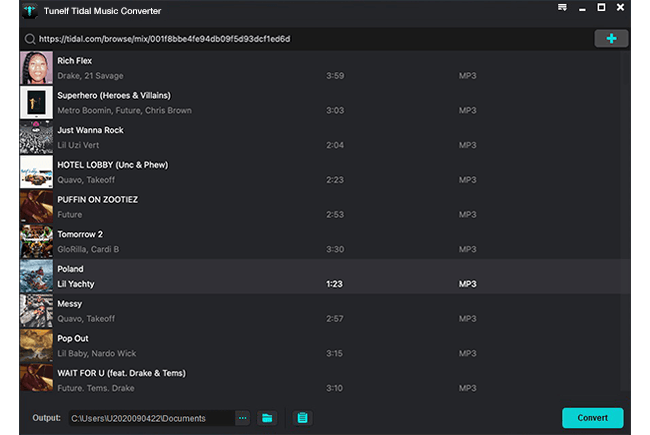 Step 2 Set the Output Audio Format
After importing, you can set the output audio parameters on demand. Click the menu icon at the top right corner and select the Preferences option. There are some audio parameters, such as the output format, bit rate, sample rate, and channel you can personalize. To listen to Tidal on more devices, here you can choose MP3 as the output audio format.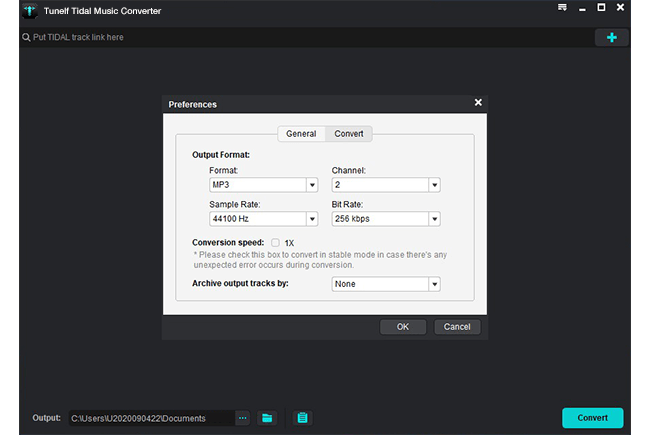 Step 3 Download Tidal Music Offline
Now confirm your settings, you can click the Convert button to start the conversion of Tidal music. The converted Tidal music will be saved to the default folder or the folder you set in Step 2. Finally, you can click the Converted icon to open the history list where you can browse the converted Tidal music.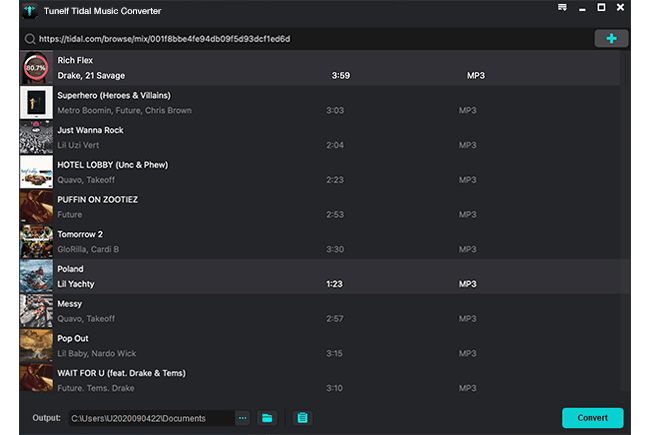 Step 4. Add Tidal Music to Denon DJ for Mixing
Now you have transformed Tidal DRM-protected content into a common audio format, then you can get Tidal Denon DJ work offline. Follow the below steps to import.
Plug in a USB drive to your computer and copy & paste to transfer the converted Tidal songs to the folder in your USB drive.
Unplug the USB drive from your computer after the transfer, then insert it into your Denon DJ unit.
Access and open the converted Tidal music from the Library option on Denon DJ, and save them to your Denon DJ library for next access.
---
Part 4 Summary
Tidal Denon DJ integration has been released for several years and it is helpful for DJs to stream and access high-quality tracks from Tidal within Denon DJ programs. You should update your firmware system to version 1.4 or later to install this integration. Plus, please acquire a Tidal premium account as well. It is free to get Tidal on Denon DJ, but you will need a premium subscription to play Tidal tracks on it. Tunelf Tidal Music Converter can help you download music from Tidal without DRM-protection format and enable them playable on multiple devices with ease. Click the download button below to have a try.
---
---