As a standalone app for online music streaming, Spotify has always grabbed the chance to improve itself and always be the first one to expand or discover something new. Can you imagine playing Spotify songs while gaming? Spotify Roblox can do that! This broad-based app has partnered with Roblox for quite some time. You can easily connect your Spotify account to Roblox for streaming even without a game bot. More powerful features like this on Spotify really heal me a lot. So, how to listen to Spotify while playing Roblox? Are you can't wait to see it? Check this post out as I will uncover two methods available below.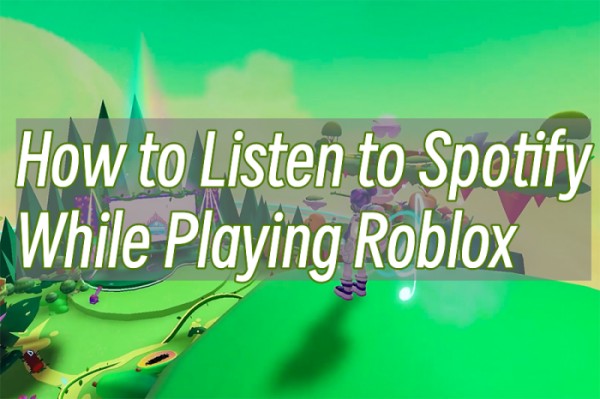 ---
Part 1 How to Listen to Spotify While Playing Roblox on iPhone/Android/PC
Though Spotify has given permission to Roblox in the Spotify Island event, you can't access Spotify music from Roblox directly. You'll still need to play your favorite Spotify songs through the Spotify app. Now follow the simple steps below to listen to Spotify while playing Roblox games.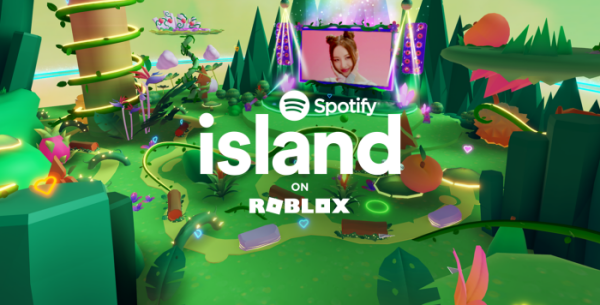 Step 1. Play Spotify Island or any game on Roblox.
Step 2. Open the Spotify app and select a song you'd like to listen to.
Step 3. Go back to the game on Roblox again. You may find that the music stops playing from Spotify. At that time, no worries, just enable Spotify to play again. Swipe up the Notifications bar and locate the music player to tap the play button again.
Step 4. Now you can play Spotify in the background while playing Roblox games.
---
Part 2 Why Does My Spotify Keep Pausing When I Play Roblox
Thanks to the Spotify Roblox integration, things get super easy to play Spotify music on Roblox. However, some people may ask, why can't I listen to Spotify while playing Roblox? If you encounter this, remember the step I did above, you may not hear the songs once you opened the games and you should tap the play button again to enable it. Don't forget to do that.
Turn Off the Volume Sound in Roblox
Still can't listen to Spotify while playing Roblox? Try this method. In some cases, your device will only allow you to play audio from one source at a time, if it's playing from the game, it might turn off what was playing on Spotify. If it is the case, please check the in-game settings for Roblox to turn down the game volume or turn off game music. And yes, there is such an option within Roblox, just follow the steps below.
Step 1. Launch the Roblox and play the game you preferred.
Step 2. Click the Roblox icon from the upper-right corner of your Roblox window.
Step 3. Navigate to the Settings tab and check the audio settings here. You can go to the Volume setting to turn off the sound.
Turn Off Roblox Sound via Sound Settings on PC
In addition to that, you can also choose to turn off one of the audio sounds when you use Spotify and Roblox at the same time. This setup is available on your Windows PC.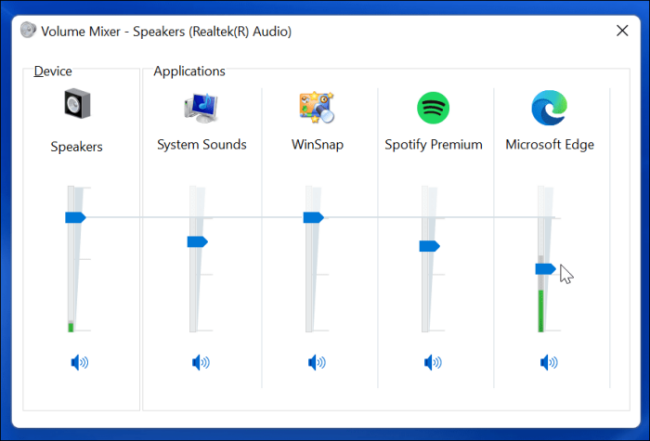 Step 1. On your Windows computer, find the little speaker icon or sound icon at the right-bottom of the taskbar.
Step 2. Right-click on it and select Open Volume Mixer or double-click the audio speaker icon to open.
Step 3. In the next window, you can see separate audio sliders for several different apps. Find the Roblox to mute the sound and turn on the sound for Spotify.
Once done, you can now play Spotify while playing Roblox without error.
---
Part 3 How to Play Spotify on Roblox
If you want to keep Spotify playing while playing Roblox, here is a great way to help you listen to Spotify on Roblox without stopping. As Roblox owns a feature that enables its users to upload local music files, you can make use of this feature now! To download Spotify songs offline for uploading, you need to download and install a tool first. As Spotify music is copyright-protected content, we need a Spotify Music Converter to remove the DRM limit on Spotify songs and convert them to common popular audio files. Among so many software on the internet, Tunelf Spotibeat Music Converter wins out.
Tunelf Spotibeat Music Converter, aka Tunelf Spotify Music Converter, is a professional Spotify music downloader and converter for Windows and Mac systems. It helps you remove the DRM protection format on Spotify music and convert them to multiple mainstream audio formats, such as MP3, FLAC, AAC, etc. Plus, the original music quality and ID3 tags will be losslessly retained. After the conversion, you can stream them on any compatible device without limits.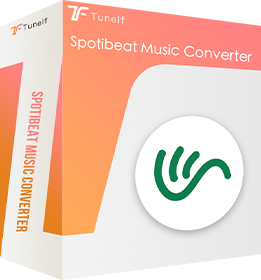 Key Features of Tunelf Spotibeat Music Converter
Download Spotify playlists, songs, and albums with free accounts easily
Convert Spotify music to MP3, WAV, FLAC, and other audio formats
Keep Spotify music tracks with lossless audio quality and ID3 tags
Remove ads and DRM protection from Spotify music at a 5× faster speed
Step 1. Import Spotify Music to Tunelf Program
Browse and find the Spotify songs, playlists, or albums you want to convert, whether you're a free or paid subscriber. Right-click the item and copy the URL of the Spotify tracks. Then paste the link to the search bar of the Tunelf interface and click the + (plus) button to load all of them. Another simple way is to directly drag and drop the music into the program.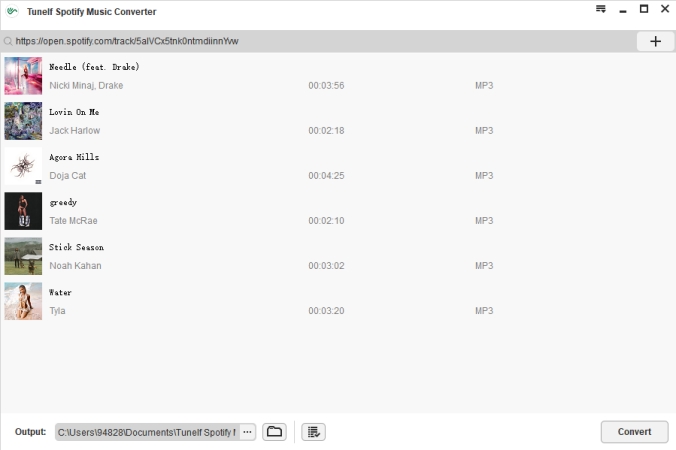 Step 2. Select the Output Audio Parameters
You can click the three-line menu in the top right of the converter interface, and click preferences. In the pop-up window, you can set the output format there, including sample rate, bit rate, and channels as well as output archive. The whole conversion will be completed at 5x speed as default. And you're advised to set the output audio format as MP3 so that it can be uploaded and playable on Roblox.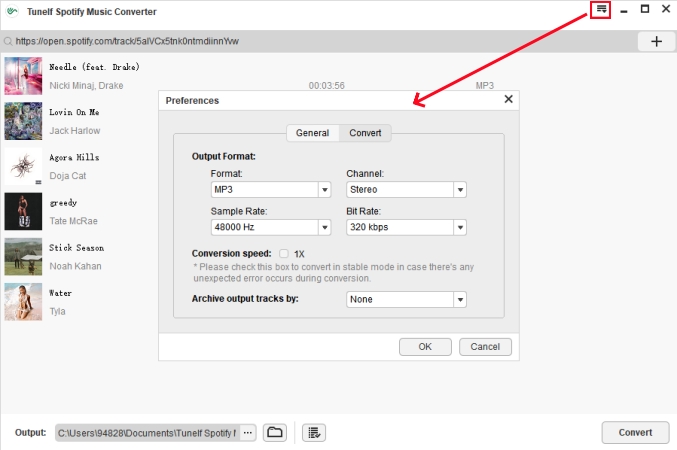 Step 3. Download the DRM-free Spotify Songs Offline
Now click the Convert button to let this Spotify music converter start the conversion based on your requirements. A few minutes later, all imported Spotify songs will be downloaded offline and saved as MP3 or the other format you set. You can then listen to them on any player or device anywhere at any time.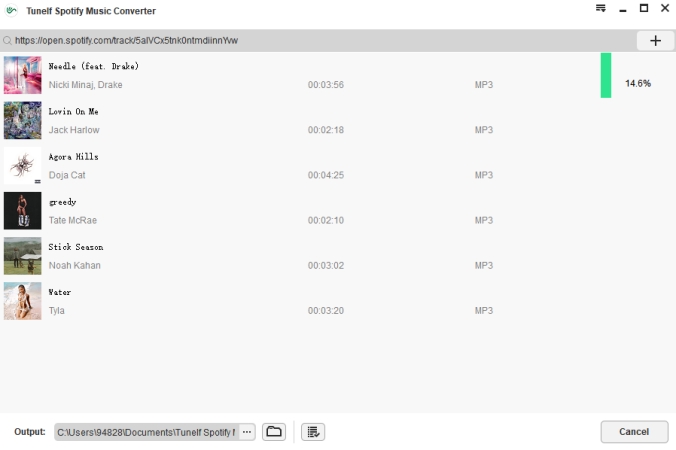 How to Play Spotify While Playing Roblox
Now Tunelf has completed the conversion of Spotify to MP3, it's easy to listen to your liked Spotify music while playing Roblox. Roblox allows creators to upload local files to create a better experience. Here's what you can do:
Step 1. In the Creator (or Create Audio) page from the browser and tap the Start Creating button. Here you can select a song you like to upload.
Note
To upload audio files in batches, click Asset Manager in the View tab. The Asset Manager will be displayed. Next, select the Bulk Import button and select the audio files you want to import from your local folder, then click the Open button. Finally, click the Confirm button and wait for a while. Things will be done in a short time.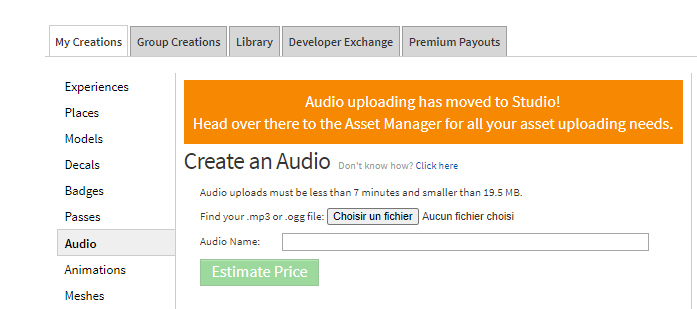 Step 2. Once the songs are uploaded, you can see them on the Audio page. Go to the page and click on the URL to copy the Numeric ID.

Step 3. Next, go to SoundService and click on BackgroundMusic, navigate to Soundld to paste the copied Numeric ID and tap Enter.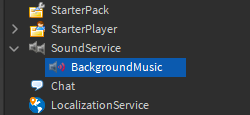 Step 4. Open StarterPlayer > go to StarterPlayerScripts > create a LocalScript with the name of MusicPlayer.
Step 5. To keep your favorite Spotify song playing in the background, create two variables' names, "SoundService" and "BackgroundMusic," and use the "Play" function to play the music.

---
Wrap Up
How to listen to Spotify while playing Roblox? This article will give you the answer. We have shared two workable ways above. If you find that you can't listen to Spotify while playing Roblox games, no worries, check the volume settings on Roblox and your device. For the best method to enjoy Spotify music, I'd much prefer to recommend you to use Tunelf Spotify Music Converter.
---
---