As a must-have service in our daily life, music plays an important part in our entertainment. Except most-famous ones like Spotify, Amazon Music, and Deezer Music still have a place in the market. Though it is not as famous as other streaming services, it was one of the oldest ones for online music streaming and is still ranked in the top 5 now. Amazon Echo is a popular digital speaker for home theater. A lot of people are wondering about the possibility to stream Deezer on Amazon Echo.
So, does Deezer work on Amazon Echo? If yes, how to add Deezer on Amazon Alexa Echo for a better playing performance? If you're eager to know the answers, then you can't miss this post!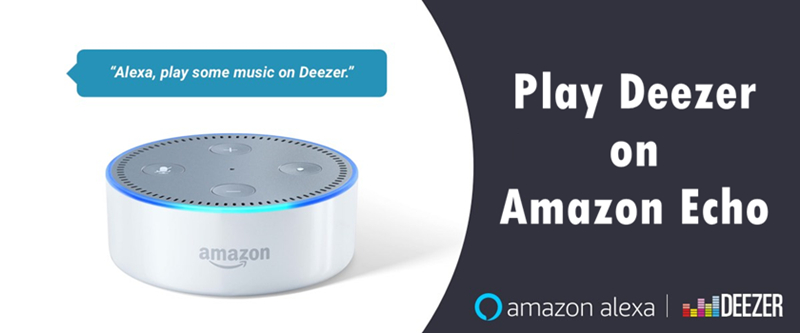 ---
Part 1. Is Deezer Available on Amazon Echo?
First of all, the question people are concerned about most is – can I play Deezer via Amazon Echo or Alexa devices? Luckily, you can! According to the official news, Deezer has launched the Deezer app integration with Amazon Alexa, making it possible to enjoy the service on the voice-activated virtual assistant.
"Voice activation is on the rise, with a growing role in home listening and Deezer is proud to take center stage in this evolution. With one simple request, Alexa users will now be able to listen to any album, artist and playlist through Deezer, making it easier than ever to enjoy the music they love."

– Riad Hawa, VP Hardware Partnerships, Deezer.
The music streaming service has more than 14 million users worldwide and joins a growing list of streaming services to be available through Amazon's AI-based assistant. Virtual assistants such as Alexa have become increasingly popular in recent years, as artificial intelligence and smart home speakers have become more mainstream. Deezer has no reason to miss the chance and see its competitors expanding and developing rapidly.
---
Part 2. Stream Deezer on Amazon Echo via Official Way
Now that Deezer has built partnerships with Amazon Echo, we can connect with each other directly. Deezer is now available on all Amazon Alexa devices, including those Alexa-enabled devices. To figure out if your device is of this type, go to Amazon.com to search for compatible Amazon Alexa devices. Remember as long as you've connected your mobile devices to Alexa Echo via Bluetooth, you can stream any audio like Deezer, Spotify, or YouTube through your Alexa devices. Here is how to set up Deezer for Amazon Alexa Echo, this will need an Alexa app.
[Note]: The Hi-Fi (FLAC) streaming is NOT available for Deezer on Amazon Alexa.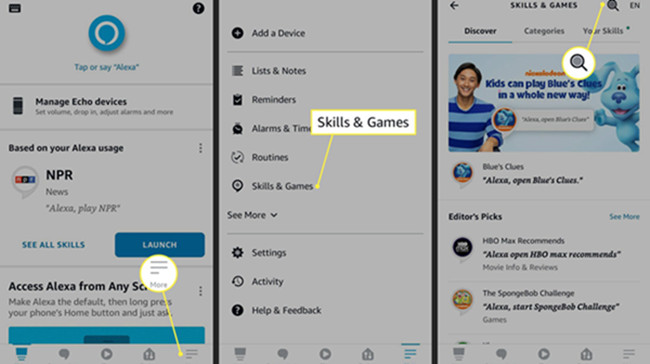 1) Open the Alexa app and tap menu settings.
2) Select Skills & Games and search for Deezer.
3) Select Deezer and tap ENABLE TO USE.
4) Enter your account credentials to log in.
Use voice commands to control Deezer on Amazon Alexa
Since Amazon Alexa Echo is artificial intelligence with a voice assistant, you can completely control the music playback on Deezer through some specific voice commands. With Deezer on Amazon Alexa, you can play a song or song without lifting a finger. You should make voice commands by saying "Alexa" as a start like "Alexa, play (song/album name) by (artist) on Deezer", "Alexa, play my Flow on Deezer", etc. Besides, you can ask more from Alexa, like to tell you what song is playing, skip to the next track, and change the volume level with these commands. Such as commands like "Alexa, what's playing?"; "Alexa, next song."; "Alexa, I like this song." If you do not want to say "on Deezer" every time you play a song, you can set Deezer as your default music player on Echo.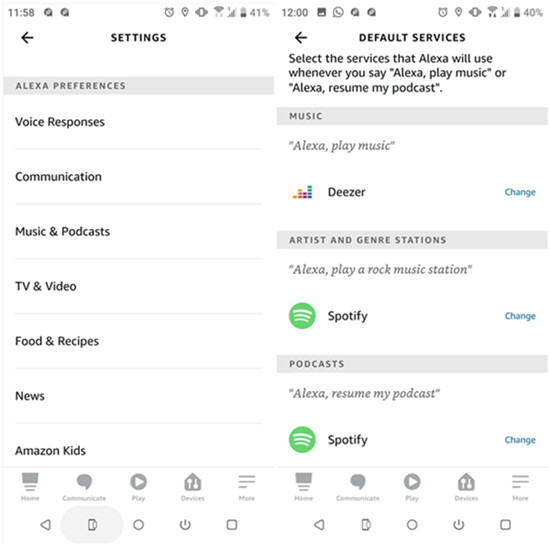 Set Deezer as the default music player
If you're tired of playing music by saying Deezer's song name "on Alexa", you can choose to set Deezer as your default music player. Then, next time you can simply play a song by asking "Alexa, play [song name]". Here're the steps:
1) Open the Alexa app menu and select Settings.
2) Under ALEXA PREFERENCES, select Music.
3) Next, go to ACCOUNT SETTINGS and select Default Services.
4) Select DEFAULT MUSIC LIBRARY > Deezer.
5) Once completed, you'll see a checkmark shows up.
---
Part 3. Exclusive: Download Deezer Music for Playing Anywhere
As we all know, Deezer's music prevails in its splendid music quality. Unlike Spotify, Deezer offers one more plan for subscribers, which is the Hi-Fi plan which plays lossless FLAC audio files at 16-bit, 1,411 Kbps. This part is going to introduce a tool to download Deezer audio files offline with lossless Hi-Fi quality and meanwhile allows you to stream Deezer tracks on multiple devices.
This efficient method is by using Tunelf Deetrack Music Converter. Tunelf Deezer Music Converter is mainly used to help all Deezer users download Deezer music songs and playlists including HiFi tracks to MP3, AAC, WAV, FLAC, M4A, and M4B formats with high audio quality and fast speed. Whether you are Deezer Free users, Deezer Premium users, or Deezer HiFi users, you can download music files from Deezer to your computer.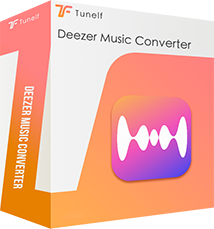 Key Features of Tunelf Deezer Music Converter
Keep Deezer songs with the lossless audio quality and ID3 tags
Remove DRM and ads from Deezer music after the conversion
Download Deezer songs, albums, playlists, podcasts, and radios
Convert Deezer music tracks to MP3, FLAC, and more in batch
Freely customize lots of parameters like format, bit rate, and channel
---
Conclusion
Now Deezer music is supported for playing on Amazon Echo, you can just follow the steps above to stream through it. Using voice commands is a convenient way to play Deezer on Amazon Echo. While you cannot play the Hi-Fi quality audio files through Amazon Alexa Echo. To listen to Deezer music with lossless FLAC quality on multiple devices, you can choose to use Tunelf Deetrack Music Converter. After conversion, you can upload or transfer to many different devices or platforms for streaming.
---
---