When it comes to streaming music, there are just too many portals waiting to serve you. Almost all of them try to lure you in with free trials, well-designed apps, user-friendly interfaces, smooth navigation, and high-quality audio, and companies are constantly rolling out new features to grab consumers' attention. Among the most popular ones, Amazon Music and Pandora are two of the best services you've ever missed.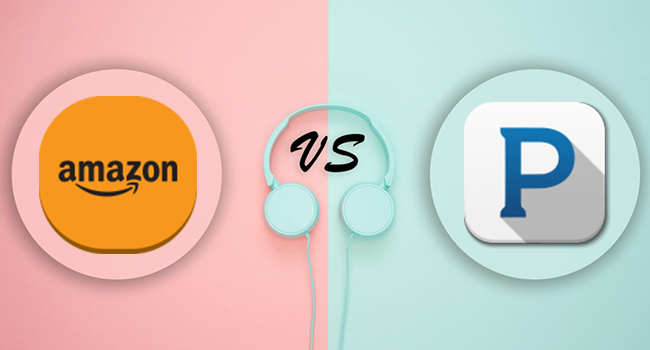 To break down the differences, this passage is going to make a further comparison between Amazon Music and Pandora for your references.
---
Part 1. Comparison of Amazon Music and Pandora
Amazon Music is a music streaming platform and online music store operated by Amazon, which catches the attention of more than 55 million subscribers worldwide due to its specific features.
Once being the leader of American streaming music service, Pandora is a subscription-based music streaming service in America, which paid more attention to tailoring playlists for its over 58 million users.
Here's a general comparison of Amazon Music and Pandora:
Amazon Prime
Amazon Music Unlimited
Pandora Free
Pandora Premium
Music Mibrary
2M
60M
2M
40M
Audio Quality
160kbps
320kbps
64kbps
192kbps
Supported Regions
over 30 countries
over 30 countries
U.S.
U.S.
Offline Listening
Yes
Yes
No
Yes
Ads
No
No
Yes
No
Parental Control
No
No
Yes
Yes
Price
Free
$9.99/month
Free
$9.99/month
$109.89/year
---
Part 2. Amazon Music Unlimited vs Pandora Premium
Factors tested in the review: music library, audio quality, supported regions and platform, and subscription plans.
Music Library
Amazon Music Unlimited is the grown-up version of Amazon Prime Music, which gives you access to 60 million songs and thousands of personalized playlists and stations that can be streamed to computers, smartphones, and other multimedia devices. What's more, it allows its users to choose from a large number of new artists and catalogs of newly released songs and massive comments from some singers with no ads.
While Amazon Unlimited offers tons of millions of songs to its users, Pandora Music offers about the same range of over 40 million songs as Apple Music. It's better at predicting which songs users like to listen to, and it also shows you exactly why each song is being played, and how it relates to your input criteria. You don't have to scroll down the list or do a lot of searching-you just sit back and listen to what the service picks for you.
Winner: Amazon music owns a larger music library, but Pandora has the tailored advantage.
Audio Quality
Amazon Music Unlimited preserves a high and lossless audio quality especially for Amazon Music HD, which supports 50 million songs in High Definition with 16-bit audio, a minimum sample rate of 44.1 kHz, and bitrate at 850 kbps for an average. Moreover, it also offers more than 2 million songs in Ultra High Definition, which have a bit depth of 24 bits, with sample rates ranging from 44.1 kHz up to 192 kHz, and bitrate at 3730 kbps for an average.
As for Pandora Music, it plays the music of AAC+ format for free members at 64 kilobits/s, but it can provide TV and other non-mobile devices with higher quality music at 128 kbps. For people who subscribe to Pandora, they are available to enjoy a better audio quality and they can choose from the following three audio qualities: low audio quality (32 Kbit/s AAC+), standard audio quality (64 Kbit/s AAC+), and high audio quality (192 Kbit/s MP3).
Winner: Amazon Music
Supported Regions and Platforms
Amazon Music is available in more than 30 countries around the world. It's compatible with a wide range of multimedia devices, including macOS, Windows, iOS, Android, FireOS, Alexa devices, and smartwatches and TVs. Besides, you're able to access the Amazon web player with HTML DRM extensions.
Pandora is US-based music streaming and recommendation radio service, which has been limited to users in the U.S. Of the operating system, the comparison with Amazon is not obvious, it can be accessible on Android, iOS, PC, Laptop, select car stereo system, smart speakers, and more, almost all the devices.
Winner: Amazon Music
Subscription Plans
Amazon Music Unlimited offers several different subscription plans for individuals and families:
Monthly subscription for prime members – $7.99/month
Annual subscription for prime members – $79/year
Monthly subscription for non-prime members – $9.99/month
Monthly family subscription – $14.99/month
Annual family subscription – $149/year
Pandora Premium provides varied subscription charges for individuals and families:
Monthly subscription – $9.99/month
Annual subscription – $109.89/year
Monthly Family subscription – $14.99/month
Annual Family subscription – $164.89/year
Note: Both of Amazon Music Unlimited and Pandora Premium own a free trial for 3 months.
Winner: Amazon Music
---
Part 3. Which One is Better for You to Listen to Music?
As for the music library, Amazon's humongous 60 million collections of songs seem like a giant to Pandora. Nor is the unlimited skipping feature that available on any version of Amazon Music, especially for the free trial. The only feature where Pandora beats Amazon Music Unlimited lies in its ability to help users remember your preferences and find your music more suited to your tastes.
For parents who are concerned about the music their children might attach to, Pandora is the best choice because it offers parental control options that will play censored versions of songs and exclude others completely. And for those who seek personalized recommendations and the kind of hands-off listening experience, Pandora works better with a live radio station.
However, if you are the one who eats, sleeps, and breaths music, then Amazon Music Unlimited might be the manna from heaven that you've been seeking for.
---
Part 4. Extra Tips: How to Keep Amazon Music and Pandora Forever
Although we can freely enjoy our favorite music after subscribing to Amazon Music and Pandora, once the subscription expired, the downloads for offline listening will no longer exist. If you want to download music from Pandora for free, you can get the tool – TunesKit Audio Capture to help you. It can record any sound from your computer and convert the records to MP3 with high quality. For Amazon Music, we'd recommend you to use Tunelf Amatune Music Converter – a powerful and professional music converter designed to convert Amazon Music to MP3 with lossless sound quality. Then you can easily transfer your downloads to your device for offline listening forever.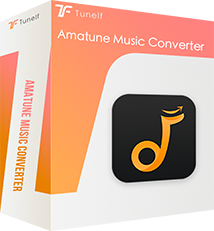 Key Features of Tunelf Amatune Music Converter
Download songs from Amazon Music Prime, Music Unlimited, and HD Music
Convert Amazon Music songs to MP3, AAC, FLAC, WAV, M4A, and M4B
Handle the audio conversion of Amazon Music at a faster speed of 5×
Ensure the output audio quality while retaining ID3 tags and metadata