Spotify is an online music service giving users the ability to stream music on-demand to various supported devices using Spotify's unique technology. Spotify allows access to all of your existing Spotify playlists and their entire catalog on the device. Except for accessing various tracks, there are also lots of features waiting for you to explore. For example, Spotify URI is a feature for users to share music. Well, here we're going to talk about Spotify URI and show you how to convert Spotify URI to MP3.
---
Part 1. What is Spotify URI
A Spotify URI, also known as Spotify Uniform Resource Indicator, is a link that you can find in the Share menu of any track, album, playlist, or artist profile. With Spotify URI, you can precisely find the track or playlist on Spotify. At some point, you may need to obtain your Spotify URI for your favorite track or playlists. Below is how to find your Spotify URI using the Spotify desktop app on your computer.
Here's how to find the Spotify URI of your favorite track or playlist: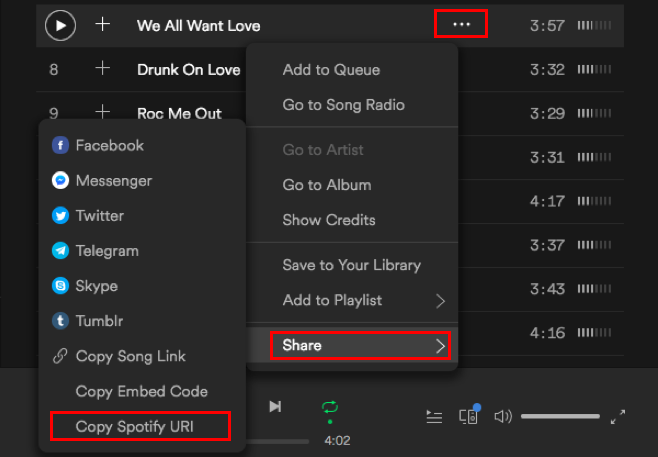 Step 1. Log in to your Spotify account and browse your library.
Step 2. Then click the three little dots and navigate to the Share menu.
Step 3. Now select Copy Spotify URI from the second menu and you'll get your Spotify URI.
However, there is no such an option for you to get Spotify URI on the Spotify mobile app, but you can get Spotify URI code – a series of long and short vertical lines next to the Spotify log. You can also use the Spotify mobile app to discover the amazing content from this code.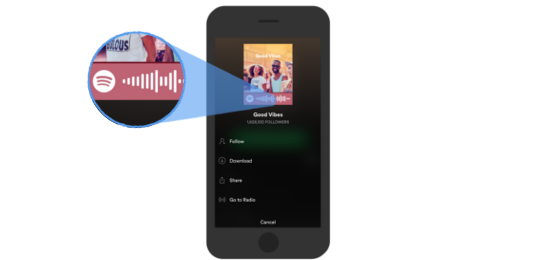 Step 1. Go to what you'd like to share and select the three dots on your phone.
Step 2. Find the code underneath the cover art.
Step 3. To share it with your friends, take a screenshot and send it to your friend from your photo gallery then they can then scan it to listen. Or have your friend scan the code with their phone.
For a high-resolution Spotify code, go to spotifycodes.com. By entering a Spotify URI, you can get a picture by clicking Get Spotify Code.
---
Part 2. How to Use Spotify URI
From the above, we've known how to get Spotify URL. You seldom see a Spotify URI. It is a little bit of encrypted code such as "spotify:playlist:37i9dQZF1DXcBWIGoYBM5M," kind of like a web address or URL. So, after getting Spotify URI, what could we do? In fact, with the Spotify URI, you can do lots of things you don't know.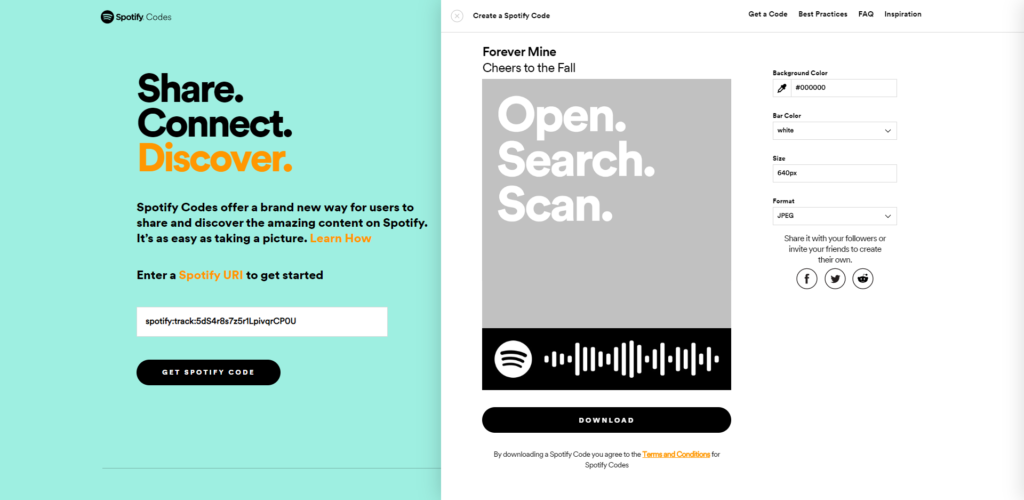 With it, you can easily share your favorite track, playlist, album, or artist with your family and friends. You could just send your friend or family a Spotify URI via email. After they get your Spotify URI, they can quickly find the content from this Spotify URI if they have Spotify installed on their device. Enjoying some wonderful beats together will be easier.
Although Spotify URI is not available for Spotify mobile users, you can use Spotify Codes to share tracks on platforms without link-outs like Instagram and Snapchat. Anyone can take screenshots of your posts and import them using the Spotify scanner. After scanning with the Spotify app, they can immediately jump to the track or playlist you share.
---
Part 3. How to Convert Spotify URI to MP3
To exactly share a track or playlist from Spotify, Spotify URI or Spotify URI code make it become easier. What's more, there is also a good chance to download music from Spotify with the Spotify URI. Originally, all the music from Spotify is encoded in the format of OGG Vorbis, so you're limited to use Spotify within its app.
However, the coming of Tunelf Spotibeat Music Converter breaks the limitation. Tunelf Spotibeat Music Converter is a professional and powerful music downloader for both Spotify Free and Premium. With the help of Tunelf software, you can download music from Spotify to MP3 even other popular formats with the Spotify URI.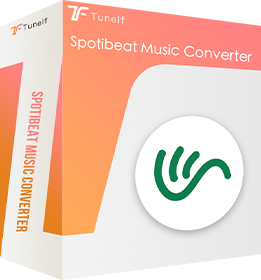 Key Features of Tunelf Spotibeat Music Converter
Download Spotify playlists, songs, albums with free accounts easily
Convert Spotify music to MP3, WAV, FLAC, and other audio formats
Keep Spotify music tracks with the lossless audio quality and ID3 tags
Remove ads and DRM protection from Spotify music at 5× faster speed
Step 1 Copy Spotify URI into the search box to load music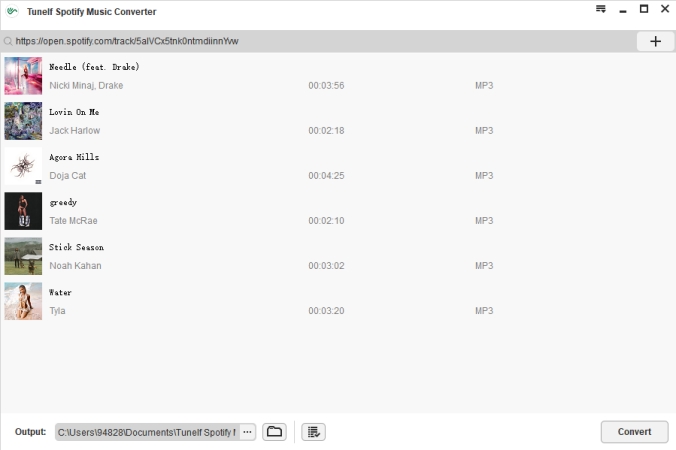 After the installation is completed, run Tunelf Spotibeat Music Converter on your computer, then Spotify will automatically load. Go to the upcoming section and browse your favorite track or playlists on Spotify. Then get your Spotify URI of your track or playlist and paste it into the search box on the software interface for loading the track or playlist.
Step 2 Configure the output parameters as per your need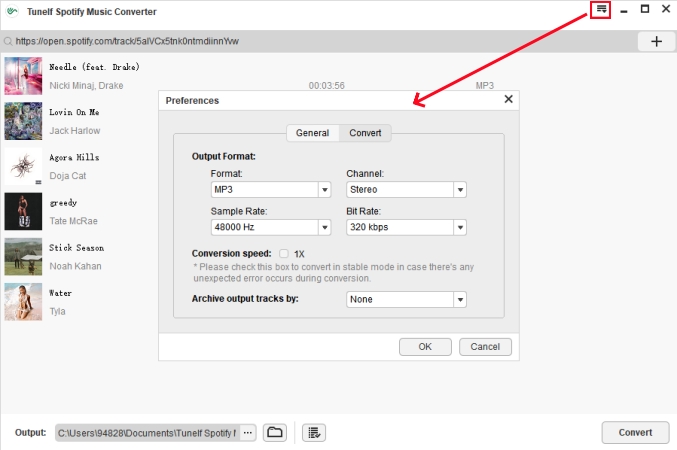 Then come into the most important step by going to the Menu bar > Preferences > Convert. In this option, you can set the output format and adjust the audio quality. For Spotify URI to MP3, you need to choose MP3 as your format. Besides, you can configure the value of bit rate, sample rate, and channel.
Step 3 Start to download and convert Spotify URI to MP3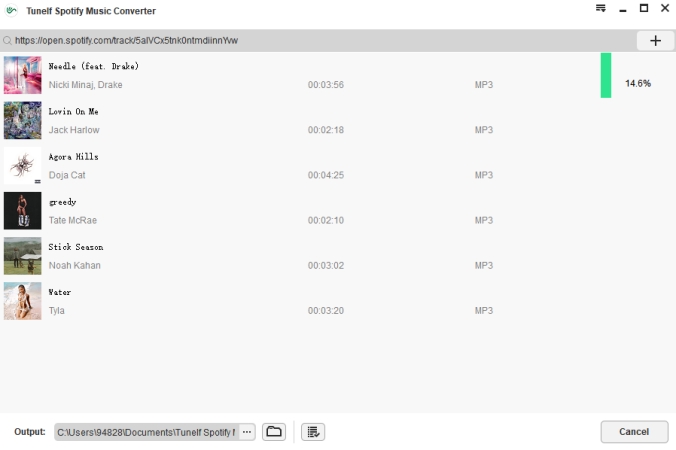 After setting all the properties, you can click the Convert button in the lower right corner of the software. Tunelf Spotibeat Music Converter will begin to download and convert music from Spotify to MP3 and save the converted music files to your computer. When all operation is done, click the Converted icon to browse all the converted tracks in the history list.
---
Conclusion
And this, you can share your Spotify tracks or playlists with the Spotify URI. Whether sharing with friends or family, you can all enjoy each other's take on the music industry. If you'd prefer to listen to music from Spotify anywhere without limitation, just take Tunelf Spotibeat Music Converter into consideration.