Q: How do I see Lyrics on Amazon Music? For the songs that DO have lyrics? I know Amazon Music does not provide lyrics for all songs, but I can't find any. I'm a Prime Member, using a brand new Macbook with the new Big Sur 11.0.1 Version. I downloaded the Amazon Music App. When I click on the Lyrics button, nothing happens. Not for any songs.??? I'd really enjoy seeing the lyrics!

– User from Amazon Forum
It's quite a pleasure to listen to your beautiful tracks on Amazon Music. With the lyrics it provided, we can easily follow the rhythm and sing along for a whole night or day. However, there are always some Amazon Music issues that come up to block our way to enjoy music. Someone has arisen the trouble question like what I have shown in the beginning, that Amazon Music not showing lyrics, which had greatly curtailed our interest and enthusiasm.
Have you ever met this before? No matter whether you're experiencing this situation now or have met it before, I can say that you're now free of these errors! In the next chapters, you'll get your problems resolved! Check it out right now.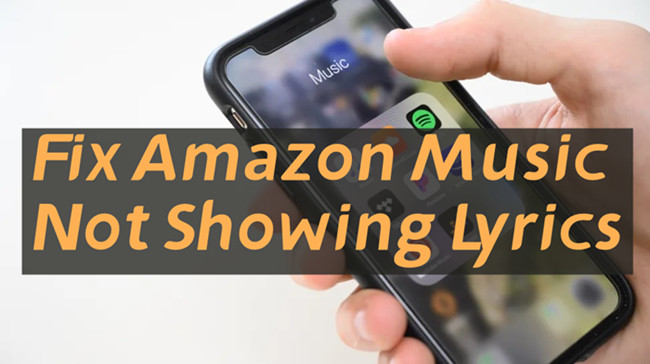 ---
Part 1 Quick Guide to Fix Amazon Music Lyrics Not Showing
Sometimes, the lyrics to the songs are not showing up properly. While, in order to fix it, we need to check if the songs do have lyrics or not. If it doesn't have lyrics on all versions of the Amazon Music app, you can contact the official team of Amazon for help. If it does show on other devices, then it's the app you're using fails to work. For the methods, check the details below.
Method 1 Check the Lyrics' Availability
As far as I know, not all songs from Amazon have lyrics like full or time-synced. Therefore, when you find a song which not show lyrics, perhaps it has no lyrics itself, not the reason for software bugs or other things else. To check if this is the reason why Amazon Music lyrics not showing, you'll need the help of Amazon Music Web Player.
Usually, the web version for Amazon Music doesn't have the lyrics issue for the songs that do have lyrics. So, if you have a song in question, you can search for the same song from the web player and see if it shows the lyrics. Here're the simple steps:
1. Go to music.amazon.com on any browser to open the Amazon Music Web Player.
2. Search for the song name you have a question with through the Web Player.
3. Find the song from the search results and play it.
4. Now go to the Now Playing view to check if the lyrics show on the right side.
If you don't see lyrics show up, either, it means there is no lyrics text on Amazon Music about this song. Instead, if there're time-synced lyrics on the right side, then you must resort to the following methods to fix the possible errors or bugs on the Amazon Music app or your device.
Method 2 Restart the Device You're Using
The first and easiest way is to restart your iPhone. It will give your iPhone a fresh and clear those small glitches that might cause the problem. If your iPhone does have Face ID, press and hold the side button and either volume button at the same time to reach the Slide To Power Off screen. If your iPhone doesn't have Face ID, press and holds the power button until Slide To Power Off appears on the display.
Method 3 Clear Amazon Music Cache from the App
If you are still unable to find the lyrics to your songs, you can try to clear the app cache on Amazon Music to solve this. You should clear the app cache from Settings in your Amazon Music app. On iOS mobile app: Settings -> Cache Size -> Clear cached music on iOS; on Android mobile app: Settings -> Clear Cache. On iOS devices, you can also try refreshing music by selecting the Gear Icon (upper right) > Settings > Refresh My Music (bottom of the page).
Method 4 Update the Amazon Music App
Amazon Music may update new versions constantly to solve those problems you may encounter. So, don't forget to update to the latest version of its app. Now, you can check for the new updates and download it if you haven't. Now go to the app store you used to install the app on your device and search for Amazon Music. Select the app from the search results to enter the detail page. You can confirm that you have the latest version of an app by viewing the app's detail page. If an update is available, an Update option displays. Then you need to download and install it. The Amazon Music not showing lyrics issue may be solved after this step.
Method 5 Uninstall and Reinstall the Amazon Music App
The final fix is to remove the Amazon Music app from your device and reinstall it. A clean reinstall will clean all those issues or software bugs that used to block our way from using it properly. And this step will just bring new life to your Amazon Music app. Now just force stop and close the Amazon Music app you're now using, then uninstall it from your devices. After then, download it from the app store and reinstall it.
---
Part 2 How to Listen to Amazon Music with Lyrics on Multiple Devices
When it comes to streaming Amazon songs on multiple apps with lyrics, still some people have trouble with how to enable the feature. So, I've provided a detailed and full guide below. Keep reading on to know the steps to enable Amazon Music lyrics on Android/iPhone/PC/smart TV.
Enable Amazon Music Lyrics Android/iPhone
1) Open the Amazon Music app on your phone.
2) Play a song with lyrics available.
3) Click on the Lyrics button on the music controls bar.
4) Then the lyrics will appear and you can swipe and tap on the lyrics to adjust the progress of the song playback.
Enable Amazon Music Lyrics on PC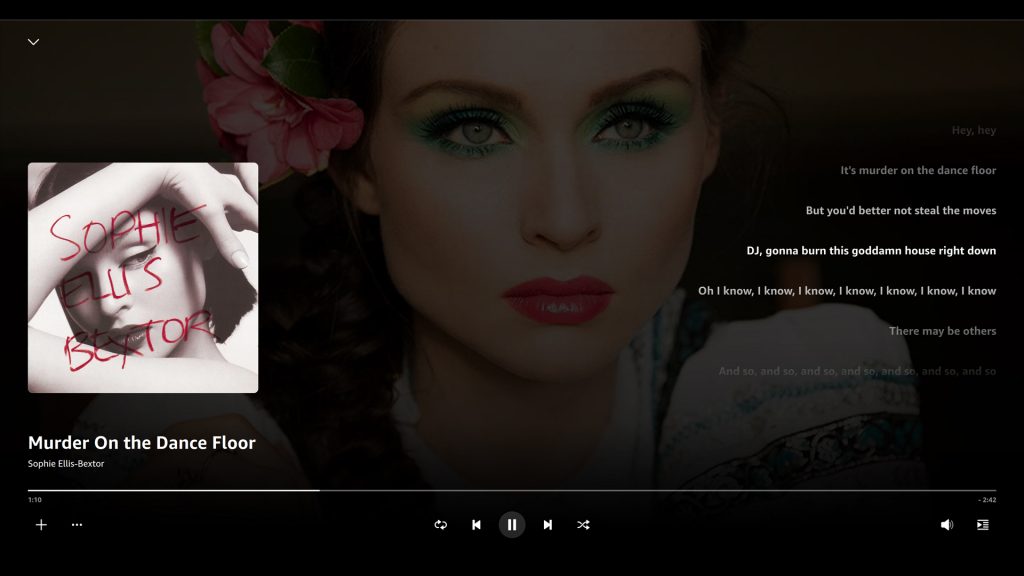 1) Launch the Amazon Music app on your computer.
2) Click the song you want to play with the Lyric label.
3) Hit the Lyric label on the music controls bar.
4) Now you can see Amazon Music lyrics.
Enable Amazon Music lyrics on Smart TV
1. Open the Amazon Music app on the Smart TV.
2. Stream a song from the Amazon Music app.
3. From the Now Playing screen, select "X-Ray Lyrics".
4. On the TV screen, the Amazon Music app will continue to show Amazon Music lyrics on Smart TV for subsequent songs.
Note: To go into the full-screen view, select the small "greater-than" pointing up when hovering over the circle of the streaming album.
---
Exclusive: How to Listen to Amazon Music Without Limits
Although Amazon Music is a well-developed app and owns professional team members keeping an eye on and making emendations to fix the possible errors, it's still possible you'll encounter mistakes like Amazon Music not showing lyrics. Well, if you want to get rid of the control or limits by the Amazon Music app, it's okay and easy to do it with the help of the Tunelf Amatune Music Converter.
To be free of using the Amazon Music app when streaming music, you need to download music songs from Amazon, while the Amazon songs are encoded with special formats which cannot be downloaded locally, and they cannot be played in other places, either. Tunelf Amatune Music Converter is a great tool for converting Amazon Music to MP3, AAC, FLAC, WAV, etc., and downloading Amazon Music in Lossless format. It won't lose audio quality while the conversion. With the converter, you can also customize the audio parameters, like channel, sample rate, bit rate, and so on to make your own audio. And after conversion, you can even stream Amazon Music on any compatible player or device with ease.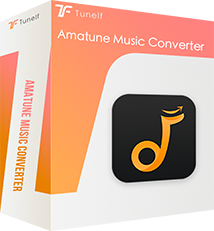 Key Features of Tunelf Amatune Music Converter
Download songs from Amazon Music Prime, Music Unlimited, and HD Music
Convert Amazon Music songs to MP3, AAC, FLAC, WAV, M4A, and M4B
Handle the audio conversion of Amazon Music at a faster speed of 5×
Ensure the output audio quality while retaining ID3 tags and metadata
---
Summary
From the above discussion, we got to know that not all songs have their lyrics on the Amazon Music app. And if Amazon Music not showing lyrics, you can try the fixes shared above. To be free of Amazon Music issues or errors, Tunelf Amatune Music Converter is always here available for you! You can download Amazon songs offline and listen to them on many devices without limitations.
---
---