"Alexa, play the song [title]."
"Alexa, play more songs like this."
"Alexa, add this song to a new playlist named [title]."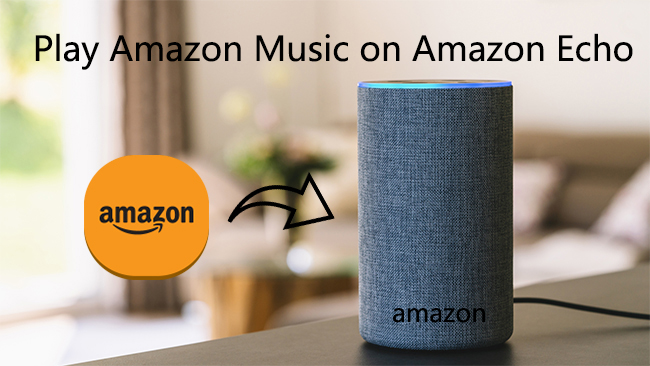 With Amazon Alexa at home, you can now issue a voice command to order whatever music you feel like listening to without moving an inch from where you are. On the other hand, Amazon Music not only allows you to create perfectly curated playlists, but also enables you to add music, podcasts, news, and more. Wouldn't it be nice if you could access all that content through your Amazon Echo device?
Luckily, you can — and quite easily, too. If you're looking to play Amazon Prime Music on Echo, this passage will break all your confusion down. Here we're going to elaborate on two possible methods about how to play Amazon Prime Music on Echo.
---
Part 1. Stream Amazon Music on Amazon Echo with Subscription
Alexa doesn't have access to music on its own. Therefore, you'll need to connect Alexa to whatever music provider service you use. Amazon Music is supported by Alexa, the connection seems to be much easier to play Amazon Music on Alexa if you subscribe to this platform. If you're an Amazon Prime subscriber, you can enjoy more than 2 million songs for free from Prime Music, or 60 million songs if you upgrade to Amazon Music Unlimited. Here's how to.
Step 1. Install and launch the Amazon Alexa app.
Step 2. Open the menu, and select Settings.
Step 3. Scroll down to Music and select Amazon Music from the list. If Amazon Music is not set up, tap Link New Service, then select Amazon Music.
Step 4. Link your Amazon account to your Alexa account and start listening.
Once successfully connected, you can set Amazon Music as the default music provider. Then next time your Amazon Echo will turn to Amazon Music automatically without you specifying the service.
---
Part 2. Play Amazon Music on Amazon Echo without Subscription
For those who don't want to renew the Amazon Unlimited subscription or suffer a lot from the inconvenience of offline listening, this method is the manna of heaven you're seeking for. All you need is to download all the Amazon Music tracks to your phone or computer, then you can play Amazon Prime Music on Alexa at ease. To achieve this, you just need an Amazon Music converter.
Here I would highly recommend Tunelf Amatune Music Converter – a well-designed streaming audio converting tool that aims to help you download songs, albums, and playlists from Amazon Prime Music and Amazon Music Unlimited and convert them to common formats like MP3 for listening anywhere.
With this tool, you can easily transfer the Amazon Music tracks to your mobile device. Then you can stream them to your Echo via Bluetooth. Being an all-in-one converter, you don't have to download the Amazon Music app. Just download Tunelf Amatune Music Converter from the official website. Here're the steps.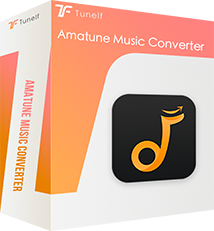 Key Features of Tunelf Amatune Music Converter
Download songs from Amazon Music Prime, Music Unlimited, and HD Music
Convert Amazon Music songs to MP3, AAC, FLAC, WAV, M4A, and M4B
Handle the audio conversion of Amazon Music at a faster speed of 5×
Ensure the output audio quality while retaining ID3 tags and metadata
Step 1 Customize output Amazon Music parameters
Launch the program on your computer. Then click the Sign in button to log into your Amazon Music account. Now the most important thing is to set the output audio customization. You can tap the Menu bar, select the Preferences option, and then switch to the Advanced tab. In the specific window, you're allowed to adjust the format like MP3, FLAC, and some other common formats. Meanwhile, you can set the sample rate, bit rate, channel, and output folder according to your needs.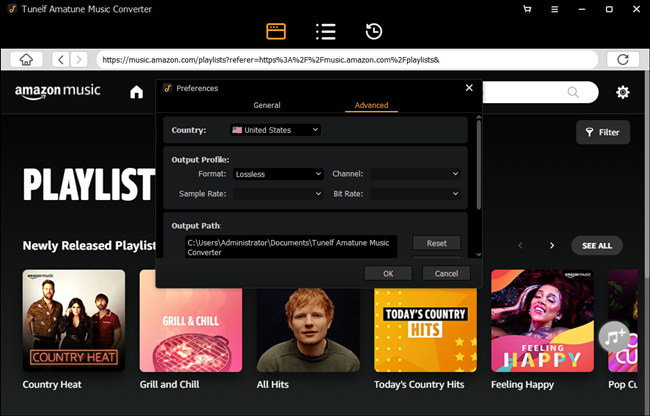 Step 2 Select Amazon Music album or playlist to convert
After completing the settings, go back to browse the whole Amazon Music library and pick out the songs that you'd like to convert. Then click the prominent yellow Add button suspended on the lower right corner, and the program will pop up a list of songs you've chosen. Check the listing box and select the songs you need.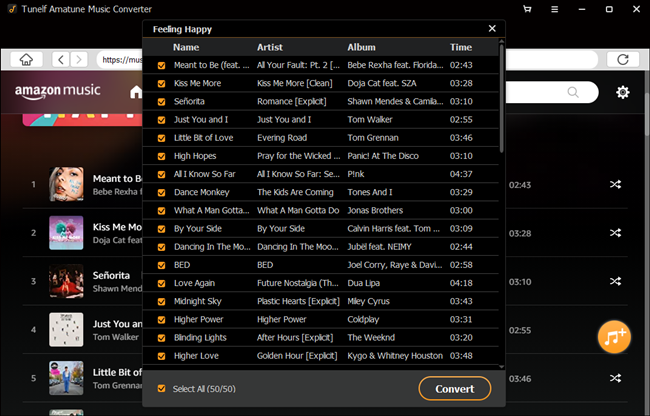 Step 3 Start to convert Amazon Music to MP3
Click Convert and the program will automatically tackle the converting process. Once finished, you can find the output audio tracks in the default folder or the folder you've specified earlier. Different from other converters, Tunelf supports you in listening to music while the program is processing, which means you can listen to Amazon music at ease when converting your favorite music tracks.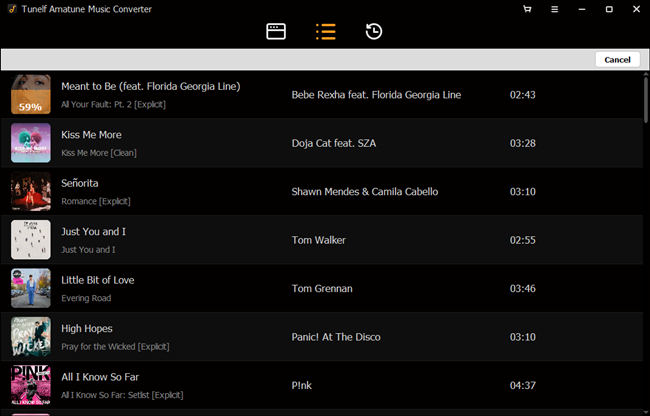 Step 4 Play Amazon Music on Alexa via Bluetooth
On Mobile Phones
Step 1. Click Setting and scroll down to Bluetooth.
Step 2. Tap the Echo name to pair Bluetooth and your Amazon Echo. Make sure you've connected the right Echo.
Step 3. Once successfully connected, Alexa will announce the connection.
On Computers (Make sure Bluetooth is enabled on your PC)
Step 1. Go to the Amazon Alexa page and sign in with your Amazon account.
Step 2. Navigate to Settings > Bluetooth and click Pair a New Device to link the computer with your Echo.
Step 3. Click Allow when receiving the notification from your computer asking for pairing. After connection, close the Pair Device window.
Now when you open a music app on your phone, tablet, or computer, the audio will play through your Echo device. You can then control playback with your mobile device or computer.