"Alexa, play the song [title]."
"Alexa, play more songs like this."
"Alexa, add this song to a new playlist named [title]."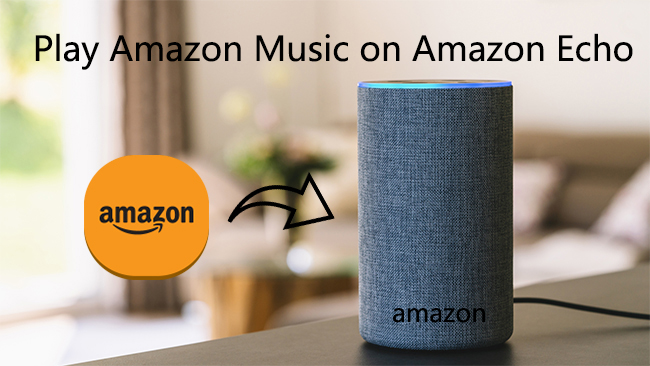 With Amazon Alexa at home, you can now issue a voice command to order whatever music you feel like listening to without moving an inch from where you are. On the other hand, Amazon Music not only allows you to create perfectly curated playlists, but also enables you to add music, podcasts, news, and more. Wouldn't it be nice if you could play Amazon Music on an Amazon Echo device?
Luckily, you can — and quite easily, too. If you're looking to play Amazon Prime Music on Echo, this passage will break all your confusion down. Here we're going to elaborate on four possible methods for how to play Amazon Prime Music on Echo.
---
Part 1. Preparations for Playing Amazon Music on Echo
Before going to enjoy Amazon Music on Alexa, there are some fundamental steps you should check to ensure it can run on Alexa smoothly.
Confirm An Active Amazon Music Premium Account
Some Echo newcomers may ask "is Amazon Music free on Alexa?" Indeed, if you want to play Amazon Music, an Amazon Music Prime or Amazon Music Unlimited membership is necessary whatever devices you apply. If you haven't subscribed to the Amazon Music premium plan, Alexa also supports you play your purchased Amazon Music songs.
Download or Update the Alexa App and Amazon Music
1. Go to App Store on iOS devices or Google Play on Android.
2. Search for Amazon Music and Alexa.
3. Tap Download or Update if you update available.
Set up Amazon Echo and Amazon Music on the Alexa App
1. Plug in your Echo device to ensure it can be detected.
2. Open the Alexa app. Go to More > Add Devices, then select your Amazon Echo.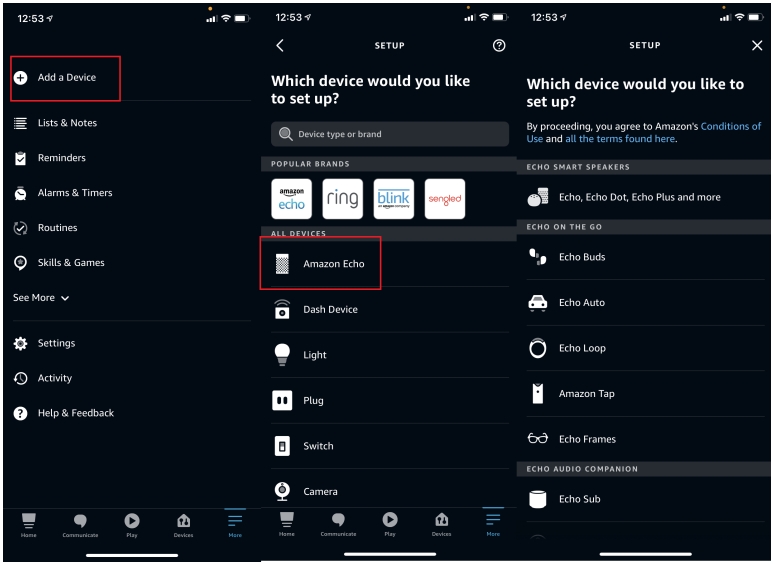 Connect Amazon Echo to WiFi
1. Open the Alexa app on your device.
2. On the Devices tab, select Echo and Alexa to select your device.
3. Tap the gear icon in the upper right. And tap the WiFi Network option to connect a network or change the current network.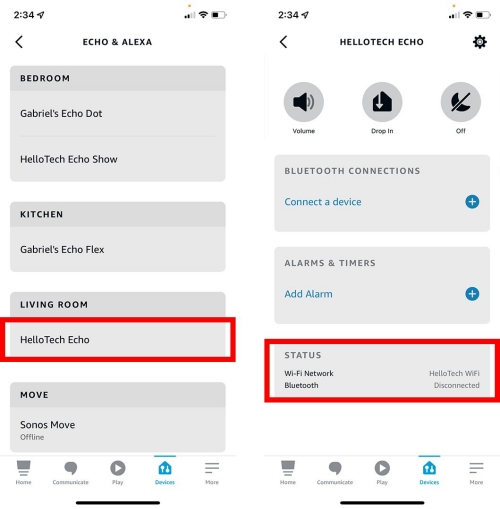 If it is the first time to connect your device, tap the + icon on the top right corner of Devices. Select Add Device from the pop-up menu, and select your Echo device. Once it's successfully added, you should be asked to choose your Wi-Fi network and enter the correct password if the app doesn't offer a saved connection.
---
Part 2. How to Get Amazon Music on Alexa with the Alexa App
Alexa doesn't have access to music on its own. Therefore, you'll need to connect Alexa to whatever music provider service you use. Amazon Music is supported by Alexa, the connection seems to be much easier to play Amazon Music on Alexa if you subscribe to this platform. You can enjoy more than 100 million songs for free whether you are an Amazon Music Prime or Amazon Music Unlimited subscriber. Here's how to.
Step 1. Install and launch the Amazon Alexa app.
Step 2. Open More options from the menu, and select Settings.
Step 3. Scroll down to Music and select Amazon Music from the list. If Amazon Music is not set up, navigate to Music & Podcasts and select Link New Service, then select Amazon Music.
Step 4. Link your Amazon account to your Alexa account and start listening.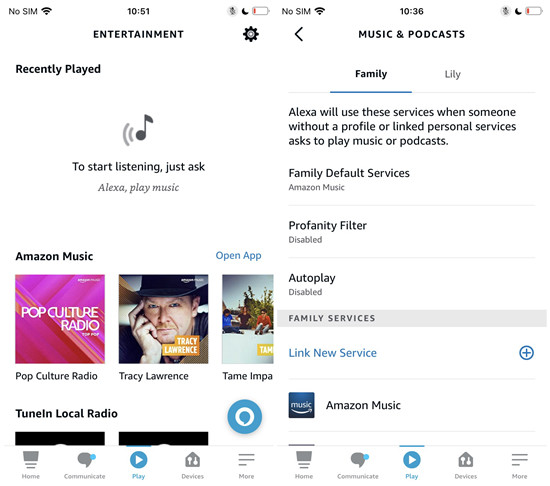 The linked music services are listed under Manage Services. Once successfully connected, you can set Amazon Music as the default music provider. The next time your Amazon Echo will turn to Amazon Music automatically without you specifying the service.
---
Part 3. How to Connect Amazon Music to Echo with Bluetooth
Another quick method is to connect your mobile devices to Amazon Alexa Echo with a Bluetooth connection. The steps are pretty easy as well. Just hold your phone or tablet close to the Echo device and say "Alexa, pair." and then your Echo device will run into the pairing mode. Before that, please give priority to connecting your Echo and Bluetooth-enabled device to the same wireless network that we mentioned in Part 1.
Pair Amazon Echo to Bluetooth via Settings
1) Make sure your Amazon Alexa Echo and your mobile or computer are connected to the same Wi-Fi network.
2) Wake up Alexa Echo and make a command by saying "Alexa, pair".
3) Your Echo device will go into pairing mode at once.
4) Now open your Bluetooth settings on your phone or computer, and select Alexa Echo(which shows as Echo-XXX) from the devices list.
5) Once connected successfully, you'll receive the notice from your Echo device.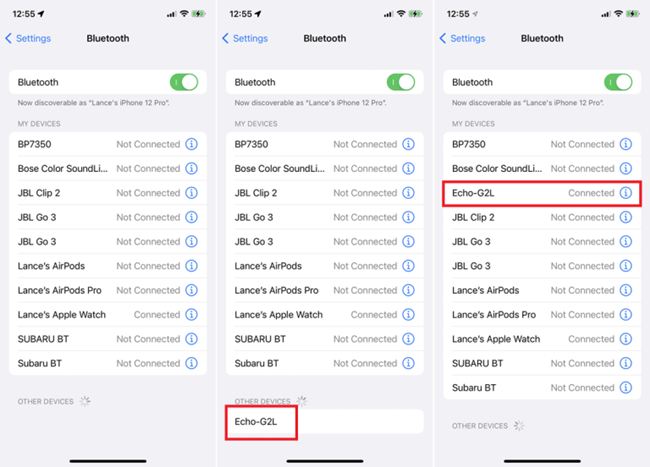 Pair Your Echo to Bluetooth via the Alexa App
1) Go to Devices > Echo & Alexa from your Alexa app.
2) Select the Echo device you want to pair with your phone or tablet.
3) Under the Bluetooth Connections section of your mobile device, tap Connect a device.
4) Link your mobile device to Echo and start playing.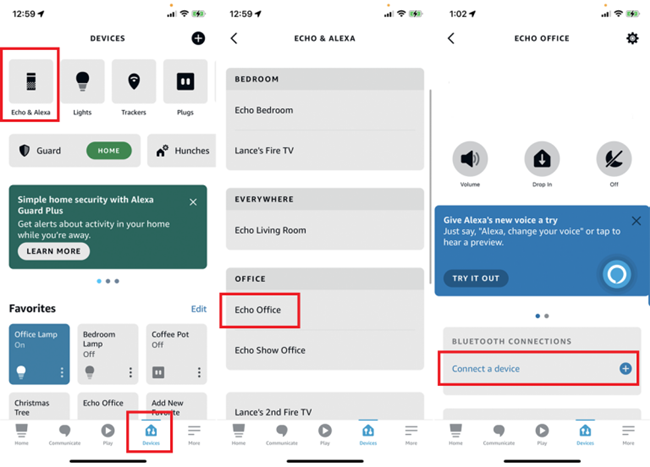 Now when you select a song to play on Amazon Music, you'll hear the audio from your Echo device. And you're also allowed to control the music playback on your mobile device or just speak to Alexa.
---
Part 4. How to Cast Amazon Music to Alexa with the Amazon Music App
In addition to connecting with the Alexa app and Bluetooth, you're also able to stream Amazon Music on Amazon Alexa Echo with the Cast feature. Amazon Music can be cast to an Alexa-enabled Device, excluding Fire TVs, using the Amazon Music app. As long as you are connected to a good internet connection, you can cast any music audio files from Amazon Music to Alexa-enabled devices. Also, please make sure your Alexa-enabled devices are using the same account on the Amazon Music app. Here're the tips:
Note
If you only have subscription plan for Amazon Alexa Echo, you're not able to cast Amazon Music on Alexa Echo without Amazon Music subscription plans.
On iOS devices
To start casting from your Home screen:
1) Tap the Menu icon in the upper right corner.
2) Tap Connect to a Device.
3) Now select the Echo device and cast your music.
To start casting from the Now Playing page:
1) Tap the Casting icon in the upper-right corner.
2) Select Amazon Alexa Echo from the list and play Amazon Music.
On Android devices
To start casting from the Home screen or from the Now Playing view:
1) Tap the Casting icon from the upper-right of the corner.
2) Tap Alexa Echo and connect, then cast your music files on the Echo device.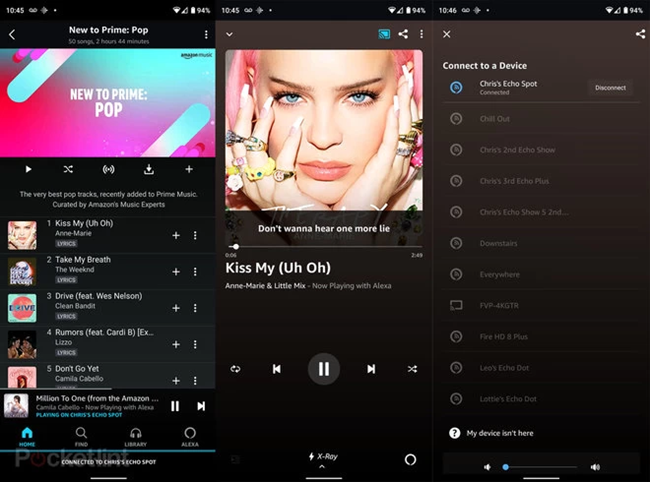 On Desktop
1)Select any track to start playing.
2)Click the device icon on the rightmost of the playing box, and you will see all available devices.
3)Pick your Echo device and cast your music.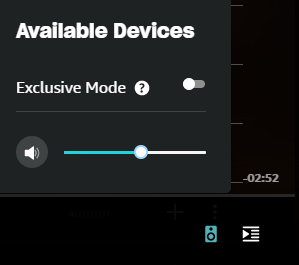 ---
Part 5. How to Play Amazon Music on Echo and Other Devices Simultaneously
If you are streaming Amazon Music on your mobile, Alexa will say Amazon Music is streaming on another device when you try to cast it to Alexa. So this time all you need is to download all the Amazon Music tracks to your computer locally, then you can play Amazon Prime Music on Alexa with ease. To achieve this, you just need an Amazon Music converter.
Here I would highly recommend Tunelf Amatune Music Converter – a well-designed streaming audio converting tool that aims to help you download songs, albums, and playlists from Amazon Prime Music and Amazon Music Unlimited and convert them to MP3 for listening anywhere. It will also maintain the high quality of Amazon Music and the ID3 tags will be preserved. The faster conversion speed can help you download a playlist within a few minutes.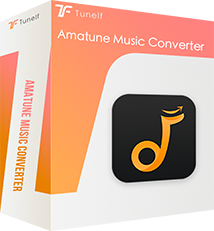 Key Features of Tunelf Amatune Music Converter
Download songs from Amazon Music Prime, Music Unlimited, and HD Music
Convert Amazon Music songs to MP3, AAC, FLAC, WAV, M4A, and M4B
Handle the audio conversion of Amazon Music at a faster speed of 5×
Ensure the output audio quality while retaining ID3 tags and metadata
With this tool, you can easily transfer the Amazon Music tracks to your mobile device. Then you can stream them to your Echo via Bluetooth as depicted in Part 3 or via Plex Media Player. Just download Tunelf Amatune Music Converter from the official website. Here're the steps.
Step 1 Select an Amazon Music playlist to convert
Launch the program on your computer and it will run the Amazon Music app on your PC at once. Then log into your Amazon Music account and browse the whole Amazon Music library. Pick out the songs that you'd like to convert by copying its share link, then paste them to the search bar. Click the Add + button suspended on the top-right corner, and the program will pop up a list of songs you've chosen. Check the listing box and select the songs you need.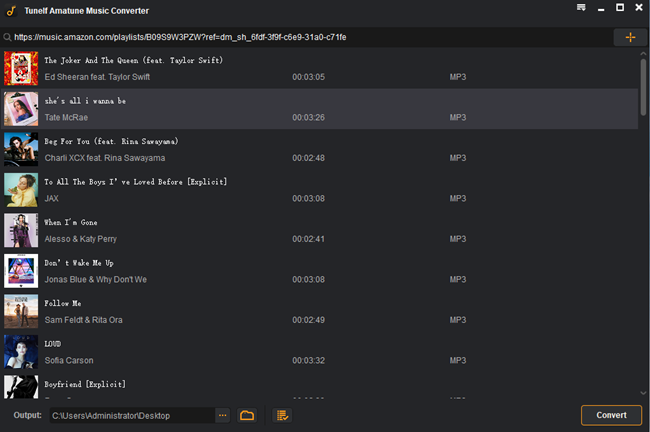 Step 2 Customize output Amazon Music parameters
After completing the settings, the most important thing is to set the output audio customization. You can tap the Menu bar, select the Preferences option, and then switch to the Convert tab. In the specific window, you're allowed to adjust the formats like MP3, FLAC, and some other common formats. Meanwhile, you can set the sample rate, bit rate, channel, and output folder according to your needs. To stream Amazon Music on your Echo device, just leave MP3 as default.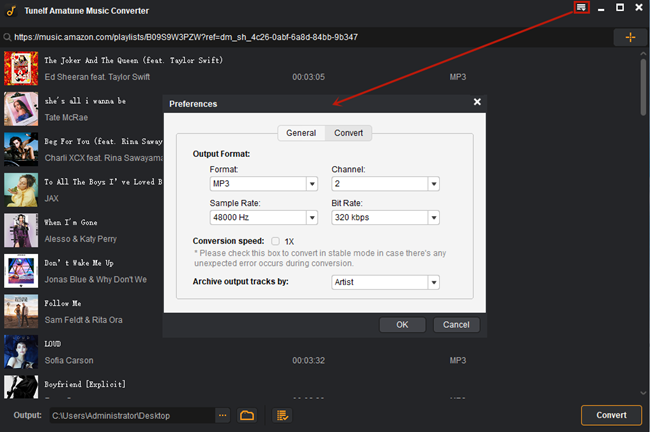 Step 3 Start to convert Amazon Music to MP3
Now click the Convert button and the program will automatically tackle the converting process. Once finished, you can view all your converted tracks in the Converted list or find the output audio tracks in the default folder or the folder you specified earlier. Now you can transfer or upload them to other places for listening.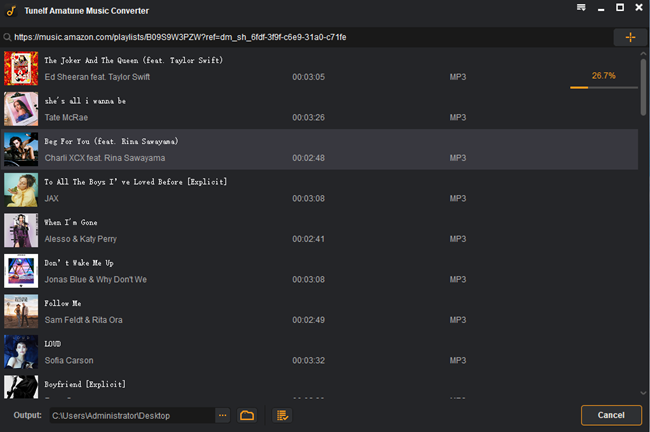 Step 4 Listen to Amazon Music on Alexa with Plex Media Server
To have Plex play your music files on an Amazon Echo, you'll need a media server device that is always on and can run Plex Media Server. That can include a desktop computer. So after downloading Amazon Music MP3 files on your computer, directly add them to Plex.
After adding Amazon Music to Plex Library, now, follow the process below to listen to Amazon Music on Alexa with Plex:
1) Visit app.plex.tv to launch Plex and sign up for a free account.
2) In the left pane, select Settings > Remote Access > Enable Remote Access.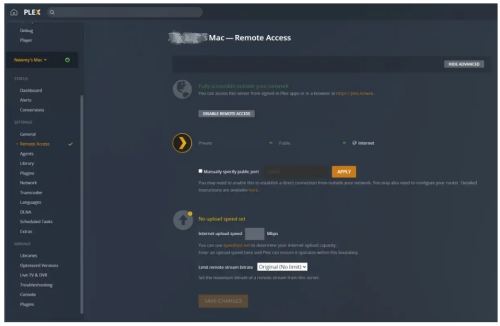 3) Return to the main menu. Under the Libraries section of the left sidebar, highlight Music, click the three dots, then select Edit. Use the Add folders menu to show Plex where your local Amazon files are located.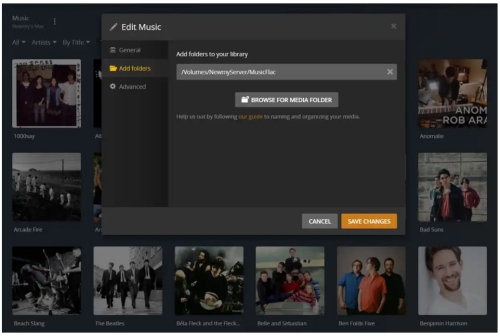 4) Now, install the Plex skill for Alexa, either directly through the web or by searching for Plex under the Skills section of the Alexa mobile app.
5) After installation, sign into the same Plex account, then hit the Authorize button.
6) With your Alexa device, say "Alexa, Ask Plex to change my server." If you only have one server, Alexa will set it automatically.
Now when you open a music app on your phone, tablet, or computer, the audio will play through your Echo device. You can then control playback with your mobile device or computer.
---
Part 6. How to Fix Amazon Music Not Working on Echo
There are a few times Amazon Music not working or playing on Alexa. Be calm down, here are some solutions to help you troubleshoot this issue.
Solution 1. Restart Alexa Echo and the Alexa app. The best and most straightforward way to do is to force to quit Echo and the Alexa app and restart them after a few minutes. If the issue still continues, remove the Alexa app from your device and go to the Apple store or Google Play to reinstall it.
Solution 2. Sign out of the Alexa Echo Device. If Echo is still unresponsive, try to deregister to refresh. Tap Devices at the bottom of the Alexa app. Select Echo & Alexa to decide on the device. Scroll down the DEVICE SETTINGS, then tap Deregister next to the Registered To tab.
Solution 3. Check if you stream Amazon Music on another device at the same time. If yes, you are limited to playing Amazon Music to Alexa. This time, you can draw support from Tunelf Amatune Music Converter to download Amazon songs as local MP3 files and listen to them without any limits on devices.
Solution 4. Renew your subscription. Any online content is limited if you lose your membership. So check and renew your premium plan regularly to stream Amazon Music without a hiccup.
---
Conclusion
With regard to streaming Amazon Music on Amazon Alexa Echo, you have several ways available. But if you prefer to stream Amazon Music on several devices including but not limited to Amazon Echo, you cannot achieve your target. But don't worry, Tunelf Amatune Music Converter is always here for you. With Tunelf, you can easily download Amazon Prime Music and Unlimited Music locally and stream them on Amazon Echo or other various devices without hassle. Now click the download link below and grab your chance right now!
---
---