Have you ever met the circumstances the following? Is Amazon Music not working on Android Auto or something?
User A: My Amazon Music does not work properly on Android Auto. The only function that responds when I pull up Amazon Music on my vehicle touchscreen is "Shuffle My Songs". Wonder about the troubleshooting steps.
User B: Did anyone encounter any problems while using Amazon Music on Android Auto? Because most of the time play button doesn't work for me. I need to start the music from my phone, I can't start it from my touch screen. Is anyone having the same issue?
Yes, we usually stream music through apps on mobile or desktop devices. But now as technology develops and also in catering to the public's needs, it's also possible to play music in a car. Usually, people will need professional third-party tools like Apple CarPlay and Android Auto. However, people have complained about Amazon Music not working on Android Auto issues.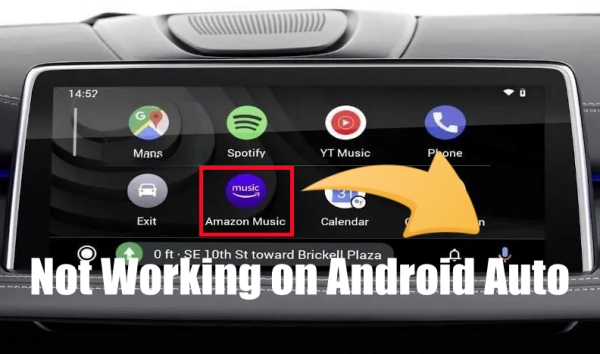 If you're suffering from this issue, too, don't worry. In the next paragraphs, we're going to discuss the reasons and explore possible effective ways to help you out! Now you just need to proceed to read.
---
Part 1 Why Amazon Music Android Auto Not Working with Android Auto
When it comes to the reasons why this happens, the factors can be various. But generally, in common cases, we can easily conclude and summarize the principles from many users' experiences. Here're the three main kinds we have selected.
1. App Issues (Amazon Music & Android Auto)
When you find that Amazon Music not working with Android Auto, then it's most likely that there has been something wrong with the app, either malfunctioning or outdated. Also, some software bugs and glitches in the process play roles in preventing the app from working normally.
2. Connection Issues (Network & App)
In order to play Amazon Music in your car, you need to use help of software like Android Auto. We need to make sure to connect both of the apps successfully and enable this feature in your car. Also, a good and stable network is required.
3. Device Problems
Some other problems on your devices will bring possible problems like that.
---
Part 2 How to Fix Android Auto Amazon Music Not Working
Now that we have figured out the reasons why Amazon Music is not working with Android Auto, try out these powerful solutions then! First of all, to save your efforts, I'd like to offer you this checklist for you. Perhaps it is due to these small factors that you cannot play Amazon Music on Android Auto in the car.
Checklist for Amazon Music and Android Auto:
1. Network connection. Make sure you're using a good and stable network.
2. Enable allow for cellular button if you use mobile data.
3. Try to restart your device as well as the malfunctioning apps.
4. Turn on the Car Mode in the Amazon Music app.
5. Update or reinstall the Amazon Music and Android Auto apps.
6. Make sure the volume level in your car stereo is turned on.
Once checked the above items, if your problem still exists, then you may need to resort to other specific methods. Look at the following solutions, we offer you the detailed steps below.
Method 1 Clear App Caches
Probably, apps are running out of your local storage space so the app is not working properly on your device. Every time when we open this app and do something, caches, and files produced in this process will be stored automatically as default. Most of them are useless and some corrupted cache files are likely to destroy the streaming experience. Therefore, it's necessary to clear caches from time to time. To clear Amazon Music caches, check the passage we have written before: How to Clear Cache in Amazon Music with Ease.
To clear cache on Android Auto, do as follows:
#1 Open the Settings app on your device.
#2 Navigate to the Apps section and then select See all apps.
#3 Scroll to Android Auto and more options will appear.
#4 In the App Info page, select Storage and cache option and tap on Clear Cache.
#5 Once finished, connect your phone to Android Auto again and the issue should be solved.
Method 2 Disable Battery Optimization
Another option for you to fix Amazon Music not working in Android Auto is to disable the battery optimization setting. Sometimes if your battery is slow or in order to save your battery, the optimization system in your device will change the mode which could result in Spotify not working on Android Auto issue. Try the steps as follows:
On iOS devices: go to Settings on your phone and tap on Battery, then toggle off Low Power Mode.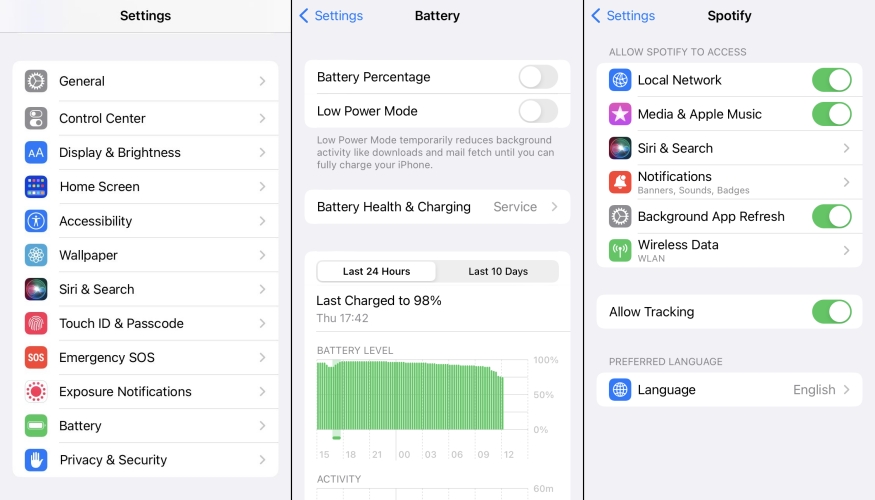 On Android devices: Go to Settings on your phone and tap on Battery > Optimize battery usage. Now search for the Amazon Music app in the list and move Amazon Music out of the battery optimization list and fix the issue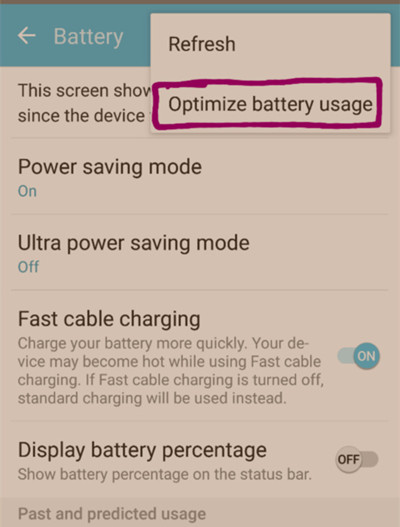 Method 3 Troubleshoot the Infotainment System
Besides the above two methods, some people have fixed the not working issue by adjusting the infotainment system. Remember that Android Auto may not launch automatically as soon as you plug your phone in. Sometimes, you'll need to open the app manually for it to appear on the display.
Follow the below steps to reboot your infotainment system: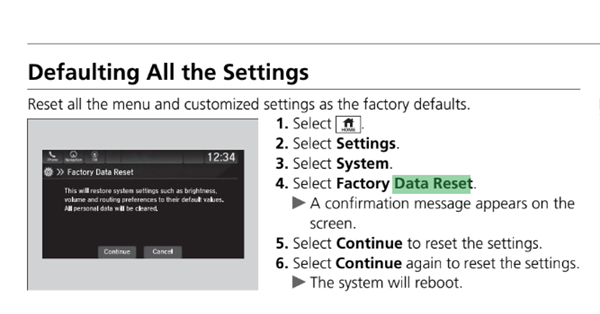 #1 Hold (HOME + POWER + |<<) until you hear a "tap" sound.
#2 Select "Detailed Information & Setting".
#3 Hold (BACK + POWER + |<<).
#4 Then you'll see a system reboot option.
Method 4 Check Your Paired Car Settings
Android Auto lets you pair your phone with multiple vehicles. If you're having trouble pairing Android Auto with a new car over USB, you can visit these options to hopefully fix it. To visit your Android Auto vehicle settings, open the Android Auto app on your phone and tap Previously connected cars.
This will show you a list of cars that you've approved or rejected for use with Android Auto. If you see your car in the Rejected cars header, you might have done this by accident. Remove the car from the blocked list and try pairing it again.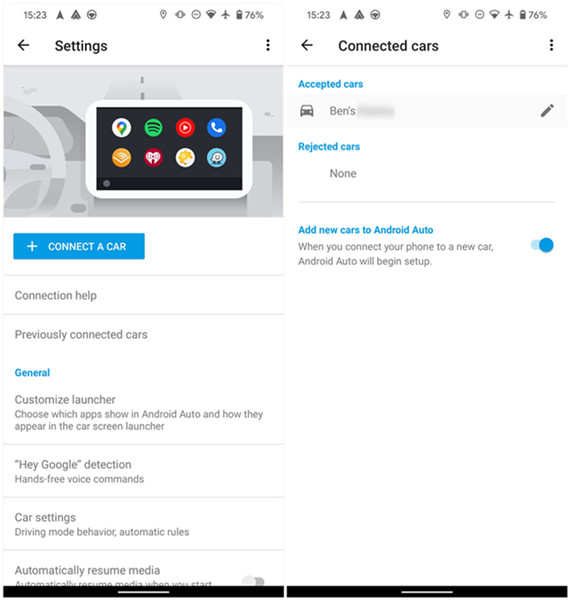 Open the Settings app on your smartphone. Navigate to the Connected devices section.
Tap on Connection preferences. Select Android Auto.
You will now be taken to Android Auto settings. Tap on 'Previously connected cars'.
Select the three-dot menu in the top-right corner of the screen.
Now, tap on 'Forget all cars'.
Go back to the previous menu and select 'Connect a car.' Follow the on-screen instructions to connect your phone to your car's head unit.
Method 5 Change Your Default Music Streaming Services
Say you have subscribed to both Spotify and Amazon Music and have both installed the apps on your mobile devices. However, the default music streaming application is set to Spotify. In this case, Android Auto might not play the Amazon Music songs. So, when you have multiple music streaming apps, you'd better select Amazon Music as the default music player to end this trouble happening again.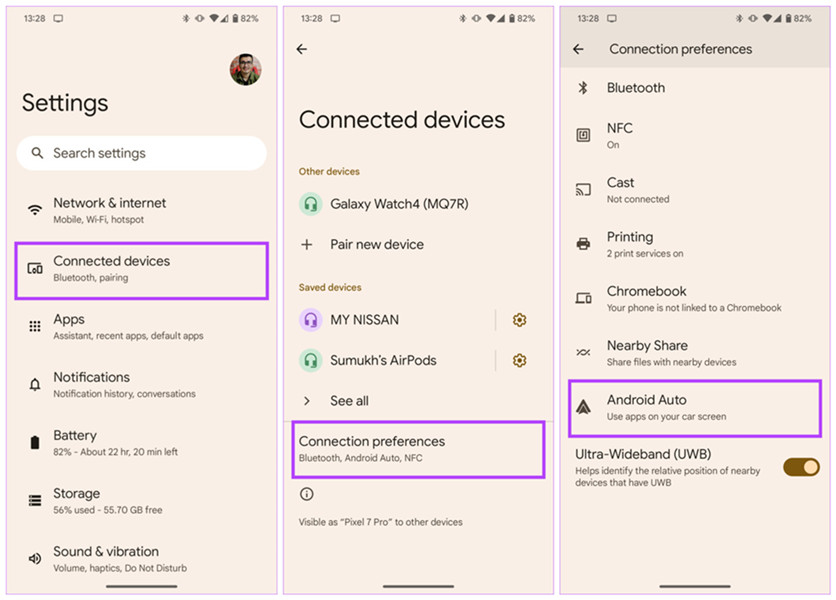 #1 Open Settings on your Android device and navigate to Connected devices.
#2 Tap on Connection preferences. Then, select Android Auto.
#3 Choose the Customize launcher option.
#4 Uncheck the music players that are not in use. Make sure to select the music services to which you have a subscription.
#5 Now restart Android Auto and Amazon Music app.
Now you can try to play Amazon Music in the car again to see if it works well with the Android Auto app.
Method 6 Replace the USB Cable
When using Android Auto on your device, you'll need a USB cable to connect your phone to your car. If your Amazon Music not working on Android Auto, your cable might have failed, or maybe it's of poor quality. Cable issues may result in connections dropping randomly or refusing to connect, etc. Changing the USB cable is a good measure to fix the not working issue. You're supposed to use high-quality USB cables no longer than 6 feet for a good result. Also, if the cable is for charging only and doesn't support data transfer, it won't work for Android Auto. Usually, you can tell if a cable supports data transfer if it has the USB "trident" symbol on the USB-A end.
---
Part 3 Best Method to Fix When Amazon Music Won't Play in Car
Now that you've solved the problem, want to listen to your favorite songs? As one of the biggest audio streaming and media service providers, Amazon Music offers millions of songs, audios, playlists, podcasts, etc. However, Since the audio and media files are protected and we cannot listen without the Amazon Music app. You need a specific app called Amazon Music Converter to deal with it. Tunelf Amatune Music Converter offers multiple formats to convert and preserve so that you can play Amazon Music on Android auto and any other players without limitations or glitches. Want to listen to Amazon songs without getting a premium? That's what I'm going to share now.
Tunelf Amatune Music Converter for Windows is designed to convert Amazon Music from encoded formats to MP3, WAV, FLAC, AAC, M4A, and M4B. Therefore, you can listen to Amazon songs on different devices or players as you like. You can just download all Amazon music files to your computer and put them on your phone. The converting process is fast, with 5x speed for windows users, you can download the songs within a few seconds and enjoy almost 100% lossless high-quality songs. It's very easy to handle, so why not have a try?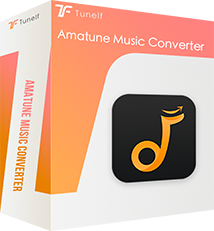 Key Features of Tunelf Amatune Music Converter
Download songs from Amazon Music Prime, Music Unlimited, and HD Music
Convert Amazon Music songs to MP3, AAC, FLAC, WAV, M4A, and M4B
Handle the audio conversion of Amazon Music at a faster speed of 5×
Ensure the output audio quality while retaining ID3 tags and metadata
---
Wrap Up
From the above discussion, we can easily know the reasons why Amazon Music not working on Android Auto. With the methods listed above, your problem can be resolved. If you want to stream Amazon Music on Android Auto or other devices without premium, here we also recommend you this great tool: Tunelf Amatune Music Converter. Click on the download button below to try our free trial version.
---
---