With SoundTouch speakers at home, you can now easily stream whatever music you feel like listening to in every room of your house. Amazon Music is now in seamless integration with SoundTouch speakers, which not only enables you to listen to perfectly curated playlists, but also allows you to add music, podcasts, radio stations, and more. Wouldn't it be nice if you could access all that content through your Bose SoundTouch speakers?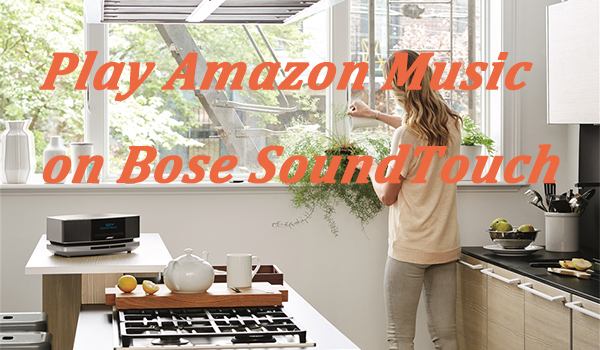 Luckily, you can — and quite easily, too. If you're looking to play Amazon Prime Music on Bose SoundTouch, this passage will break all your confusion down. Here we're going to elaborate on two possible methods about how to play Amazon Music on Bose SoundTouch.
---
Part 1. Stream Amazon Music on Bose SoundTouch with Subscription
The new Bose SoundTouch allows Amazon Music to play over the SoundTouch app directly, so the connection seems to be much easier to play Amazon Music on your SoundTouch speakers. You just need to subscribe to Amazon Music, whether Prime Music or Music Unlimited. Here you should pay little attention to Prime music, which is totally free if you have got an Amazon Prime membership. While Music Unlimited needs $9.99 per month, of course, enables you to access over 70 million music tracks compares to the small 2 million of Prime music. Whichever subscription tiers you've chosen, you can follow the steps below to get Amazon Music on Bose SoundTouch.
Step 1. Install and Launch the SoundTouch app on your smartphone.
Step 2. Click the Menu at the top left corner and scroll down to 'Add service', then choose 'Amazon Music' from the list.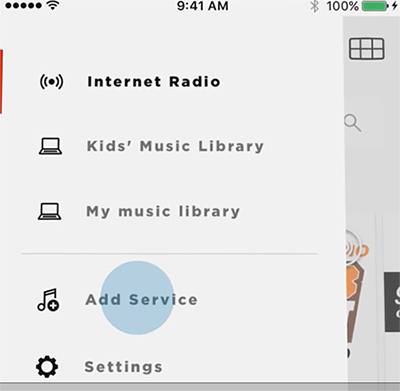 Step 3. Click 'Add account' to sign in and follow the instructions. If you don't have one, then tap 'Create Amazon account' to register a new account.
Step 4. Open a playlist at ease and it will be streamed over your Bose SoundTouch. You can also put a playlist on one of your presets by tapping the grid on the top right when you are listening to a playlist you like. Press-and-hold it to one of the six preset slots.
Once successfully connected, you can freely enjoy your preferred amazon music in any room with the Bose SoundTouch speakers.
---
Part 2. Play Amazon Music on Bose SoundTouch without Subscription
The purchase of Bose SoundTouch may be a big expense, and you should make a constant subscription to Amazon Music if you want to enjoy the preferred amazon music offline. $9.99 sounds to be not very much, but as 9.99 multiplies 12, 24, or even more, it probably should be more than you expect. To save a few pennies every month for you, here this method is the best option that tailors for you. All you need is to download all your preferred Amazon Music tracks to your computer, then you can enjoy the offline listening on SoundTouch speakers at ease. To achieve this, you will need your best assistant – Tunelf Amatune Music Converter.
2.1 Best Amazon Music Downloader You'll Need
Being a well-designed streaming audio converting tool for amazon music, Tunelf Amatune Music Converter aims to help you download your preferred songs, albums, and playlists from Amazon Music and convert them to common formats like MP3 while preserving the original audio quality.
With this smart tool, you can easily transfer the downloaded amazon music to your Bose SoundTouch and control the playback via Alexa. With a built-in Amazon Music web player, you can get an unlimited number of amazon music tracks with ID3 Tags.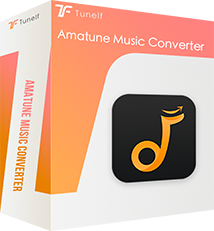 Key Features of Tunelf Amatune Music Converter
Download songs from Amazon Music Prime, Music Unlimited, and HD Music
Convert Amazon Music songs to MP3, AAC, FLAC, WAV, M4A, and M4B
Handle the audio conversion of Amazon Music at a faster speed of 5×
Ensure the output audio quality while retaining ID3 tags and metadata
2.2 Steps to convert your preferred Amazon Music
Just download Tunelf Amatune Music Converter from the official website and follow the detailed steps here.
Step 1 Set the output parameters of Amazon Music
Once installed, launch the program on your computer and then click the Sign In button to log into your Amazon Music account. Now you need to customize the output parameters according to your needs. Just click the Menu bar at the top right corner, select the first Preferences option, and then switch to the Advanced window. Here, you're available to set the format as MP3, AAC, M4A, M4B, FLAC, and WAV. Besides, you can adjust the sample rate, bit rate, channel, and specify the output folder.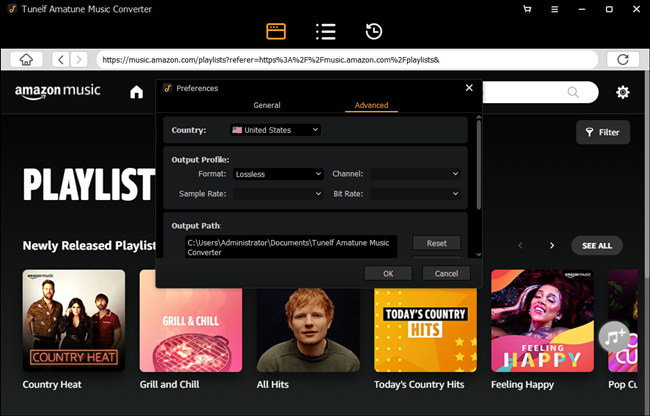 Step 2 Select preferred album or playlist to convert
Once customizing the output settings, go back to browse the whole amazon music library and select songs you want to convert. Just open the playlist and tap the suspended Add button. Then you'll see them lying in the conversion list. Check the list and select your preferred songs.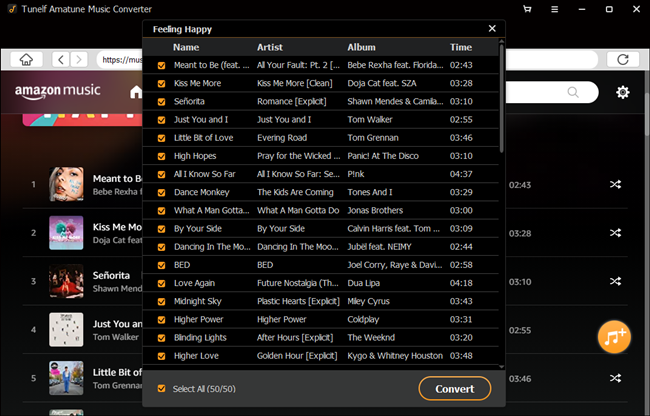 Step 3 Start to convert the preferred songs to MP3
After selection, click the Convert at the bottom right, and the program will soon download and convert songs to your specified folder. Different from other converters on the market, Tunelf allows you to enjoy listening to other playlists while tackling the conversion.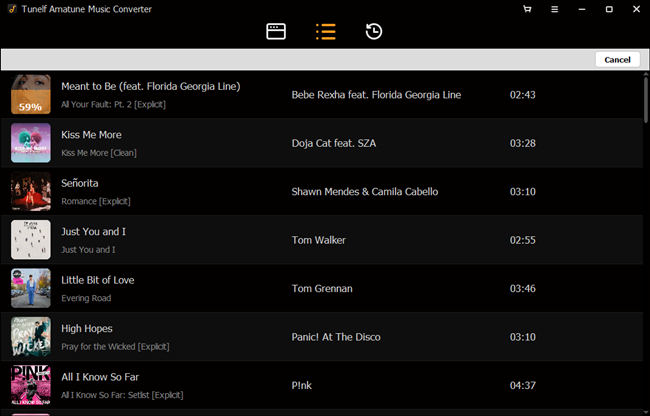 2.3 Upload converted amazon music to the SoundTouch app
SoundTouch allows you to import your music libraries into the SoundTouch system from any computer, or network-attached storage drive. Continue reading to learn more about how to add amazon music on Bose SoundTouch.
Note: Only music stored in the computer's 'iTunes Music' folder (for iTunes libraries) or the 'My Music' folder (for Windows Media Player libraries) will be available in the SoundTouch app.
Step 1. Download and install the SoundTouch app on your computer.
Step 2. Launch the app, select the Menu icon (≡) in the top left corner and then select 'Add Service'.
Step 3. Select 'Music Library on Computer' if your music is stored on a computer.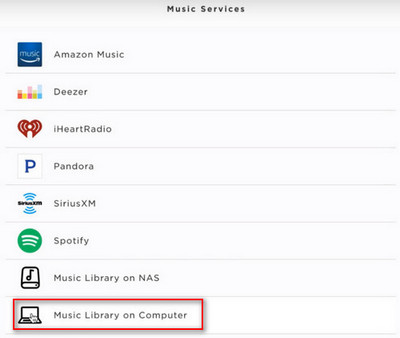 Step 4. Select the music library to be added: choose the type of library to be added by selecting the blue circle next to iTunes or Windows Media Player.
Step 5. Enter a name such as amazon music for the library and select 'Add Music Library'.
Once added, you can navigate to Menu>Music Library to access those converted Amazon Music tracks. You can then control the playback with your mobile device or computer.
---
Part 3. How to Control Amazon Music on Bose SoundTouch via Alexa
The Bose Skill for Alexa allows you to play music on your SoundTouch systems by talking to an Amazon Alexa-enabled device without moving an inch from wherever you are. Therefore, you can easily control the playback of amazon music with Alexa via voice commands, such as "Alexa, ask Bose to play Preset 1", "Alexa, ask Bose to skip this song", or "Alexa, ask Bose to turn off", etc. Here's the tutorial to play amazon music on Bose SoundTouch with Alexa.
Step 1. Install the Alexa app and connect with your SoundTouch account.
Step 2. On your mobile device, open the Amazon Alexa app and click 'Menu', then select 'Skills'.
Step 3. In the search field, enter 'Bose' and select the Bose Skill from the search results, then choose 'Enable'. When prompted, enter your SoundTouch account information.
Step 4. Open the Amazon Alexa app, select 'Settings > Music & Media > Amazon Music'.
Step 5. Select 'Link account to Alexa' and enter your account information.
You're all set!Now you're ready to control the playback of Amazon Music using Alexa with your SoundTouch systems.