Offering over 70 million songs with curated playlists and personalized streaming stations, Amazon Music stands out from the most popular online music streaming services with its refined features, which has attracted more than 55 million subscribers' attention worldwide. If you're just looking to enjoy streaming music on Amazon Music right now, which membership tier should you consider? Prime Music or Amazon Music Unlimited?
Since Prime Music and Music Unlimited share many features, it can be a little confusing to tell apart what each of them offers. To make it easy for you, this passage is going to give you a quick breakdown of the similarities and differences between Prime Music and Amazon Music Unlimited.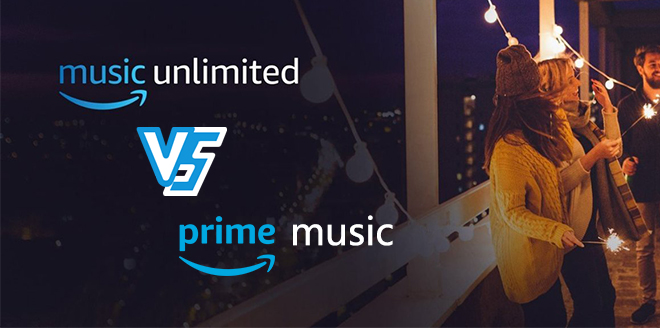 ---
Part 1. What is Amazon Music Unlimited & What is Amazon Prime Music?
What is Amazon Prime Music?
Amazon Prime Music has been giving Prime members ad-free access to more than 2 million songs, as well as thousands of playlists and stations, since 2014. In 2019 Amazon introduced an ad-supported free version that non-Prime members can enjoy on any device, which is now the gateway to access other Amazon services.

What is Amazon Music Unlimited?
Amazon Music Unlimited is Amazon's paid streaming music service. It offers a subsidized option for Prime members, over 50 million songs, along with HD tiers and other exclusives. At present, it's the third-most-popular service behind Spotify and Apple Music.

---
Part 2. What're the Similarities of Amazon Prime Music and Music Unlimited
Amazon Music Unlimited is the grown-up version of Prime Music. Therefore, in essence, both services share many of the same features.
1. Available titles: If you have a Prime membership or subscribed to Music Unlimited, you can choose from thousands of playlists and personalized streaming stations.
2. Ad-free listening: Whether you own the free version or pay for the upgrade Unlimited, Amazon will always allow you to enjoy music without ads.
3. Unlimited plays: Unlike other streaming services that support unlimited skips unless you pay for them, Amazon Music makes it a standard service to both users of Prime Music and Music Unlimited. That means you can skip an unlimited number of songs and listen for as many hours as you'd like.
4. Supported devices: Both of them work on the devices that Amazon Music support, including smartphones, computers, smartwatches, TVs, and other multimedia devices.
5. Alexa Interaction: You can issue voice commands to control music playback through Alexa with both services.
6. Podcasts: Both Prime Music and Music Unlimited members can stream thousands of popular and exclusive podcasts on Amazon Music.
7. Offline listening: Both services support offline music streaming, except Music Unlimited single-device plan, which is the lowest-cost option that only works with an Alexa-enabled device. This is understandable since you'll need the Internet to power your Alexa device.
---
Part 3. What're the Differences between Amazon Prime Music and Music Unlimited
1. Music Library: The main difference, in my opinion, lies in the music library selection. Prime members are given access to 2 million songs, which seems to be a large number. But compared to the homogenous 50 million collections of music library that belong to Music Unlimited, Amazon Prime Music looks like a lovely dwarf.
2. Price: For Prime members, you need no charge to enjoy Amazon Prime Music. What's more, there's a nice perk to upgrade to Amazon Music Unlimited for only $7.99/month and $79/year. If you haven't subscribed to Prime Music, Amazon Music Unlimited will cost you $9.99 a month, which is around the industry standard. Besides, Music Unlimited offers discounts to students and family plans.
3. Streaming limits: If you have a Prime membership or Music Unlimited Individual Plan, you're allowed to sign in one device at a time. If you've subscribed to a Music Unlimited Family Plan, six devices at a time are supported.
4. Voice commands: As Amazon pushes its Music Unlimited service's integration with Echo and the Alexa voice assistant, you can choose from more voice commands on your Alexa device. You can ask Alexa to play specific songs, artists, albums, or playlists, and Alexa can even pull up a "latest song" from the artist or play music based on mood, time, activity, and more.
6. Exclusive content: Amazon Music Unlimited owns a unique feature called Side-by-Side, which syncs artists' commentary with racks from their catalogs.
---
Part 4. Amazon Music Unlimited vs. Prime Music: Which One is Better
To be honest, I think both options work for different types of listeners.
For those who don't listen to tons of music, and aren't too particular about what they're listening to, then Amazon Prime Music can be a pretty good choice because it costs nothing. Not only will you get a lot of great music, but you can also get free access to other streaming services like Local Radio, TuneIn, and iHeartRadio on your Echo device.
However, if you're those who have broader musical interests, always enjoy music with your Alexa devices, and are particularly involved in the Amazon sphere, then an Amazon Music Unlimited plan would be an excellent choice for you. Plus, if you're already a Prime member, you'll be able to save several bucks each month compared to services like Tidal, Spotify, and Apple Music.
Prime Music
Music Unlimited
Available Titles
> 2 million
Thousands of playlists.
Personalized streaming Stations.
> 50 million
Thousands of playlists.
Personalized streaming Stations.
Music Quality
up to 320 kbps
320 kbps standard
Up to 3730 for the "Ultra HD" plan
Ad Free
Yes
Yes
Unlimited Plays
Yes
Yes
Supported Devices
All Amazon Music-supported devices
All Amazon Music-supported devices
Alexa Interaction
Yes
Yes
Podcasts
Yes
Yes
Offline Listening
Yes
Yes
Price
Free with Prime membership
From $7.99/month
Streaming Limits
One
One
Up to 6 with family plans
---
Part 5. Extra Tips: How to Save Amazon Music to Computer Forever?
By subscribing to Amazon Prime Music or Music Unlimited, you can set out an enjoyable musical journey. However, if you cancel the subscription, all the downloads for offline listening will go with the wind. Especially for Music Unlimited members, you should make a constant subscription to keep your music library due to the copyright limitation. Many people are wondering whether they can save Amazon Music to their computer.
You can easily make it with the help of Tunelf Amatune Music Converter – a professional Amazon Music converting tool that aims to help you download songs, albums, and playlists from Prime Music and Music Unlimited, and convert them to MP3 or other widely-used formats for offline listening.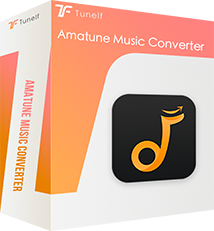 Key Features of Tunelf Amatune Music Converter
Download songs from Amazon Music Prime, Music Unlimited, and HD Music
Convert Amazon Music songs to MP3, AAC, FLAC, WAV, M4A, and M4B
Handle the audio conversion of Amazon Music at a faster speed of 5×
Ensure the output audio quality while retaining ID3 tags and metadata