Music is ubiquitous in our daily life. Nowadays, more and more people are not content with listening to music on one device. As one of the most popular streaming services, Amazon Music has captivated the heart of global people for its library of over 100 million songs, high sound quality with HD, and easy compatibility with Alexa and Fire TV. When you own these devices and you opt to make the most of Amazon Music by streaming Amazon Music on more than one device, only to find Amazon Music won't work properly. Don't be frustrated. This passage is going to remove this device restriction and help you achieve your aim to listen to Amazon Music on more than one device.
---
Part 1. Frequently Asked Questions about Amazon Music
From the search engines where all information is scattered, we collect some of the most frequently asked questions and list them as follows. Before we get to the point, check out these questions if they can catch you.
Q1. Can I play Amazon Music on more than one device at the same time?
Indeed, the answer to this question is totally depending on your subscription. Although Amazon Music provides several plans for users to choose from, that is a complicated pricing structure. Well, here we give you a chart to help you learn clearly about Amazon Music premium plans and you can make your decision if necessary. In brief, once you subscribe to a family plan, you are able to stream Amazon Music on up to 6 devices at a time.
Q2. Can I have Amazon Music on 2 devices?
Yes. You can have up to 10 devices authorized to your account. But each device can only be authorized to one account at a time. If there are 10 devices authorized to your account, you must deauthorize one before authorizing another device. You can deauthorize a device and authorize it to another account at any time.
Q3. How to check how many devices are logged into one Amazon account?
Go to Manage Your Content and Devices and log in to your Amazon account. Click Devices to view all your registered devices.
Q4. Can I transfer downloaded Amazon tracks to other devices for listening?
No, all your downloaded Amazon Music songs are encoded by DRM technology. Put another way, you can't listen to downloaded Amazon tracks on other apps and other devices without Amazon Music. But you can draw support from Tunelf Amatune Music Converter or Amazon Digital Music to download songs in MP3s, and both allow you to enjoy them on other apps and other devices.
---
Part 2. Official Ways to Play Amazon Music on More Than One Device
To stream Amazon Music on more than one device, there are three feasible ways.
Method 1. Switch to Offline Mode
As long as you've subscribed to one of the Amazon Music premium plans, you are entitled to download Amazon Music songs for offline listening. So this feature offers you the first option to play Amazon Music on more than one device. Just download your desired songs to Amazon Music and switch this device to offline mode, then open another device to get online content on Amazon Music.
Note
Amazon Music Prime can only download tracks from All-access Playlist, while Amazon Music Unlimited can access downloading the whole library in HD or Ultra HD.
How to Listen to Downloaded Amazon Songs
1. Fire up the Amazon Music app and pick your desired song to download.
2. Tap the three dots icon, and select Download from the dropdown menu.
3. To view and listen to all your downloaded songs, go to Library > Songs or Playlists > Downloaded.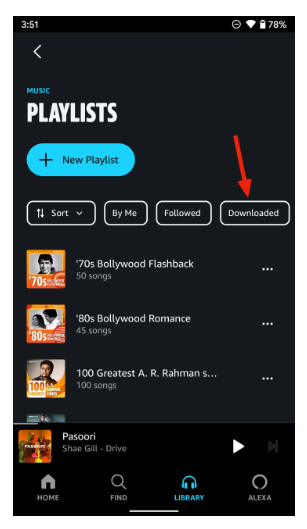 For iOS users, you can get the offline mode feature in the Amazon Music app. Just tap the gear icon in the top-right corner of Amazon Music, and toggle it to enable the Offline Mode on the new pop-up menu.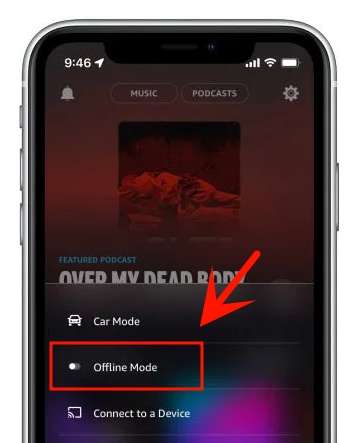 How to Stream Amazon Music on More Than One Device
After start playing the downloaded song for offline playback, turn on the flight mode or turn off the internet connection to switch your current device to offline. Next, launch Amazon Music on another device and log into the same valid account to acquire your online library for playing.
Method 2. Purchase Amazon Digital Music
Amazon Music belongs to Amazon company which is the biggest online shop in the world. So, you are allowed to purchase Amazon songs from Amazon Music Digital Store. Undoubtedly, it is the perfect option to remove the limits of Amazon Music on the device. But it is expensive for a lot of tracks. In this way, you can play and download your purchased songs at any time and on any device.
How to Purchase Amazon Music Songs
1. Visit Amazon Music Digital Store and enter your favorite song in the search bar.
2. Select Purchase Options > MP3 Music to buy the entire album. Also, you can click the three-dot icon next to the title to choose Buy Song.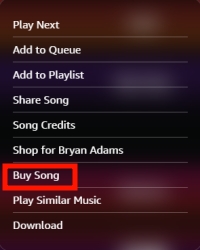 3. After confirming your purchase, the song or album will be added to your library immediately.
4. To play Amazon Music on more than one device, on the Purchased section, download your purchased songs from the web browser and they will come in MP3 formats.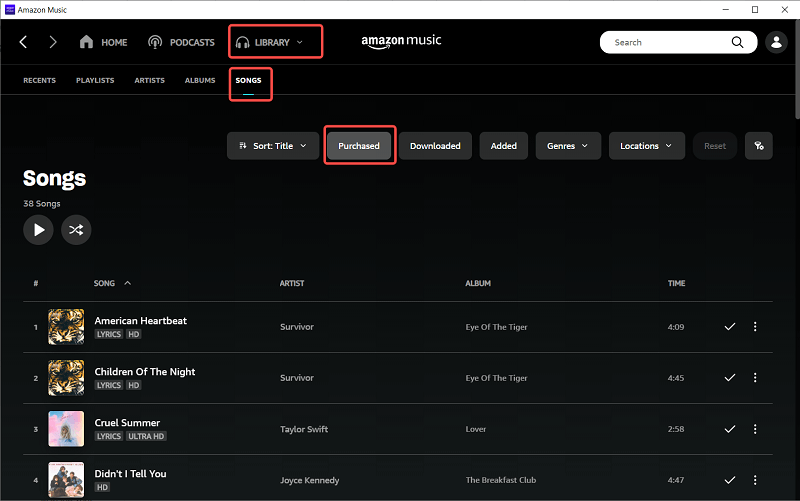 How to Listen to Purchased Amazon Music on More Than One Device
1. Find and locate your Amazon Music MP3 files on your device.
2. Sync the local MP3s to any device you want to play.
Method 3. Upgrade to Amazon Music Unlimited Plan
From part 1, you've known Amazon Music Unlimited Family Plan supports you streaming Amazon Music on up to 6 devices at a time and Amazon Music Unlimited Single-Device Plan allows you to stream one single Echo device or Fire TV at a time. Upgrade your subscription to the top level, and listen to Amazon Music in HD or Ultra HD, which is heaven for Amazon Music buff. To subscribe to a new plan, go to the Amazon Music Settings page and pay $15.99 per month for Amazon Music Unlimited Family Plan or $4.99 per month for the Single-Device plan. After subscribing successfully, you can invite your other device's account to join these plans.

---
Part 3. Best Way to Stream Amazon Music on Any Device Simultaneously
Even though official ways for you to choose, there are different killing parts that stop you from using them: one method can only make you stream Amazon Music on two devices at a time, and the other two require you to cost extra dollars. Besides, once your family subscription is expired, you are not eligible to play Amazon Music on up to 6 devices and the downloaded tracks are not available for you. If you're subscribing to Amazon Music premium plans or are experiencing Amazon Music free trial, you might as well download Amazon Music tracks as local files using Tunelf Amatune Music Converter. Compared with the second method, this way saves you a lot of money if you need to play plentiful Amazon Music songs on more than one device.
Tunelf Amatune Music Converter is an amazing Amazon Music downloader aiming to convert songs from Amazon Music to MP3 and other common formats. If you're in desperate need of downloading Amazon Music songs for playing on multiple devices, this Amazon Music converter is a perfect solution. By applying it, you can freely listen to Amazon Music songs on any device or any media player like MP3 players, smart speakers, smartwatches, game consoles, and more you want. Moreover, it ensures a zero-loss quality and preserves all meta tags which is convenient for you to organize. With this smart tool, you would have the ability to get an unlimited number of songs from Amazon Music without device restriction. Most importantly, it supports inputting and converting in batches.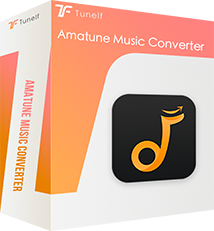 Key Features of Tunelf Amatune Music Converter
Download songs from Amazon Music Prime, Music Unlimited, and HD Music
Convert Amazon Music songs to MP3, AAC, FLAC, WAV, M4A, and M4B
Handle the audio conversion of Amazon Music at a faster speed of 5×
Ensure the output audio quality while retaining ID3 tags and metadata
Step 1 Select and add Amazon Music tracks to Tunelf
Launch Tunelf will automatically lead you to go to Amazon Music on your computer. Now, you can share the song to obtain the link of a track, playlist, album, or artist on Amazon Music, and copy it to Tunelf's search bar. After that click the + icon to upload your Amazon Music songs. Sure, you can just drag and drop your preferred song or playlist to Tunelf.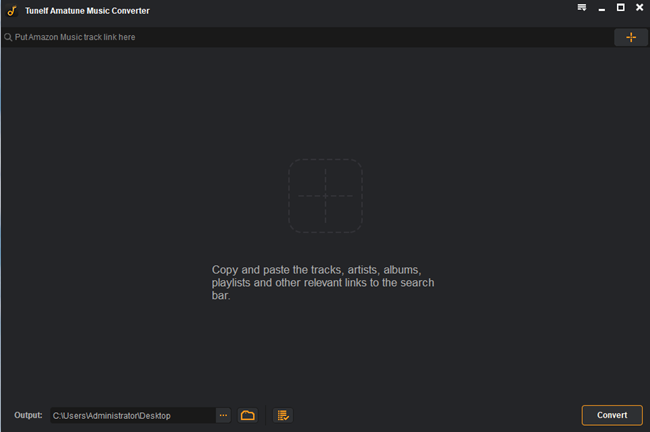 Step 2 Set the MP3 format for Amazon Music tracks
After importing songs from Amazon to Tunelf, you have the freedom to customize the output format, channel, bit rate, and sample rate. To make these adjustments, click the Menu icon next to the Minimize icon and select Preference. On the new window, choose the Convert panel to do changes and click OK to save your settings. For playing Amazon Music on more than one device, just leave the MP3 as default.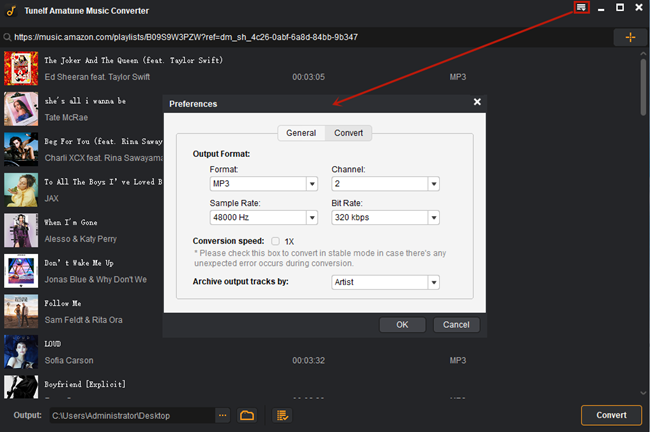 Step 3 Download Amazon Music tracks in MP3
Before converting, you can change the output location by clicking the three dots next to the Output panel. Now, click Convert at the bottom right corner to initiate downloading and converting songs to MP3. After conversion, it is easy to locate all your converted songs on the Converted box.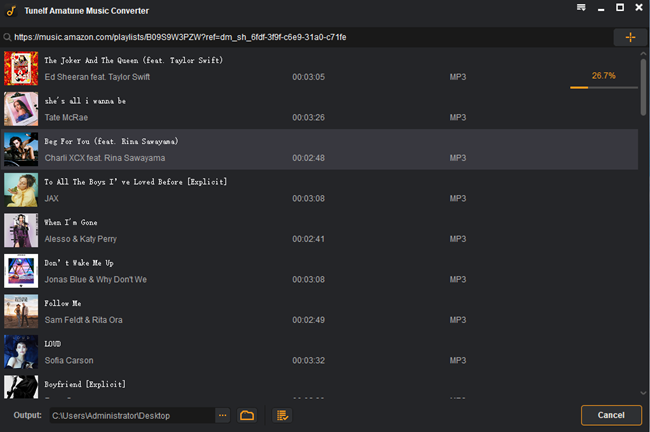 Step 4 Start playing Amazon Music on any device with ease
Find and locate your converted MP3 files in your local folder, and then export them to your mobile or other devices. MP3 is a standard and common audio format that can highly compatible with your device even without the Amazon Music app. Just feel free to stream your converted Amazon Music on any device and dive into the musical world.
---
Conclusion
Although Amazon Music doesn't support you playing Amazon Music on more than one device unless you subscribe to the family plan, there still exist other ways to achieve that. Just choose your ways and follow the above steps to meet your needs. In words, Tunelf Amatune Music Converter is a perfect solution to help you download Amazon Music songs and play them without limits on devices. Go for it!
---
---