No doubt, PlayStation 4 could be a great game console for most of the people sitting in homes right now. It could deliver awesome gaming power, vibrant HDR technology, and incredible entertainment. Furthermore, you can discover the biggest and best movies, TV shows, video streaming services, and all the world's music from your PS4 home screen.
To most users, what's more exciting is that they can play streaming music on PS4 while playing video games. Currently, you can only access music from Spotify on your PS4. But if you're a subscriber to Amazon Music, it is a bit difficult for you to enjoy songs from Amazon Music on PS4. It doesn't matter, and this post just shows how to play Amazon Music on PS4.7

---
Part 1. How to Use Amazon Song on PS4 via Web Player
Although a series of streaming services like YouTube and Spotify is available on PlayStation 4, Amazon Music doesn't offer its streaming service to PlayStation 4 now. So, you're not able to download and install Amazon Music on PlayStation for enjoying the range of Amazon Music on the PS4 directly.
However, Amazon enables its users to play music from its web player. By getting Amazon Prime Music on PS4, as well as, Amazon Music Unlimited, you can take advantage of the PS4's web browser. To get playback of Amazon Music Unlimited on PS4, you can follow the below steps.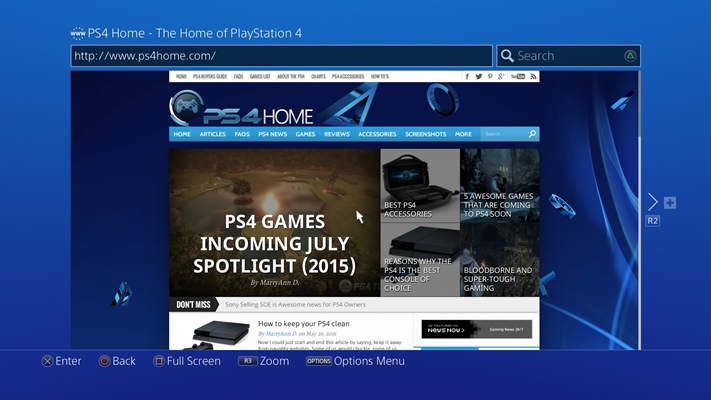 1) Turn on your system until you enter into the PlayStation home screen.
2) Navigate to the content area where you can find a row of applications.
3) Scroll to the right and select the Internet Browser from the content area.
4) Open the browser by tapping the X button on your PS4 controller.
5) Then enter Amazon Music in the search field or enter the URL of Amazon Music in the address bar.
6) Now log in with your Amazon username and password, then select your favorite songs to play from Amazon Music on your PS4.
---
Part 2. How to Play Amazon Music on PS4 via USB Drive
The PS4 browser allows you to access the web player of Amazon Music with ease, but it would be impossible to enjoy Amazon Music in the background. On the other hand, the playback of Amazon Music on PS4 is not stable by using a web player. In this case, the experience of playing games on PS4 is poor.
There is another method for you to get Amazon Music tracks on the PlayStation 4. Since the PS4 system can play music files from a USB storage device, you can listen to Amazon Music tracks in the background without interrupting games, the Internet Browser, or other applications. So, you can transfer Amazon Music files to a USB drive for playing on PS4.
2.1 What You Need for Amazon Music on PS4
Before talking about the solution in detail, you need to know that you are not allowed to export Amazon Music to any other device due to encryption technology. Thus, you cannot directly move Amazon Music files to your USB flash drive directly even though you've downloaded them as a user of Amazon Music Unlimited or Prime Music.
Whereas, thankfully for Tunelf Amatune Music Converter, you would have the chance to remove the limit on Amazon Music. Tunelf Amatune Music Converter is developed to convert songs from Amazon Prime Music and Music Unlimited to several common music formats like MP3. With it, you can easily download Amazon Music tracks to the USB drive for playing.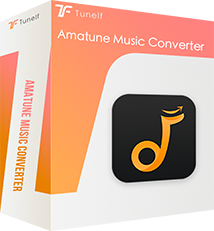 Key Features of Tunelf Amatune Music Converter
Download songs from Amazon Music Prime, Music Unlimited, and HD Music
Convert Amazon Music songs to MP3, AAC, FLAC, WAV, M4A, and M4B
Handle the audio conversion of Amazon Music at a faster speed of 5×
Ensure the output audio quality while retaining ID3 tags and metadata
2.2 How to Play Amazon Music on PS4 from USB
Given below are instructions on how to remove DRM protection from Amazon Music and convert Amazon Music tracks to MP3 which can be played on PS4.
Step 1 Import Amazon Music to Tunelf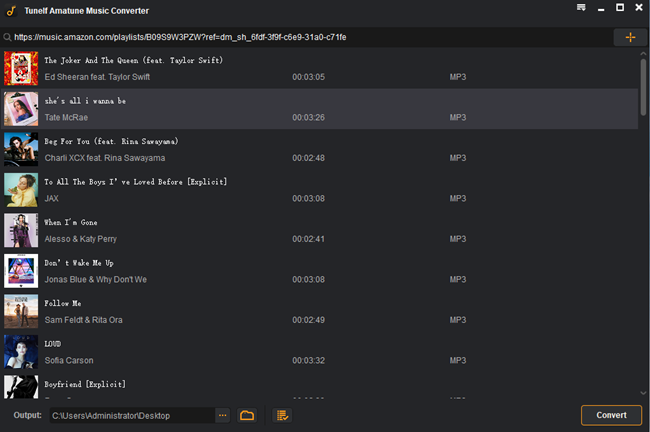 After you've installed Tunelf Amazon Music Converter to your computer, you could fire up it, and then it will run Amazon Music automatically. You can find any track or playlist you want to play on the PS4 and then open an album or playlist you want to get. Copy the share link and paste it to the search bar in the converter, then click Add + icon, and the program will list all songs immediately in the Add window. Now all you need is to set the output audio parameters.
Step 2 Edit the output audio parameters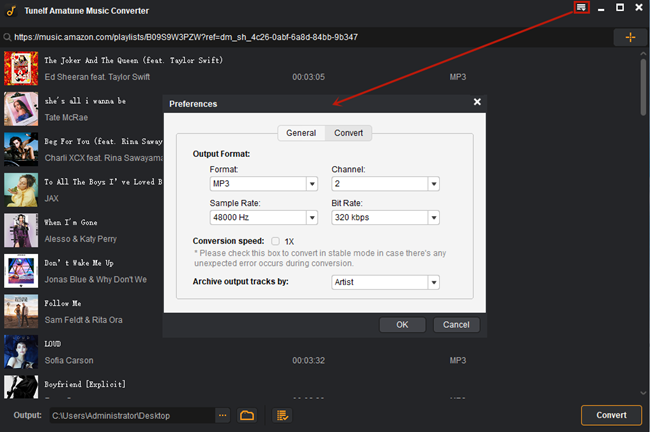 The next is to adjust the output audio parameters by clicking the Menu bar > Preferences > Convert. You could make Amazon Music tracks saved in the format of MP3 files that can be compatible with the PlayStation 4. Otherwise, you could configure the value of bit rate, codec, sample rate, and others.
Step 3 Begin to extract from Amazon Music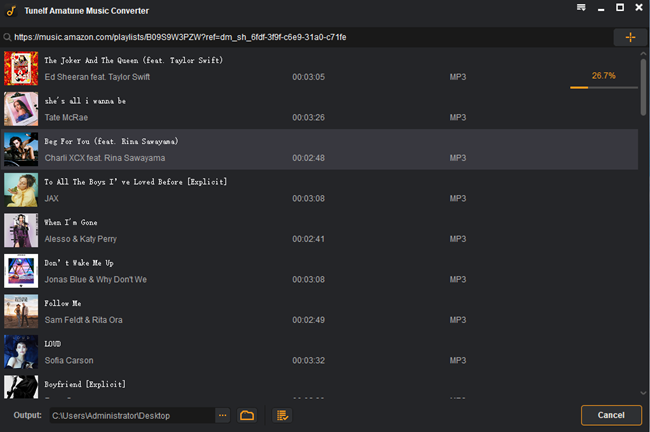 Once all is done, you could get started downloading songs from Amazon Music to MP3 by clicking on the Convert button at the bottom right corner of the Add window. Tunelf app will work at a fast speed and you just need to wait for the downloading and conversion. After downloading, you could navigate to Converted > Search to view the converted Amazon Music files in your specific folder.
Step 4 Play Amazon Music on PS4 from a USB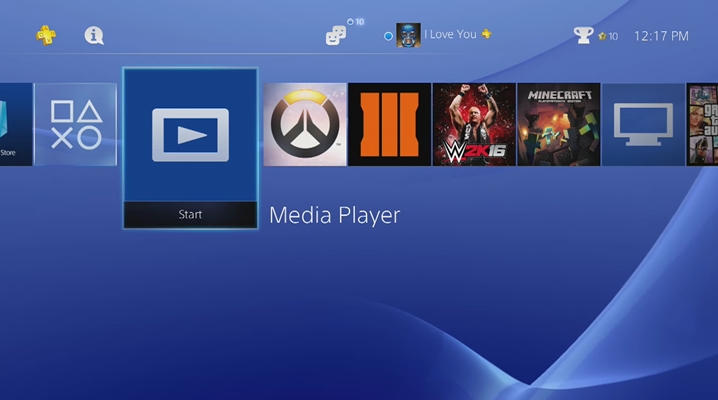 Now plug your USB flash drive into your computer, create a music folder on the USB storage drive, and move your Amazon Music files into this folder. Then connect your USB flash drive to the PS4 again. To play Amazon Music on the PlayStation 4, select USB Music Player or Media Player from the content area then select your music files to play. Generally, the simple steps are as follows:
1. Plug your USB flash drive into your computer.
2. Copy & paste your converted Amazon Music songs to the USB flash drive.
3. Plug the USB flash drive into PS4.
4. In the window of USB Media Player, select the Amazon Music songs you would like to play, simply hit the "OPTIONS" button, and start playing.
---
Bottomline
It is not possible to use Amazon Music on the PlayStation 4 currently. When and if in the future it will be possible to enjoy the music streaming offer from Amazon Music on the PS4, is not known. But the above two methods could enable you to get Amazon Music on PS4 now. For listening to music and playing video games better, it is better to play Amazon Music on PS4 through your USB drive.
---
---