Apple Music is a popular-used online streaming service for music. People stream what they'd like to hear on them, which has become a must-have lifestyle in our daily life. Recently, a lot of people are asking about the method to repeat a song on Apple Music. That is how to put a song on loop in Apple Music, people are interested in this topic and are eager to get this job done. Don't be in a hurry, just calm down and read the following parts carefully. Now I'll share a troubleshooting guide on how to repeat a song on Apple Music.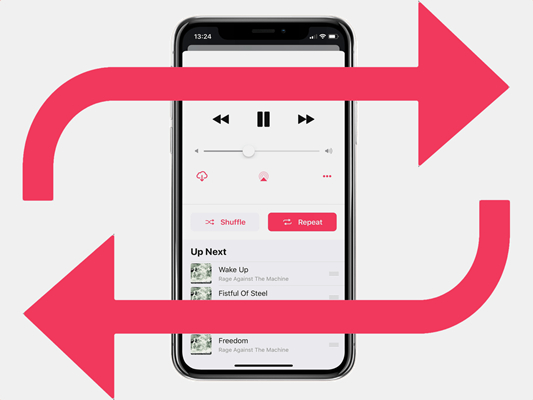 ---
Part 1. How to Put a Song on Loop in Apple Music
Sometimes, you're streaming your music from the Apple Music library and want to make your list playing in order repeatedly or just repeat a single song. In this case, you need to change the playback setting from Apple Music. Here offers the guide to setting on multiple devices.
1.1 Loop Apple Music on iPhone/Android
There are several ways to put a song or repeat it on iPhone/Android. You can ask Siri and make a command to set it, or you can turn the repeat on and off manually. The formal method is only available on iPhones.
Ask Siri to repeat music
It's easy to make a command simply to set a song or playlist repeat. You can activate the feature by saying something like:
"Hey Siri, repeat this album."
"Hey Siri, repeat this playlist."
"Hey Siri, repeat this song."
"Hey Siri, turn off repeat."
And then you can listen to a repeated playlist or song. Honestly say, using Siri can help you to control your music playing much better.
Repeat an Album or Playlist on Apple Music
Next, let's learn how to repeat a playlist of Apple Music, do as follows:
Step 1. Open the Apple Music app and choose an album or playlist to play.
Step 2. Tap the Now Playing section at the bottom of the screen.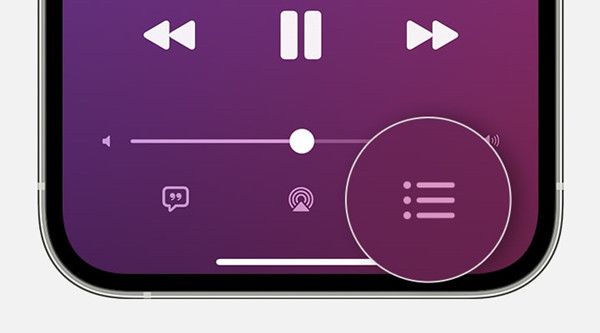 Step 3. On the screen that shows up, tap the three-lined icon in the lower-right corner.
Step 4. Here tap the Repeat button and it will change to the Repeat All icon.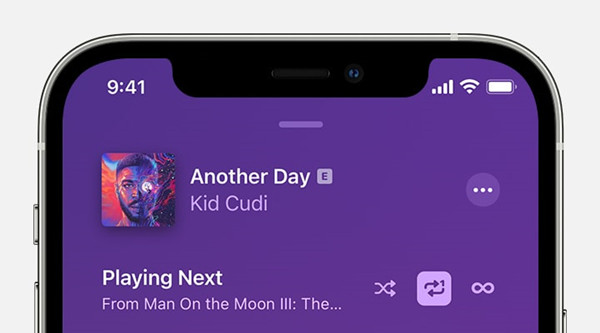 Once turning on the Repeat All button, you can see the icon is highlighted. After then, you can now play a playlist in order repeatedly.
Loop a Song on Apple Music
Putting a song on loop on Apple Music is similar to the steps above. The only thing different is the repeat item. Repeat All is applied to repeat a playlist or album, while Repeat One is just to repeat an individual song. These two icons have a slight change too. The Repeat One icon has a number 1 on the Repeat icon, but the Repeat All icon doesn't.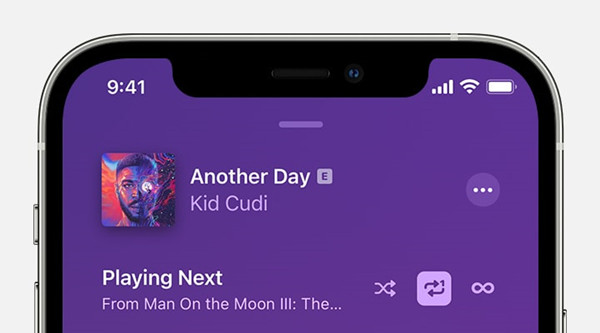 Step 1. Open the Apple Music app and play a song.
Step 2. Go to the song's playing page and tap the Now Playing button in the lower-right corner.
Step 3. Tap the Repeat button to change it to the Repeat One icon. When you see a Repeat icon with the number 1, then you've set it up successfully.
1.2 Repeat a Song on Apple Music Desktop App
On your Mac, you should do this arrangement on the Apple Music app. While on your PC, go to open the iTunes app instead.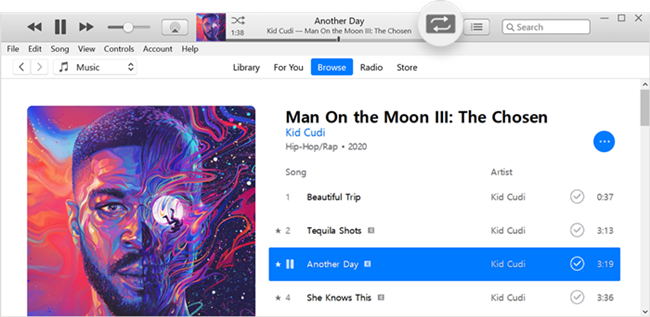 Step 1. Launch the Apple Music app on your Mac or open the iTunes app you're using on your PC.
Step 2. Choose a song or playlist to play.
Step 3. Click on the Repeat icon from the top of the window.
Here you can change the Repeat mode by clicking the Repeat icon once, twice, and three times. Then the mode will be changed to Repeat All, Repeat One and Repeat Off.
1.3 Loop a Song on Apple Music on the Web Player
If you didn't download the Apple Music app, you can go to the Apple Music Web Player to listen.

Step 1. Go to music.apple.com to listen to Apple Music via browsers.
Step 2. Choose a song or playlist to play.
Step 3. In the Now Playing section, tap the Repeat icon once, twice, or three times to set up.
---
Part 2. How to Loop Apple Music Songs on Other Devices
A lot of you may have experienced the following situation: when you downloaded Apple Music and want to transfer or upload them to other devices for offline listening, however, only to find no option to do that. Because Apple Music employs a DRM protection method to lock down all of its songs so that the music content can only be played on its own platform. Another thing that needs noting is that even if you've downloaded the Apple Music songs, they will soon be greyed out once your subscription expired. So, removing protection from Apple Music songs becomes a bit tricky but necessary if you want to gain more control or manage your music library. That's why you need the Apple Music Converter.
Luckily, there's a method that allows you to download Apple Music offline and play them on multiple devices. All you need to do is to download Tunelf Apple Music Converter to convert Apple Music from encrypted M4P format to other common audios.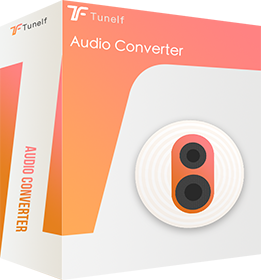 Key Features of Tunelf Audio Converter
Convert Apple Music to MP3, WAV, FLAC, AAC, and other audio formats
Remove DRM from Apple Music, iTunes audios, and Audible audiobooks
Preserve the converted audio with lossless audio quality and ID3 tags
Support the conversion of audio format at a 30× faster speed in batch
Tunelf Apple Music Converter is an easy-to-use yet efficient software to convert Apple Music to MP3, M4A, M4B, AAC, FLAC, and WAV. Due to its powerful functions, you can remove the DRM-protected files easily and play them on any other players you like. You can retain the original metadata info of the file and preserve them with lossless high quality. The conversion process can be done within a few minutes with a quite fast 30x speed.
Convert Apple Music to MP3 for Playing Anywhere
Here is the tutorial about how to use Tunelf Apple Music Converter to convert Apple Music to MP3.
Step 1 Add Apple Music to Tunelf Software
Just launch Tunelf Apple Music Converter on your computer and then it will load Music or iTunes automatically. To add songs you want to convert, there are three methods for you to choose from. You can directly drag and drop your songs to the interface. Or you can click the Load iTunes Library button to browse your songs or locate the folder where you save songs by clicking the Add Files button.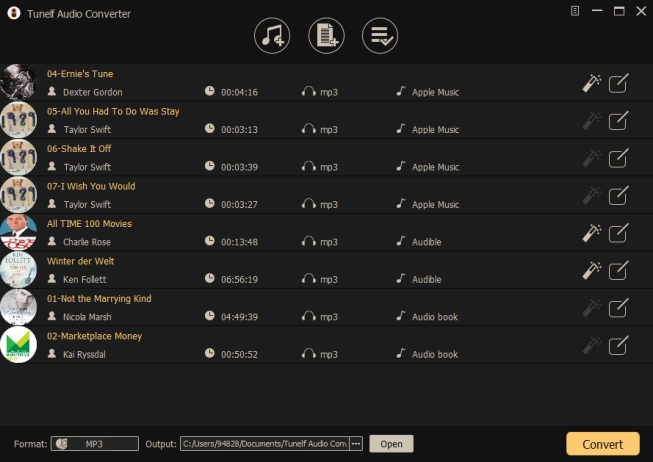 Step 2 Tune the Apple Music Songs to Your Personal Requirement
In the Format panel, you can select MP3 from the list of audio formats. Here you can also set the bit rate, sample rate, codec, and channel for getting better audio quality. After deciding, click the "OK" button to go back to the interface.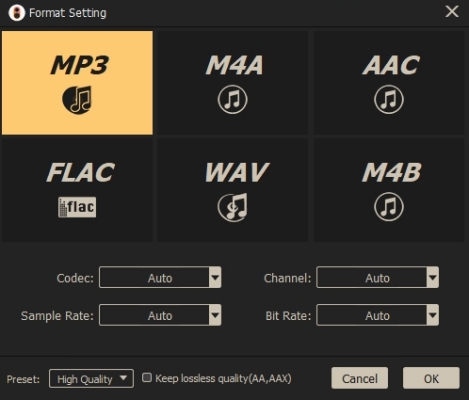 Once you've set the output formats and parameters, you can click the Convert button to proceed. Wait for a while till the conversion is done. You can convert a whole batch within a few minutes with lossless high quality. After the conversion is completed, click the Converted button to check the location of your converted files. You can manage your music library with different archives.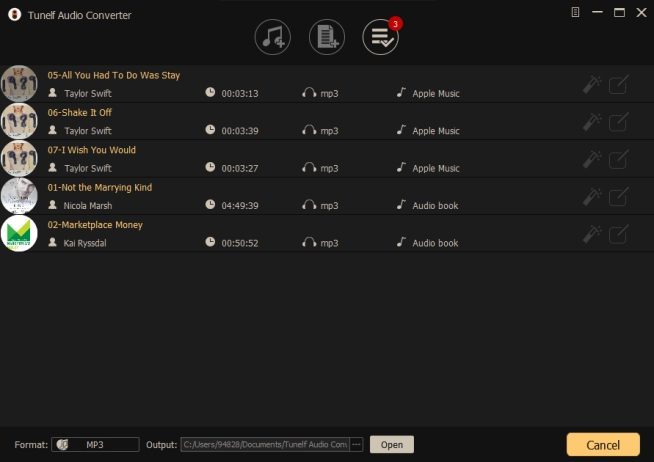 Now you have saved the converted Apple Music in your local folders, you can repeat the Apple Music songs or playlists on multiple devices or players.
---
In Conclusion
It's a common activity when you want to repeat a song on Apple Music while streaming. And we have also offered a detailed procedure on how to set a loop on multiple devices respectively. In addition, Tunelf Apple Music Converter enables you to play and loop Apple Music songs on other devices. Click the link below to try Tunelf Apple Music Converter!
---
---