Except for streaming music online, listening to audiobooks got popular in people's daily lives. It is convenient for us to enrich our lives by either mixing up our timepieces for more meaningful usage or entertaining ourselves. Audible, the leading audiobook server, of course, becomes the first choice for most audiophiles. Now suppose you've chosen an audiobook and are listening to it on Audible, then you got to realize that the narration speed is going too slow – what now? You must want to speed up Audible playback speed, right?
Altering the narration speed, sometimes, can largely influence your listening experience. If you find that the Audible book is too slow to follow, see the below steps to speed up Audible books right now!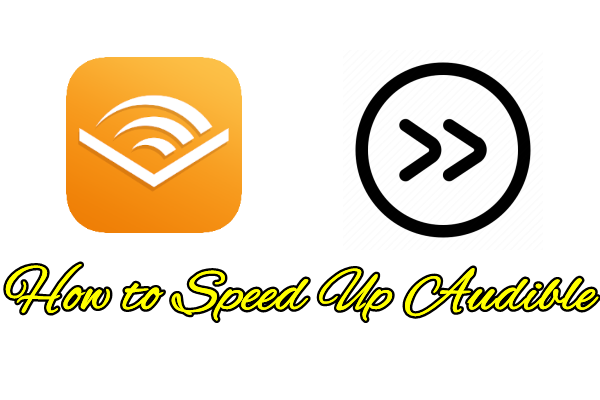 ---
Part 1 Can you Speed Up Audible Books
Of course, you can! To speed up the narration speed of your audiobooks from Audible, all you need is to adjust the playback speed on the Audible app. Generally, you can slow down or speed up the speed as you want from 0.5x to 3x. If you want the narrator to read the novel faster than it was before, you can get this done in any Audible mobile app with ease. However, when it comes to listening to Audible audiobooks on PC or Mac, things aren't so easy. As of July 31, 2022, the Audible app for Windows 10 has been discontinued and can no longer be used to access Audible or listen to titles in your Library. As for Mac, there is no Audible application on it yet, let alone to speed up Audible books.
Still, there are some alternatives that allow you to change the playback speed of your Audible audiobooks on desktop devices.
---
Part 2 How to Speed Up Audible Audiobooks on Multiple Devices
Now, let's first take a look at how to adjust the Audible playback speed on your mobile and desktop devices. Since you installed applications on your mobile devices, it's easy to set up narration speed. And for settings on the desktop, you'll have more steps to follow. Check the details below.
2.1 How to Speed Up Audible on iOS/iPad
To adjust the narration speed on your iOS Audible app here shows the steps on iPad. Please follow the steps below: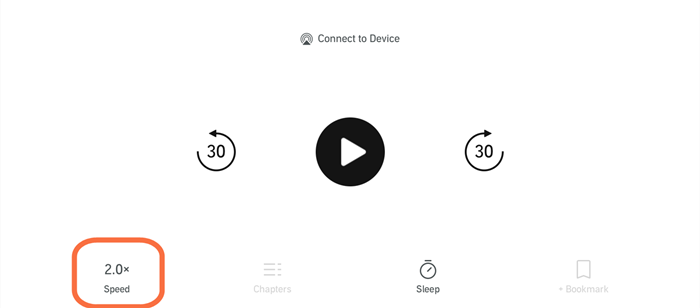 Step 1. Launch the Audible iOS app on your iPhone or iPad.
Step 2. Select the audiobook that you want to speed up and tap it to play.
Step 3. In the Playing View, you'll see the 1x symbol at the left corner of the bottom.
Step 4. Tap the 1x speed button and scroll to the narration speed(from 0.5x to 3.5x) you want.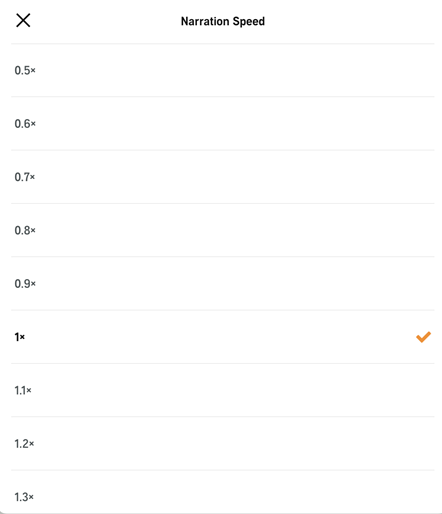 2.2 How to Speed Up Audible on Android
For Android users to adjust the narration speed, the steps are similar. Here's a how-to.
Step 1. Open the Audible app on your Android devices.
Step 2. Select the Audible book you'd like to adjust the playback speed of.
Step 3. Same here, tap the Narrator Button at the left corner of the bottom.
Step 4. Select the playback speed you desire from 0.5x to 3.5x in.1 increments.
2.3 How to Speed Up Audible on Mac
As for now, Audible does not have an official application for Mac users. Therefore, to get Audible and adjust the playback speed, you'll need to seek help from third-party tools. Here I'm going to introduce this method with the help of AirServer. This will also need your phone to mirror the screen and sound to your Mac computer.
Please note that you have to make sure that both your iPhone and MacOS computers should be connected to the same network.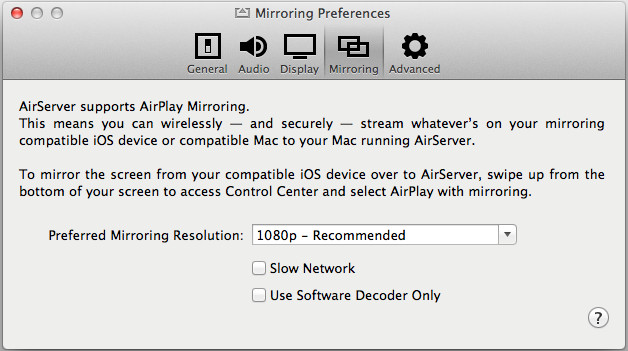 Step 1. Download and install AirServer for Mac from its official website or Google Play Store.
Step 2. Enter your activation key and click on Activate Online to get started.
Step 3. Once finished, swipe up from the bottom to access the Control Center on your iPhone.
Step 4. Tap the Screen Mirroring icon, then you'll see a list of AirPlay available devices.
Step 5. Tap the device that runs AirServer, which is the name of your Mac AirServer.
Step 6. Now you can mirror the screen from your iPhone to your Mac.
Of course, you can then mirror the audiobook sound and speed up Audible narration speed.
2.4 How to Speed Up Audible on Computer
When it comes to changing the narration speed of the Audible book on Windows computers, it's not easy since the Audible for Windows app is no longer supported. Therefore, you cannot set it up directly. Well, thanks to the AudibleSync app, you can download the Audible titles and transfer them to an MP3 player, then you can narrate the playback speed in your MP3 player settings. Remember this method is only available on Windows 10 computers.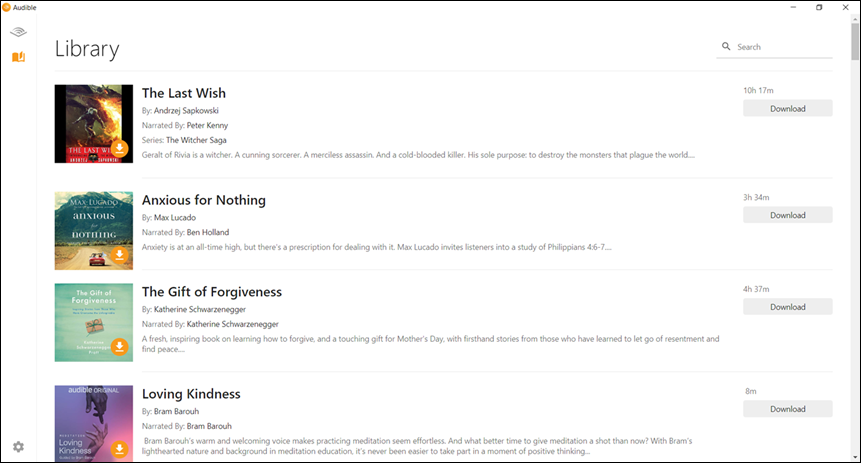 Step 1. Download the AudibleSync app and launch it on your Windows 10 computer.
Step 2. Click Sign In and enter your account credentials to log in.
Step 3. You will be brought to your Audible library and you can use the magnifying glass to find the audiobook you want.
Step 4. Tap the Download button next to the title. When the download is complete, the Download button won't show again.
Step 5. Connect the AudibleSync-supported MP3 player to your computer and click on Activate Device.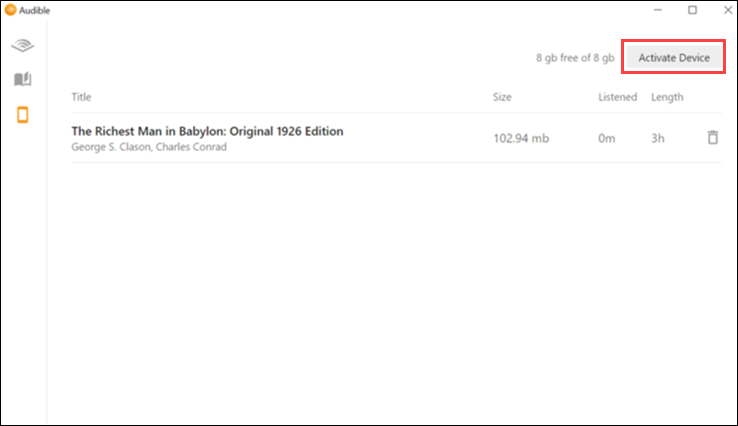 Step 6. Once connected, you can see a player icon show up in the left-side menu.
Step 7. Click on Copy to device or click on the title and drag and drop it to the device.
After then, you can play Audible audiobooks on your MP3 player, and adjust playback settings within the MP3 player.
2.5 How to Speed Up Audible on Alexa
As Audible also supports playing on Alexa devices, you can adjust the narration speed on Alexa devices with simple voice commands. Just make voice commands by saying "Alexa, read faster" to speed up Audible. In addition to that, you can say commands like "Alexa, read slower", and "Alexa, read at normal speed" to control the audiobook playback speed.
---
Part 3 Alternative Way to Change Audible Books Playback Speed
With the above steps, you can set the narration speed as you desired. However, things not going on very well when you try to do this setup on your Mac or Windows computer. In this part, we'll explain one of the great alternative ways to enable you to adjust Audible books speed on multiple devices with ease. Meanwhile, you can play Audible books on any device or platform.
Here we met this tool: Tunelf Audio Converter. As a powerful audio converter, Tunelf Audio Converter can deal with three types of audio files Audible, Apple Music, and iTunes Music. Since audio files from these streaming apps are copyright-protected, you cannot stream Audible audiobooks on any unsupported devices.
Tunelf Audio Converter allows you to convert Audible audiobooks to common audio formats, such as MP3, FLAC, M4B, etc. After conversion, these audio files are compatible with most players or devices which really benefits us. Most importantly, it won't destroy the original music quality and preserve the ID3 tags as well. Besides, there is a built-in audio setting within Tunelf software that allows you to adjust the audio pitch, speed, and volume. So, with this method, you can easily convert Audible audiobooks to MP3 or other formats and speed up Audible as fast as you want. In addition to that, you can play the converted files to any media player on your computer at your desired speed.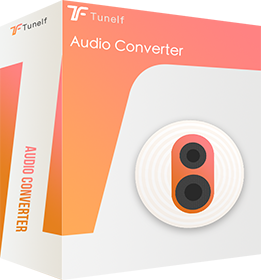 Key Features of Tunelf Audio Converter
Convert Apple Music to MP3, WAV, FLAC, AAC, and other audio formats
Remove DRM from Apple Music, iTunes audios, and Audible audiobooks
Preserve the converted audio with lossless audio quality and ID3 tags
Support the conversion of audio format at a 30× faster speed in batch
Step 1. Add Audible Audiobooks to Tunelf
Launch Tunelf Audible Audiobooks Converter on your PC and automatically detect the audio files. You can load the audio files by clicking the Add "+" button or simply drag and drop your target audio files into the program. You can add several files at a time for batch conversion.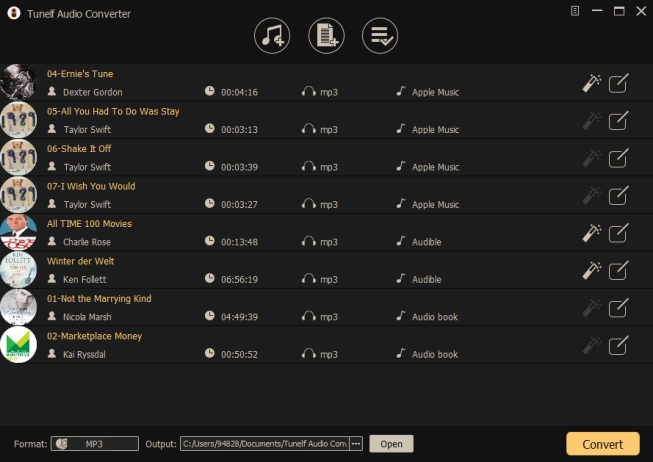 Step 2. Select the Output Audio Parameters
Once your audio files are loaded, you can see two icons on the loaded files. Click the Edit icon to edit the tag information like title, album, artists, genre, etc. And click the Effect icon to adjust the audio speed. Then go to the "Format" panel and choose an output format from MP3, M4A, AAC, FLAC, WAV, or M4B according to your needs. As one of the best Audio converters, you can also customize the audio parameters like codec, channel, sample rate, bit rate, etc.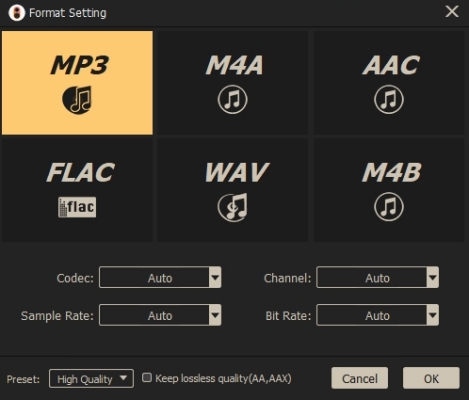 Step 3. Download the Adjusted Audio Contents
Once you've set all the formats and parameters, click the "Convert" button and the conversion will start. You can gain your converted files within a few minutes, and then you can locate them by clicking the "Converted" button and transfer them to any device for enjoying offline.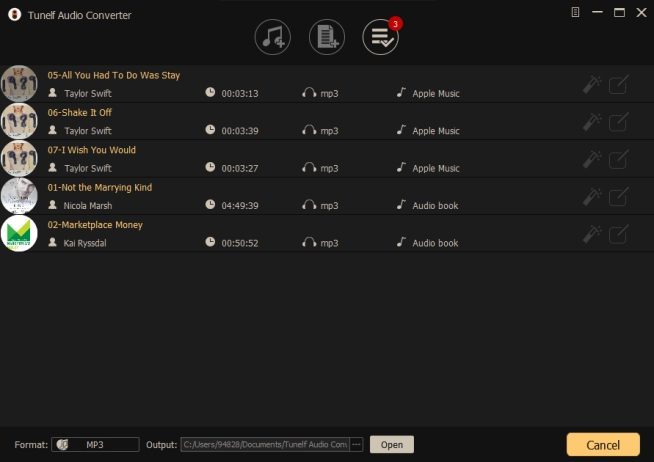 Step 4. Listen to Faster Audiobooks as You Want
If you've set the audio speed to faster, you may get Audible audiobooks with faster speed. If you want to adjust the narration speed every time you want and cancel at any time, you may keep the original speed and play them on your default Windows Media Player. To adjust the narration speed on Computer WMP, in the playing view, right-click on the screen and go to Enhancements > Play speed settings. In the next view, select Slow, Normal, or Fast to adjust the speed. Or you can drag the slider to customize the speed.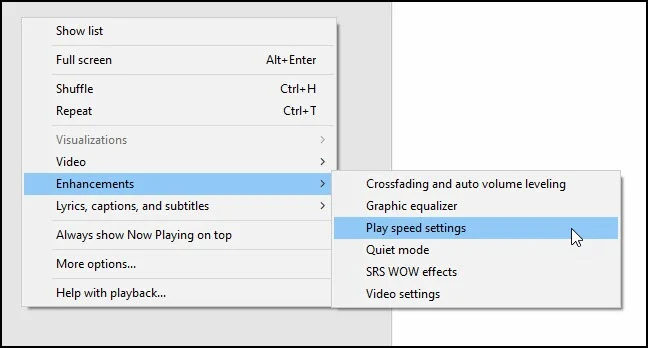 ---
Wrap Up
To speed up Audible on mobile devices, just follow the above simple instructions to apply. However, there is no such direct method to adjust Audible narration speed on your Mac and Windows computers. You may need to resort to some third-party tools for help. Luckily, Tunelf Audio Converter can help you out!
---
---