Deezer is a music streaming service where you can explore over 90 million tracks and other audio content like podcasts. Same as Spotify and Amazon Music, Deezer also offers a queue list for users to stream their favorite songs on demand. In 2019, Deezer updated its feature called Queue List. After that, the queue is stored on the cloud instead locally on just one device. All of your repeat, shuffle, and other audio preferences can be synced effortlessly across all Deezer-enabled devices. Is this new update got you covered? If yes, today, let's move on to how to add, remove and arrange songs on the Deezer queue. Make the most use of this new feature and improve your musical experience.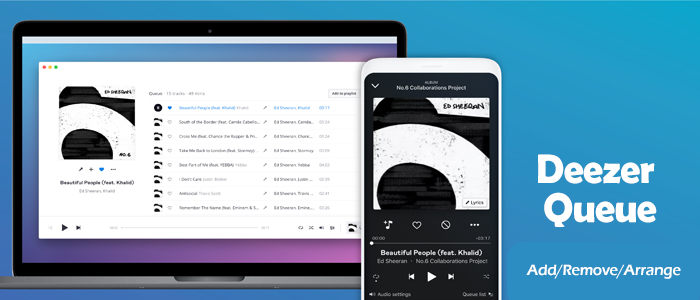 Note
Only Deezer premium listeners can access this cloud-based queue list, while Deezer free customers can access the queue without synchronization. All premium users aren't required to synchronize the Deezer queue list manually, the Synchronized queue-list feature is on by default.
---
Part 1. How to Add Songs to Deezer Queue
Pick a desired song from the Deezer library is as easy as pie, add a song to the queue as well. Sure, you're permitted to add a playlist or album to the queue based on your need.
1. Go to Deezer from your home screen and log into your premium account.
2. Tap the three dots icon next to the song.
3. Select Add to queue and it will be immediately added to the bottom of your current queue.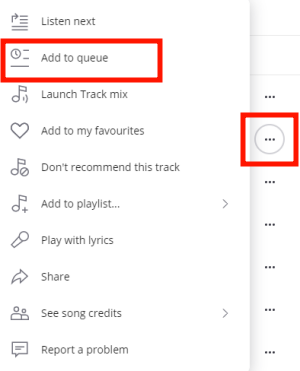 Alternatively, you can select Play/Listen next on the dropdown menu of the More option. In this way, the track will be added to the top of your queue list. After populating the queue list with all your desired songs, enjoy them right now!
---
Part 2. How to Clear Songs from Deezer Queue
Whenever you add tracks accidentally or you don't want to listen to them this time, you can freely remove them from your current queue. However, there is no option offered by Deezer to delete all your queued tracks. Put another way, you are not able to clear the entire Deezer queue with one click, only remove each song in the queue one by one with the 3-dot menu.
On Mobile
1. Within the player, select the queue icon featuring three lines.
2. On the pop-up window, you can view all queued songs.
3. To delete the song from your queue, just swipe it to the left.
On Desktop
1. On the Deezer app, click Queue in the bottom right corner to browse your queue list.
2. Locate the song you want to delete. And then select the cross icon to remove it.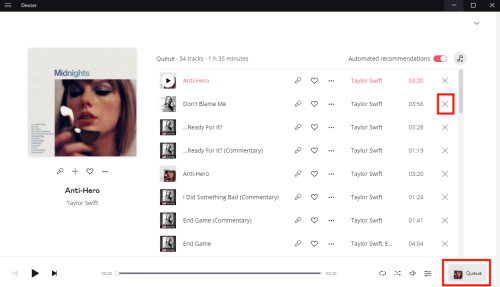 ---
Part 3. How to Change the Order on Deezer Queue
As time goes on, if you have no time to stream Deezer, there are too many prepared songs waiting for you. Presumably, you are not satisfied with the songs listed in the Deezer queue, and you switch the song again and again until a song suits your present mood and style. This time, it is necessary to arrange and customize the order of the queue list.
On Mobile
1. Fire up the Deezer player, and go to your queue list by tapping the queue icon.
2. On the song you want to move, hold the hamburger icon to drag it to your desired position.
On Desktop
1. Within Deezer, click Queue and it will open your queue list.
2. Just drag the song up and down until you're happy with the arrangement.
---
Part 4. How to Download the Deezer Queue without Premium
Once you come across something you like, owning them becomes the first thought. So you may choose to download all your queued songs and want to keep them. To download the Deezer queue list, just add it to a new playlist by clicking the + button on the queue list, and then download the playlist you created. However, those downloaded songs or playlists are only accessible within the Deezer music player. And as long as your premium account is invalid, you can't access any downloaded content anymore. To download the Deezer queue for Deezer free listeners, here we recommend you apply Tunelf Deetrack Music Converter.
Tunelf Deetrack Music Converter is designed to download songs, albums, playlists, podcasts, and audiobooks from Deezer without Premium. It can download and convert Deezer music to MP3, AAC, WAV, FLAC, AIFF, or ALAC format with a 5x conversion speed. Furthermore, it ensures the original audio quality after conversion. With this marvelous tool, you can download songs or playlists to your computer locally without a hassle. Scroll down to see how to download Deezer tracks without premium via this easy-to-use converter.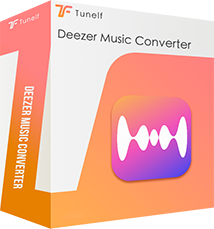 Key Features of Tunelf Deezer Music Converter
Keep Deezer songs with the lossless audio quality and ID3 tags
Remove DRM and ads from Deezer music after the conversion
Download Deezer songs, albums, playlists, podcasts, and radios
Convert Deezer music tracks to MP3, FLAC, and more in batch
Freely customize lots of parameters like format, bit rate, and channel
Step 1 Upload the Deezer playlist to Tunelf
Launch Tunelf Deetrack Music Converter and the Deezer player will be opened automatically. Select the playlist including your queue list, and click More to share this playlist. Copy the link and paste it into the converter's search bar. Next, click the + button to import your Deezer playlist.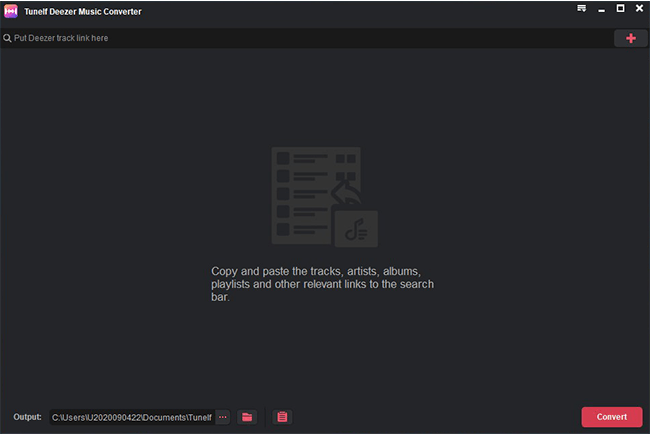 Step 2 Set the output format for Deezer
After importing all your desired songs, select Preferences under the dropdown list of the Menu icon. Turn to the Convert box, and you can change the output format, bit rate, sample rate, and channel to your heart's content. To listen to Deezer songs without limitations on apps and devices, please set the MP3 by default and then click OK to remember all your adjustments.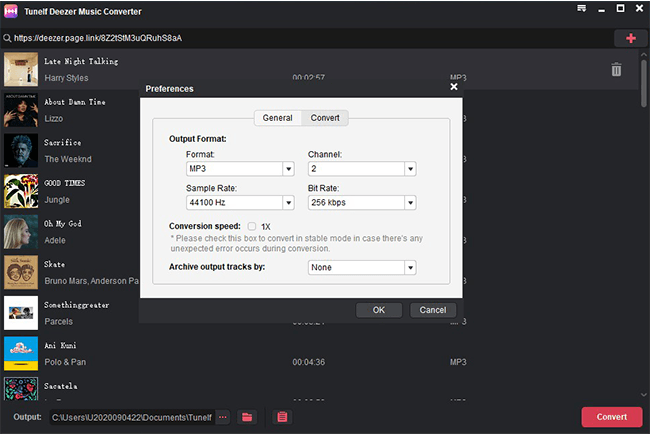 Step 3 Download the Deezer playlist
Click the Convert button at the bottom right corner, and Tunelf Deetrack Music Converter will automatically download and convert Deezer songs to MP3. After conversion, all the Deezer songs will be saved as local files on your computer. By clicking the Converted icon, you can browse and locate all the converted Deezer songs in the history list.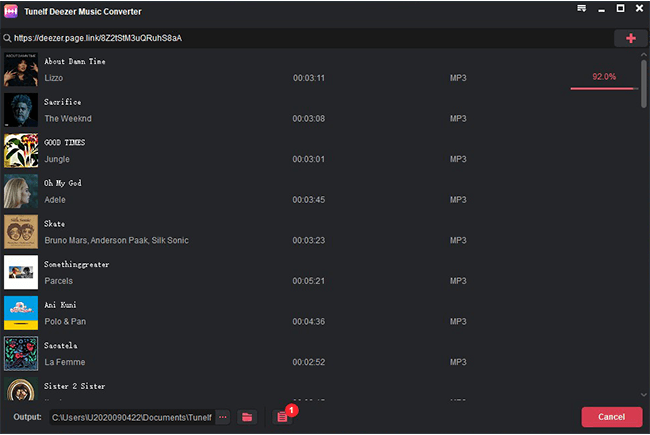 Conclusion
With regard to how to add, remove and arrange the Deezer queue, this post gives you a full guide. To download the queued songs or playlists from Deezer, Tunelf Deetrack Music Converter is here for all Deezer users whether they are premium or free. Either streaming or downloading desired songs are wonderful ways to satisfy your music cravings.
---
---