"For whatever reason my Deezer won't download any albums or songs, I click the Download button, the button then turns green, and absolutely nothing happens, the notification just says 'Downloading…' but it does not say what is downloading or how far along it is, I then check, and none tracks are downloaded. What do I do?"
— From Reddit
In addition to well-known Spotify, Apple Music, etc, Deezer also shines in this diverse market of music streaming services. With more than 90 million tracks in its library, Deezer gains 20 million active users and is available in over 185 countries. While listening to their favorite songs in Deezer, some listeners find they can't download songs in the playlist for offline listening. Have you encountered that? If yes, this post is going to fix Deezer not downloading. Scroll to see!
---
Part 1. Why Is Deezer Not Downloading?
Each possible reason for "Why can't I download songs on Deezer?" is listed below. Identify which step went wrong so you can troubleshoot it accurately.
Reason 1. The network connection is poor.
Deezer is an online streaming service. Any online content is limited to access if the network isn't connected. So before playing Deezer and downloading, enable a stable network to run it smoothly.
Reason 2. The Download toggle is off.
It is not possible to download a single song from Deezer, but you can put your desired song in a playlist to download. And then you are required to turn on the Download toggle to start downloading.
Reason 3. The space on your device is insufficient.
There is no doubt that not enough space on your device results in any app not working properly, let alone adding more downloaded files on your device. Some users reported that Deezer uses so much space because of the Smart Cache.
Reason 4. The Smart Cache is over your Deezer files.
Smart Cache is a temporary storage space for any tracks you've streamed from the Deezer app, which allows Deezer to keep playing tracks even if you lose WiFi. As time goes on, the Smart Cache size increases and may make conflict with your Deezer downloads.
Reason 5. The Deezer app is crashing.
Presumably, the issue "Deezer not downloading" may be with the Deezer itself. When the Deezer app keeps corrupting, of course, you can't access it.
Reason 6. The subscription is expired.
What you need to know Deezer Free users are limited to downloading songs for offline listening. Once your free trial is end or your premium plan isn't renewed timely, you can't enjoy the download service.
---
Part 2. How to Fix Deezer Not Downloading
After figuring out why Deezer won't download, it is easy to act appropriately in the above situations. Check out the following solutions to solve it.
Solution 1. Ensure a Stable Network
To enable a stable and solid internet connection, first, check that you have not turned on the airplane mode on your device, and then test WiFi on a web browser or other apps. If the website or another app loads slowly, it suggests you should switch to another WiFi or mobile data on your device.
Solution 2. Toggle the Download Button
To download an entire playlist or album, Deezer requires mobile users to toggle the Download button until it turns green. Newcomers may not be familiar with this feature, so here we give you step-by-step tutorials. Note that downloading is not available in the web player, so make sure you've got the Deezer app on your device first.
On Mobile
1. Open Deezer and log in to your Deezer Premium account.
2. Navigate to Favorites in the left pane to choose a playlist you'd like.
3. Turn on the Download slider and it will download automatically.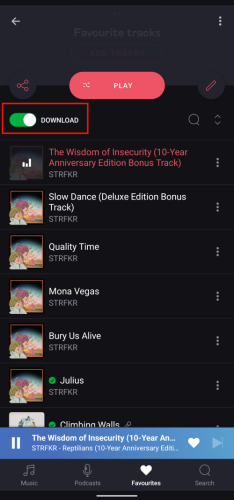 On Desktop
1. Launch Deezer on your computer and head to Favorites.
2. Locate your favorite tracks or playlist.
3. Hit on the Download icon to make the content available for offline listening.
Solution 3. Remove the Song and Re-add
When a single track can't be downloaded in Deezer, try to remove it from your Favorites or playlists and add it again to your Favorites or playlist. After performing that, toggle the Download button and it will download. However, it may just need a little time to refresh. Adding songs to favorites and they won't download immediately but when you go back later you'll find they're downloaded.
To remove the song, just click the three dots icon next to the song, and select Delete from my favorites or Remove from playlist.
To re-add your deleted song, head to Music to search for it, highlight the favorites icon or click the More option button to Add to playlist.
Solution 4. Get the Cache Cleared
Whether you have used the Deezer app for a long time or your device has no space to run, it is time to get your cache cleared. Especially Deezer Smart Cache, it takes up a huge space on your device. Every time you play a song, the cache would be produced. Fortunately, you can adjust the amount of storage Deezer uses on your device by decreasing the Smart Cache size or deleting the Smart Cache data.
Clear the Smart Cache in Deezer
1. Fire up the Deezer app and go to My Music.
2. Go to Settings and select App Settings.
3. Scroll down until you see Empty the Cache and tap this option to clear the Smart Cache.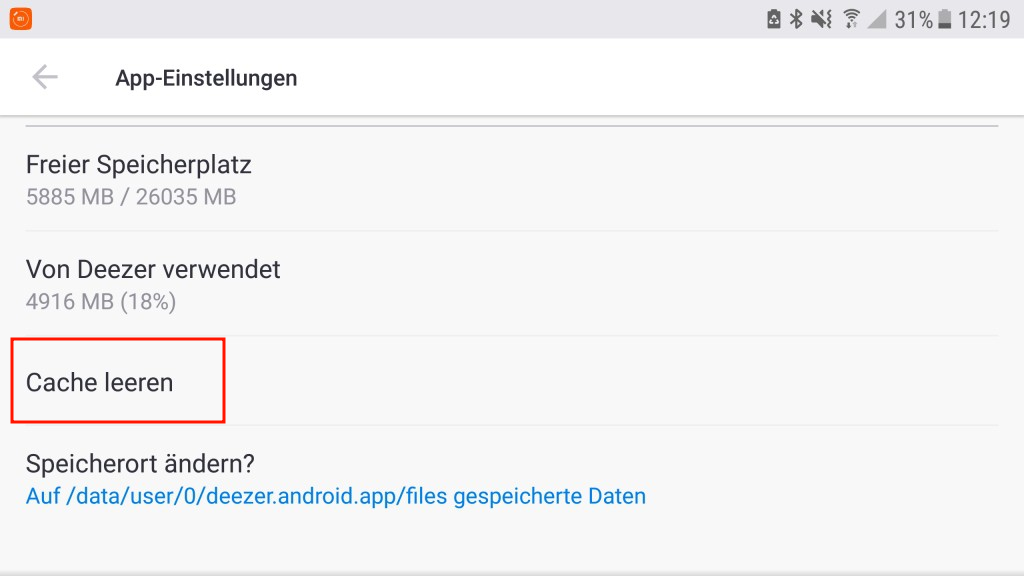 Clear the Deezer Cache
On iOS, to free up the space Deezer brings, just remove the Deezer app on your device.
On Android, locate Settings > Apps > Deezer app > Storage > Clear cache and data files.
Note
If you choose this way, the previously downloaded songs will be deleted too.
Solution 5. Restart or Reinstall the Deezer App
The Deezer app not downloading caused by its crash, the straightforward way is to force stop the Deezer app. And reopen it after a few minutes to reload your content. According to some users, this way is effective and the downloads will start after opening Deezer again. If Deezer is still unresponsive and the issue still persists, try to delete the Deezer app and install it again from the Google Play Store or App Store.
Solution 6. Update Your Subscription
Go to Manage my subscription on the dropdown menu of your Deezer profile to check the status of your Deezer service. Also, you can visit the Deezer Plans page to subscribe to Deezer Premium.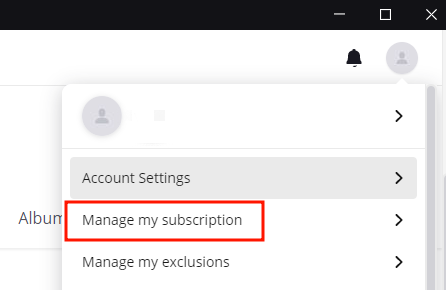 ---
Part 3. Best Way to Download Deezer Music
We hope the above fixes can help you to solve the problem of Deezer not downloading. If sometimes they don't work, we also prepare a sure card for you. Things all you need is Tunelf Deetrack Music Converter — an exceptional Deezer downloader designed for Deezer users to download tracks from Deezer and convert them to MP3, AAC, WAV, FLAC, AIFF, or ALAC format without any quality loss.
In the same vein, even if you've downloaded Deezer songs, they come with cache files. You can only listen to them with the Deezer app on your devices. And after your subscription ends, any offline content including downloaded songs are unavailable. Fortunately, by using Tunelf Deetrack Music Converter, you have the freedom to download Deezer songs for playing on any device or platform. Then you can listen to Deezer songs offline anytime and anywhere even without the Deezer music app and subscription.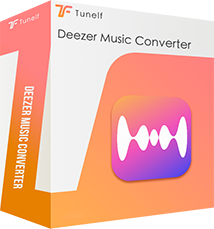 Key Features of Tunelf Deezer Music Converter
Keep Deezer songs with the lossless audio quality and ID3 tags
Remove DRM and ads from Deezer music after the conversion
Download Deezer songs, albums, playlists, podcasts, and radios
Convert Deezer music tracks to MP3, FLAC, and more in batch
Freely customize lots of parameters like format, bit rate, and channel
Step 1 Add Songs from Deezer to Tunelf
Start by opening Tunelf Deetrack Music Converter, then the Deezer app on your computer will be launched automatically. Locate any song, album, or playlist you want to download. Then copy the music link and paste it into the search bar on the converter. Next, click the red + button to upload Deezer songs.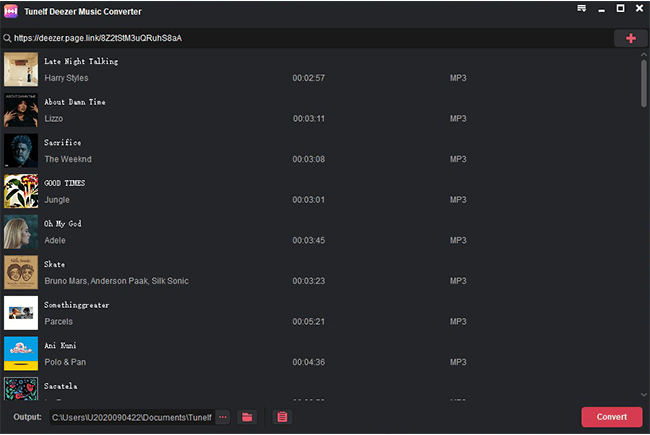 Step 2 Adjust the Output Audio Parameters
After importing all your desired songs, click the Menu icon beside the Minimize icon, and select the Preferences option. In the Convert interface of the pop-up window, you can customize the output format and change the bit rate, sample rate, and channel. For offline listening, please set the MP3 as the default option and then click OK to remember your adjustment.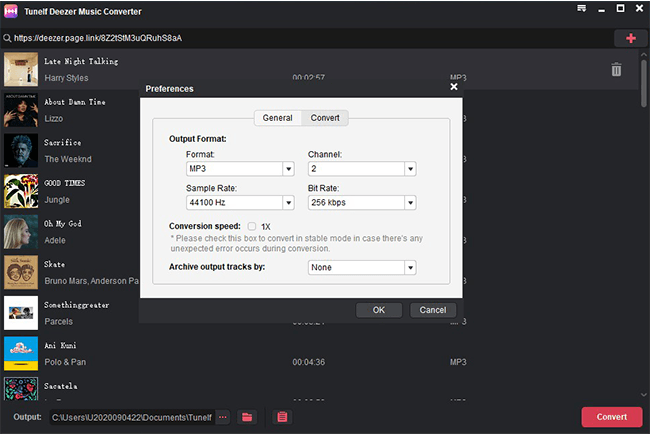 Step 3 Start to Download Deezer Songs
Click the Convert button at the bottom right corner, and Tunelf Deetrack Music Converter will automatically download and convert Deezer songs to MP3. After conversion, all the Deezer songs will be saved as local files on your computer. By clicking the Converted icon, you can browse and locate all the converted Deezer songs in the history list.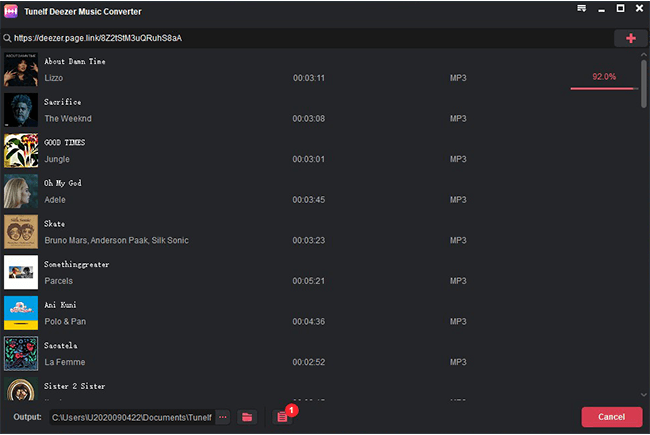 ---
Summary
In the bottom line, have you known how to troubleshoot the issue of Deezer not downloading? This post introduces 6 possible reasons and offers corresponding solutions to help you out. On top of that, Tunelf Deetrack Music Converter is a panacea not only helping you solve the problem but also removing any barriers to help you stream Deezer music anywhere.
---
---