Among multiple music streaming services, Amazon Music and Spotify have become two of the most popular platforms. As they were both launched in the early times and extended to large companies nowadays. For their powerful functions and large amounts of catalogs, millions of people are using them in everyday life. And there are still some people who are hesitating on these two platforms. Amazon Music vs Spotify: which is better? And is Amazon Music better than Spotify? That's exactly what we'll tell you in this post. Check them below.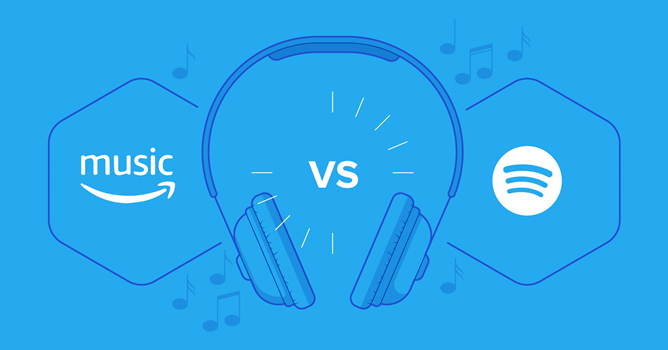 ---
Detailed Comparison: Amazon Music vs Spotify
In this part, we'll compare Amazon Music and Spotify from various aspects, including user interface, price, and plan, free subscription, compatibility, and availability, audio quality, as well as some other special features.
1) User Interface
Both the two streaming service interfaces are similar. You can easily see the navigation bar which contains the music library, home button, and search icon on their mobile device's main screen. Though we usually use mobile apps most of the time, both Amazon Music and Spotify offer tablets on computers. On Amazon Music, you can see a clear list button including podcasts, Stations, Playlists, Charts, and New Releases upon entering the app. And for Spotify, there are Create Playlist, Liked Songs, and Your Episodes on the left sidebar. And after a decade of improvement, the newly released Spotify interface in 2021 allows people to download offline and provide "more control" for creating new playlists. On the other hand, the Amazon Music desktop version is very useful and you can enjoy a clearer and more intuitive interface as well as operating procedures.
Verdict: a draw
2) Price & Plans
The prices of the three basic plans of the two platforms are quite the same. Both have other unique subscription plans, such as Amazon Music's Prime Music, Prime Student and Single Device Plan subscriptions, and Spotify's Premium Duo plan. And the services on each platform are stated in the table below.
Spotify Plans
Spotify offers several plans, including Free, Premium, Premium Duo, Premium Family, and Premium Student. For the free plan, you can listen to any song and music tracks in the music library, but you can't avoid the advertisements in the process and can only skip six songs per hour. If you want to skip commercials, you have to upgrade to a premium account. Students can enjoy a discount purchase. And the family plan also allows you to use it with multiple users online at a time, which can meet your family's needs.
| | | | | |
| --- | --- | --- | --- | --- |
| | Spotify Free | Spotify Premium | Spotify Premium Duo | Spotify Premium Family |
| Monthly Fee | Free | $10 | $13 | $16 |
| Ad-free | × | √ | √ | √ |
| Accounts | One | One | Two | Six |
| Song Catalog | 82 million | 82 million | 82 million | 82 million |
| CD-quality | × | × | × | × |
| Offline Listening | √ | √ | √ | √ |
Amazon Music Plans
Amazon Music provides similar plans, including Free, Amazon Music Prime, Unlimited, Unlimited Family, and Single Device. Unlike Spotify's free plan, Amazon's completely free version won't allow you to listen to music with on-demand playback on the mobile app and web player, you may achieve this with shuffle mode only. If you're an Amazon Prime member, you can get into the Amazon Music Prime service without the need to get subscribed. And to access 90 million songs, you need to upgrade to the Amazon Music Unlimited plan for an extra fee.
| | | | | |
| --- | --- | --- | --- | --- |
| | Amazon Music | Amazon Music Prime | Amazon Music Unlimited | Amazon Music Unlimited Family |
| Monthly Fee | Free | Free with Amazon Prime | $8 with prime; $10 without prime | $15 with prime |
| Ad-free Music | × | √ | √ | √ |
| Accounts | One | One | One | Six |
| Catalog | Select playlists and stations | 2 million | 90 million | 90 million |
| CD-quality | × | × | √ | √ |
| Offline Listening | × | √ | √ | √ |
Amazon Music Unlimited vs Spotify Premium
And most of you may ask that which paid plan is better when facing Amazon Music Unlimited and Spotify premium. We can easily tell their pros and cons from the above tables.
| | | | | | | | |
| --- | --- | --- | --- | --- | --- | --- | --- |
| Platform | Free Plan | Individual Premium | Family Plan | Student Plan | Others | CD-quality | Song Catalog |
| Amazon Music Unlimited | √ | Prime members: $7.99/month Non-Prime customers: $9.99/month | $14.99/month | Prime members: $0.99/month Non-Prime customers: $4.99/month | Single Device Plan: $3.99/month | √ | 90 million |
| Spotify Premium | √ | $9.99/month | $15.99/month | $4.99/month | Premium Duo: $12.99/month | × | 82 million |
From the table, we can see that Amazon Music is more attractive than Spotify because of its millions of music and high-quality audio streaming. While comparing the free plan of each platform, Spotify catches the lead as you can play your song on-demand without any problem.
Verdict: draw
3) Free Subscription
Both Amazon Music and Spotify offer a free plan for you. You can enjoy over 90 million songs by signing up for the Amazon Music Unlimited free plan. Then you'll have access to Unlimited songs for 30 days free. While Spotify provides a free plan that lasts for 90 days long. It should be noted that the free plan they provide is limited to new users, that is to say, only those users who have never registered a paid account can join this campaign. The completely free plan Spotify allows you to enjoy its music database with ads, which is better for music lovers. While Amazon only allows you to listen to the selected playlists or stations. You can easily stream Spotify music on your web player and desktop while you can only use shuffle mode to play Amazon Music. Here is a detailed comparison of what Amazon Music and Spotify can offer in the free plan.
| | | |
| --- | --- | --- |
| | Amazon Music Free Plan | Spotify Free Plan |
| Access to the Entire Music Library | × | √ |
| Ad Skips | × | × |
| Song Skips | Yes (maximum of 6) | Yes (maximum of 6/hour) |
| Offline Streaming | × | × |
| Free Period | 30 days | 90 days |
| Audio Quality | Lossless high-quality | 4 settings: Automatic (depends on internet speed) Low (24 kbps) Normal (96 kbps) High (160 kbps) |
| Highest Audio Streaming Quality | HD or Ultra HD high-quality | 160 kbps |
| Background Play | √ | √ |
| On-demand Playback | No (shuffle mode only) | Yes (on web player and desktop) |
Verdict: winner: Spotify
3) Compatibility & Availability
Both Amazon Music and Spotify apps are accessible on your computer and web player, as well as on your iOS and Android mobile devices. For compatible devices, Spotify is much better than Amazon Music thanks to its compelling feature – Spotify Connect. Spotify Connect has a wide range of supported platforms and smart devices, which enables you to control what is playing on any Spotify Connect device or Spotify app, from any other. According to Spotify, you can stream Spotify music on over 379 devices, such as smart speakers, gaming consoles, Bluetooth speakers, headphones, Smart receivers and TVs, in-car audio devices, and audio streamers, to name a few. Though Amazon Music has a similar function – Alexa Cast, it is not as popular and convenient as Spotify Connect. As for the available region or country, Spotify is currently available in 184 countries. Amazon Music, on the other hand, lags behind only 50 countries. And for the HD feature of Amazon Music, the number of available regions can be as short as 7 regions.
Verdict: Winner: Spotify
4) Audio Quality
As mentioned earlier, Spotify free plan users can only stream at 96kbps normal quality or 160kbps high quality. For premium users, the highest streaming audio quality is 320kbps. However, Amazon Music has provided a lossless high quality for music lovers as they've provided Amazon Music HD and Ultra HD audio quality for us. Ultra HD audio quality is higher than the HD sound, let alone the 320 kbps that Spotify music can offer the beast. Though many of you guys cannot figure out the changes in different audio quality, you can see the difference by utilizing headphones. So, for music enthusiasts, it is a fantastic experience. Well, the only thing that hinders is that the HD offering is only available in a very small part of territories.
Verdict: Winner: Amazon Music
5) Other Considering Features
There is music discover function when we use the music streaming apps, which can help us to enjoy songs we like without the need to search for them actively. Amazon's music apps and web players have recommended sections that provide albums and playlists that you like based on your listening habits. And also, Spotify has a similar feature called Discover Weekly. This is a playlist of songs that are automatically created based on your listening preference. It's updated every Monday morning and always updated new songs for which we might be interested. However, Spotify seems to be more personalized than Amazon Music, you can find your liked song in Release Radar and Discover Weekly and you'll see a rolling page with recommended songs to you. While Amazon Music did no good as Spotify, it recommends almost those hot songs you may like in the New Releases but does not navigate your preferences.
Besides, Amazon Music has X-Ray lyrics and is accompanied by an Alexa assistant, you can control the music streaming with a voice command. And as I said before, the special feature of Spotify is that you can play specific songs on-demand for free.
Verdict: a draw
---
A Whole Comparison Table: Amazon Music vs Spotify
Here we've concluded the main elements you may consider and show you an explicit table.
| | | |
| --- | --- | --- |
| | Amazon Music | Spotify |
| Launched | 25 September 2007 | October 2008 |
| Subscriber | 55 million | 182 million |
| Monthly Fee | Free-$15 | Free-$16 |
| Student Plan | $4.99/month | Prime members: $0.99/month Non-Prime customers: $4.99/month |
| Family Plan | $14.99/month | $15.99/month |
| Free Subscription | 30 days | 90 days |
| Compatible Platform | Android, iOS, Windows, macOS, web, and more | Android, iOS, Windows, macOS, and web more |
| Available Region | 50 countries | 184 regions |
| Audio Quality | HD & Ultra HD lossless high-quality | 320 kbps highest audio quality |
| Catalog | 90 million songs | 82 million songs |
| Special Feature | X-Ray lyrics, Alexa voice assistant | Best in class playlists, play specific songs on-demand for free |
---
Amazon Music vs Spotify: Which Is Better for You?
Amazon Music and Spotify are both excellent music streaming platforms. We cannot tell right or wrong if you say Amazon Music is better than Spotify or Spotify is better than Amazon Music. Everyone considered differently on those main elements. As for a daily-used music streaming platform, I'd like to recommend Spotify. Because it offers a premium-free plan for 90 days with access to its entire music library and it covered over 180 countries, which can be available for you. However, if you prefer to listen to a clearer music track, then you'd better choose Amazon Music to enjoy the HD audio quality music; and if you're an Amazon Prime subscriber, then using Amazon Music can be a cheaper and more convenient option for you. Now you can choose to use Amazon Music or Spotify according to your needs. Remember that the most suitable one for you is the best.
---
More Tips: How to Save Amazon Music as Local Files Forever
Though we can enjoy Amazon Music after the subscription or a premium account, once you cancel the subscription or want to switch to other platforms, your favorite songs won't be accessible after your canceling. In this case, why not use a professional Amazon Music Converter to help you? Tunelf Amatune Music Converter is designed to rip Amazon Music to your local drive and convert them to compatible audio formats like MP3 with lossless quality so that they can be played on any other devices offline forever. With Tunelf, you can enjoy your favorite songs as usual even if you don't have a premium account or network. Now, you can download Tunelf and have a try.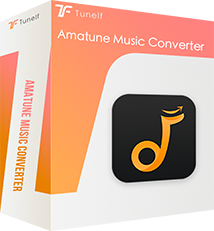 Key Features of Tunelf Amatune Music Converter
Download songs from Amazon Music Prime, Music Unlimited, and HD Music
Convert Amazon Music songs to MP3, AAC, FLAC, WAV, M4A, and M4B
Handle the audio conversion of Amazon Music at a faster speed of 5×
Ensure the output audio quality while retaining ID3 tags and metadata