Spotify, a top-tier music streaming service, enables you to access more than 50 million songs and various other content with a free or paid subscription. The open sources from Spotify have completely changed the way you listened to music anywhere. However, not all users know the equalizer feature of Spotify, letting you enhance your favorite type of music to sound their best on your devices.
The equalizer is a device used in equalization for frequency-dependent processing of audio signals. With the equalizer, you can fine-tune specific frequencies of the sound spectrum. You can personalize the sound for different genres, rooms in your home, or specific speakers. It doesn't matter if you don't know equalizer. So, we're here to help you use Spotify equalizer to make Spotify music sound better.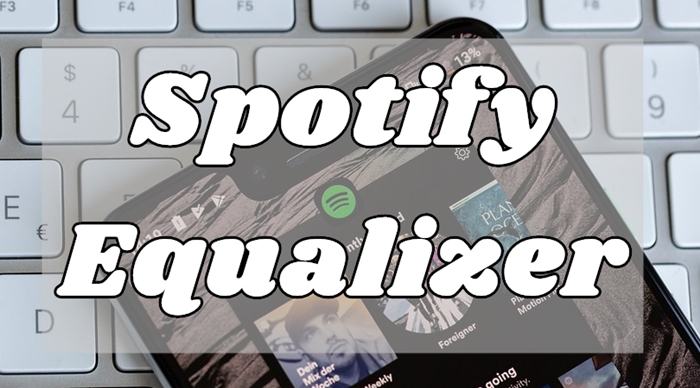 ---
Part 1. How to Use Spotify Equalizer on Android & iPhone
For those mobile users, it's easy to change the equalizer settings from the Spotify app since Spotify offers a built-in equalizer for users. To use the equalizer for Spotify on your Android device, iPhone, or iPad, just perform the below steps.
1. iPhone Spotify Equalizer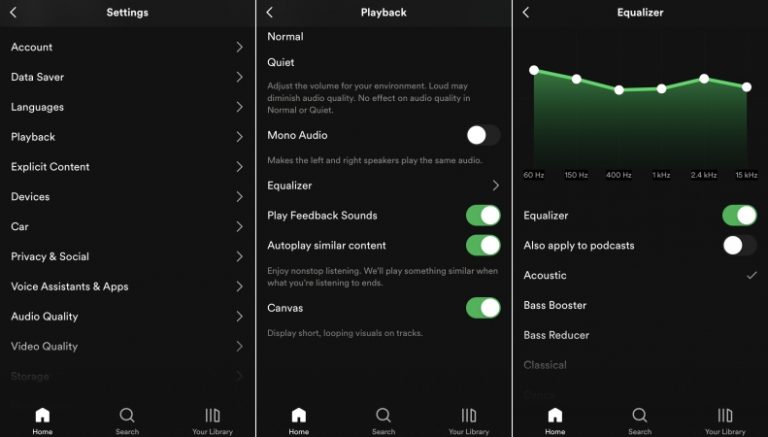 Step 1. Launch Spotify on your iPhone or iPad and then press the Home tab at the bottom of the screen.
Step 2. Tap on the Settings gear in the top-right corner and select Equalizer under Playback then switch it on.
Step 3. Now you will see a pop-up window where you can customize specific frequencies for the music you're playing.
Step 4. Choose a preset, or drag the dots on the equalizer to find a sound you like to listen to with your headsets.
2. Spotify Equalizer Android
Step 1. Open Spotify on your Android device and then go to tap Home on the bottom of the interface.
Step 2. Tap on the gear icon in the top-right corner to access Settings and choose Equalizer under Audio Quality.
Step 3. Check the box and press the OK button from the pop-up window to enable the equalizer on your device.
Step 4. Choose the sound you like in your device's audio settings and remember to save your adjustments.
Note: You can't change audio settings when using Spotify Connect to play on another device.
---
Part 2. How to Use Spotify Equalizer on Windows & Mac
With the built-in feature of the equalizer, you can adjust the levels of bass and treble in music on your mobile devices directly. But those desktop users need to turn to a third-party equalizer to alter the volume. Here's how to use Spotify with equalizers on your computer.
1. Spotify Equalizer Windows
Equalify Pro is an easy-to-use equalizer that aims to improve the sound quality of your favorite audio applications such as Spotify. With a valid license, you change the equalizer on Spotify PC by following the below steps.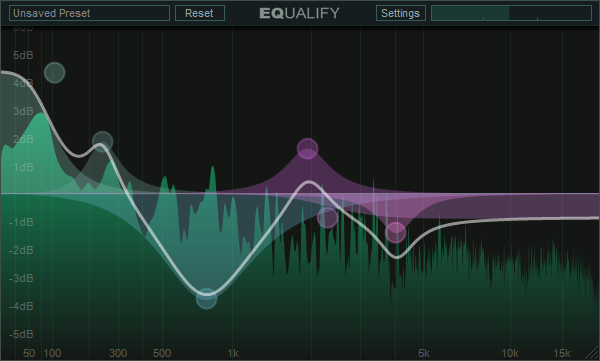 Step 1. Download and install Equalify Pro on your Windows computer and then launch Spotify.
Step 2. Choose a playlist or an album to play and a small EQ icon will pop up at the top bar.
Step 3. Click on the EQ button and start to adjust the music preset in the pop-up windows according to your demands.
2. Spotify Equalizer Mac
Audio Hijack is a professional-grade application that offers various features to you for use. The most notable is that you can control your audio with gorgeous effects. If you want to use Spotify with the equalizer on your Mac, just perform the below steps.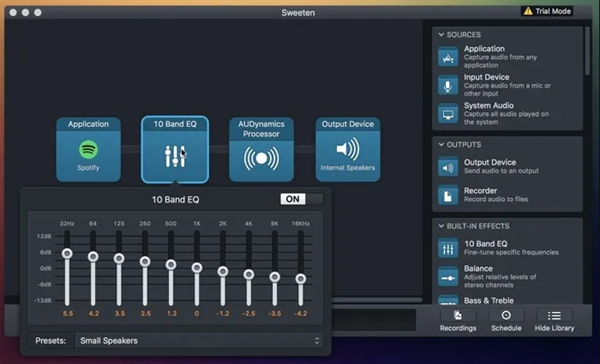 Step 1. Download and install Audio Hijack on your Mac computer and then launch it immediately.
Step 2. Click Select an App from the interface of the program and select Spotify from your computer.
Step 3. Drag 10 Band EQ, Balance, or Bass & Treble from the right-sidebar and then add audio effects to the music you're playing from Spotify.
3. Spotify Equalizer Web
Spotify web player also enables you to access Spotify's deep library, but to use the equalizer for Spotify web player, you need to install this extension – Audio Equalizer – from Google Chrome. Here's how to install it and control your audio with this tool.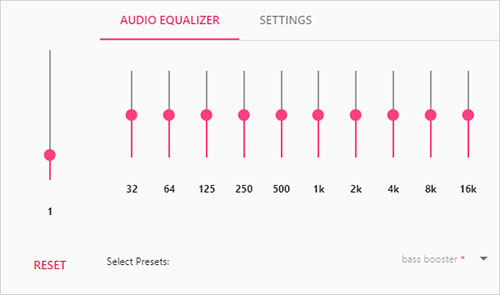 Step 1. Search for Audio Equalizer from the Chrome web store and then install this extension.
Step 2. After completing the installation, go to Spotify web player and choose to play your favorite songs.
Step 3. Click the Audio Equalizer to enable it and hit Default on the drop-menu button to select your equalizer preset.
---
Part 3. Best Equalizer Settings for Spotify to Get Better Sound
To get an equalizer for Spotify is easy to achieve, but adjusting the music preset is no easy feat. If you're ever stumped, this part can help you get a more effective adjustment, thus making your listening more personal and enjoyable. Here are some examples of the best equalizer settings for Spotify according to some popular music genres:
1. Best equalizer settings for Acoustic Music
If you prefer to listen to music that solely or primarily uses instruments without digitally modified sounds, you could choose to hear your music in acoustic versions. This is a good way to set up your equalizer.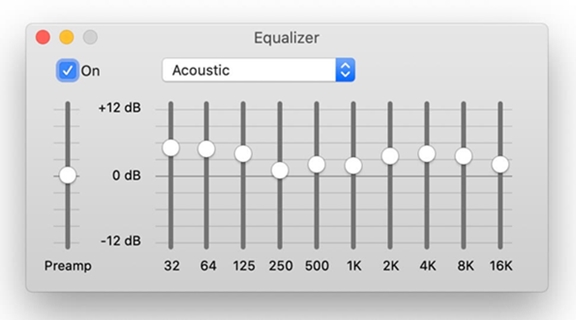 2. Best Spotify equalizer settings for Electronic music
If you love electronic music, you know the bass is super important. Since many times it employs electronic musical instruments, digital instruments, or circuitry-based music technology in its creation, and tweak the music preset to your needs.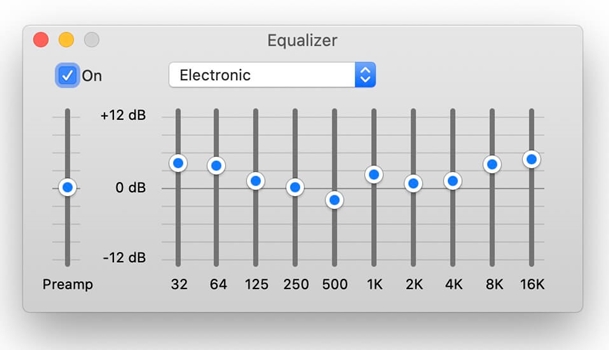 3. Best equalizer settings for Classical music
If you often hear classical music, you'd like most of the sounds from instruments such as piano, violins, acoustic guitars, or a full orchestra. Try these EQ settings to get the most out of it.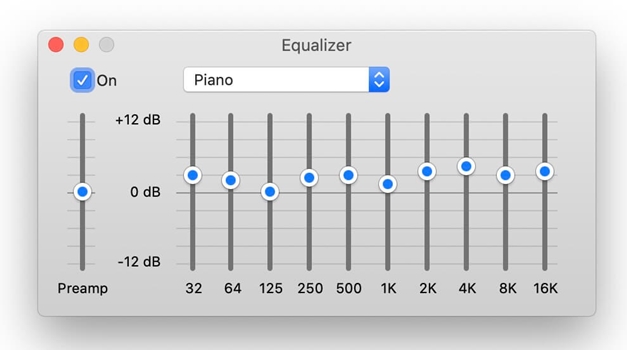 4. Best equalizer settings Spotify for Pop music
Most people get used to listening to Pop music, and it is a genre of popular music. To listen to Pop music, you'd boost the mid-range frequencies more than anything else and also boost a bit the low-mid and high-mid frequency as shown in this image.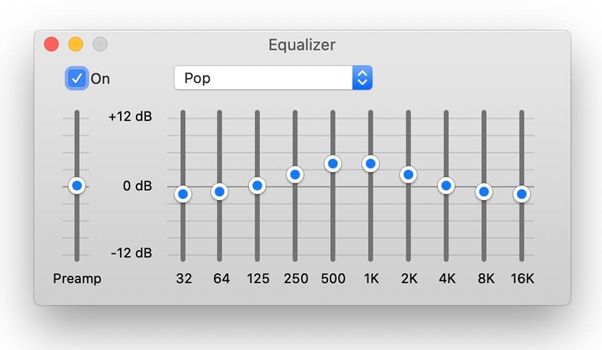 5. Best equalizer settings for Rock music
Rock music gets popular among people, and it focuses a lot on low-frequency sounds as well as high-frequency sounds made by electric guitars. If you understand the frequency ranges correctly, you'll end up with something like this.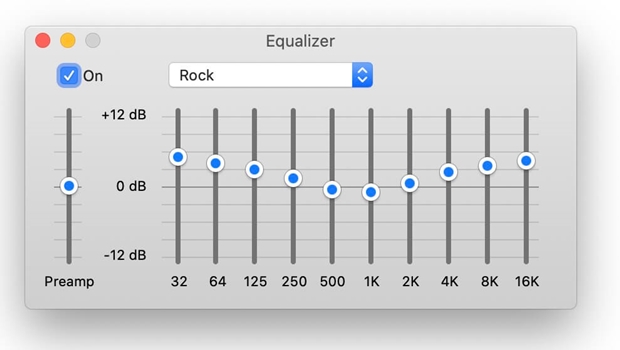 ---
Part 4. Method to Use Spotify Music with Equalizer Music Player
Although it's easy to get an equalizer for Spotify with its built-in feature on iOS and Android devices, those users who are using Spotify on their Windows or Mac computers cannot change Spotify equalizer. In this case, they have to choose other equalizers to help them adjust the volume of the audio spectrum range.
So, there is an alternative way to get equalizer for Spotify on your computers. In practice, lots of music players come with equalizer, and you could try to use those music players with equalizer to play your favorite Spotify songs. Confusing, right? How to successfully immigrate songs from Spotify to those music players?
Tunelf Spotibeat Music Converter is highly involved, and it helps you download music from Spotify and save them to those audio formats compatible with most music players. As we all know, all the audio from Spotify is encrypted with DRM protection, thus not able to use them on any other platform. But here Tunelf program breaks the limitation from Spotify.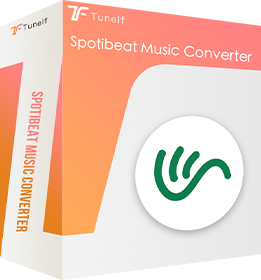 Key Features of Tunelf Spotibeat Music Converter
Download Spotify playlists, songs, and albums with free accounts easily
Convert Spotify music to MP3, WAV, FLAC, and other audio formats
Keep Spotify music tracks with lossless audio quality and ID3 tags
Remove ads and DRM protection from Spotify music at a 5× faster speed
4.1 Method to Download Music from Spotify
Now that you have a basic knowledge of Tunelf Spotibeat Music Converter. Then start to download and install Tunelf program to your computer. Here's how it works.
Step 1 Select Spotify songs for playing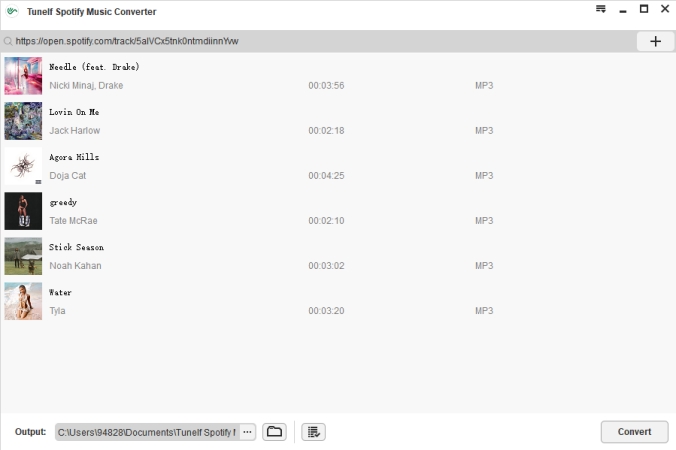 Launch Tunelf Spotibeat Music Converter and it will automatically load Spotify on your computer. Then navigate to your music library and when viewing a curated playlist that you'd like to download, just drag it to Tunelf interface for easy access. Or you can copy the URI of the playlist into the search box for the load.
Step 2 Set up the output parameters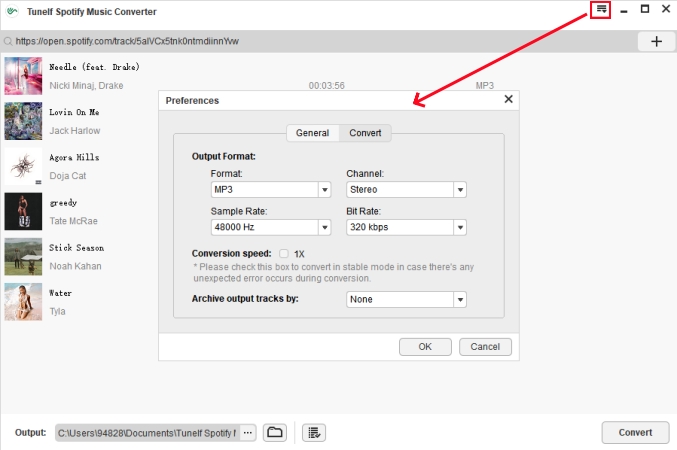 Next, go to set the output audio parameter by clicking the Menu bar > Preference. In the Convert window, you can choose the output format as MP3 or the other five audio formats. For better audio quality, you need to continue to adjust the bit rate, sample rate, and channel. Remember to save the settings and then start to download Spotify music.
Step 3 Download Spotify music to MP3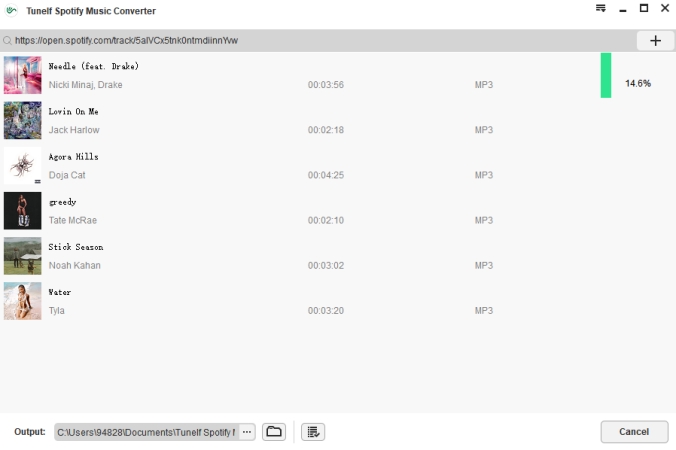 To download Spotify music, you just need to click the Convert button and the playlist will start to download, but keep in mind that it may take a little while depending on the size of the playlist and the speed of your internet connection. Once saved, the playlist will be accessible from your computer.
4.2 Steps to Use Spotify with Music Equalizer
With the help of Tunelf program, you complete the conversion of Spotify music and now you can play Spotify songs on those music players with equalizer. Here we'll show how to adjust the music preset of Spotify by using Apple Music or iTunes.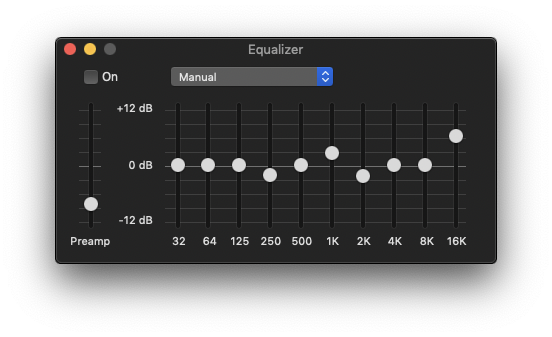 1) First, move Spotify songs to Apple Music or iTunes and choose to play those songs you upload.
2) Then, go to Window > Equalizer in the Music app on your Mac and select On to turn on the equalizer. Or click View on the top of the screen and select Show Equalizer on iTunes.
3) Finally, check the box next to On and change the audio preset from the pop-up window. The equalizer preset you chose applies to the song whenever you play it.
---
Bottomline
If you're eager to have a better listening of your Spotify music, it's worth exploring the equalizer for Spotify. You can play your music around with those equalizers until you get the sound you want. To freely play Spotify music with equalizer, Tunelf Spotibeat Music Converter can easily complete the task. Just have a try, and you'll find it out.
---
---