"Is there any way to transfer my liked songs from Spotify to Tidal? I have about 700 songs liked on Spotify and want to transfer them as I made the switch today." – a user from Reddit
Most of you may wonder how to transfer Spotify playlist to Tidal as we enjoy a lot of music on different types of platforms. Spotify and Tidal have over 75 and 80 million music tracks each respectively and switching from one to another can be a hard task. So, you may also ask "how do I transfer my Spotify playlist to Tidal?" If you are eager to know the answer, then you can't miss our guide! We've collected several ways to solve the problem, you can check them below.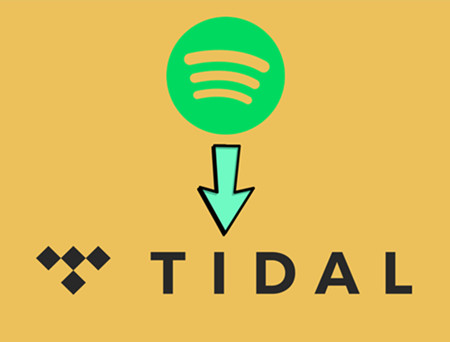 ---
Spotify vs Tidal: Which Is Better?
Firstly, what are the differences between Spotify and Tidal? The basic services and positioning of Spotify and Tidal are the same. As the popular streaming service providers, both of them allow you to stream music, create playlists, download songs for offline listening, discover new tracks for your liking, and more. However, there are many differences between the two services in certain aspects.
For the price and availability, Spotify offers a free account plan though it has many limitations as well as ads, which Tidal doesn't provide. Another point that has been talked about frequently is the audio quality. Generally, Spotify's streaming runs at three compression rates: 96kbps, 160kbps, and 320kbps as the top audio quality. In the contrast, Tidal offers CD quality at 1411kbps on its "HiFi" service. So, if you are a music enthusiast or have higher requirements for sound quality, then Tidal might meet your needs. And Spotify owns popular Discover Weekly features and social-related features while the Tidal doesn't have. For a more detailed comparison, you can check this article – Tidal vs Spotify: Which is Better for Music Lovers?
Actually, both of these two apps are excellent streaming platforms that we cannot tell which is better or not. And how to evaluate them depends on which features you need or like the most.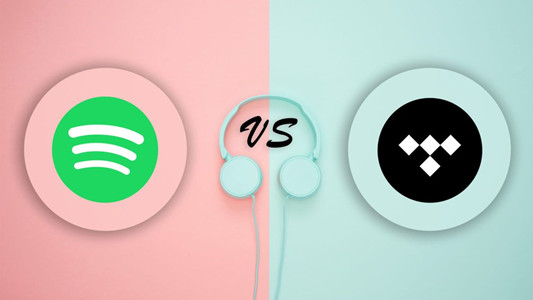 ---
How to Transfer Spotify Playlist to Tidal Online
Considering the need for transfer, Tidal has attached two popular websites for transferring between streaming apps to its official website for us to choose from. You can visit the Tidal website and click the Playlist Import button at the bottom of the page. Here you can see TuneMyMusic and Soundiiz. Now let me tell you how to utilize them to transfer music from Spotify to Tidal.
TuneMyMusic
TuneMyMusic is an online tool for us to transfer music tracks between popular streaming platforms. It can help you transfer Spotify playlist to Tidal in a batch so you don't need to transfer them one by one manually.
1. Go to the TuneMyMusic website and log into your account.
2. Select Spotify as the source.
3. Log into your Spotify account.
4. Browse your music library and choose a playlist you want to transfer.
5. Copy the link and paste it to the search box on TuneMyMusic.
6. Click Load Playlist > Select Destination.
7. Select Tidal as your destination and log into your Tidal account.
Now you can just click the Transfer button to transfer Spotify playlist to Tidal.
Soundiiz
Soundiiz is an efficient music streaming manager. You can get access to multiple music platforms and obtain your music tracks from Spotify and Tidal. All you need to do is to log into your Spotify and Tidal accounts. It then will load these music files together within this management tool. The instructions are as follows: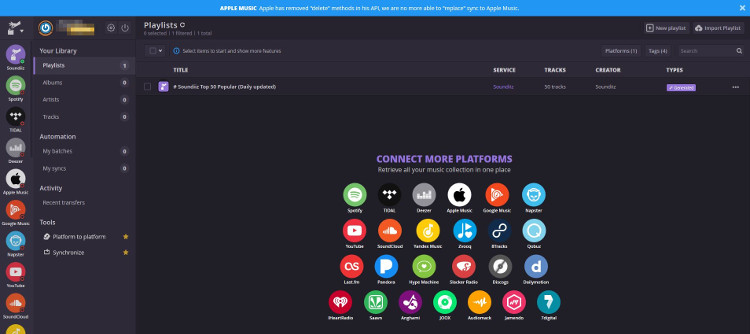 1. Visit the Soundiiz website and click Start now on the main screen.
2. Log into your Soundiiz account.
3. Scroll down and choose Spotify in the source list.
4. Log into your Spotify account.
5. Click the Platform to Platform button at the top of the account page.
6. Choose Tidal as the destination and start transferring.
You can follow the on-screen instructions to move Spotify playlist to Tidal.
---
How to Convert Spotify Playlist to Tidal without Premium
The above two methods can only let you sync your Spotify music tracks to Tidal, but you cannot download Spotify playlists on your device. And you must have a premium account to enjoy the services. Now I'll introduce an alternative way to help you download Spotify music to your local drives and you can convert Spotify playlist to Tidal without a premium account. Now, you need to download and install Tunelf Spotibeat Music Converter first.
What Is Tunelf Spotibeat Music Converter?
Tunelf Spotibeat Music Converter is a professional Spotify music converter. It has a clear interface and is easy to handle. With Tunelf software, you can convert Spotify music to other compatible audio formats including MP3, M4A, M4B, WAV, AAC, and FLAC, and upload them to Tidal to enjoy your Spotify music forever. After conversion, you can hold these converted files like local files and play them on any other devices. Once converted, you can stream Spotify music to whatever devices you like. The conversion speed is 5× as default, and you can set it to 1× according to your needs. Now, follow the instructions below to start your conversion.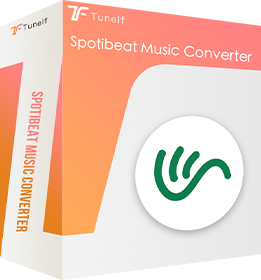 Key Features of Tunelf Spotibeat Music Converter
Download Spotify playlists, songs, and albums with free accounts easily
Convert Spotify music to MP3, WAV, FLAC, and other audio formats
Keep Spotify music tracks with lossless audio quality and ID3 tags
Remove ads and DRM protection from Spotify music at a 5× faster speed
How to Convert Spotify Playlist to Tidal with Tunelf?
As you can see, you cannot play Spotify music on other platforms due to the protected format, so, you need Tunelf to remove those encryption codes and rip Spotify music. To use Tunelf, please make sure to have installed the Spotify app on your device. And for more features, you'd better get a registration code for our product instead of the trial version. Follow the steps below:
Step 1 Add Spotify Playlist to Tunelf program
You have 2 ways to import Spotify music to Tunelf: one is that you should select a song or playlist, etc. in your music library and copy the link by clicking Share > Copy Link and paste the link to the search bar; the other is to drag and drop the music files down to the program. When finished, you can see the music tracks on the interface.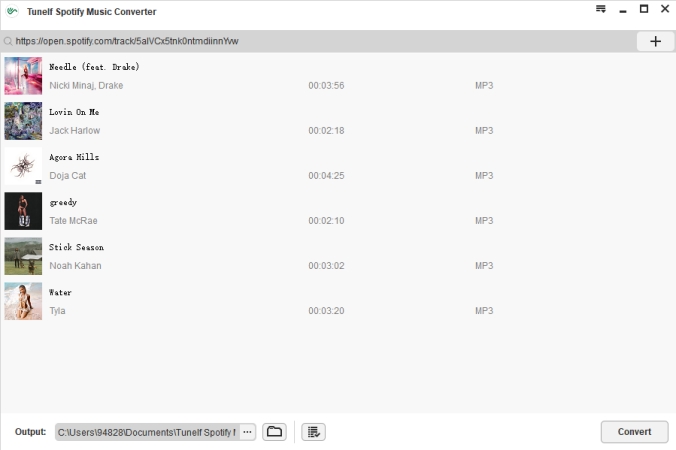 Step 2 Select the output format for Tidal
One of the important parts of your conversion is to select the correct output audio format so that it can work on compatible devices. To transfer music from Spotify to Tidal, I suggest you set MP3 as the output format. You can also change the sample rate, bit rate, channel, and archive by clicking the menu icon on the top right of the main screen. Under the menu list, select Preferences > Convert to setup. For more stable conversion, you can set the conversion speed to 1x on the same page. And to set the output storage folder, you should click the output button at the bottom of the program.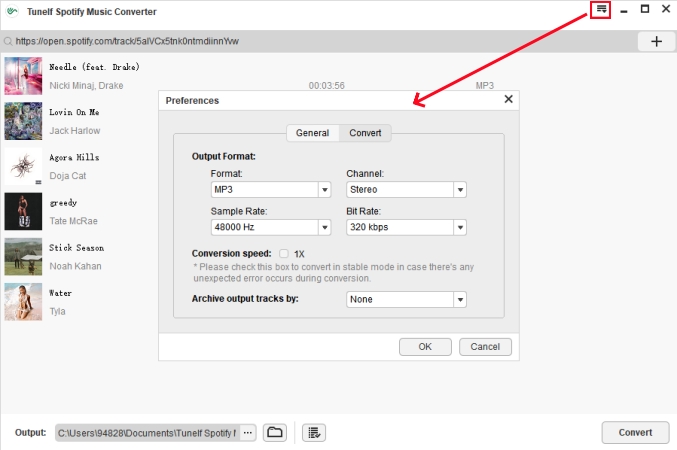 Step 3 Convert Playlist from Spotify to Tidal
You can click Convert at the bottom of the interface. Just wait for a while till it is finished. After the conversion, you can locate them in your local storage folder or just click the Converted button to check. Then you need to upload Spotify music to iTunes and use TuneMyMusic to move Spotify playlist to Tidal.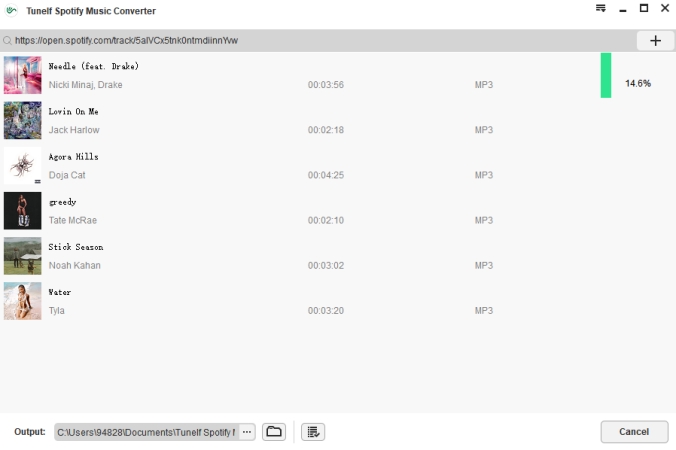 ---
Conclusion
If you're wondering "How do I transfer my Spotify playlist to Tidal?", then you are in the right place! We've collected several methods about how to transfer Spotify playlist to Tidal, you can check them above. You can also take Tunelf Spotibeat Music Converter into consideration, for it can not only keep Spotify music as local files forever but also be played on any other compatible devices offline. Why not download Tunelf and have a try?
---
---