Does Tesla have Spotify? The answer is positive. Since Tesla updated to version 10 of its in-car software, Tesla owners have the ability to enjoy a lot of new entertainment options in the Tesla Model S, Model X, and Model 3. Currently, Tesla offers a direct stream from Spotify, Apple Music, Tidal, Slacker, and TuneIn. In addition to streaming music, Tesla owners can access some streaming video services like Netflix, YouTube, and Hulu.
But the question is: how to get Spotify on Tesla? At the moment, streaming Spotify on Tesla is only available to the paid version of Spotify. In other words, you need a Spotify Premium account to access music. Today, here we will introduce how to play Spotify on Tesla no matter whether you are subscribing to a premium plan or not. Also, you'll learn how to fix some Spotify Tesla issues you encounter while using Spotify on Tesla.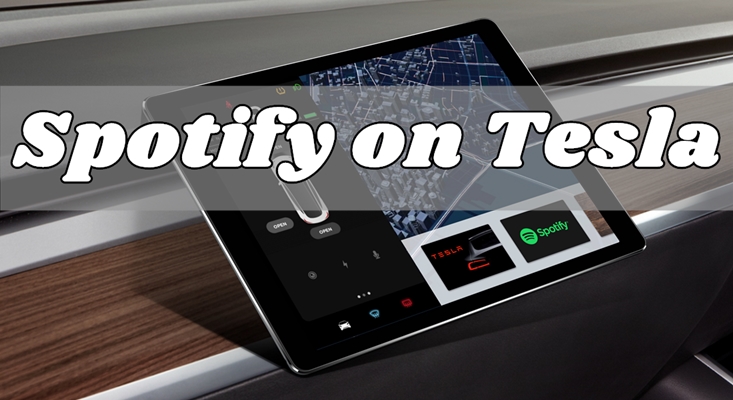 ---
Part 1. How to Get Spotify on Tesla with Premium
Tesla rolled out the biggest software update with Spotify, Netflix, YouTube, and more. Thanks to TesPlayer, you are able to browse and play songs, albums, artists, stations, and playlists from Spotify on the vehicle's center touchscreen. It's pretty easy to play Spotify on Tesla Model 3, Model X, and Model S. Here's what you have to do.
Method 1. Log into Spotify on Tesla to Play Directly
As Spotify develops a special version for Tesla, you can directly use Spotify for Tesla app to play your music library. If you have a Spotify Premium account, then you can directly sign into your Spotify account on Tesla's touchscreen. Follow the below steps.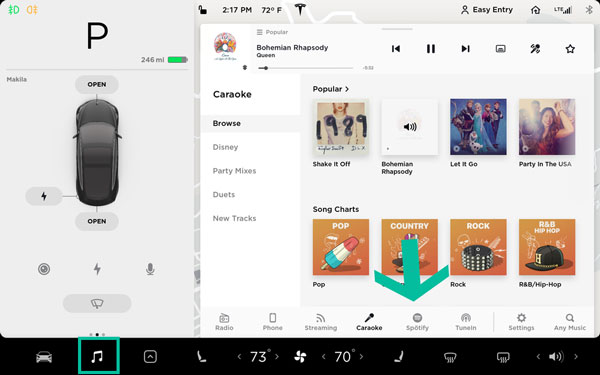 Step 1. Power on your Tesla's touchscreen and head to the menu.
Step 2. From the list of apps, select Spotify, and you'll be directed to the login screen.
Step 3. Enter your Spotify username and password to log into Spotify.
Step 4. Once connected, browse your music library on Spotify and start playing music in your car.
Tesla Premium Connectivity provides access to features including streaming music and media. If you have subscribed to Tesla Premium Connectivity, then you can access Spotify with your Tesla Premium account.
Method 2. Stream Spotify to Tesla via Spotify Connect
Once you have Bluetooth on your device and Tesla, you can establish a connection between them. Then you can stream Spotify songs from your phone to Tesla using Spotify Connect. Go to perform the below steps for playing Spotify on Tesla.
Step 1. Touch the Bluetooth icon located at the top of the Controls screen.
Step 2. On the touchscreen, tap Add New Device > Start Search, then select your device.
Step 3. When paired, open the Spotify music player on your device.
Step 4. Select a playlist or an album to play and tap the speaker icon in the bottom corner.
Step 5. From the list of Spotify-compatible devices, select your car.
---
Part 2. How to Listen to Spotify on Tesla without Premium
However, to use Spotify on Tesla, all Tesla owners must be existing Spotify Premium subscribers to leverage the service of the Spotify for Tesla app. Thankfully, there is a method to help you listen to Spotify music on your Tesla car without a Spotify Premium account or a Tesla Premium Connectivity. To get Tesla Spotify without premium connectivity, you need to download Spotify music to a USB drive by using a Spotify music downloader.
2.1 What You'll Need: Play Tesla Spotify without Premium
As we all know, all songs from Spotify are protected by digital rights management, which only allows you to stream online when using a free account. But Tunelf Spotify Music Converter is a great tool that can help you download music from Spotify without premium. With this tool, you can save songs, albums, playlists, and podcasts from Spotify into several popular audio formats including MP3, AAC, and more.
Adopting an advanced decryption technology, Tunelf program can keep 100% original sound quality and ID3 tags like title, artist, track number, and more after conversion. Also, it can handle batch conversion at a fast speed of 5×. Now follow the below steps to download your liked Spotify songs to a USB drive, and then you can play Spotify in Tesla from a USB drive directly.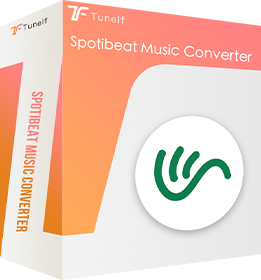 Key Features of Tunelf Spotibeat Music Converter
Download Spotify playlists, songs, and albums with free accounts easily
Convert Spotify music to MP3, WAV, FLAC, and other audio formats
Keep Spotify music tracks with lossless audio quality and ID3 tags
Remove ads and DRM protection from Spotify music at a 5× faster speed
2.2 How to Play Spotify on Tesla without Premium
Before downloading Spotify songs, make sure that you have Tunelf Spotify Music Converter installed on your computer. Then get started with the below steps.
Step 1 Select Spotify Songs to Download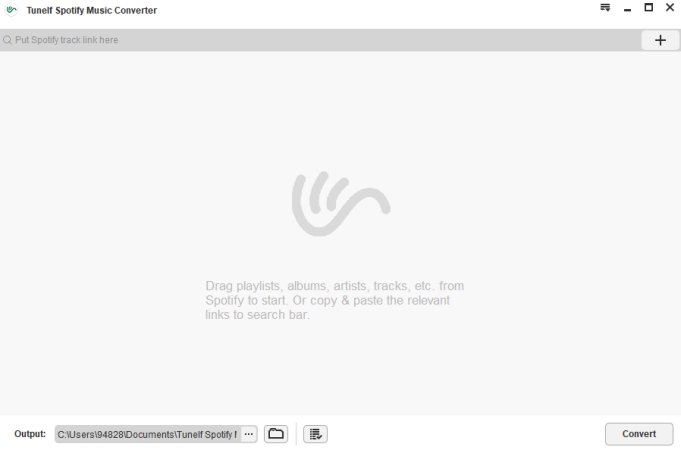 Open Tunelf Spotify Music Converter on your computer, and then it will automatically load Spotify. Next, head to the homepage of Spotify, click the Browse button, and then select the desired songs you wish to download. Dragging and dropping your desired songs or playlists from Spotify to the interface will load them into the conversion list.
Step 2 Configure the Output Audio Format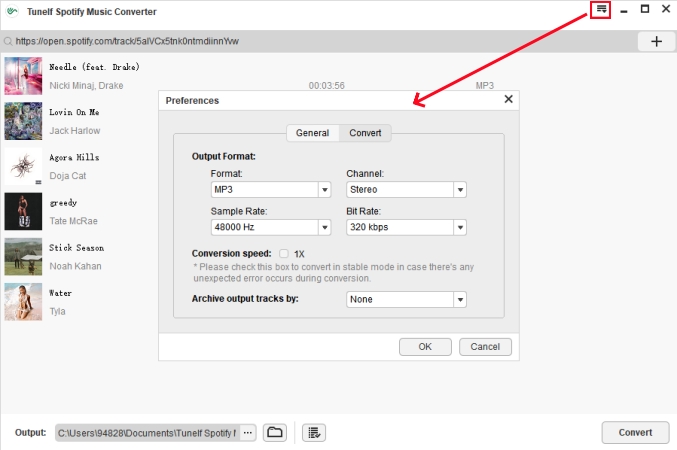 After adding your desired songs or playlists to Tunelf app, you can click the menu bar and select the Preferences option under Menu. Then you'll see a pop-up window where you can set the output format, bit rate, sample rate, and channel. Here are six common audio formats, including MP3, AAC, FLAC, WAV, M4A, and M4B, for you to choose from.
Step 3 Start to Download Music from Spotify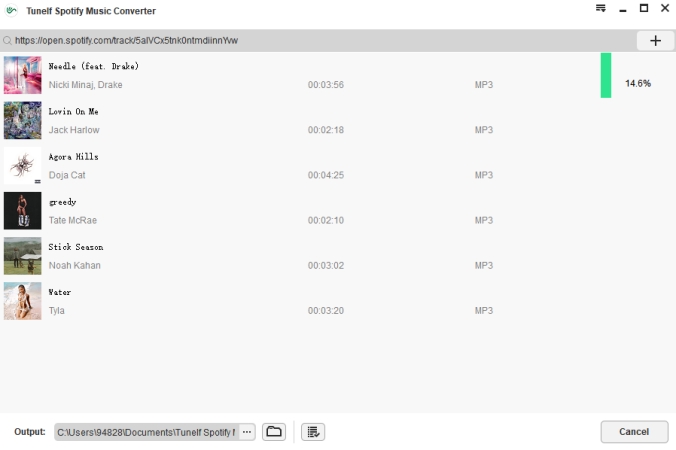 Once you're satisfied with your settings, click the Convert button on the bottom right corner. Tunelf Spotify Music Converter will start to download and convert songs from Spotify to your specified format. When the conversion process finishes, you can browse all the converted songs in the history list by clicking on the Converted button.
Step 4 Play Spotify in Tesla through USB Drive
Now you can move your downloaded Spotify music files to a USB drive. Just insert your USB drive into a front USB port of your Tesla. Go to touch Media Player > USB, and then select the folder that contains your Spotify music files. Now you can play music with the built-in media player. Also, you can use the previous and next arrows in Media Player to scroll through your songs.
---
Part 3. Common Solutions to Spotify Not Working in Tesla
While using Spotify on Tesla 3 or other models, you would encounter lots of issues, such as Spotify not working on Tesla or Spotify not playing music on Tesla. Why Tesla Spotify is not working? If you are facing the issue of Spotify failing to work, then you can solve it with the following methods.
Problem 1. Spotify Unable to Login
Can't connect Spotify to Tesla even with premium. Did anyone experienced it lately? The issue is I always had the premium subscription and it doesn't allow me to log in. Rebooting the car didn't help. Any tips?"
When you try to log into your Spotify account in Tesla, check that your premium subscription isn't expired. In addition, make sure that you have a Tesla Premium Connectivity. Or you can go to change the profile of your Spotify account if you used to log into Spotify with Facebook.
Problem 2. Spotify Not Working on Tesla
The Spotify app on the Tesla will not play music. I'm logged in, the car has perfect data signal because other apps stream music just fine, but the Spotify app just spins and spins. In fact, I can search for songs and the results show up, but then there is no way to play them. "
The following steps can help you to fix this issue:
If your Tesla system has not been updated to the latest version, then you can try checking for system updates and updating it to the latest version. Or you can reconnect your Tesla to the internet. In addition, you can log out and log in to your Spotify account again.
Problem 3. Tesla Spotify Playlist Not Updating
Podcasts and albums like Daily Mix doesn't update very often, meaning new podcast episodes won't show up on screen and the Daily Mix playlists are completely wrong most of the time. There needs to be a way to force update playlists and podcasts."
To fix this issue, you can reboot the entertainment system of your Tesla car. Or you can go to update your Tesla's system. You can also check the update of Spotify on your car. Instead of using those solutions, you can also restart your Tesla or try logging into your Spotify account.
---
Part 4. FAQs about Getting Spotify on Tesla
Q1. Do you need Spotify Premium for Tesla?
A: Currently, Spotify isn't free on Tesla. So, you can only use Spotify with a paid subscription. Or you can try to download Spotify music to a USB drive using a Spotify downloader. Then you can use the media player in Tesla to play your Spotify music.
Q2. Does Tesla Premium Connectivity include Spotify?
A: No, Tesla Premium Connectivity doesn't include the streaming of Spotify. Tesla Premium Connectivity is required to access music and media streaming in Tesla. If you want to use Spotify in Tesla, you need to have an active Spotify Premium account.
Q3. Which countries provide the streaming of Spotify in Tesla?
A: Spotify is only available in the USA, Canada, Mexico, Europe, Turkey, Australia, New Zealand, Taiwan, Hong Kong, United Arab Emirates, and Jordan.
Q4. How to log into Spotify on Tesla with Facebook?
A: It is a pity that you cannot log into Spotify on Tesla with Facebook. At present, you are only allowed to sign into Spotify on Tesla by entering your Spotify username and password.
Q5. How to log out of Spotify on Tesla?
A: To log out of Spotify on Tesla, you can go to your apps page and choose Remove Access. This can help you log out of Spotify on Tesla, but also log out of your Spotify account everywhere.
---
Conclusion
And voila! That's all! Bear in mind that, being a Premium user, you can access Spotify and play your liked songs in your car. However, if you don't have a Premium subscription, you can turn to Tunelf Spotify Music Converter which can help you download Spotify songs to a USB drive. Then you can play music with the built-in media player in Tesla.
---
---