We got so many happy moments with music, as now listening to music becomes one of the lifestyles for most people. Luckily, most music streaming applications are gradually expanding their usage in more fields and areas, with Spotify starting first and others following. Tidal, in recent years, had also spared much effort in bringing music to more smart devices and speakers. It is said that there is now a Tidal Tesla app available. What a fine thing it is! Yes, with this integration, people can enjoy Tidal HIFI lossless quality while driving in their Tesla cars. In the next parts, we'll share the methods to play Tidal on Tesla with and without premium.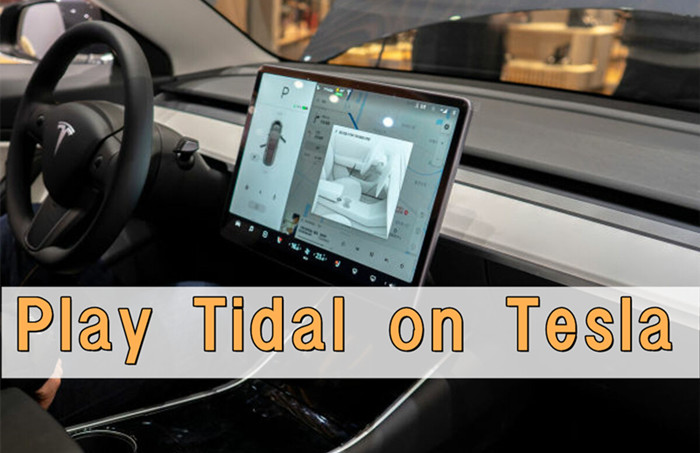 If you're looking for a detailed guide about how to stream and use Tidal in Tesla cars, then you can't miss this post. Keep reading to find out!
---
Part 1 How to Use Tidal in Tesla – Official Way
In 2021, Tidal has finally added integration with Tesla, which means you can get spectacularly better audio quality on your Tesla cars. It's definitely good news for Tesla drivers who own a Tidal account. Compared to other Tesla streaming partners, Tidal for Tesla integration performs better, especially in the audio quality. As long as you have a Tidal Hi-Fi or Hi-Fi Plus premium account, you can enjoy Tidal audio files at 1411 Kbps using a lossless code that doesn't sacrifice audio quality for streaming on Tesla.
Note: This integration requires a Tidal Hi-Fi or Hi-Fi Plus premium account. If you don't have one, you still have alternative ways, in this case, you can check Part 2.
How to Login Tidal on Tesla
With a Tidal Hi-Fi premium account at hand, you can now follow the below steps to get the Tidal Tesla app.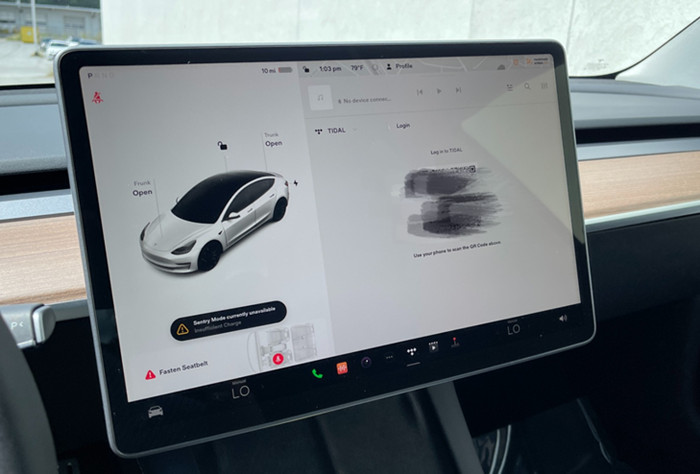 Step 1. Find the Media section from your Tesla touchscreen and select Tidal.
Step 2. Here you can see a QR code on the screen, scan the code with your phone and log into your Tidal Hi-Fi or Hi-Fi Plus account.
Step 3. Once finished, you can access the Tidal Web Player on your Tesla screen.
Now you can tap and play your favorite Tidal songs with lossless quality.
How to Download Tidal Music on Tesla
As above, you can then stream Tidal audio files on the Tesla car. Well, as many mentioned that when streaming lossless audio from Tidal over an LTE connection can cause buffering issues. Since these Hi-Fi quality sounds with large file sizes, it needs more time to load and play. Thus, it's also advised to download Tidal music to ensure a better listening experience. Follow the instructions to download Tidal on Tesla.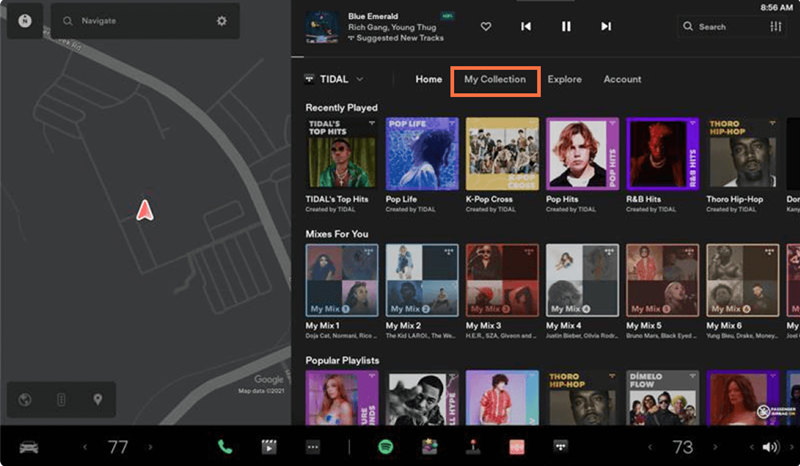 Step 1. Open the Tidal music player from your Tesla touchscreen.
Step 2. Go to "My Collection" and find a playlist or song you want to download.
Step 3. Find the down-arrow icon next to the playlist or album name and tap it to download music.
Step 4. Once done, you can locate them in your Downloaded section and stream offline.
---
Part 2 How to Get Tidal on Tesla via USB Drive – Alternative
The above official way requires you to have a Tidal Hi-Fi or Hi-Fi Plus subscription when you want to get Tidal on Tesla. However, What about using a free account? Can Tidal Free users enjoy this feature? According to official news, you can't. But it is not impossible if you try the following method.
Here we met Tunelf Tidal Music Converter. Tunelf Tidal Music Converter is an easy-to-use yet efficient software for dealing with Tidal Music. It helps you to download music, playlist, albums, etc. to several audio formats so that you can stream them on multiple devices. Tunelf Tidal Music Converter brings you much convenience in streaming and sharing happiness. Thanks to advanced and innovative technology, Tunelf software can protect the original high-quality audio files and preserve ID3 tags as well. The conversion speed is 5x fast, which allows you to download and convert Tidal music in batches. Below is the simple tutorial: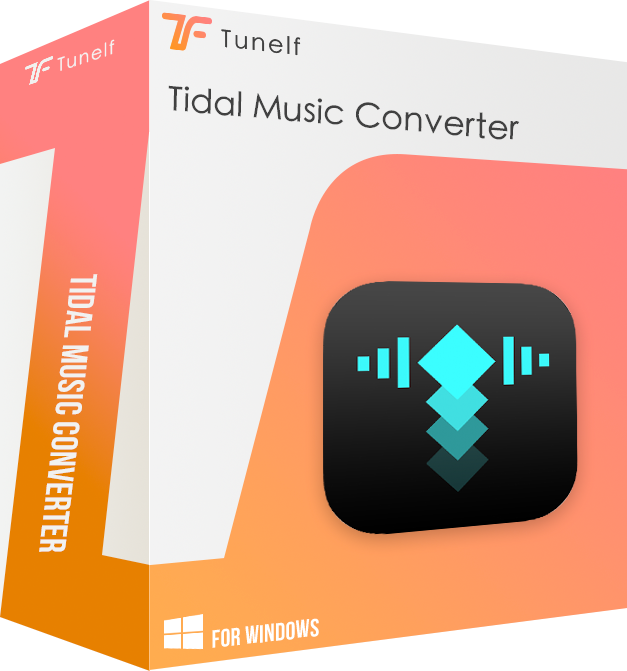 Key Features of Tunelf Tidal Music Converter
Download any Tidal content, including songs, albums, playlists, and artists
Support exporting Tidal music to MP3, AAC, FLAC, WAV, M4A, and M4B
Preserve a whole set of ID3 tag information in the downloaded Tidal songs
Handle the conversion of Tidal music up to 5× faster speed and in batch
Step 1 Select Tidal Music to Download
Tunelf offers free trial versions, but you can only convert 1/3 of your audio track. To get the full features, you're supposed to get registered. When you launch Tunelf, it will run Tidal at the same time. You can just choose a song by clicking Share > Copy Link and paste the link to the search bar, then click the Add + icon to load music files. The other simple way is to drag and drop the music tracks to the program.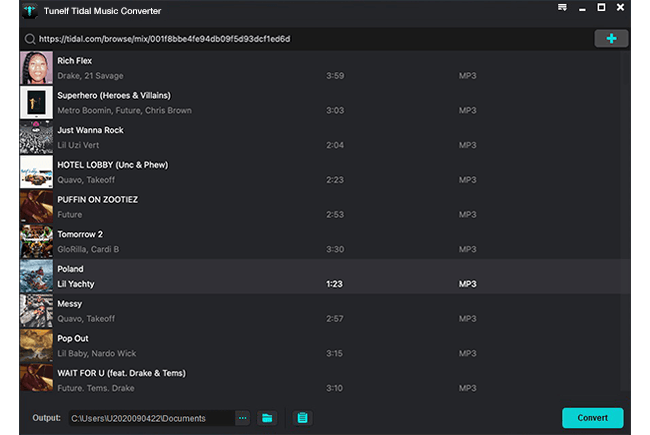 Step 2 Configure the Output Audio Parameters
Before initiating the conversion of Tidal music, you need to set the output audio parameters on demand. Click the menu bar at the top right corner and select the Preferences option. There are some audio parameters, such as the output format, bit rate, sample rate, and channel you can personalize. Here you can choose one format as Tunelf supports 6 popular formats.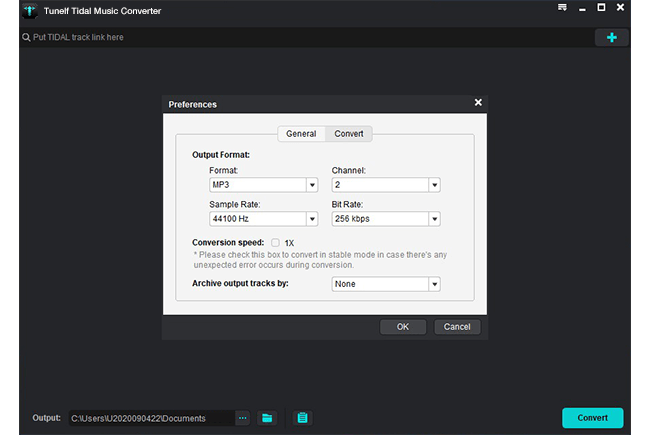 Step 3 Convert Tidal Music to MP3
After setting the formats, you can click the Convert button to start the conversion. It's no problem to convert a batch of music files. You'll only need to wait for a short time till it is finished. When the conversion is over, you can access the converted music files easily in your local folder by clicking the Converted icon.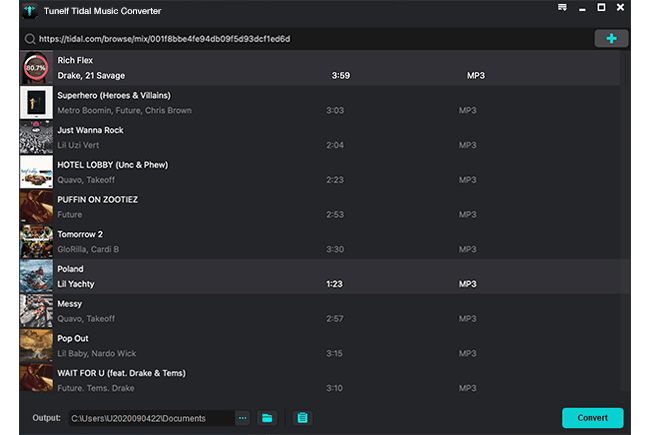 Step 4 Stream Converted Tidal Music on Tesla
Now just insert a USB drive into your computer and transfer the downloaded Spotify songs to USB. Then plug in the USB drive to your Tesla port. Next, navigate to the Tesla media player and touch the folder you store the converted Tidal Music. Now you can listen to your favorite Tidal Music on Tesla without premium.
---
Part 3 FAQs About Tesla Tidal App
After illustrating the methods to get the Tidal Tesla app installed, here're two questions you may be interested in or have puzzles with. See the answers below.
Q1. Is Tidal Free on Tesla?
No. As I stated above, you can get Tidal music on Tesla with FLAC high quality only when you have subscribed to Tidal Hi-Fi or Hi-Fi Plus plan. For free Tidal users, you may need to get that done with the help of tools like Tunelf Tidal Music Converter.
Q2. What If Tidal Tesla App Not Working?
Hope everyone is having a good experience when using Tidal on Tesla cars. However, still, some people have reported that the Tidal Tesla app not working randomly. In this case, here're some troubleshooting steps that might help.
Log out & Login: You can simply log out and sign back in. This will get your Tidal Tesla app refreshed and remove some problematic errors or mistakes.
Connect without Wi-Fi: Perhaps it is the connection failure that disallows your Tidal for Tesla app to work. To enable it to function well, you may try to connect without Wi-Fi. Many people have resolved this issue by this method.
---
Bottom Line
The good news is that now Tidal supports playing on Tesla cars. And if you have a Tidal Hi-Fi or Hi-Fi Plus premium account, it'll be easy to get Tidal on Tesla. For Tidal-free users, don't worry. You can try to download Tidal Music offline with the help of the Tunelf Tidal Music Converter. Then you can easily stream Tidal Music on Tesla with a USB drive. The songs you downloaded via Tunelf software will be kept forever in your local folder and are compatible with multiple devices. In short, Tunelf Tidal Music Converter is worth trying!
---
---