Q: Amazon music won't let me add songs to my playlist. Every time I try, it gives me a grey box without any of my playlists listed. This is on android by the way.
Music streaming apps like Apple Music and Spotify are likely to arise software problems or encounter unexpected errors, and Amazon Music is no exception. And people are complaining about why Amazon Music can't add song to playlist. Well, I know this issue must have troubled many people a lot. Luckily, we'll make it out for you. In this article, we'll discuss the method to add Amazon Music songs to playlists correctly and explore the possible effective fixes to your problem. Without further talking, let's get started!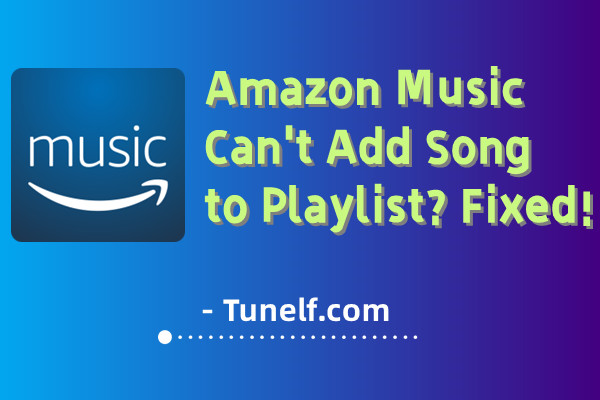 ---
Part 1. Why Can't I Add Songs to My Amazon Music Playlist
The reasons why you fail to add songs to your Amazon Music playlists can be multitudinous. If you are pretty sure that you have done the correct operations to add Amazon Music songs, you can consider the reasons coming from the external settings or the internal bugs. For example, if your subscription expires, you will lose the accessibility of Amazon Music. Or, you define some settings wrong, like unstable Internet connection, offline mode, or the limitation of your playlist. These can also be the real cause that you can't add songs to your playlist. What's more, if the Amazon Music app on your device is corrupted, you can not use it normally. You should fix the problem by reinstalling or updating it.
---
Part 2. How to Add Songs to Amazon Music Playlist on Your Devices
It's quite simple to add your favorite songs to the Amazon Music playlist with the Amazon Music app. But make sure you have a valid and active Amazon Music subscription as the feature to add songs to a playlist is included in the subscription. Here are the tutorials on how to add songs to your Amazon Music playlist on multiple devices.
Add Songs to Amazon Music Playlist on Desktop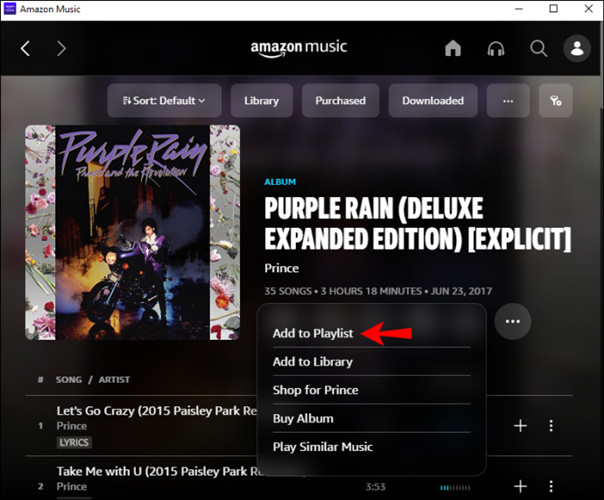 1. On the desktop, open the Amazon Music app.
2. Go to LIBRARY > PLAYLISTS, and create a playlist so that to add your songs later.
3. Select a song or album in Amazon Music, then open the More Options menu (three-dot icon) next to the selection.
4. Select the Add to Playlist option.
5. Next in the new view, choose a Playlist you created (for example New Playlist) to add the selected song or album.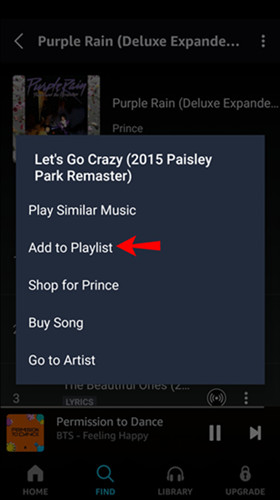 Add Songs to Amazon Music Playlist on Mobile Phone
1. On your iPhone or Android phone, open the Amazon Music app.
2. Tap LIBRARY at the bottom.
3. Under the Online Music section, tap PLAYLISTS then select Create New Playlist.
From here to name the new playlist, tap Save to create a new playlist.
4. Still, go to find a song or album to tap the three-dot icon.
5. Tap Add to Playlist, then select a Playlist or Create New Playlist.
Add Songs to Amazon Music Playlist on the Web
Except for the Amazon Music app, some people are still using the Amazon Music web player online. It is encouraged to use the app, though, we can also add songs to the Amazon Music playlist through the web version. The procedures are similar to the above.
Add Songs to Amazon Music Playlist via Amazon Echo
For other people who'd like to add songs to a playlist with an Echo device, here is a mini tip for you. If you want to add a song to your Amazon Music playlist, just make a voice command to Alexa by saying "Alexa, add [song] to ". This is pretty easy for you.
---
Part 3. Quick Steps to Fix Amazon Music Can't Add Song to Playlist
Now you've learned about the correct steps to add songs to the Amazon playlist. Does it help you to solve your problem? There is some information you should confirm: your subscription account status, the Amazon Music playlist limits, and the streaming mode you're now in. Regarding the above consider factors, here are several workable methods available:
Fix 1. Check Amazon Music Subscription
As I shared above, you'll need an active and valid subscription to enjoy this feature. What comes with the Amazon Music Playlist is the music titles – "Prime" or "Unlimited", so the first thing you should check is your subscription status to Amazon Prime/Unlimited. If the Amazon Music services are canceled, you are unable to add songs you want to the Amazon Music playlist, including the songs you've purchased from Amazon Music before. You can go to Amazon's official website for music and click on Account & Lists. Then in the drop-down menu, select Memberships & Subscriptions to check.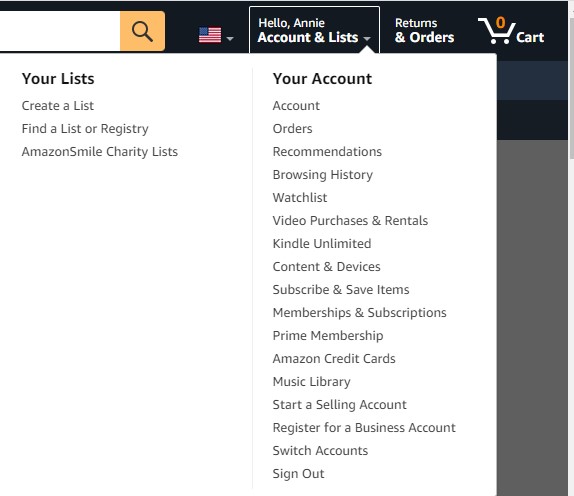 Fix 2. Check Amazon Music Playlist Limit
Always remember that Amazon Music has a 2500-song limit for its playlists. The total number of songs you add to your playlist is not allowed to break the limit. Now you can go to check your playlist to see if it is because this reason that disallows you to add songs to Amazon Music playlist. If it notifies you that you have reached the volume of 2500 songs, you will need to delete some other songs such as greyed-out songs to make room for your new songs.
Fix 3. Switch to Online Mode
If you're in offline mode, then you cannot add songs to the Amazon Music playlist. No matter whether you want to add songs from Amazon Music or your SD card, it can't be done without a network connection. In this case, you probably need to switch to online mode to help.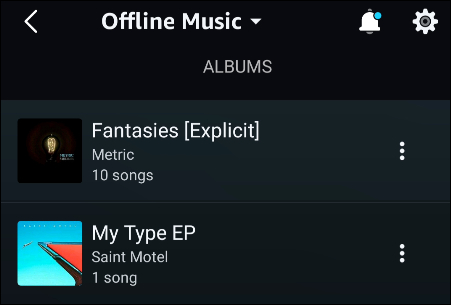 To switch off offline mode, here are the steps:
On iOS devices: Tap the three-dot icon to open Amazon Music Options, then select Offline Music Mode here. After that, toggle off the switch button to disable it.
On Android devices: Navigate to MY MUSIC from the bottom menu on your Amazon Music app, then select Online Music in the app menu to fix.
Fix 4. Try Refresh My Music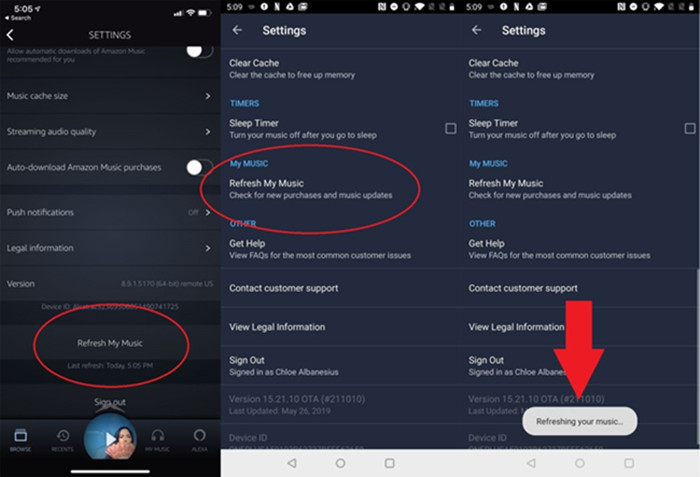 If you find that your Amazon Music won't add songs to your playlist, this is a useful but simple step to fix it. Perhaps your device is being lagged by something or is glitching due to some specific bugs and mistakes. This will refresh your music library in seconds, then you can see the song you wanted is added to the playlist already. To do so, open the Amazon Music app menu and tap Settings, then tap Refresh My Music.
Fix 5. Update Amazon Music
The outdated app version can result in many problems. It is necessary to update the Amazon Music app to the latest version. The release of the new version always comes with patches for existing glitches and errors. Therefore, if the bugs are the reason why you can't add songs to your Amazon Music playlist, you can fix it with the update. Go to the Play Store or App Store and you can reach it easily.
Fix 6. Clear Amazon Music Cache
When there are too many cache files stored in your device, the Amazon Music app can lag and have some glitches. Because the app may accidentally store some corrupted files which will lead to problems. Try to clean Amazon Music cache and try to add songs again.
---
Part 4. How to Download Amazon Music Playlist Without Limits
When it comes to Amazon Music subscriptions, many people would agree that it's a little bit expensive to pay for that bill. But without a subscription, we cannot listen to what we want and add songs to Amazon Music playlist. But right now, you don't need to worry about it anymore. Next, I'll introduce a great tool to fix the Amazon Music can't add songs to playlist issue without a premium account.
All you need is this intelligent software – Tunelf Amatune Music Converter. Tunelf Amatune Music Converter is a professional Amazon Music Converter. You can remove the DRM format and convert Amazon Prime/Unlimited Music to 6 kinds of common audio formats, including MP3, M4A, M4B, WAV, FLAC, and AAC. So, you can stream Amazon Music on multiple devices without any hassle. Now, you can start your conversion as soon as possible with the following steps.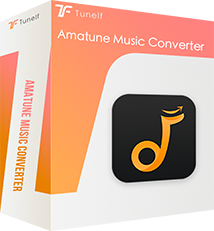 Key Features of Tunelf Amatune Music Converter
Download songs from Amazon Music Prime, Music Unlimited, and HD Music
Convert Amazon Music songs to MP3, AAC, FLAC, WAV, M4A, and M4B
Handle the audio conversion of Amazon Music at a faster speed of 5×
Ensure the output audio quality while retaining ID3 tags and metadata
Step 1 Add Amazon Music tracks to the program
For a better user experience, you're supposed to purchase and enter a credential code to unlock more features of the Tunelf Amatune Music Converter. When you launch Tunelf, you will be asked to run the Amazon Music app. To import your favorite Amazon Music to Tunelf, you just need to copy the link and paste it into the search bar. And then click the Add + icon beside the search bar to add files.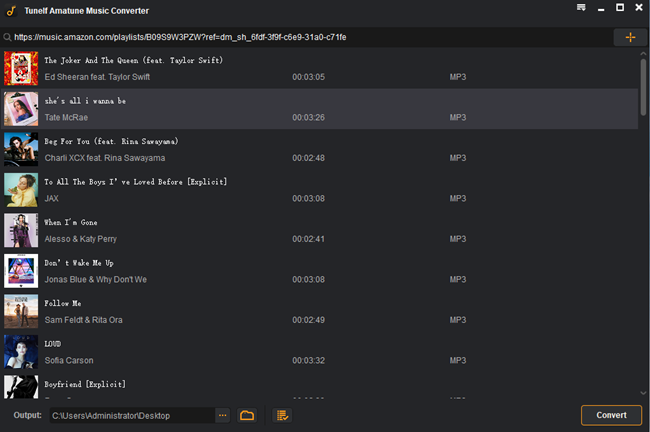 Step 2 Select the output audio format
The format setting is in the menu on the top right of the interface. Under the menu, go to Preferences and click on Convert to set the output audio format. We've set MP3 as default because it can be played on many compatible devices. Here you're also allowed to customize other audio parameters such as sample rate, bit rate, and channel, etc.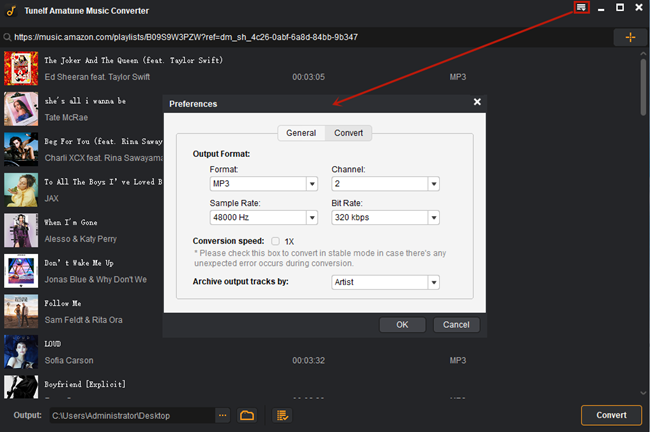 Step 3 Download Amazon Music locally
Here you just need to click the Convert button to start the conversion. The conversion will not destroy your music quality so you can enjoy them just as on the Amazon Music app. Once finished, you can locate them from the Converted panel.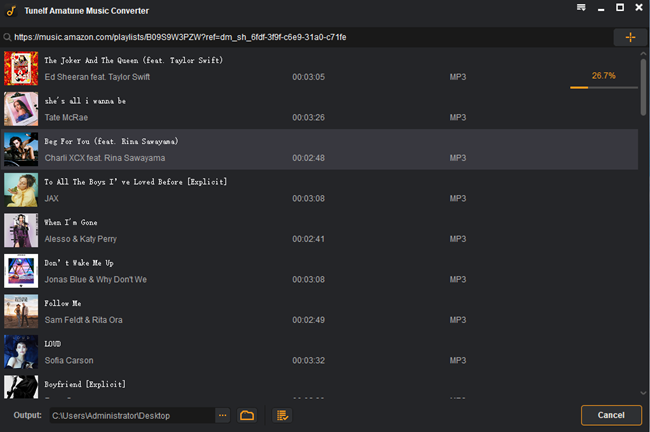 ---
Summary
To conclude, Amazon Music can't add song to playlist because of several factors. Therefore, I write the solutions and the correct procedures to help you out. But what I strongly recommend is Tunelf Amatune Music Converter this tool. By using this tool, you can stream Amazon Music offline on more devices with ease, and without any problems or limits, either. Of course, the issue you're worrying about can be fixed.
---
---