On Amazon Music, listeners can stream music with a choice of 100 million songs and a host of curated playlists. Up to now, Amazon Music has captured over 82 million people's hearts. It is an easy streaming service to start using. If you already have an Amazon Music Unlimited and your family or friends are fans of Amazon Music, why not take one step more to upgrade to Amazon Music Unlimited Family Plan and invite family or someone around you to Amazon Music? The Amazon Music Unlimited Family Plan gets all of you together and creates wonderful memories. This passage gives you a clear guidance about the Amazon Music Family Plan invitation. Read on!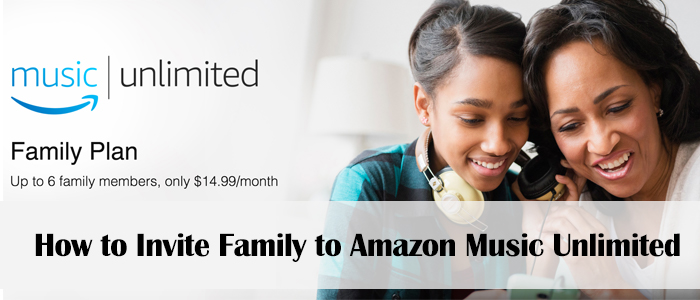 ---
Part 1. Minimum Requirements for Inviting
Before inviting others to Amazon Music, there are minimum requirements to prepare the process well.
The inviter must have an active Amazon Music Unlimited Family Plan subscription ($15.99 per month).
Only the subscriber and owner of the Family Plan can invite people to the Family Plan.
All members must reside in the same country.
The invitee must be at least 13 years of age.
The invitee can only join one Amazon Music Unlimited Family Plan at a time.
---
Part 2. How to Initiate and Accept the Amazon Music Invitation
If you are equipped with the above requirements, you can freely add members to your Family Plan when you are ready. It is as simple as pie, let's see how to.
2.1 How to Invite Family to Amazon Music
Step 1. Visit Your Amazon Music Settings on a browser or go to Profile > Settings > Manage Music Subscription on your Amazon Music app.
Step 2. Hit on the invite or remove members option. And share the invitation URL link with your family members by sending an email or text message.
Step 3. Enter the correct email address or phone number of your invitee in the text box, and click Send Invitation.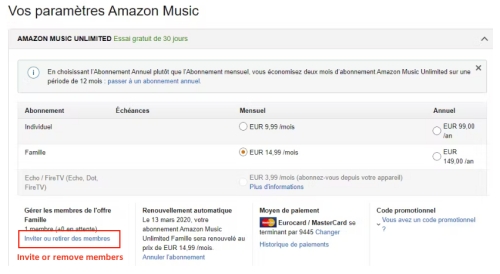 2.2 How to Accept Amazon Music Invitation
Note
Invitees are required to accept the invitation within 7 days.
Once receiving the email or message you choose to send, invitees can accept the invitation from the URL link and sign into their own account. From there they just follow the prompts to download the app if they do not already have it. Invitees can head to Amazon Music Settings. At the top, it would indicate if they are part of a Family Plan or not.
Now the members included in the Family Plan can access 100 million songs from Amazon Music Unlimited and can experience all the Unlimited features, such as offline listening and HD/Ultra HD sound quality.
---
Part 3. How to Fix Amazon Music Family Plan Not Working
Inviting someone to Amazon Music essentially is sharing your Amazon Music subscription with family or friends. There is no doubt that Amazon Music Unlimited Family Plan is the best way to do that and even Amazon Music Prime and Free can join Amazon Music Unlimited via the Family Plan. However, some users complained that Amazon Music Family Plan not working sometimes results in they can't invite family members.
Here we offer methods that may help you get rid of the issue. But first, you'd better check the requirements in Part 1. If any condition does not comply with the requirements, you can't invite someone successfully. For instance, when one of the invitees tries to add others to the Family Plan, it doesn't work.
Method 1. Check Your Devices Settings
Keep in mind, if you have the family plan a single account can simultaneously play on 6 devices, or you can have up to 5 different accounts under your plan, each with its own library. You can go to Your Amazon Music Settings page to view your sharing members. If there are already 6 members, undoubtedly, you are limited to adding members more. Sure, you can also remove members on there by clicking Remove Members.
Method 2. Share Your Local Amazon Music Songs
If there is an issue that family members are unable to access Amazon Music Unlimited, here we give you another perfect workaround to resolve it — download and share songs from Amazon Music Prime or Unlimited with your family members. You only need the help of Tunelf Amatune Music Converter and convert them to popular audio formats, so that you can share Amazon songs with anyone even though he or she isn't an Amazon Music user. This advanced tool helps you download Amazon Music without a premium account and convert them to MP3, AAC, WAV, FLAC, M4A, and M4B simultaneously retaining the sound quality. After conversion, you can easily share Amazon Music with your family or friends.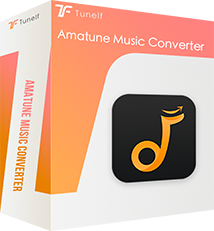 Key Features of Tunelf Amatune Music Converter
Download songs from Amazon Music Prime, Music Unlimited, and HD Music
Convert Amazon Music songs to MP3, AAC, FLAC, WAV, M4A, and M4B
Handle the audio conversion of Amazon Music at a faster speed of 5×
Ensure the output audio quality while retaining ID3 tags and metadata
Step 1 Select and add Amazon songs
After opening the converter on your computer, Amazon Music will be launched automatically. Now, share the song to obtain the link of a track, playlist, album, or artist on Amazon Music, and copy it to Tunelf's search bar. Next, click the + icon to finish the uploading process. Alternatively, you can just drag and drop your preferred song or playlist to the Tunelf software.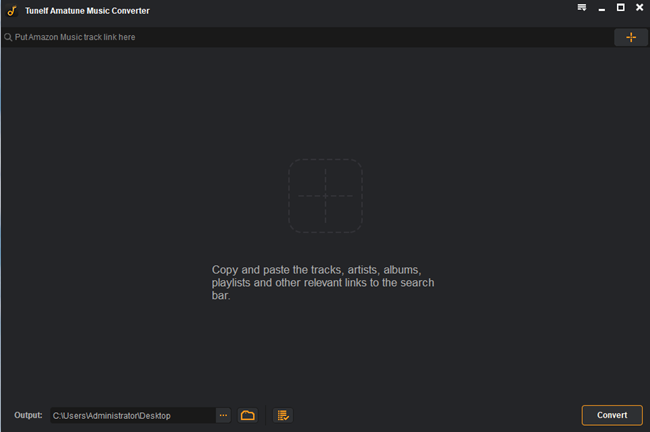 Step 2 Customize output audio preferences
Before converting, you have the freedom to customize the output format, channel, bit rate, and sample rate. Click the Menu icon featuring three lines at the top-right corner. Then select Preference and turn to the Convert tab to change the output format to MP3. Don't forget to click OK to save your settings. Moreover, you are able to click the Output panel to change the output location.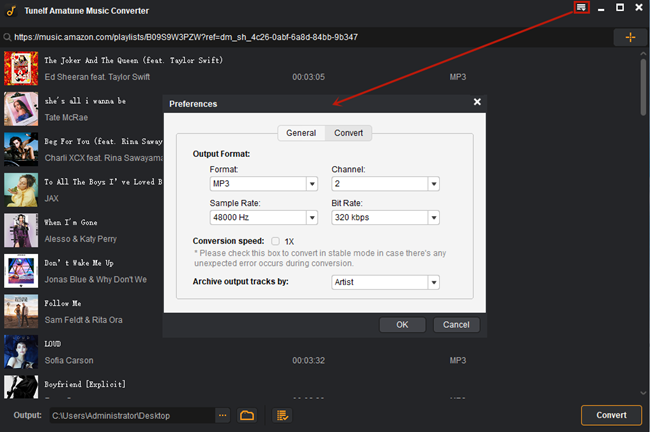 Step 3 Download and share Amazon songs
After selecting the songs you want to export and share, you'll start the conversion process by clicking the Convert button. Once done, switch to the Converted page to browse all the downloaded Amazon songs. Here, you can easily locate them on your computer by applying the search icon after each track. Because they are local MP3 files, you are expected to share them with others without limits.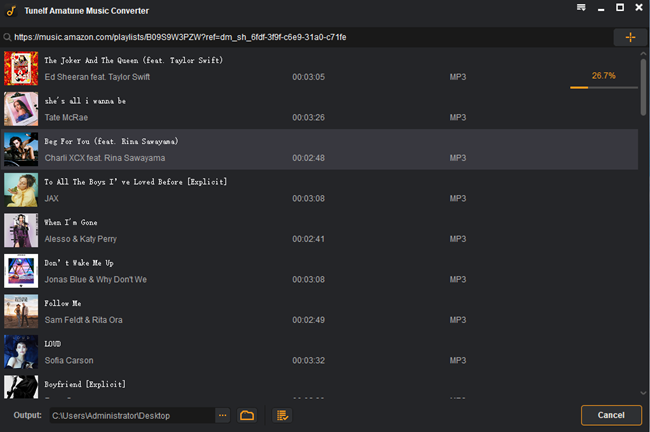 Method 3. Resend the Invitation Message and Email
There are times the invitee didn't join in time or the link in the email didn't work, you might as well resend the link. If you send the link via email, next time try the message. Make sure the email address and phone number belong to the invitee.
---
Summary
Currently, have you known how to invite family to Amazon Music? The process is super simple, isn't it? In case you may encounter an issue such as Amazon Music Family Plan not working, we provide 3 methods. On top of that, Tunelf Amatune Music Converter is the best option whether you share Amazon Music with others or stream Amazon Music on multiple devices.
---
---