Whether you've already addicted to podcasts or are new to the world of podcasts, you'll admit that podcasts are so popular nowadays and have become some of the most beloved entertainment and education mediums worldwide. No matter what kinds of podcasts you'd like to listen to, there's always one that matches your taste and needs. Plenty of specialized interest shows are available for you to choose from.
Perhaps, podcast lovers are now ready to download all their favorite podcasts offline for listening anytime. However, with so many podcasts available, there's no way that you can listen to all of them. To help you out, we've gathered the top 10 best podcasts on Amazon Music to turn you on to your next great listen.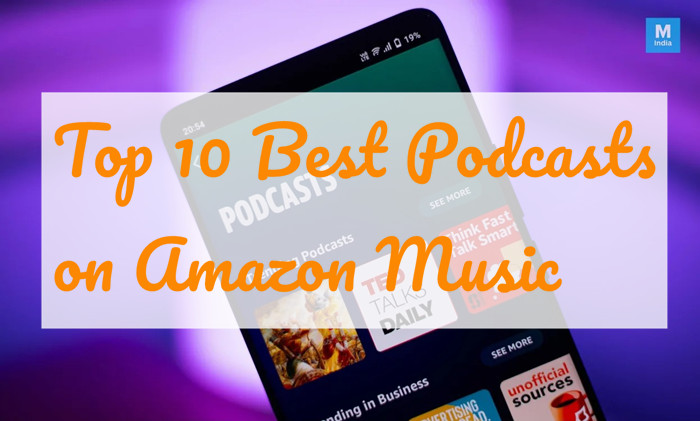 ---
Part 1 Top 10 Popular & Best Podcasts on Amazon Music
We're living in a golden age of podcasts, and it is still flourishing day by day. Many excellent podcasts come out every year or every month. Podcasts curated by famous magazines, huge companies as well as splendid personal editors or amateurs enrich our lives and bring us into different and specialized journeys everywhere. Below are the 10 best podcasts from Amazon Music. The ranking is not in order, just take a look to find your liked ones.

The canals of Númenor, the mines of Khazad-dûm, the halls of Lindon, want to know more about The Lord of the Rings? Don't miss The Official The Lord of the Rings: The Rings of Power Podcast. Host Felicia Day takes a fresh and insightful look at the groundbreaking series and what it takes to bring Middle-earth to life. Each episode features exclusive interviews with the cast and crew and takes us behind the scenes with jaw-dropping stories and Easter eggs you won't want to miss.

Help! Charlie Miller (Ashley Benson), a D-list reality TV star with a rabid fan base, has just gone missing off the coast of Key Biscayne, Florida. On the case are Mark Green (Zachary Quinto), a deskbound police department employee with an encyclopedic knowledge of celebrity gossip, and Tiana Jones (Michelle Buteau), his no-nonsense colleague. After Mark and Tiana pose as detectives to find Charlie, the case gains national media attention, and the two quickly find themselves in a firestorm of basic bitches, gun-toting bookies, and cutthroat momagers. This is a podcast from Audible Originals. Sorry, Charlie Miller is a Tik Tok era mystery with twists, turns, and a whole lot of questionable fashion choices. It takes place in Florida, hello.

Released in August 1991. Metallica's masterpiece turned the Bay Area thrash-metal upstarts into international superstars. The Black Album still sits among the best-selling albums of all time. The Metallica Podcast: Volume 1 — The Black Album is a deep dive into the record, told in the band's own voices. In each episode, James Hetfield, Lars Ulrich, Kirk Hammett, and Jason Newsted talk about the making of The Black Album as well as the origins of the song, the founding of Team Ugly, and more.
Listeners who heard the story of Metallica's tour will get that the key to creating such great works is the four-excellent-people-consisted band. If you're fond of this band or their voices, then you can't miss this original podcast series.

If your beloved someone got caught up with cancer, you must want him or her to be treated by the best doctor. And putting your life in the hands of medical professionals when needed is a no-brainer for many. This is a story of hundreds of patients in Michigan, a doctor, and a deadly secret. In 2013, patients in Michigan thought Farid Fata was that doctor. The prestigious education, years of experience, and pleasant bedside manner made Fata a reliable doctor. Well, it seems to be accurate, on the surface. But he was not who he appeared to be.
Country music has manufactured myths from the moment it manifested out of the American South in the 1920s. When it comes to a folk song, what else would one expect from it, besides the balladry invoking nomadic wandering and the indelible quest for romance? As the name suggests, the Amazon Music podcast Set It Straight: Myths and Legends is here to set the record straight. Along with the boys from the GRAMMY-nominated band Midland, this podcast episode will show you the background behind some of the most legendary stories in the country music scene and many popular hot music titles.

Do you take a great interest in nature? We know the magic tragedy of nature and what it brings us, but the stories in books are not enough. In this episode, we're going to follow the steps of wildlife biologist Dr. Rae Wynn-Grant and her teams to find and learn how to protect those animals or creatures in danger. They've made journeys deep into the heart of the world's most remote jungles, savannas, tundras, mountains, and deserts, bringing us to a world we've never seen before.

Now the internet brings us closer and linked us in a very tight manner. Chatting online does a commitment to our daily life, distances don't block us from falling in love with each other within a short period. So, do you ever chat online and build a relationship with strangers? And it is likely you felt that this person on the other side of the line is the one you dreamed of for a long time. Wait, do you know what he or she is like in the real life? When you start to suspect something isn't quite right, you need someone to help you find out the truth. That's where "Catfish: The Podcast" comes in.

Funny cuz it's true? What thing is funny cuz it's true? This is the name of the social media influencer Elyse Myers who gained notability with her account of her worst date during which she purchased 100 tacos. Ever since the first viral on TikTok, "I now have millions of eyeballs watching my videos on a daily basis (which is just a terrifying number of eyeballs, honestly)." She said. And this podcast tells stories that if there're stories that have stuck with people and changed their lives in small ways. Not-so-funny moments have become funny over time. Perhaps, that's life. An interesting podcast indeed! For the details, play it then.

So much pop culture and so many movies, TV shows, music, and memes. We're getting in touch with so many popular items every day and you cannot even avoid being affected without sense. So, do you know what these pop cultures do to our minds and our life? In this podcast series, host Sam Sanders will help you obsess better and enable us to figure out what it means from the tiny, dumb scene on loop in our brains to the big. From New York Magazine and the Vox Media Podcast Network.

In a world where "influence" equals follower counts and likes, there was one woman who, over the course of her career and half a century before, defined the meaning of influence and transformed its power. Who is this woman? Elizabeth Taylor. Narrated by Katy Perry, Elizabeth the First is a 10-episode podcast series exploring the life of Elizabeth Taylor as a Hollywood icon, mother, wife, entrepreneur, advocate… and influencer. This is indeed the best podcast on Amazon Music, personally. If you'd like to go deeper into the world of Elizabeth Taylor, listen to this biography then.
---
Part 2 How to Get a Podcast from Amazon Music
It's easy to get a podcast on amazon music from the web browser. You can easily access the best podcasts you want and like in a few simple steps. Now just follow the instructions below to get one on your device.
Step 1 Find the Podcasts on Amazon Music
To find podcasts on Amazon Music, open your Amazon Music desktop app or web player and go to Podcasts next to the Home button from the upper screen. Here you can find many podcasts and they're classified into different kinds of groups, such as 'Best Podcasts This Week', 'Top News Podcasts', etc.
Step 2 Follow the Podcast for Listening on Amazon Music
To find a specific podcast for listening to, use the Search bar in the top-right corner. A click on the search icon will open another page. In the top search bar, type in a name and then scroll down to find the podcast result. Open it and then click the play icon or the 'FOLLOW' button. If you don't have a specific direction for what you want to hear, then go to those kinds of groups to find out. Usually, you can get the podcasts to your taste from the 'Best Podcasts This Week' collection.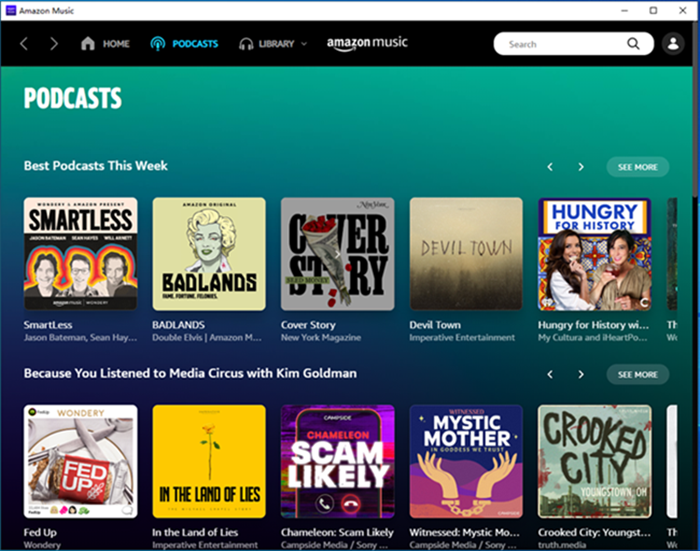 ---
Part 3 How to Download Best Podcasts on Amazon Music to MP3 Files Locally
Besides the podcasts I shared above, there are still lots of good podcasts on the Amazon Music app. If they can be converted to MP3 files, it'll be great to listen to them whenever you want on MP3 players or other devices. Here comes the best tool to download top podcasts on Amazon Music to MP3 offline- Tunelf Amatune Music Converter.
Tunelf Amatune Music Converter is well-designed music downloading and converting tool for Amazon Prime/Unlimited users. With the help of the Tunelf program, you can download any music track, album, playlist, and podcast from Deezer and then export them as MP3 or other format files to your computer. What needs to be mentioned is that the conversion won't destroy the original music quality. Tunelf supports you to adjust some other audio parameters like sample rate, bit rate, and channel to create your own audio. Now let's get started!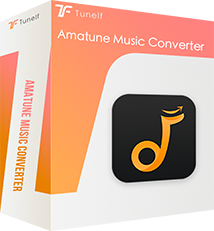 Key Features of Tunelf Amatune Music Converter
Download songs from Amazon Music Prime, Music Unlimited, and HD Music
Convert Amazon Music songs to MP3, AAC, FLAC, WAV, M4A, and M4B
Handle the audio conversion of Amazon Music at a faster speed of 5×
Ensure the output audio quality while retaining ID3 tags and metadata
Step 1 Add Amazon Podcasts to Tunelf Program
Once opening Tunelf Amazon Music Converter on your computer, then you'll see the Amazon music app. Go to search and find podcasts you want to download and copy the link. Then paste the link into the search bar and click the + button to load all the music tracks in the target playlist to the conversion list.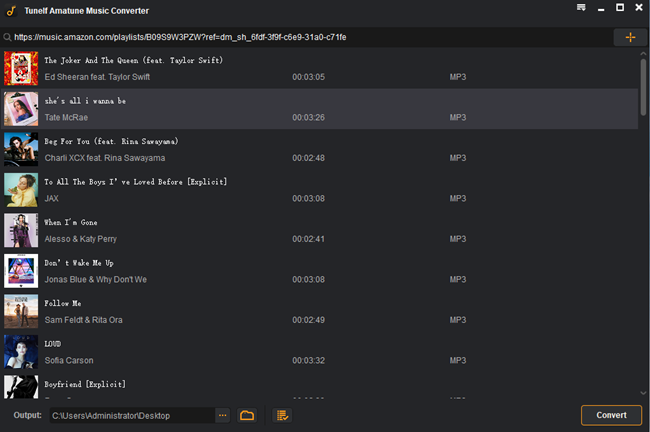 Step 2 Tune audio parameters for output conversion
Here comes the most important step of the conversion – customize the output audio settings. Under the menu setting, you can click Preferences > Convert to select MP3 from 6 audio formats. Meanwhile, you can adjust the sample rate, bit rate, channel, and output archive to improve your listening experience. You can also change the conversion speed to 1x in case an unexpected error occurs under the same setting page.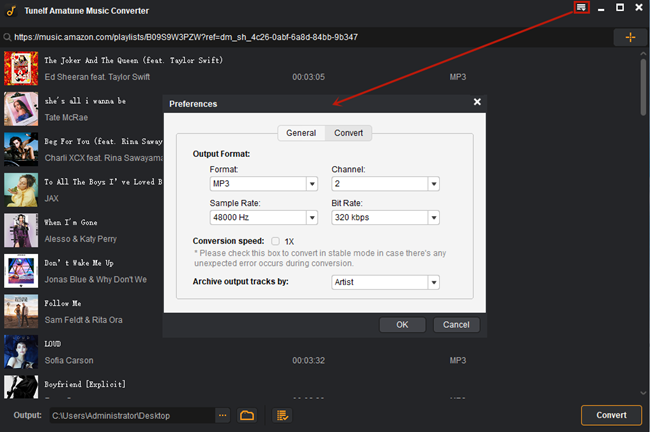 Step 3 Begin downloading Amazon podcasts to MP3
To initiate the conversion, you can click the Convert button at the bottom right corner of the converter. Tunelf program will soon export the podcasts as MP3 files to the computer. In the history list, you can check all the converted audio files by clicking the Converted icon.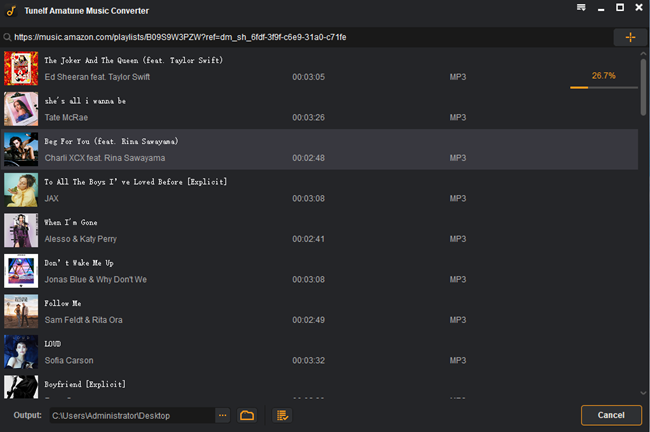 ---
Wrap Up
To sum up, there're so many great and excellent podcasts on Amazon Music. We've gathered and listed the top 10 best podcasts on Amazon Music above. And it is suggested to download and convert these audios to MP3 so that you could listen to them on any player or device you want. With Tunelf Amatune Music Converter, you're free of errors or restrictions indeed! Have a try then.
---
---