Is there an easy way how to play Audible on HomePod? Yes, there is. HomePod is a unique smart speaker designed to fit anywhere in the house. HomePod mini and HomePod occupy almost no space, yet they deliver room-filling sound. You can comfortably play Audible on HomePod regardless of the position you are – in your house.
Homepod has a noise-cancellation feature, which makes it outstanding in the market. You can speak using your normal voice in circumstances in which you would have raised your voice to speak to someone in the same room without having a pause whenever you listen to Audible on HomePod. When we come down with how to stream Audible to HomePod, there are 3 ways.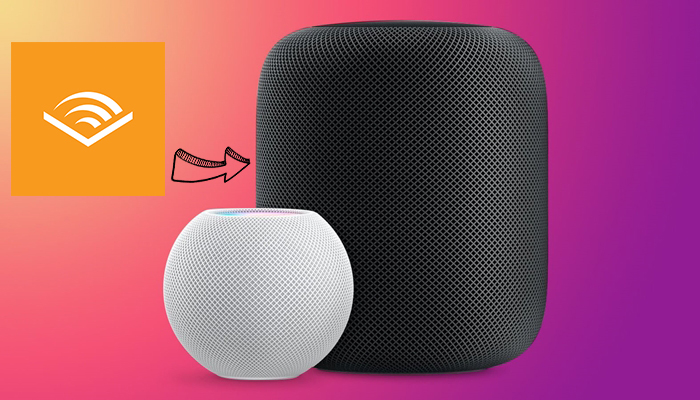 ---
Part 1. Play Audible on HomePod via AirPlay
Using AirPlay, you can play audio from iPhone, iPad, Mac, as well as Apple TV on wireless devices like HomePod. To listen to Audible books from your iPhone, iPad, Mac, or Apple TV through your HomePod, make sure that your device and HomePod are on the same Wi-Fi or Ethernet network first. Then do the following depending on your device.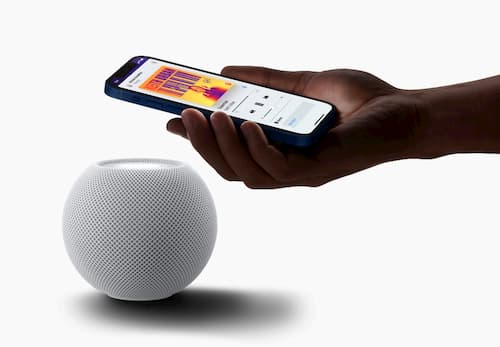 Step 1. First, make sure that your HomePod and Apple device are connected under the same Wi-Fi network.
Step 2. Secondly, you need to have stored audiobooks on your device. You can download them to your iPhone, iPad, or Mac, depending on the device you are using.
Step 3. Launch the Audible app on your Apple device and select the audiobooks you want to listen to on your HomePod.
Step 4. Tap on the AirPlay icon, which is usually at the top left of the interface, then tap on HomePod.
Step 5. Finally, click on the Play button, and you will be able to stream Audible on HomePod with much ease.
---
Part 2. Get Audible audiobooks on HomePod via Handoff
The above method is available on those devices with the AirPlay feature. If your HomePod does not allow you to play Audible or just not working. Don't worry, here's another official way to get Audible audiobooks playing on Homepod – utilize the Handoff feature. This feature allows you and your family members to transfer audio from your iPhone or iPod Touch to your HomePod. And the audio will start playing from the pause of the last time playing. Here's the simple tutorial:
Note: to hand off audio, you must turn on the Bluetooth and make sure your HomePod and your device are connected to the same Wi-Fi network.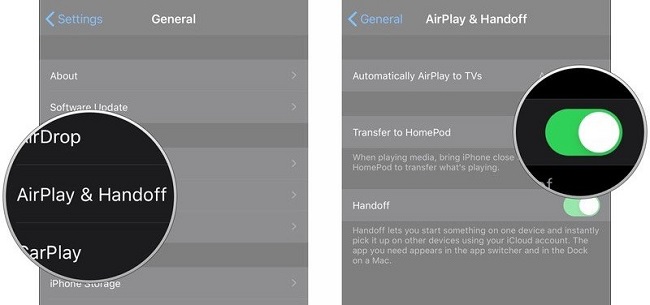 Step 1. On your iPhone or iPod Touch, go to Settings.
Step 2. Under the Settings, choose General > AirPlay & Handoff, and make sure Transfer to HomePod is turned on.
Step 3. When you want to move audio from HomePod to your iOS device, you can hold your iPhone or iPod Touch closely to the top of your HomePod.
On iPhone 11 and iPhone 12 models, you should hold your iPhone near the top of HomePod, then tap Transfer to iPhone.
---
Part 3. Stream Audible to HomePod via Tunelf Audio Converter
Here you play Audible books on Audible only after saving them on your iTunes library. There is a Siri voice control that allows you to stream Audible to HomePod in your iTunes library. Nonetheless, iTunes can also be used as a media player only if you connect iTunes to your Audible account. To stream Audible to HomePod, you first have to upload Audible books to iTunes.
There is the DRM restriction on audiobooks purchased from Audible hence making it difficult to play Audible on HomePod directly. Therefore, you have to incorporate a third-party tool to strip the DRM restriction to enable you to play Audile on HomePod, and Tunelf Audio Converter is the best tool for this. Tunelf Audio Converter is the best professional tool that not only breaks the DRM restriction but also has some great advantages.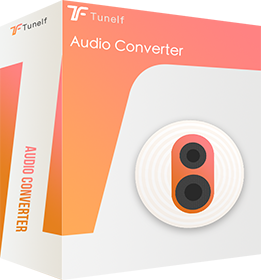 Key Features of Tunelf Audio Converter
Remove DRM protection from Apple Music, iTunes audios, and Audible
Convert Apple Music to MP3, AAC, and more for playing on any media player
Personalize the output audio parameters like the output format and bit rate
Converse the converted audio with the lossless audio quality and ID3 tags
Below is the stepwise course of breaking the DRM restriction using Tunelf Audio Converter to listen to Audible on HomePod.
Step 1 Add Audible files to Tunelf interface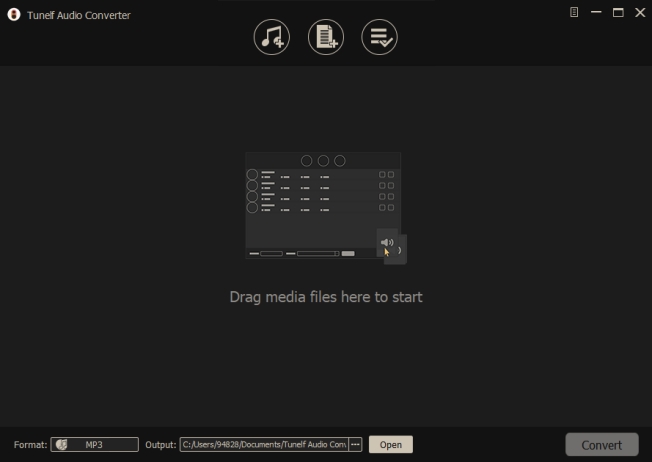 Fire up Tunelf Audio Converter on your computer after you have finished the download and installation. Since we want to stream Audible on HomePod, we have to add Audible books to the converter first. Click the second icon marked Add Files at the top of the Tunelf interface. Then you can begin to select Audible audiobooks from your computer and add them to the Tunelf interface for the conversion. Or you can directly drag and drop them to the Tunelf interface.
Step 2 Set the output Audible audio format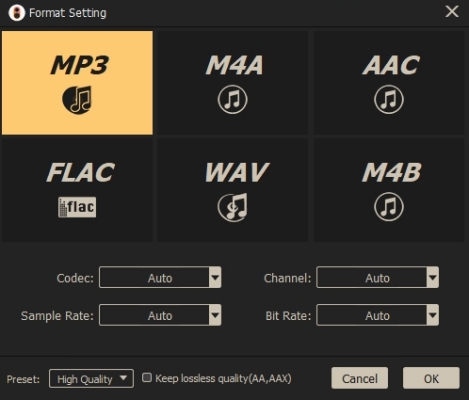 In the second step, you need to configure the output parameters. Just click the Format panel at the bottom left-hand corner then a pop-up window will appear. Choose MP3 as the output format since we want to listen to Audible on HomePod. There are also setting such as the bit rate, codec, channel, and sample rate. You can change them depending on your preferences on how you want to listen to Audible on HomePod.
Step 3 Start to remove DRM from Audible books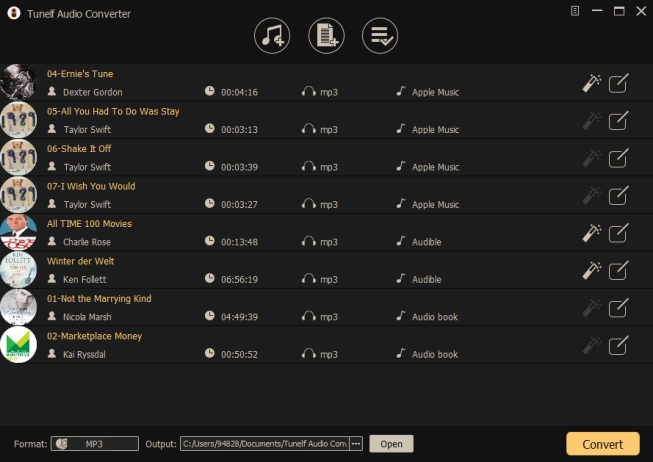 Here is the final step of using the Tunelf Audio Converter. After setting all the properties, you can now click the Convert button in the lower right corner to start the conversion of Audible audiobooks. After several minutes, Tunelf Audio Converter will save the converted Audible books to the folder you designate. And you can click the Converted button to locate the converted Audible files in the history folder.
Step 4 Play Audible audiobooks on your HomePod
Now that you are through with converting your Audible books to MP3 files, it is about that time that you play Audible books on HomePod using iTunes.
1) Begin by launching iTunes on your computer, then locate your Audible audiobooks in iTunes.
2) Click on the Download button on the right of the iTunes interface.
3) You can access the downloaded files by opening them in iTunes or adding it to iTunes. It is done by clicking on the File icon and then Add to Library.
4) You will have added your converted Audible book files to the iTunes library, and you've got to enjoy listening to Audible on HomePod.
---
Bottomline
You don't necessarily need to have an iPhone for you to listen to Audible on HomePod. You can choose to employ the second playing Audible method of using Tunelf Audio Converter, where you only use your computer. The first method you only use when you have an iPhone; hence, nothing will hinder you from listening to Audible on HomePod.
---
---