Background music while driving can reduce stress and enhance relaxation. Modern technology makes the integration of music and car as easy as pie. In this competitive streaming music field, Deezer, a startup, gains a lot of popularity globally. There are podcasts, audiobooks, radios, and more than 90 million music tracks you can explore via the Deezer app or Deezer web player. If you want to listen to music in your car, Deezer is the way to go even if it doesn't expand its car mode for users. The following passage is going to discuss different methods for playing Deezer in the car. Scroll down to choose the perfect one that suits your needs.
See also: How to Play Deezer on Tesla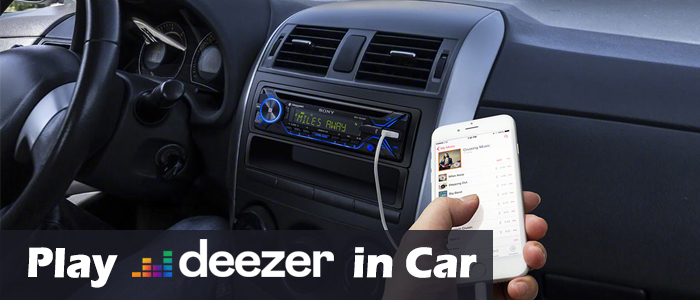 ---
Method 1. How to Connect Deezer to Car via Bluetooth
Almost every car boasts built-in Bluetooth functionality, which offers great flexibility and convenience to play any media files via Bluetooth. Obviously, you can easily play Deezer tracks on your phone and then cast them to your car using the Bluetooth connection.
Step 1. Enable Bluetooth on your car and your mobile device.
Step 2. Go to Settings on your phone, search for and connect your car's Bluetooth. Also, you can match your phone's Bluetooth to your car's infotainment system.
Step 3. Once paired, open Deezer on your phone to play songs you wanted, and songs will be played through the car's speaker.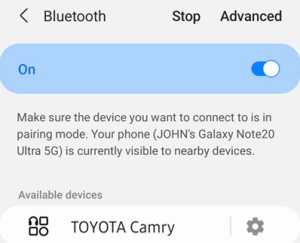 ---
Method 2. How to Connect Deezer to Car via Auxiliary Input
An Auxiliary Input socket is a 3.5mm jack into which you can wire any device that has a physical headphone connection. It allows you to play your own music in your car without the need for a Bluetooth-compatible head unit or an FM radio transmitter. So if both your phone and car are equipped with a 3.5 mm jack, you can follow the steps below to stream Deezer in your car.
Step 1. Locate the Aux Input socket on your car stereo or dashboard.
Step 2. Simply plug one end of an aux cord into the headphone jack of your smartphone and the other end into the car's aux input.
Step 3. Set the car stereo source to Aux Input.
Step 4. Launch Deezer on your phone and start to play any song.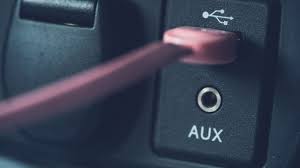 Note
If you want to change the song, you'll need to skip the track using your phone controls rather than the buttons on your car's stereo or infotainment system.
---
Method 3. How to Play Deezer in the Car via a USB Cable/SD Card
The methods above mentioned require a Deezer membership to access online content, of course, you can also play downloaded Deezer songs in your car. But at times, the network on your phone is so weak or your subscription is expired just on the road. In these situations, you are not allowed to acquire any content on Deezer, and can't continue to enjoy Deezer music when driving. Hence, another alternative way deserves to try. That is apply a USB cable or SD Card to play Deezer in your car. In this way, you can listen to audio in lossless quality, but offline Deezer content is necessary. Another thing you should know is that all downloads from Deezer come with cache files, and they can't be located on your device or playable without Deezer.  
Therefore, you need the help of a Deezer Music converter like Tunelf Deetrack Music Converter to remove those barriers. It is designed for all Deezer users including Deezer Free to download songs from Deezer to MP3, AAC, and more with HiFi quality. If you want to download Deezer songs, playlists, and albums in batches, it is the best option and supports 5X conversion speed. With this professional tool, all converted content is saved to your computer locally. And then, it is easy to transfer them to a USB or SD Card, and other devices or media players.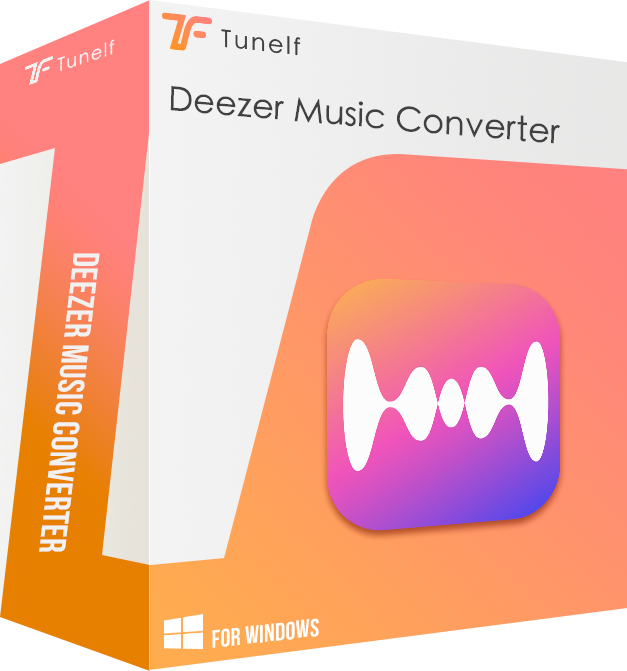 Key Features of Tunelf Deetrack Music Converter
Download Deezer songs, albums, playlists, podcasts, and radio
Convert Deezer music to MP3, and other audio formats in batches
Keep Deezer music tracks with lossless audio quality and ID3 tags
Remove ads and DRM from Deezer music at a 5× faster speed
To transfer Deezer songs to a USB cable or SD Card, you should give priority to downloading songs from Deezer using Tunelf. Follow the detailed tutorial to finish the process.
Step 1 Add Deezer songs you want to play in the car
Install and then launch Tunelf Deetrack Music Converter and the Deezer player will be opened automatically. Find your desired track or playlist on Deezer and share it to obtain the link. After that, copy and paste it into Tunelf's search bar and click the + button. Once uploaded, you can freely select and browse your songs in Tunelf.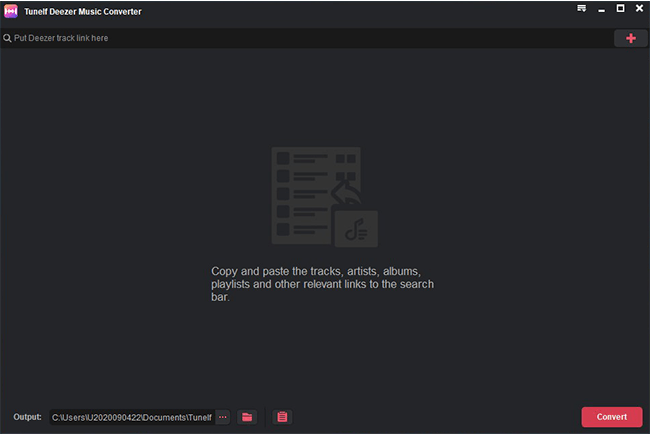 Step 2 Tune the audio files for downloading
Now, click the three horizontal lines icon in the upper right corner and select the Preferences option. A window will pop up, and you can change the output format, bit rate, sample rate, and channel on the Convert tab. To move your songs to the USB drive or SD Card, please leave the default format MP3. If you do other changes, remember to click the OK button.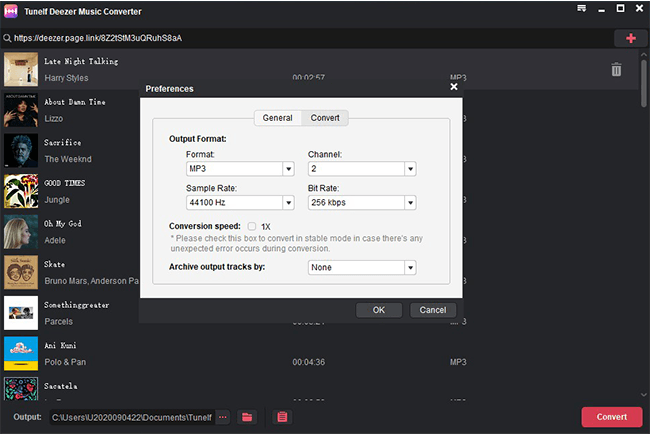 Step 3 Start downloading Deezer tracks
Lastly, click the Convert button at the bottom right corner, and Tunelf Deetrack Music Converter will automatically download and convert Deezer songs to MP3. After conversion, all the Deezer songs will be saved to your computer. Moreover, go to the Converted list so you can browse all your converted Deezer songs and locate them in your local folder by using the search icon.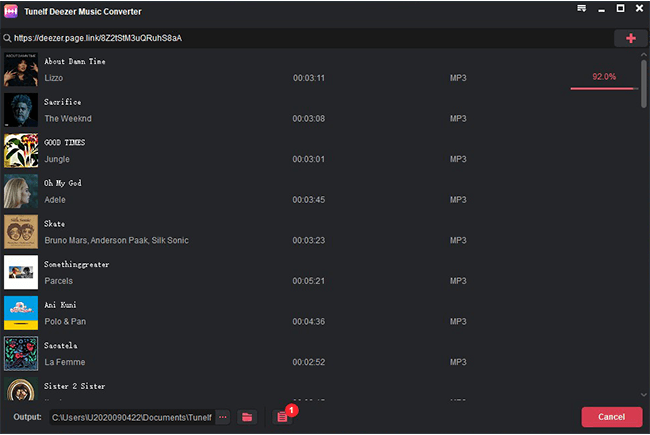 Step 4 Transfer Converted Deezer Songs to USB/SD Card
Plug a good-quality USB cable or an SD Card into your computer. Copy and paste the folder containing all converted Deezer songs to the USB drive or SD Card. Once done, you have the freedom to play Deezer songs offline without restriction.
---
Method 4. How to Stream Deezer in the Car via Android Auto/Apple CarPlay
Deezer enables you to sync your phone with your car to play music via in-car infotainment systems including Android Auto and Apple CarPlay. That means if your car comes with Android Auto or Apple CarPlay, you can stream Deezer from your phone to the car's stereo. Android Auto works with all the best Android phones, just like Apple CarPlay does with most iPhones.
4.1 Play Deezer in the Car using Android Auto
Step 1. Install Android Auto from Google Play Store on your Android devices. Android 10 and above users do not need to download it because the Android Auto app is integrated into these phones.
Step 2. Connect your phone to your car system via a USB cable, and Android Auto will display on your car immediately.
Step 3. On your display, select the App Launcher and find Deezer to play music or podcasts through your car's speakers with Android Auto.
4.2 Play Deezer in the Car using Apple CarPlay
Step 1. Start your car and make sure Siri is turned on.
Step 2. Plug in your iPhone to your car using the car's USB cable. Once you've completed the setup, CarPlay should start automatically.
Step 3. Launch Deezer on your CarPlay screen, and choose a playlist or album to enjoy.
Step 4. Before driving, you are allowed to go to Settings > General > CarPlay on your iPhone, in which you can drag the Deezer app to change the order it appears next time.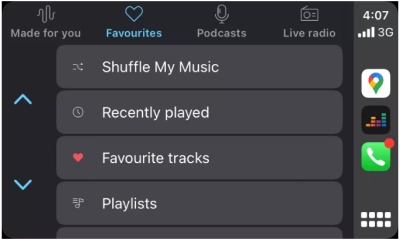 ---
Summary
The above 6 ways are feasible to solve your problem of playing Deezer in the car. No matter what kind of car you are driving, there must be one method that perfectly suits you. For accessing Deezer offline listening without any limit, Tunelf Deetrack Music Converter is the best choice. Meanwhile, compared with other methods, it gives you the best sound quality, which is a top musical experience together with your car's stereo.
---
---