Deezer music, not as popular-used as Apple Music, nor as famous as Spotify, or Amazon Music, is fabulous in its music quality offered up to FLAC (Hi-Fi quality). I dare say music lovers or audiophiles would like to download high-quality music songs offline for sure.
And you must experience this: Now Deezer is terminating its free version in many countries gradually, you'll need to upgrade to a premium plan to enjoy the tracks. But the subscription fee is a little bit high. And when you finally subscribed to Deezer premium and download the songs you like offline, will they be played forever offline? No, they're not saved locally, but just temporary caches, when you canceled the subscription, these downloaded songs will go with the wind. Honestly, all of these restrictions result from DRM. DRM brings us much inconvenience and many problems in terms of enjoying and using music. Thus, a Deezer DRM removal is really needed.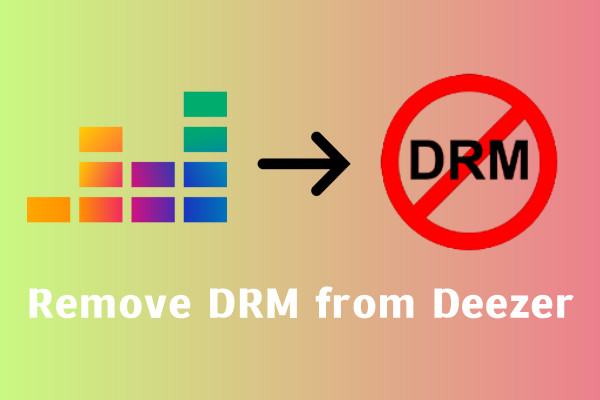 Luckily, you're now in the right place! We're going to explain DRM to you explicitly and share with you several efficient DRM Removal tools in a comprehensive guide. Check and find out!
---
Part 1 FAQs About Deezer DRM Removal
Speaking of DRM, many people still have no idea of it, let alone understand what is DRM removal. So, here I make a brief guide to list the questions you probably have trouble with and give answers to each question.
1. What's DRM on Deezer?
Firstly, you need to figure out the definition of DRM. Generally, DRM is the abbreviation of Digital Rights Management, which is an agreement to protect copyright for digital media. This is a set of access control technologies for restricting the use of proprietary hardware and copyrighted works. Now many music streaming services are under the DRM, and Deezer is no exception.
2. Why Do We Remove DRM from Deezer?
As I said above, the DRM is an approach to protect the copyrights of music. But by giving the DRM-protection formats to the songs, it stops us from enjoying and using music tracks at the same time. We can listen to the music online with the Deezer subscriptions for sure. But we cannot stream them on any other apps outside of Deezer. Though Deezer has now available on some smart TVs, speakers and smartwatches, there're still many more devices that are not supportable. Moreover, we cannot completely download them as local files. They'll be greyed out once your subscription expired. Therefore, you'll need a Deezer DRM Removal to enable Deezer tracks on other devices while keeping them offline and playable forever.
3. Is It Safe or Legal to Remove Deezer DRM?
To some extent, we cannot tell right or wrong when it comes to removing DRM from Deezer. Until now, DRM is not been popularly received worldwide, but still some countries have enacted specific laws to make a crime to remove DRM. So, the only thing we'd like to suggest is that you should remove DRM for personal use, such as keeping a local backup or playing on those unsupported devices.
---
Part 2 Best Tool to Remove Deezer DRM
To break the limits of DRM encoding protection, this professional and intelligent software will be a great help to your removal – Tunelf Deetrack Music Converter. As a trustworthy Deezer Music Converter, Tunelf is dedicated to making Deezer music streaming easier and more convenient. It can not only remove DRM from Deezer but also convert them to multiple popular audio formats for offline listening. This tool is both available on Windows and Mac.
By using this tool, you can get DRM-free audio content from Deezer within a few clicks. Meanwhile, the conversion will not destroy the original music quality, nor ID3 tags. You're able to export Deezer songs in MP3 format or more with lossless quality. For the tutorials, check the detailed guide below: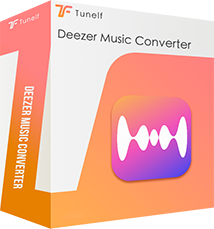 Key Features of Tunelf Deezer Music Converter
Keep Deezer songs with the lossless audio quality and ID3 tags
Remove DRM and ads from Deezer music after the conversion
Download Deezer songs, albums, playlists, podcasts, and radios
Convert Deezer music tracks to MP3, FLAC, and more in batch
Freely customize lots of parameters like format, bit rate, and channel
Step 1 Import Deezer music to Tunelf software
Start by opening Tunelf Deetrack Music Converter, then the Deezer music player will be loaded automatically. Now select songs, albums, or playlists you want to download from Deezer and copy the link to Deezer music. Then go back to the converter and paste the copied link into the search bar. All the selected songs will be added to the conversion list.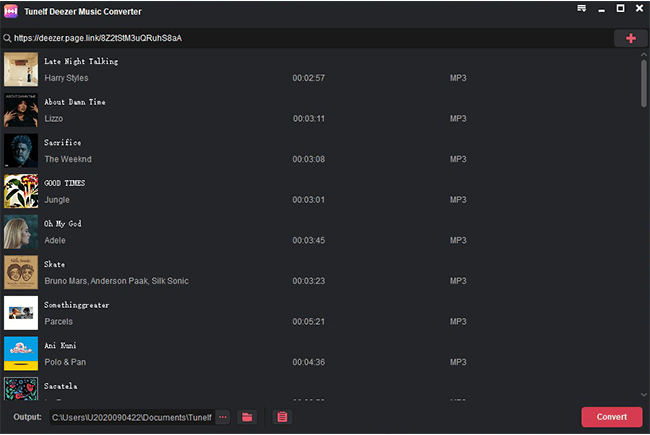 Step 2 Configure the output audio parameters
Before downloading Deezer songs, you need to set the output format and parameters like the bit rate, sample rate, and channel. Go to the menu bar and click the Preferences button then there will pop up a window. Under the Convert tab, you can select MP3 as the output format. Also, you can choose the conversion speed. After adjusting the parameters, click the OK button to save the settings.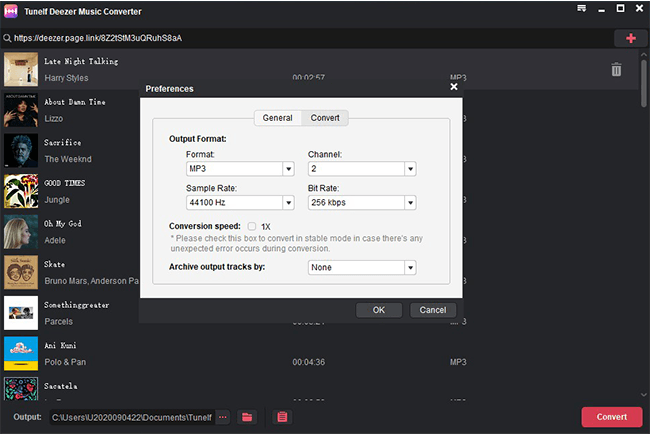 Step 3 Remove DRM from Deezer
It is time to download and save Deezer songs to your PC computer. Click on the Convert button, and Tunelf Deetrack Music Converter will save Deezer songs as your required formats to your computer. After conversion, you can view the downloaded converted Deezer songs in the history list by clicking the Converted icon. Furthermore, you can click the Search icon to locate the converted folder.
---
Part 3 Free/Paid DRM Removal Tool for Deezer
Besides the above methods, there're still many other workarounds you can apply with. Here I just selected three of them listed below. One is an online tool; the other ones are audio recorders. You can fully take advantage of these useful tools.
#1 Apowersoft Audio Recorder
Apowersoft Audio Recorder is a straightforward yet effective free online audio recording program. It gives you the ability to free record PC sound into MP3/WMA/OGG/WAV files. But the original music quality and ID3 tags are not always preserved since the program is not stable sometimes. If you don't mind the risks, try the following steps:
1. Launch the Apowersoft Audio Recorder via any browser and open the Deezer web player.
2. Now just click the Start Recording button from the Apowersoft page. It'll ask you to select the audio sound, then choose Start Recording to start.
3. Next, go to play the song you want to record in the Deezer web player.
4. After recording, you can choose to edit and export them out with different audio formats.
#2 Audacity
Audacity is a popular-used multi-track audio editor and recorder for Windows, Mac OS X, GNU/Linux, and other operating systems. It is completely open-source and free to use. You can try to use Audacity to record audio from Deezer to remove DRM. Here're the basic steps: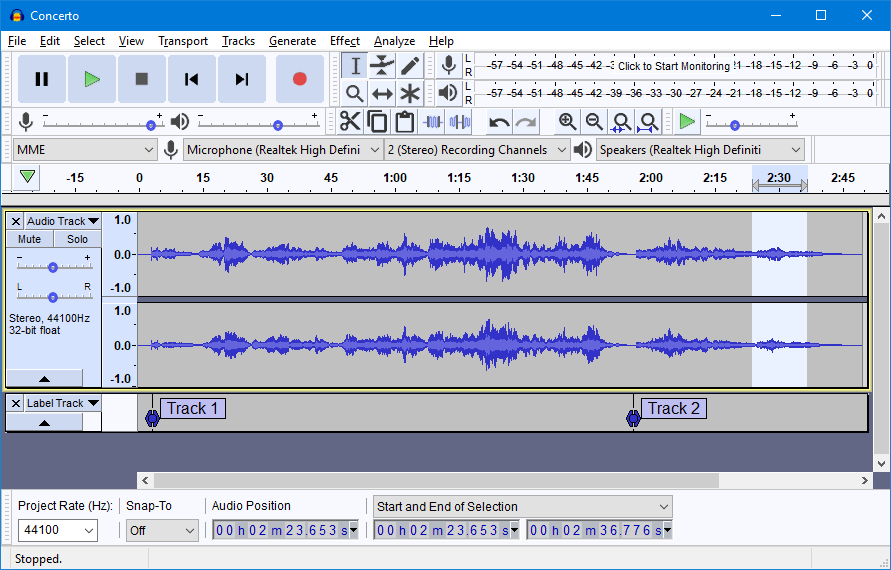 1. On your Windows PC, open Audacity.
2. In the dropdown menu in the upper left-hand corner, select Windows WASAPI.
3. Hit the Record button and play your DRM-protected Deezer tracks.
4. When the song is finished, click Stop and then trim the file as you want.
5. After that, go to File> Export > Export as MP3 and name the file.
6. Press Export and you'll get the audio recordings.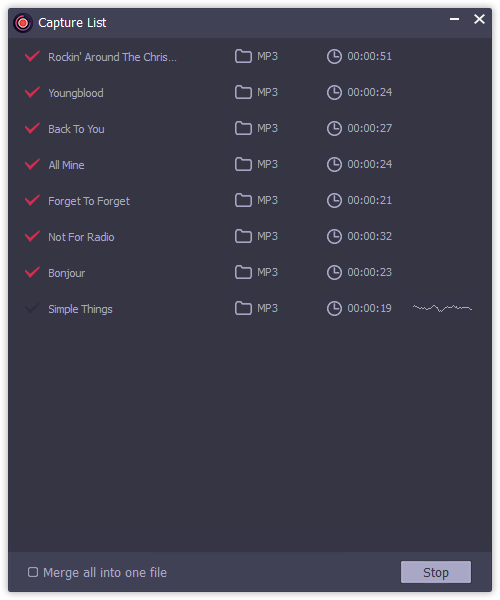 #3 AudFree Audio Capture
AudFree Audio Capture is a comprehensive audio recorder and editor with the ability to record all audio tracks from any source, like streaming music, radios, local videos, games, etc., and edit audio records flexibly. It works both on Windows and Mac. Here's the how-to guide on Windows:
1. Download and launch the AudFree Audio Capture on your PC.
2. Here you can see some apps from the Homepage, click + to add the Deezer app for recording.
3. Adjust the output audio formats by clicking the 'Format' button at the bottom-right corner.
4. Play a Deezer track and AudFree will capture it automatically.
5. When the track finishes, click the Stop Button at the bottom.
After then, you can edit and trim the audio file.
---
In Conclusion
From above, we got to know what is DRM and what inconvenience it brought us. Luckily, we still have some alternative methods to remove DRM from Deezer. Among the methods I listed above, Tunelf Deetrack Music Converter works better in its performance, easy use, and all-in-one functionality. So, if you're looking for the best Deezer DRM Removal, don't miss Tunelf!
---
---