If you are having a wide range of personal libraries of movies, TV shows, and music and looking forward to playing them in a simple and most precise way, then Plex is the best platform for this. Plex, a global streaming service, allows you to stream all your favorite media in a free ad-supported way. It also provides its users with an attractive and user-friendly interface that allows you to browse with much confidence.
Plex does not leave behind their music-lovers in its wide range of use. There are over 35 million songs on Spotify in place just for you. Plex is compatible with a wide range of devices, including Android, iOS, Mac, and Windows. So, is it possible to import Spotify playlist to Plex for playing? Therefore from this article, one will learn how to add music to Plex from Spotify since it is as easy as an apple pie.
Spotify music files are encoded in a unique Ogg Vorbis format; hence their play is minimal. To some extent, it seems like a drawback to many people since it limits you with the device you are using to play your songs. But worry no more. Here we will look at the two great ways of importing Spotify playlists to Plex for playing.
---
Part 1. How to Link Spotify to Plex with the Spotify Plugin
Spotify Plugin brings you to a whole new world of enjoying Spotify music. The official plugin is available through the Plex Channel Directory; hence it is easily accessible. The one thing with using Spotify Plugin is that it is only used with the Premium Spotify version. It becomes a disadvantage to Spotify free users. Here are steps on how to add Spotify to Plex with the Spotify Plugin.
Step 1. Download Spotify plugin: the plugin is available in the Plex Channel Forum and also the Plex GitHub page.
Step 2. Put the bundle files into the plugin folder: for you to link Spotify to Plex, you need to unzip your downloaded plugins. In your Plex media server, place the bundle file into the Plug-ins folder.
Step 3. Sign in to Plex: head back to your Plex and choose Spotify. For you to sign in to Plex, you need to sign in with your existing Spotify account. After that, authorizes it to Plex. You are through, and you can start streaming your favorite music.
---
Part 2. How to Import Spotify Playlist to Plex for Playing
Since not everybody will be able to access the Premium Spotify version, there is a way in which both Premium and Free Spotify users will enjoy streaming Spotify music with great satisfaction. Spotify music files are encrypted in Ogg Vorbis format; hence they can only be played on Spotify when it comes to online streaming. It, therefore, limits many people from enjoying streaming their favorite music using their desired platforms. But there is still a solution to this, Tunelf Spotify Music Converter.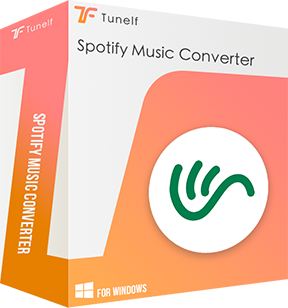 With Tunelf Spotify Music Converter, you can
Download any track, playlist, podcast, or album from Spotify
Convert Spotify music to six popular audio formats like MP3
Save Spotify music with the lossless audio quality and ID3 tags
Support to play Spotify music on any media player or devices
Here is the stepwise method of using Tunelf Spotify Music Converter to add Spotify to Plex. Now go to install the program on your computer and start to import Spotify music tracks to Plex for playing.
Step 1 Select songs you want to play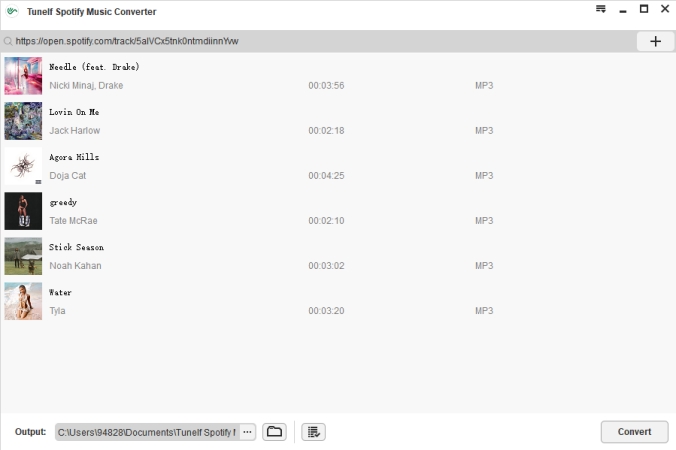 Open Tunelf Spotify Music Converter, and Spotify will simultaneously open. After that, you need to load your Spotify files that you wish to play. You can do so by selecting the track or playlist that you want to play, copy its URI, and paste it into the search box of the converter. You can opt to drag and drop them as an alternative.
Step 2 Adjust the audio parameters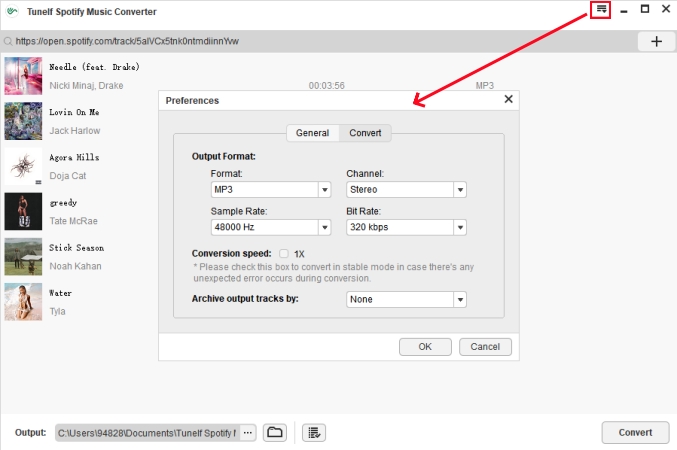 Next, you need to configure the output audio parameters. Therefore, you need to head over to the menu bar and pick on the Preferences option. There are several customizable changes. For your case, you will have to choose MP3 as the output format since you want to add Spotify music to Plex. Other customizable settings are the channel, bitrate, and sample rate.
Step 3 Start to download Spotify music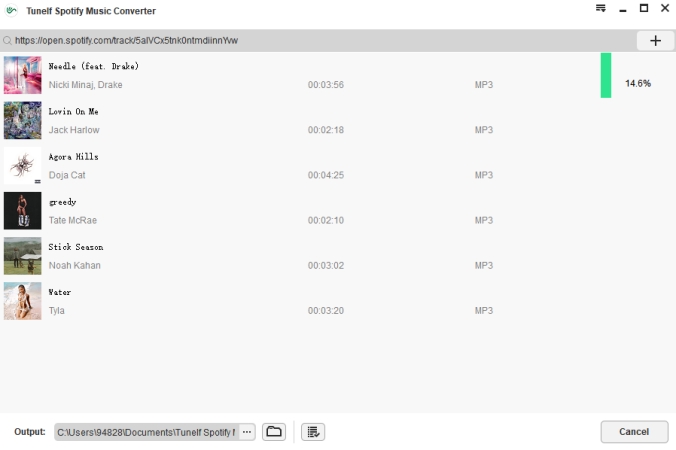 Now come into the final step for initiating the download and conversion. Click the Convert button, which is at the bottom left corner of your interface and the playlist will begin downloading. The program will save them to the default folder or the local folder you specified. After conversion, you could browse your downloads in the converted list by clicking the Converted icon.
Step 4 Import Spotify Playlist to Plex
Here for you to add Spotify to Plex, you have converted all your required Spotify songs to Plex supported audio formats. Then you could create a music library for saving your Spotify songs; hence you can play them on your device with the Plex Media Server anytime.
1) You first need to log into your Plex account and then create a new library by clicking Add Library. It allows you to store your converted tracks in a new folder.
2) After creating the music library, click the Next button and add the folders with the media files. Then click the Browse for Media Folder button and choose your Spotify folder to add.
3) Click the Add button to upload Spotify music into Plex and start to play the songs by going to the All Libraries folder and get the folder where you saved your music.
---
Conclusion
And that is it. You are left with a decision to choose how you are going to import Spotify playlist to Plex. You can decide to use Spotify Plugin or Tunelf Spotify Music Converter. The thing that you have at the back of your mind is that the former is only used when you have a Premium Spotify account only while the latter works in both Premium and Free Spotify account. Indeed knowing how to import a Spotify playlist is as easy as apple pie.