Some local files won't play on mobile. I added a local file source for music on my desktop app and supposedly synced it to my phone. Some of the songs play fine on my phone, but others don't. I'll click on them, and they pop up for a split second just to disappear again. I get a pop up on the desktop app saying "Spotify can't play this right now. If you have it on your computer you can import it." Any one know how to fix this?"
— From Reddit.
Spotify has a library of 80 million songs from various categories. But it still cannot contain every song or playlist. Thankfully, Spotify enables users to upload local files to Spotify so that users can listen to their own songs or music they gain from other sources.
However, this function does not work well from time to time. Plenty of Spotify users report that they can't play local files on Spotify mobile or desktop. Until now, Spotify has not announced a workable solution for this issue. So, we collect some fixes from those who have solved these problems successfully. Just read on if you encounter this error.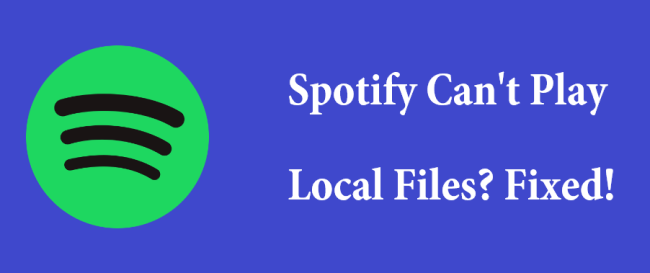 ---
Part 1. Why Won't My Local Files Play on Spotify
Targeting the reason why Spotify won't play local files is essential to solving this frustrating problem. Here are some potential causes to be blamed.
The local files stored on your device were deleted.
The file format is not compatible with Spotify.
The local files won't sync completely.
Spotify bugs and glitches.
Your Spotify Library needs a refresh.
You are playing Spotify on more than one device.
---
Part 2. What to Do When Spotify Can't Play This Right Now Local File
Can't listen to local files on Spotify mobile with a message saying 'Spotify can't play this right now local file', which shows the local files are not available on your current device.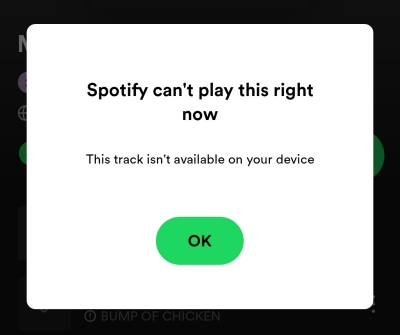 When you add local files from your computer to Spotify, you are able to play them on the Spotify desktop app. But the situation is different when you switch your listening on your smartphone. The main step you have to do is to sync the local files with your devices. After that, you can show these files on Spotify for playing. Here's how.
2.1 How to Transfer Local Files from Computer to Mobile Phone
If Spotify can't play local files on phone, then put the local files from other devices to your phone. This will avoid the message 'Spotify can't play this right row local file'.
For Android: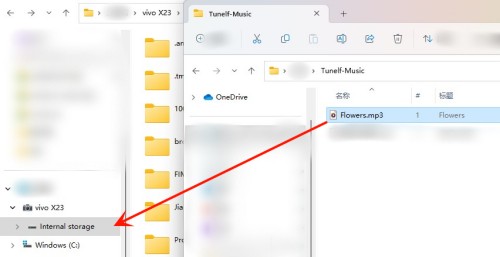 With a USB cable, connect your device to your computer. If you're using a Mac, you have to install Android File Transfer.
On your Android, tap the Charging this device via USB notification and select File Transfer.
On your PC, move the local audio files you want to play on Spotify to your Android Internal Storage.
On your Mac, drag files to the Android File Transfer window.
When you're done, unplug the USB cable.
For iPhone: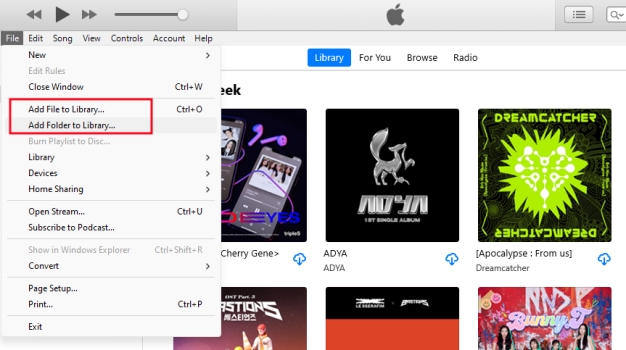 Open the iTunes app or Music app.
Click File > Add File to Library and navigate to your wanted local files.
After uploading, the local audio file will appear in the Recently Added tab.
Then you can access the local files with the Music app on your iPhone.
To show and play local files on Spotify, you'd better download them within the Music app.
Note
If you refuse to download the local files in the Music app, Spotify will not fetch and show them.
2.2 How to Play Local Files on Spotify iPhone/Android
After local files are transferred from your computer to your mobile phone, you may wonder how to play local files on Spotify iPhone/Android. Just follow the steps below.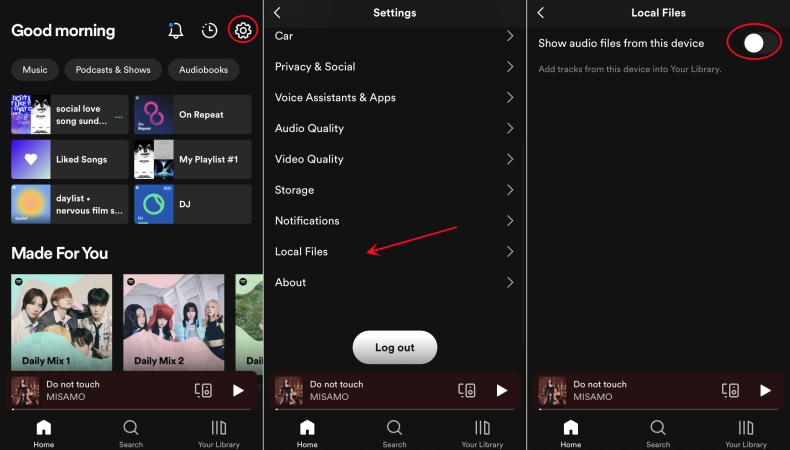 Launch the Spotify app on your phone and go to Settings.
Scroll down and tap the Local Files option.
Toggle on the Show audio files from this device switcher.
Back to Your Library and choose the Local Files folder where you can access all audio from your device including the transferred local files.
---
Part 3. How to Fix Spotify Local Files Not Playing
Here are some solutions for you when Spotify can't play local files. These are all easy and you can try to fix this issue at home even without help from others.
Fix 1. Make the Local File Format Compatible
Remember that the format of your imported files must be MP3, MP4, and M4P. And M4P files that include video will not be recognizable. If your files are not supported, you can utilize the iTunes app to make a conversion or use a third-party tool called Tunelf Audio Converter to convert your audio to Spotify-supported MP3 format. Here's how to convert local audio or iTunes downloaded audio to MP3 format within iTunes.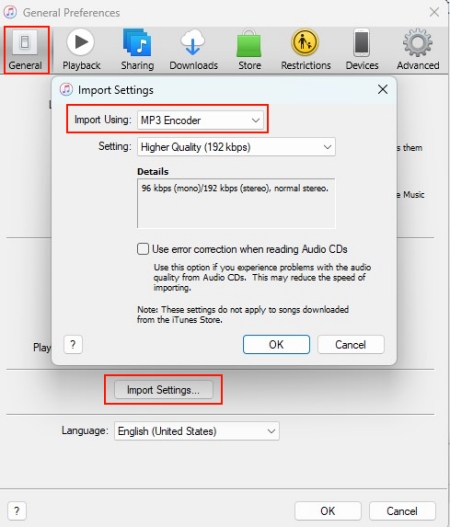 On iTunes, click File > Add File to Library to add the local files to iTunes first.
Go to Edit > Preferences > General > Import Setting.
Choose MP3 Encoder next to the Import Using box. Click OK to save the change.
Select the audio you added to iTunes and click File > Convert > Create MP3 Version.
After converting, drag the MP3 version audio to your desktop and then add these recognizable files to Spotify. Or you can directly set iTunes as the resource of Local Files.
Fix 2. Stop Playing Spotify from Another Device
As you may know, Spotify doesn't allow users to listen to Spotify with the same account on two devices at the same time. So if Spotify won't play local files on your computer, you have to enable this device to play.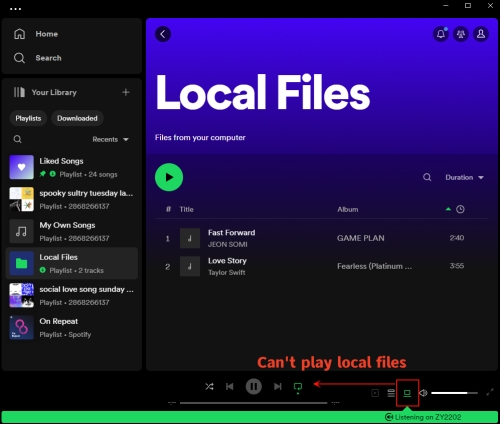 1. Hit the device icon in the bottom-right corner to see if there is another device connected to Spotify playing, if yes, select This Computer as the main device.
2. Go to the Local Files playlist in the sidebar to access the listening.
Fix 3. Remove and Re-add Local Files
When this happens to me I remove them all (move the files to a different t directory on your pc so they leave Spotify). Then remove the download from all devices. Then put the files back into Spotify. Then resync your playlists on all devices."
This is a quote from a user who resolved this problem. So if the above ways are not useful when Spotify can't play local files on phone, you can try to remove your local files from your computer and then re-add them from a different resource.
Step 1. On your computer, find the location where you imported Local Files to Spotify.
Step 2. Right-click the music files and move them to another folder.
Step 3. On Spotify, all Local Files will be greyed out, and then find the playlist you created for Local Files. Click the More option to delete this playlist.
Step 4. Now, on Spotify Settings, hit on the Add a source button to add the local files from a totally different location.
Step 5. Sync your Local Files playlist to mobile. At this point, you can listen to Spotify Local Files on your phone.
Fix 4. Log Back In Spotify
Signing out of your Spotify account and then back in sometimes refreshes your library to some extent. What's more, if your account is downgraded to Spotify Free, the local files from your computer won't show and sync on your smartphone. This time, you have to log into another Premium account to benefit from this feature.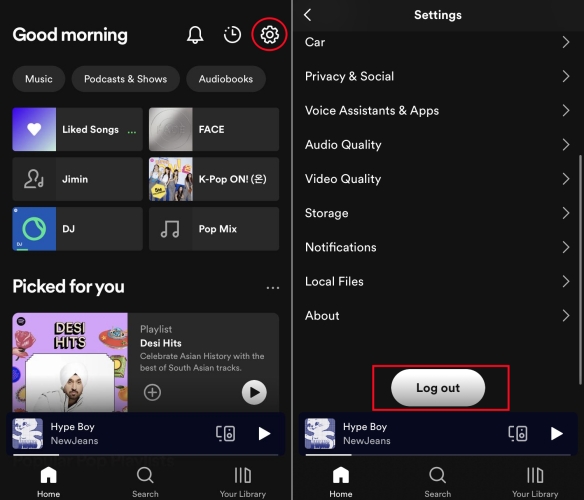 Step 1. Navigate to Spotify Settings and scroll down to the bottom.
Step 2. Tap the Log Out button.
Step 3. Then Spotify will prompt you to sign in.
Fix 5. Perform a Clean Uninstall
Uninstalling is the ultimate yet most effective fix. Since the bugs in Spotify are inevitable, you can uninstall this buggy app to troubleshoot most issues such as Spotify can't play Local Files.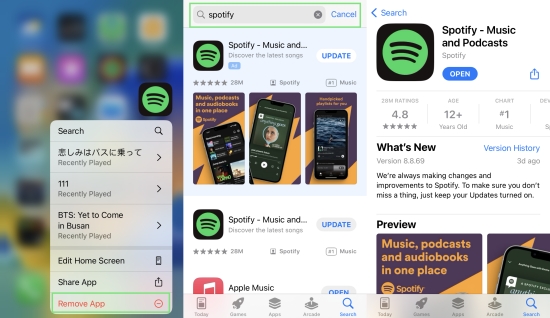 Step 1. Tap the Spotify app icon on the Home screen of your phone.
Step 2. Select Remove App (iPhone) or Uninstall (Android).
Step 3. After removing, go to App Store or Play Store.
Step 4. Search for Spotify to get the Spotify app again.
Fix 6. Listen to Local Files without Spotify
If you can't play local files on Spotify mobile or desktop whatever you try, then give up Spotify to listen to local music. Just use the way in Part 2 to move your local music files to your phone for syncing. After that, you are able to get rid of Spotify not playing local files thoroughly. Still wanna listen to Spotify songs and local music in one place? Scroll down!
---
Bonus: How to Get Spotify Local Files for Listening
Hope the aforementioned 8 methods are helpful to solve the issue. And here we'd like to share a tip to download and save your Spotify songs as local files. After that, you can also upload them to any media player on your phone for listening. Then you can play all of your songs including Spotify songs and local files at the same player conveniently.
Since Spotify music is only playable on Spotify, you cannot listen to them together with local MP3 files on other media players. But thanks to Tunelf Spotibeat Music Converter, you can download Spotify songs or playlists to MP3 effortlessly. This can convert any Spotify songs or playlists with 5× speed and all the ID3 tags and audio quality will be kept. After conversion, all songs are saved to your computer locally. So you can play them anywhere you want.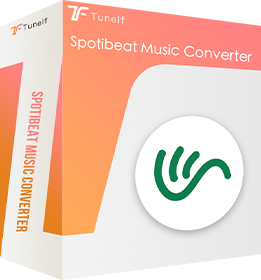 Key Features of Tunelf Spotibeat Music Converter
Download Spotify playlists, songs, and albums with free accounts easily
Convert Spotify music to MP3, WAV, FLAC, and other audio formats
Keep Spotify music tracks with lossless audio quality and ID3 tags
Remove ads and DRM protection from Spotify music at a 5× faster speed
What's more, even if you're using the free version of Spotify, Tunelf has the ability to download songs from Spotify for you. Just follow this tutorial to learn how to download Spotify as local files.
Step 1 Add Spotify music to Tunelf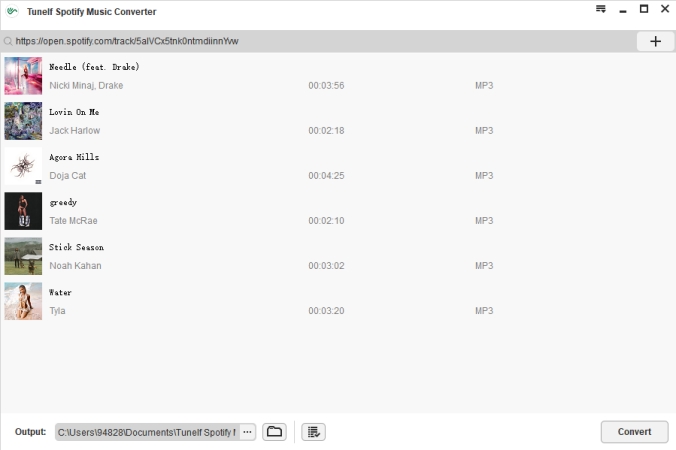 First, open the Tunelf program on your computer and it will load the Spotify desktop app automatically. Next, access and select the music on Spotify that you wish to listen to offline. You can drag and drop the tracks to the converter or copy the relevant links and paste them to the search bar for conversion.
Step 2 Configure the output parameters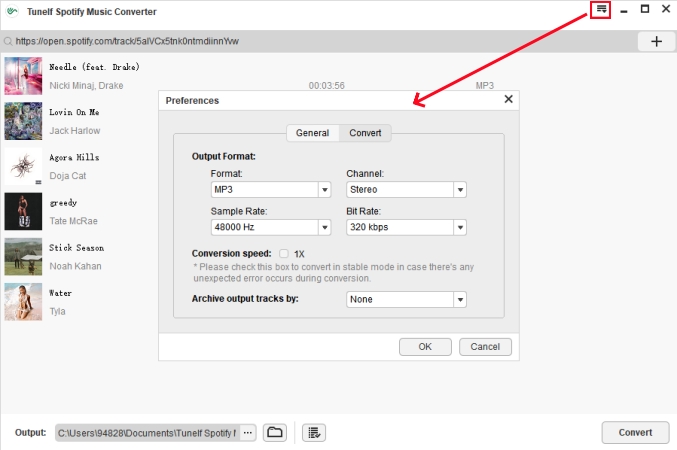 With your selected Spotify songs added to the app window, it's now possible to customize the parameters. Click the hamburger icon in the upper-right corner and select Preferences. Then turn to the Convert tab on the new box. Here, you can change the sample rate, output format, bit rate, and channel. Then click the OK option and be ready to save the settings you adjust.
Step 3 Download music from Spotify losslessly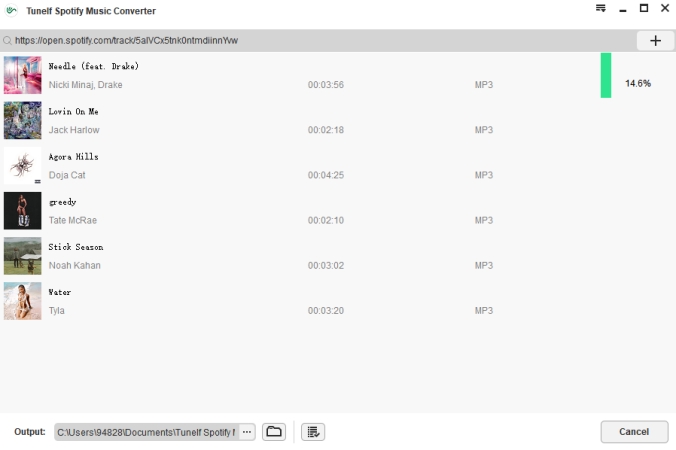 When everything is ready, click the Convert button at the bottom-right, and Tunelf Spotibeat Music Converter will convert your Spotify songs to your selected format. After conversion, go to the Converted history list and use the search icon to locate the converted Spotify song in your local folder.
Step 4 Integrate Spotify Songs and Local Music for Listening
On Android, you can transfer all converted Spotify songs via a USB cable. By default, all transferred local music files are stored in the Files app and you can tap them to start playing in the built-in media player.
On iPhone, you can directly use the iTunes app to sync all Spotify songs and local files. After syncing, you can listen to all of them in the Music app.
---
Conclusion
Try to fix this can't play local files on Spotify mobile issue by yourself. If all of these 7 solutions do not work, just use the Tunelf Spotify Music Converter to convert Spotify songs and transfer them as well as your local files to another player.
---
---