Q: I've been uploading local files to Spotify through syncing/local file upload with no problems up until recently. My Spotify app won't recognize any new music I download to my phone anymore, and it doesn't sync any local files that I add to playlists through my desktop. Please help!!
Spotify, now one of the most popular and giant music streaming services, is still outperforming other similar apps by bringing new features and adding new songs to the catalog. Though as well-established as Spotify, there are still some drawbacks and inconveniences when we use it. And Spotify local files not syncing has always been a tricky issue that remains to be resolved. If you're suffering from it right now or before, then look no further! In this article, I'll introduce several efficient methods to help you get rid of this problem. Check the methods below!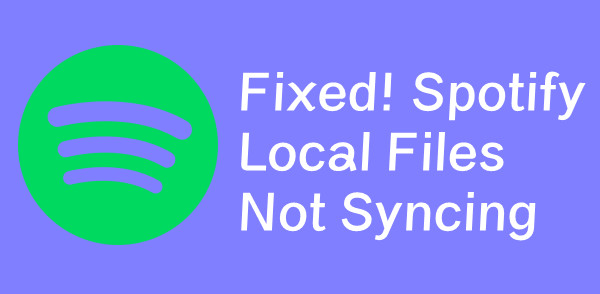 ---
Part 1 Spotify Syncing Local Files: Requirements & Correct Steps
Spotify allows you to upload local music or audio files so that you can enjoy tracks from relatively lesser-known artists. Meanwhile, by doing so, you'll manage your music library much better. But here're some requirements you should know to upload local files to Spotify:
#1 Desktop Application: A Spotify desktop app for Windows or Mac is needed for users to upload, access, and manage local files. Once imported, Premium users are able to download and sync local files on mobile devices.
#2 Subscription: Another essential item you need is a valid and active Spotify Premium subscription. Free users are not going to enjoy this feature, you'd better upgrade it to the Premium version.
#3 Audio Format: Now Spotify supports MP3, MP4, M4A, and M4P. If the files you're going to upload are not included in these types, then you may need to convert them to compatible formats.
Then it comes to the correct method to sync local files to Spotify. First, you should make sure to import or add your local files to Spotify successfully. We've written a passage that explained the steps explicitly, you can check this page: How to Upload Local Files to Spotify.
How to Sync Spotify Local Files?
Once confirmed and uploaded as the above methods show, you can follow the instructions below to sync Spotify local files through your iPhone or iPad.
1. On mobile, open the Spotify app using the same Wi-Fi network as the desktop app.
2. Next, go to Home > Settings > Local Files > Local audio files.
3. Turn on the Local Audio Files option.
4. On the desktop, go into the created playlist based on the local files. Click the Download button or switch the Downloading button on.
5. On mobile, find the created playlist and click the down arrow button to download the playlist that contains your local files on your iPhone/iPad.
[Note]: If the Spotify local files not showing on your iPhone, you should go to Settings and scroll down to the Playback tab. Here make sure the 'hide unavailable songs' option is turned off. After that, you can sync your local files to Spotify. If still, your Spotify local files not syncing to phone, then you can move to the next part for the effective fixes.
---
Part 2 Fix Spotify Local Files Not Syncing to iPhone/Android/PC
For those people who are trapped with Spotify syncing local files not working issue, this part will help you out. First, let's check some basic information that may be ignored: Are you under a good network connection? If not, connect to a cellular or mobile hotspot for help. Besides, take a look at your logged account, and make sure the account you use to upload is the same account you want to sync the local files with. If there is no problem after checking, you can proceed to the following feasible solutions.
Method 1 Check If the App Outdated
As a major music streaming app for people worldwide, Spotify must update and improve its app to ensure the best user experience and keep up with other streaming services. And if you missed the updates to Spotify, you may miss the chance to solve the bugs and mistakes. To check updates, do as follows: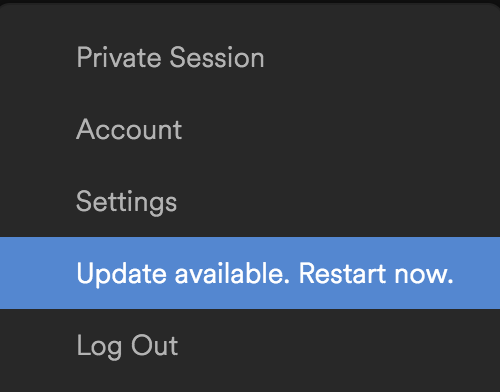 On iPhone: Open the app store and find your 'Updates' tab in the bottom right. If Spotify is listed there, then you should tap UPDATE.
On Android: Search for Spotify in the Google Play Store. If there is an update available, you can see an update option on the app's page. Click it to download and install the latest version.
For PC: If an update is available, a blue dot will appear next to the menu button at the top right of your home screen. Click the menu button and select the 'Update Available. Restart Now.' option.
Method 2 Switch OFF and ON Offline Mode
On the Spotify app, you're allowed to listen to your downloaded Spotify music only in the offline mode. Once the offline mode is turned on, you can enjoy Spotify music when there is no network connection. If you turn off and turn on the offline mode to enable Spotify sync works fine. To turn on/off Spotify offline mode, here's a how-to guide for you.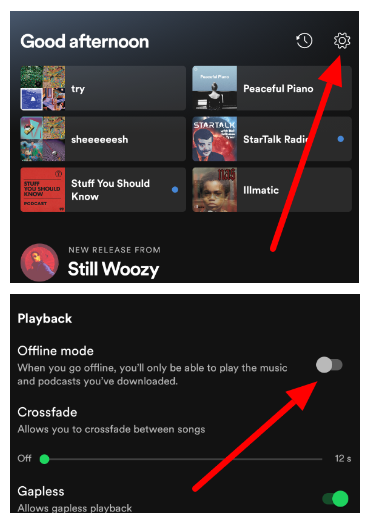 On Computer: Go to Spotify's official website from any browser and log in to your Spotify account. Then click on the three horizontal dots which are located at the top left of the screen. Now you can click the File > Offline Mode to enable this feature on your Spotify app.
On Mobile Phone: First, open the Spotify app on your mobile phone and tap on the Home icon > Settings icon. And then click on Playback and toggle the Offline mode on.
Method 3 Refresh Your Local Files Settings
Sometimes you may need to refresh your local files settings to avoid some unexpected errors or glitches which might result in Spotify local files not syncing. To ensure Spotify has updated the local files settings for your reference, you can follow the simple steps: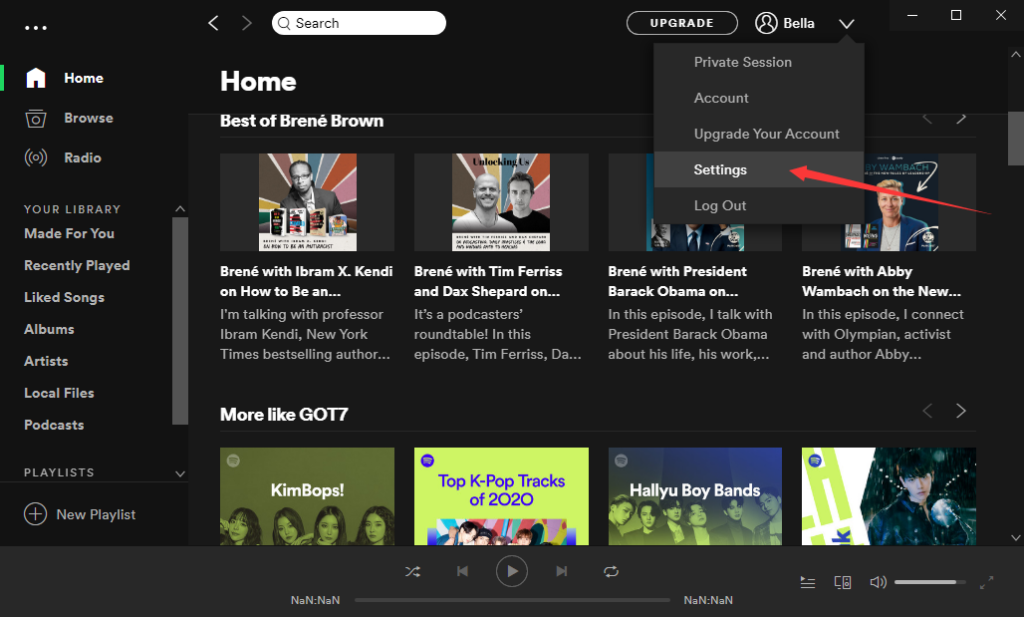 1. On the Spotify desktop app, go to your Profile and then select Settings.
2. Scroll down to the 'Local Files' option and disable it.
3. Then toggle the switch button on manually to enable it.
Method 4 Restart & Reinstall Spotify
You can try this method if the above methods are not workable. You can uninstall the Spotify app and perform a clean and fresh reinstall. A clean reinstall can remove all the corrupts of the software and bugs as well, because the latter installation is a completely new application.
For Android:
1) Go to Settings and choose Apps.
2) Search for Spotify and tap Storage > Clear Data.
3) Tap Uninstall to delete the app.
4) Find Spotify in the Google Play Store and install it.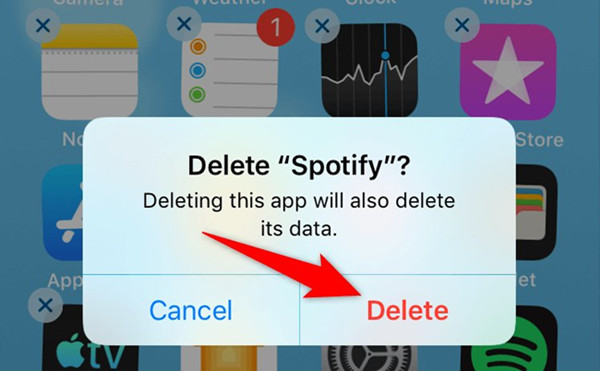 For iOS:
1) Choose the Spotify icon and hold for a few seconds until a quick menu pops up.
2) Select Delete App > Delete.
3) Search for Spotify from the App Store and install it.
After then, check if the Spotify local files not syncing issue be solved.
Method 5 Change Firewall Settings
This is a tip for Windows 10 to fix local files not syncing Spotify issues. A specific setting on your computer may stop us from using Spotify well. Here is a simple guide showing you how to change the Firewall settings.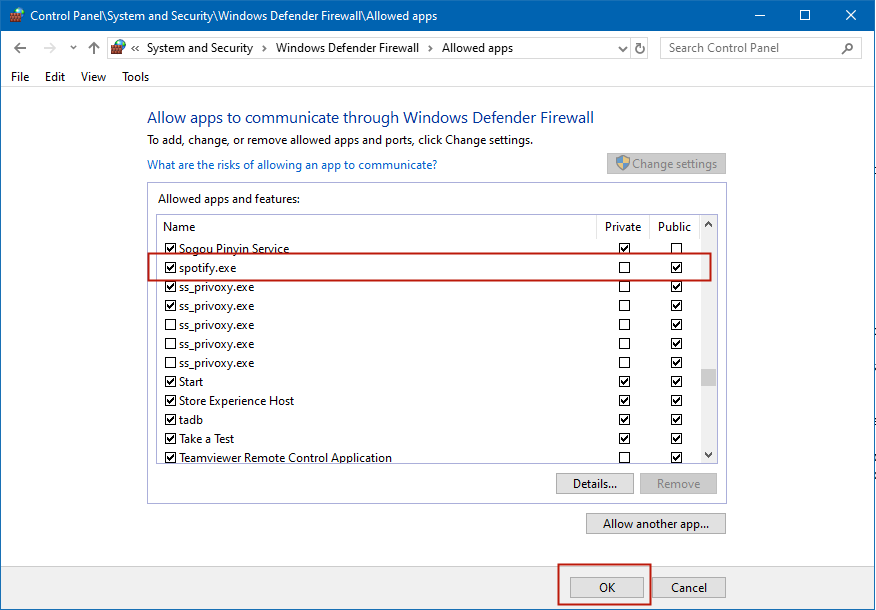 1. On your Windows 10 computer, go to Windows Firewall and select Allow an app.
2. Click Change settings in the top right corner.
3. Find Spotify.exe and then check the box under the Private tab.
4. Click OK to save changes.
When the setup is over, you can find the Spotify not showing local files error is fixed.
Method 6 Clear Spotify Cache
Do you know that every time when you open the Spotify app and use it, the data that occurred in this process will all be saved on your phone? Yes, don't ignore that. They take up much storage space and make it difficult to stream your favorite Spotify music. And some corrupt files would lead to this problem, too. You'll need to remove all the caches to make it work.
Step 1. Go to the Advanced Settings of Spotify.
Step 2. Under the Offline songs storage section, check the location of Spotify's cache.
Step 3. Open File Explorer and navigate the involved location.
Step 4. Delete all the data in the folder and then restart your Spotify.
---
The Ultimate Fix: Download Spotify Songs as Local Files
The final method is to move your local files, together with your Spotify songs to the same storage location. What's the meaning? That is to combine your local files and Spotify songs together. Spotify local files not syncing, then why not download Spotify songs offline and enjoy your local files together? By now, we know that the biggest obstacle in front of us is the audio format on Spotify songs, the music songs are protected by special copyright formats. Abide by the DRM agreement, we cannot transfer Amazon Music to other devices for listening.
In this case, you will need the help of professional software – Tunelf Spotibeat Music Converter. Tunelf is designed to remove copyright restrictions so that Spotify music can be played on other compatible devices. And Tunelf supports 6 popular audio formats to meet your different kinds of needs. After conversion, you can keep the converted music files as local files and play them on any other compatible devices you like. And you can enjoy your music tracks without hassle.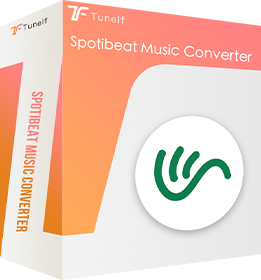 Key Features of Tunelf Spotibeat Music Converter
Download Spotify playlists, songs, and albums with free accounts easily
Convert Spotify music to MP3, WAV, FLAC, and other audio formats
Keep Spotify music tracks with lossless audio quality and ID3 tags
Remove ads and DRM protection from Spotify music at a 5× faster speed
Step 1 Import Spotify music to the program
For a better user experience, we suggest you sign up for Tunelf Spotibeat Music Converter. And please make sure to download and install the Spotify app on your device. When you launch Tunelf, the Spotify app will work at the same time. And you'll enter your Spotify app automatically. You can just choose a song by clicking Share > Copy Link and paste the link to the search bar, then click the Add + icon to load music files. The other simple way is to drag and drop the music tracks to the program.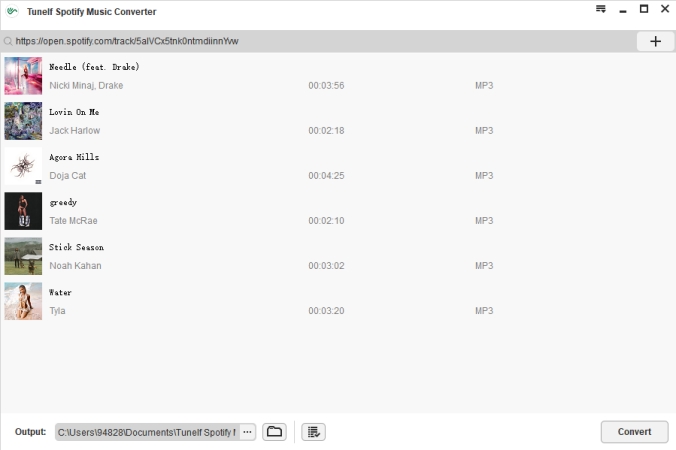 Step 2 Select the output format
Tunelf supports 6 common and popular output audio formats. To make your downloaded Spotify music compatible on many devices or platforms, you'd better choose MP3 as the output format. You can go to the menu icon (top right of the interface) and select Preferences > Convert to adjust audio parameters.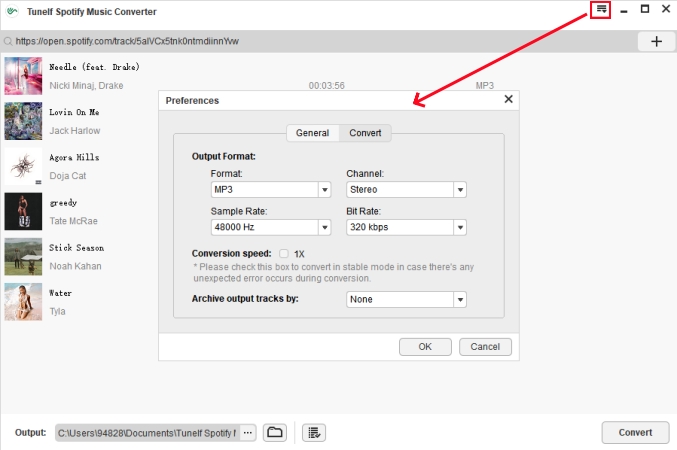 Step 3 Convert Spotify to MP3
After setting the formats, you can click the Convert button to start the conversion. It's no problem to convert a batch of music files. You only need to wait for a short time till it is finished. When the conversion is over, you can access the converted music files easily in your local folder by clicking the Converted icon.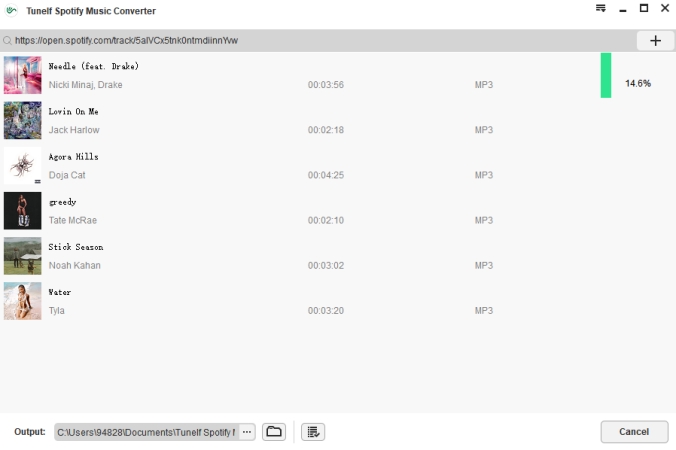 Now you can play Spotify on multiple devices offline forever without premium. You can transfer or upload to the devices you like. Or you can play them on the local default music player. And you don't need to worry about the Spotify local files not syncing problem anymore.
---
Bottom Line
Regarding the Spotify local files not syncing issue, we've illustrated 7 workable methods above. No matter whether you're experiencing the problem or had it before, just try the fixes in this post. Moreover, for the best and ultimate fix, try to use Tunelf Spotibeat Music Converter. This intelligent tool enables you to gather all your music songs for offline listening forever without any limits.
---
---