DJUCED is a free DJ software you are able to download from its official website. And it can work well with some controllers. With a full-featured and intuitive interface, it is an easy solution for music fans looking to get started in the world of Djing. DJUCED is working with several streaming music providers like Beatport. It can make it easy for all DJs to select the best upcoming tracks for their mixes on their devices.
However, as a dominant force in streaming music distribution, Spotify collects music tracks from all over the world and offers a large music library for you to appreciate. When it comes to the music library of Spotify, some DJs would mix their own collection with Spotify's huge catalog and create their own instantly-read playlists. So, is it possible to connect Spotify to DJUCED? Here we'll just talk about how to add songs to DJUCED from Spotify for mixing.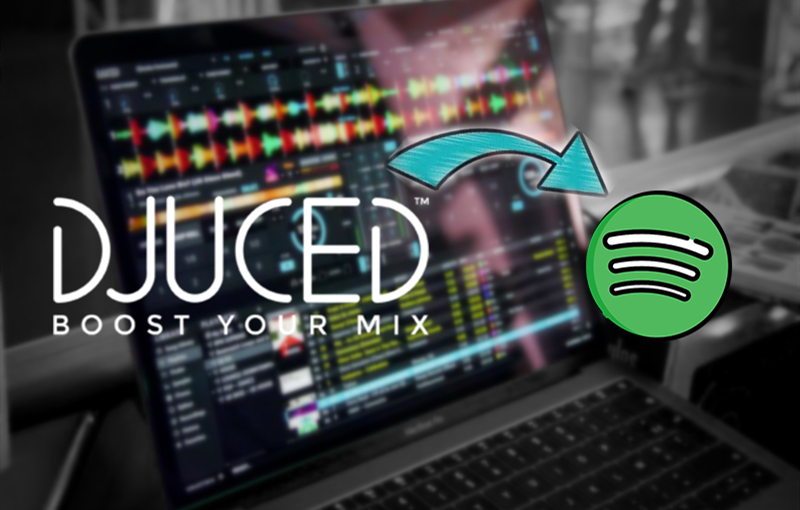 ---
Part 1. What Streaming Service Options are Available in DJUCED?
Spotify, the giant streaming music provider, doesn't open its service to DJUCED, so you cannot connect Spotify to DJUCED for mixing even though you are an active premium subscriber. Thankfully, there are still some streaming services that are integrated with DJUCED. You can stream millions of tracks from those platforms, including Beatport, Beatsource, Qobuz, SoundCloud, and Tidal into DJUCED.
Beatport: Stream over nine million tracks directly into DJUCED and dig through Beatport's huge catalog.
Beatsource: Get hundreds of themed playlists and DJ any type of party or show with a number of open-format music.
Qobuz: Discover the most comprehensive CD-quality catalog and the largest selection of albums in studio quality with Qobuz Premium.
Soundcloud: Mix millions of underground and premium tracks in DJUCED with Soundcloud GO+.
Tidal: Access an endless music library at the highest audio quality in DJUCED with Premium Plan or HiFi Plan.
---
Part 2. Best Method to Download Spotify Music to DJUCED for Mixing
DJUCED offers all music tracks you can access from Beatport, Beatsource, Qobuz, SoundCloud, and Tidal, but does not including Spotify. Precisely because Spotify has not entered the cooperation with DJUCED, you are not able to use mix Spotify music in DJUCED even though you are a premium subscriber. Fortunately, there is still a method available for you to play songs from Spotify on DJUCED. That is simply to download songs and playlists from Spotify to DJUCED supported audio formats by using a third-party tool like Spotify music converter.
Here we do recommend Tunelf Spotify Music Converter to you. It is a professional and powerful music converter available for both free users and premium subscribers. With advanced decryption technology, Tunelf Spotify Music Converter can export Spotify music to six popular audio formats like MP3 and AAC. Meanwhile, DJUCED supports the most commonly-used audio formats, including MP3, WAV, WMA, AAC, and AIF. So, with Tunelf software, you can download Spotify music to MP3, AAC, or WAV, and then start your mixes with Spotify music on DJUCED.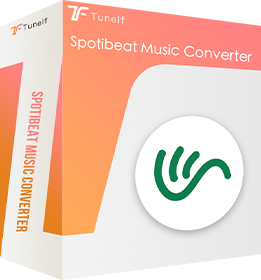 Key Features of Tunelf Spotibeat Music Converter
Download Spotify playlists, songs, and albums with free accounts easily
Convert Spotify music to MP3, WAV, FLAC, and other audio formats
Keep Spotify music tracks with lossless audio quality and ID3 tags
Remove ads and DRM protection from Spotify music at a 5× faster speed
---
Part 3. How to Add Songs to DJUCED from Spotify on PC/Mac
After you have the first understanding of how to get Spotify songs on DJUCED, the discussion that follows will present an introductory walk-through of downloading Spotify music and moving them to DJUCED for mixing.
3.1 Download Spotify Music to MP3 via Tunelf
Before that, simply download Tunelf software from the above link and install it on your computer. Then follow the below three simple steps to download and convert Spotify music to MP3 using Tunelf Spotibeat Music Converter.
Step 1 Add Spotify Playlist to Tunelf Interface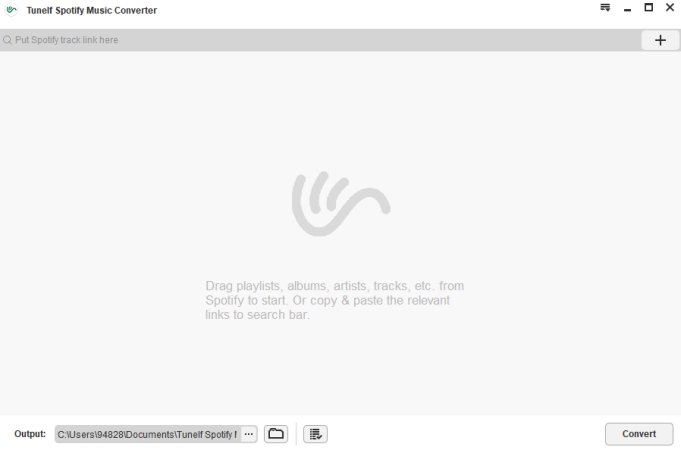 After opening Tunelf Spotibeat Music Converter on your computer, it will load the Spotify app automatically. Then go to your library on Spotify for selecting your favorite Spotify playlist and drag the Spotify songs you want to Tunelf interface. Or you can simply paste the link of Spotify songs to the search box of Tunelf main screen.
Step 2 Customize Output Audio Parameters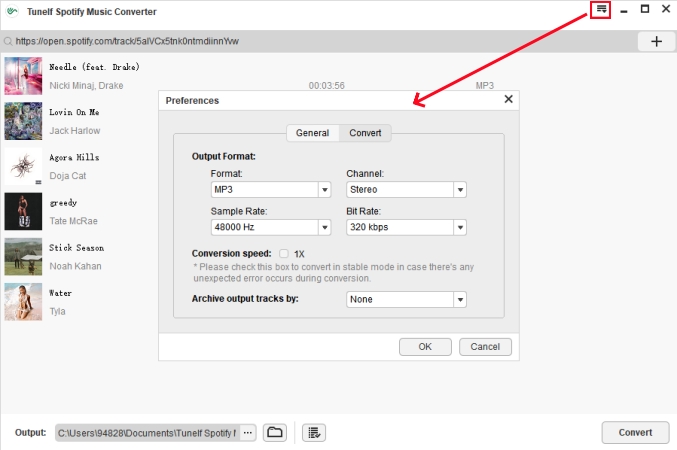 When your selected Spotify playlist is loaded into Tunelf software, you can simply click the menu bar and select the Preference option. Then you can go to set the output audio format for Spotify music. Besides, you could adjust the bit rate, audio channel, and sample rate according to your personal demands.
Step 3 Begin to Download Spotify Playlist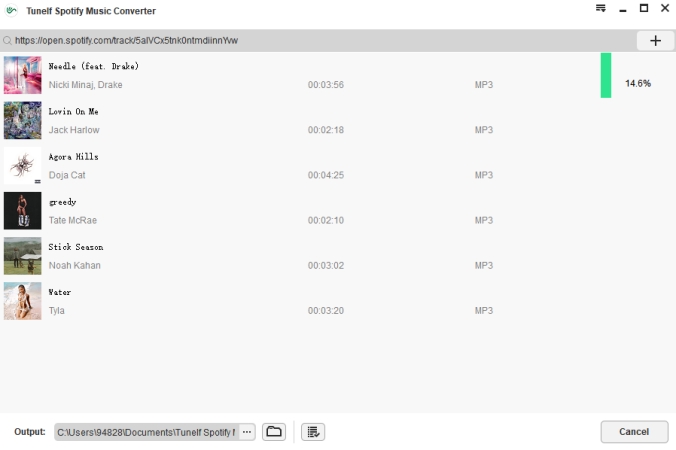 Once all the settings are customized, you can click the Convert button to begin downloading Spotify playlists to MP3 or other audio formats. When the conversion finishes, you could go to browse the converted Spotify music files in the converted list by clicking the Converted icon and then upload Spotify music into DJUCED.
3.2 Import Spotify Playlist to DJUCED on PC/Mac
At the bottom of the screen is DJUCED's browser, which shows you your music folder and songs. There's a list of all the music folders, recordings, playlists, and sound libraries, plus the iTunes library too. So, you can transfer Spotify playlist to iTunes library first. Then you just browse Spotify music from iTunes in DJUCED and start mixing Spotify music with DJUCED.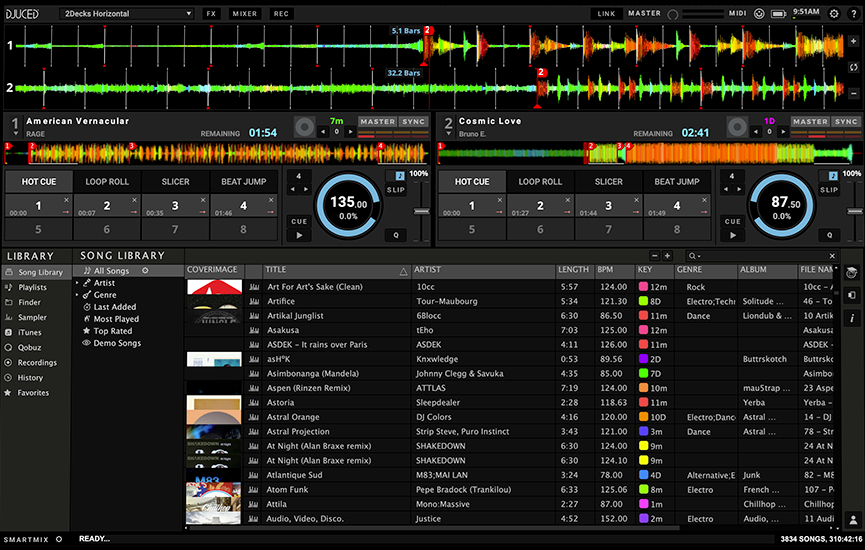 Option 1. Import Spotify Music to DJUCED from the Local Folder
Step 1. Launch DJUCED on your computer, then click the Song Library button in the left column.
Step 2. Under Song Library, select All Songs and click the Import Folder button.
Step 3. Locate the folder where you store the converted Spotify music files, then click the Open button to add the folder to DJUCED.
Step 4. Go to drag Spotify songs to the timeline of DJUCED and start mixing Spotify music in DJUCED.
In addition, you can click the Finder button on the left side of the interface. Then go to find music tracks you want to mix and add Spotify music from your computer to the program.
Option 2. Add Spotify Music to DJUCED from the iTunes Library
Step 1. Open iTunes and click File > Add File to Library or Add Folder to Library.
Step 2. Find the Spotify music tracks you want to mix and upload them into your iTunes library.
Step 3. Then click Edit > Preferences and switch to the Advanced tab, then select Share iTunes Library XML with other applications.
Step 4. Open DJUCED on your computer, then click the iTunes button at the left column to load your iTunes library.
Step 5. Browse your music library and select Spotify music you want to mix on DJUCED, then drag it to add the program.
---
Part 4. How to Get Started with Streaming Services in DJUCED
As we have seen, DJUCED is compatible with several streaming music platforms on the internet. Here we will show you how to use DJUCED with Beatport and SoundCloud. To connect Beatport or SoundCloud to DJUCED, then you'll be able to access the catalog of Beatport and SoundCloud in DJUCED. Or you can set up Qobuz, Beatsource, and Tidal in DJUCED for accessing tracks. Here we take Beatport Link and SoundCloud GO+ as an example. Get started with the following steps.
How to Connect Beatport to DJUCED

Step 1. Open DJUCED and get started with Beatport LINK in demo mode.
Step 2. Select Bearport in the Library on the left, then sign in with your Beatport LINK account.
Step 3. Click the Beatport directory and select the Search Catalog field in the Beatport directory.
Step 4. Start using the search bar on the right to search for any track title in the Beatport catalog.
Step 5. Add a track into DJUCED and load any of the results into a deck for instant playback.
How to Use SoundCloud in DJUCED

Step 1. Launch DJUCED and select SoundCloud at the left side of the interface.
Step 2. To connect SoundCloud to DJUCED, enter your SoundCloud GO+ account and password.
Step 3. Click the SoundCloud directory in the Library and go to browse the Search Catalog field.
Step 4. Search for any track you want to mix in DJUCED and add a track into DJUCED.
---
Conclusion
Once you get past the limits of Spotify music, you can get Spotify songs on DJUCED for mixing your personal tunes. And you'll be surprised at how much you can do with Tunelf Spotibeat Music Converter despite getting Spotify songs on DJUCED. You could listen to Spotify music on any device whenever you want.
---
---