Think of Traktor and what comes into your mind is a jump into the mix. Traktor DJ is a superb app that lets you take care of your friends the right way. Be it a house party of a few friends or a warehouse of thousands of them, you can never go wrong with Traktor DJ. However, you need to think of where to pull your music from. This DJ software incorporates some streaming services like SoundCloud, so you can get music from SoundCloud on Traktor DJ software.
But what happens if you are a Spotify lover like me? You have to devise ways to use Spotify with Traktor DJ. And it doesn't end there! In order to DJ on Traktor using Spotify, you have to download and convert your music the right way for optimum output. Let's learn how to save your Spotify playlist to a playable format. But first, a quick look at what Traktor DJ has in store for you! Then dive into DJing and start mixing your favorite Spotify tracks.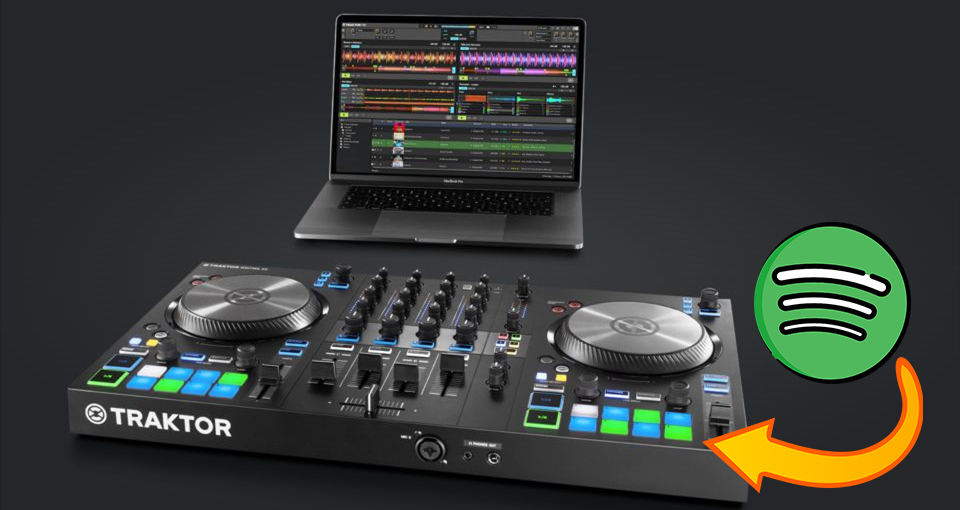 ---
Does Traktor DJ Work with Spotify?
It seems to be a good deal when it comes to working on Traktor DJ. Are you a Spotify user and wondering how to use Spotify with Traktor DJ? Well, as hinted earlier, SoundCloud Go+ is bottomless record crate feature integration on Traktor DJ. This DJ software packs a record bag of all your likes, playlists, and much more from SoundCloud. All you need is to drag and drop any track you want into a deck and be on your spinning way.
Many users, however, are still digging for a way to sync Spotify to Traktor DJ. Well, you are in the right place, Perhaps you should first understand why that is not possible before converting your Spotify playlist. It is great that Spotify has a haven of playlists and features not worthy of missing out on. But when it comes to dragging and dropping Spotify songs to other DJ software, believe me, you got to scratch your head.
Spotify is a top-leading music streaming service with over 70 million tracks. You can enjoy these for free with unlimited features or subscribe to the Premium ad-free version. It, however, enforces restrictions and encapsulates DRM protection over its files. The only way out is to remove the DRM protection to play its music on other devices or platforms other than the Spotify app. You can do this via the reliable tool, Tunelf Spotibeat Music Converter.
---
How to Convert Spotify to Traktor DJ Supported Formats
Traktor DJ Spotify: What You Need
Traktor DJ doesn't support DRM-protected files. Currently, all iTunes purchases are free of DRM protection but note that other vendors like Spotify apply DRM protection to their files as aforementioned. In order to make Spotify work with Traktor DJ, you need to convert encrypted Spotify music to those formats compatible with Traktor DJ. So, you need the help of Tunelf Spotibeat Music Converter.
Tunelf Spotibeat Music Converter, a great music downloader and converter for Spotify users, can easily download any track, album, playlist, and artist from Spotify. Then it can save the audio into unrestricted digital music files. Besides, it can keep the output audio with lossless audio quality and ID3 tags for easily managing your music. Check out the key features of Tunelf Spotibeat Music Converter.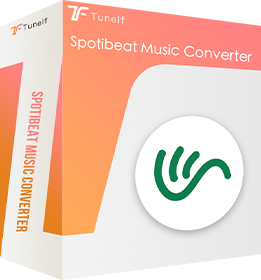 Key Features of Tunelf Spotibeat Music Converter
Download Spotify playlists, songs, and albums with free accounts easily
Convert Spotify music to MP3, WAV, FLAC, and other audio formats
Keep Spotify music tracks with lossless audio quality and ID3 tags
Remove ads and DRM protection from Spotify music at a 5× faster speed
How to Download Spotify Music to MP3
Use the recommended tool to download your favorite songs from Spotify then sync them to Traktor DJ for mixing. Traktor DJ supports audio formats, including MP3, WAV, AIFF, FLAC, Audio CD, AAC, and Ogg Vorbis. Now download and install the trial version from the above link to your computer first. Then follow the below steps to download and convert Spotify music to Traktor DJ-supported audio formats like MP3.
Step 1 Import Spotify Playlist to Tunelf interface
When you launch Tunelf Spotibeat Music Converter on your computer, the Spotify app will load immediately. Navigate to the library on Spotify then choose the playlist that you want to use. There are two options to add music to Tunelf interface. You can drag and drop the playlist to the interface or copy and paste the URL of the playlist to the search bar.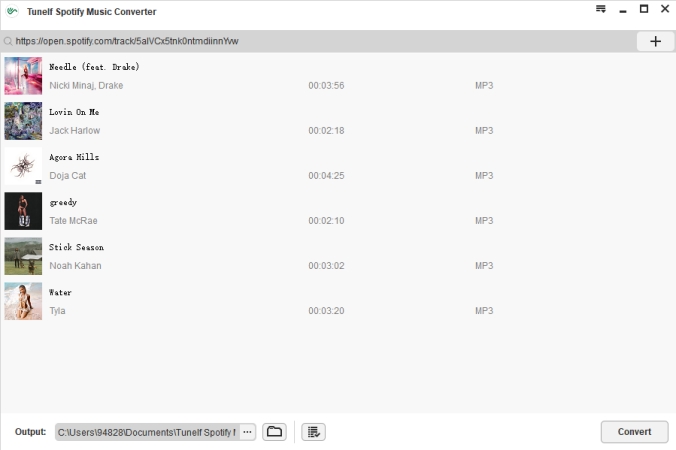 Step 2 Configure the output audio parameters
To kick start this, go to the menu > Preferences > Convert option to adjust the output audio preferences for Spotify music. Choose the desired output format for your playlist according to the requirement of the Traktor DJ software. Likewise, you can change the other audio parameters like the channel, sample rate, and bit rate.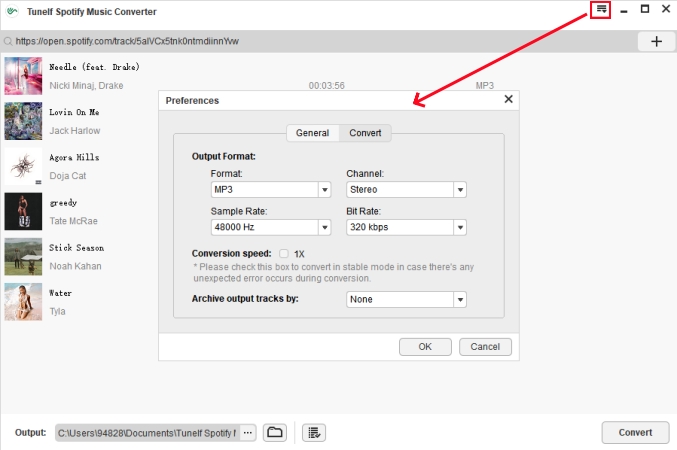 Step 3 Convert Spotify playlist to MP3
Check out whether your settings are correct and then click the Convert button. Your Spotify playlist will then be downloaded and converted to MP3. Tunelf software will also save your Spotify playlist to the computer. Click the Converted icon to check in the history list for your converted Spotify playlist. You can now freely sync them to Traktor DJ.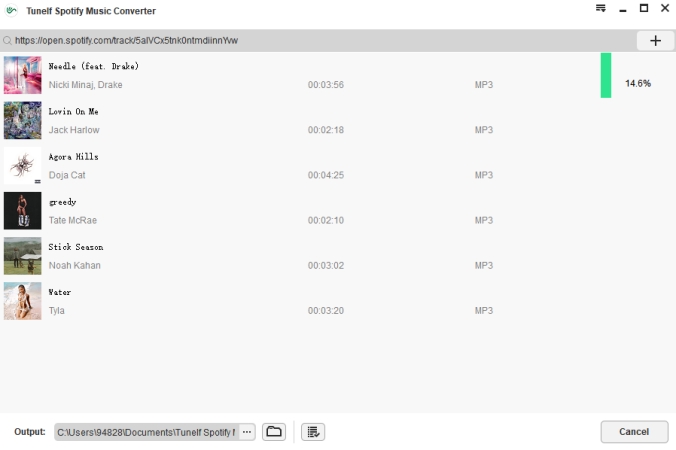 ---
How to Import Spotify Songs to Traktor DJ
Traktor does not support any music streaming services such as Spotify or Apple Music. However, with Tunelf software, you can easily convert Spotify music to unrestricted digital music files. Then you can add Spotify music straight to Traktor DJ for mixing new tracks.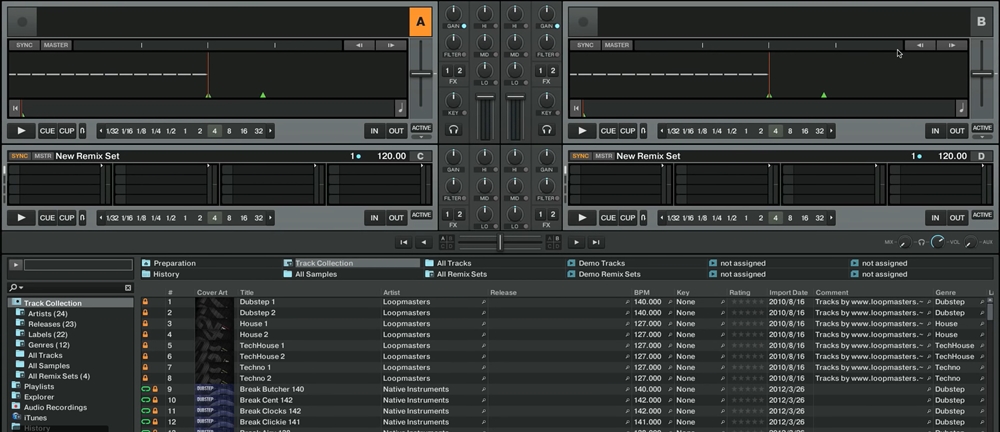 Step 1. After launching Traktor DJ software, click the Setting button and choose File Management from the pop-up window.
Step 2. Under Music Folder, click the Add button and then go to locate the folder where you save the converted Spotify music files.
Step 3. Next, choose the track you want and click the Choose option to add it to Traktor DJ.
Step 4. Click the Track Collection button and scroll down to click Import Music from Folders then those Spotify songs will be added to Traktor DJ.
Except for the above case, you can simply drag and drop the tracks or folders into your main collection. Then you can upload Spotify music into Traktor DJ for Djing.
---
FAQs about Traktor DJ App with Spotify
Q1. What DJ controllers work with Spotify?
A: While there are dozens of controllers that are compatible with Spotify, only a part of them offer native integration. Those include Pioneer DJ CDJ-2000NXS2, Pioneer DJ CDJ-2000NXS, Pioneer DJ CDJ-900NXS, Pioneer DJ XDJ-1000, Pioneer DJ DDJ-200, Pioneer DJ DDJ-400, Pioneer DJ DDJ-WeGO4, Reloop Beatpad 2, Reloop MIXON 4, and Reloop MIXTOUR.
Q2. Can I DJ with songs from Spotify?
A: No, you cannot DJ with songs from Spotify directly. But you can try using Spotify DJ Mode to DJ a party online. Or you can use a third-party tool like Tunelf Spotibeat Music Converter to DJ with Spotify without limits.
Q3. How do I link my Spotify to Virtual DJ?
A: You are not able to link your Spotify to Virtual DJ as Spotify stops teaming with Traktor DJ. Currently, Spotify is pulling its support for DJ apps. And due to DRM protection issues, you can't use Spotify with DJ software directly.
---
Conclusion
We have covered the simplest way to help you enjoy your Spotify playlist outside the Spotify app. Besides, it break-evens any limits while offering quality output. How to use Spotify with Traktor DJ couldn't be easier than engaging Tunelf Spotibeat Music Converter. With a click of a button, you enter the free range of downloading and converting Spotify playlists to a playable format like MP3. You don't need to crack your head anymore. Now dash to the flux mode where you comfortably backspin, scratch, and chop your music for the best mix.
---
---