Spotify not playing offline. I just bought the Spotify Duo plan recently and i cant play any song on my phone when im offline.
– From Spotify Forum.
With a Spotify Premium plan, it's likely to download songs for offline listening. However, there are many people are complaining that Spotify won't play downloaded songs. Have you ever met this issue? Well, many factors are proven to be the possible reasons. Here in this post, I'm going to analyze the possible reasons and show you how to fix Spotify not playing downloaded songs in 8 efficient ways.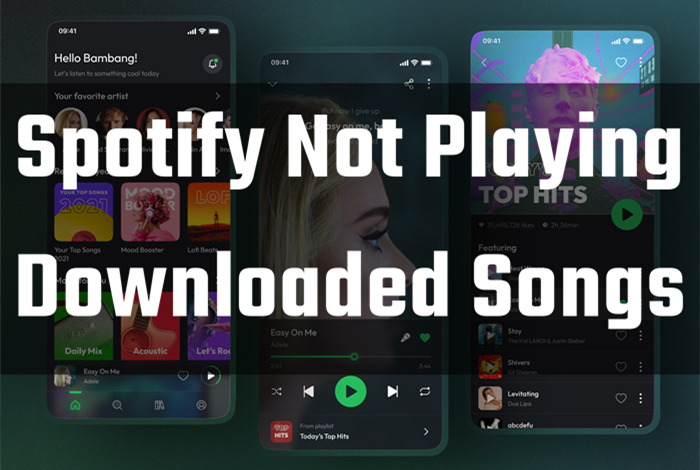 ---
Part 1. Why Is My Downloaded Music Not Playing on Spotify
It is annoying about Spotify songs downloaded but not playing. If you encounter Spotify downloaded songs not playing offline iPhone/Android, don't panic, let's analyze the possible reasons first.
1. Spotify Account Status
If Spotify won't play downloaded songs, check your Spotify account status to see if your subscription has expired. As you may know, all downloaded songs will be inaccessible as long as your Premium account lapses.
2. Insufficient Storage Space
Spotify requires 200 MB or more free space to save data when processing and streaming music. If your storage drive is full, you may not enjoy a smooth streaming experience. It is more likely to stop playing songs especially when there is no extra storage space.
3. Spotify Offline Mode Issue
Spotify has the Offline Mode allowing paid users to stream downloaded music without a network. In order to play downloaded music on Spotify, you need to download the playlist beforehand and then switch to offline mode from Spotify Settings. Some people just disabled the offline mode, so Spotify may not search for and play your downloaded songs.
4. Irremovable Software Bugs
There are sometimes unexpected errors or mistakes on the app or devices. Even a small glitch will lag the speed of your app and your device will malfunction because of this. Therefore, they can influence your user experience when streaming music on Spotify.
5. Spotify Device Limit Reached
Usually, Spotify will only allow you to stream music on one device. If you're sharing a family plan with your family members, you can stream on 5 devices at a time. While only 10,000 songs can be played offline.
6. Downloaded Music Issue
If the downloaded songs haven't been downloaded completely due to a poor network or have been deleted, then Spotify doesn't play downloaded songs. One more thing that needs to be noted is that if the downloaded song greyed out on Spotify, it shows it is unavailable due to license issues or wrong settings like disabled explicit filter.
---
Part 2. How to Fix Spotify Not Playing Downloaded Songs
Considering the possible reasons listed above, we have found and collected some workarounds to fix Spotify downloaded songs not playing offline iPhone/Android.
1. Restart the Spotify app
The first and easiest way to fix Spotify won't play downloaded songs is to restart the app. After restarting, you'll get a data refresh on your Spotify app. And most of the small errors or glitches will be removed.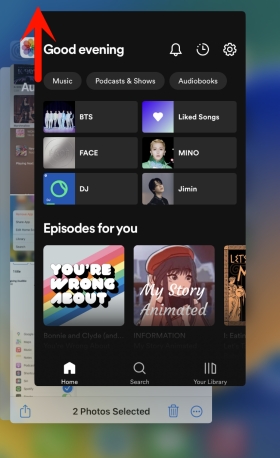 Step 1. Swipe up from the bottom of the screen and pause in the middle of the screen.
Step 2. Swipe right or left to find the Spotify app
Step 3. Swipe up on its preview to shut down Spotify.
Step 4. Tap the Spotify app icon to reopen it.
2. Enable Offline Mode
On the Spotify app, you'd better listen to your downloaded Spotify music in offline mode. Once the offline mode is turned on, you can enjoy Spotify music when there is no network connection. To enable Spotify offline mode, here's a how-to guide for you.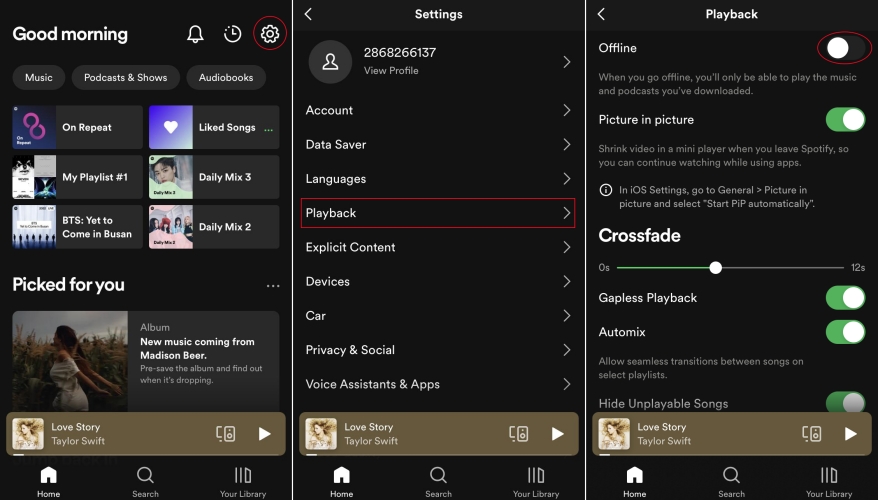 Step 1. Go to Spotify Settings from the upper right corner.
Step 2. Under Playback, toggle on Offline mode.
3. Allow Explicit Content
If you turn on the explicit filter, Spotify won't let you access songs labeled with the E tag. And this will be applied to downloaded music as well. With these steps, you can unlock explicit content on Spotify to address downloaded songs on Spotify not playing.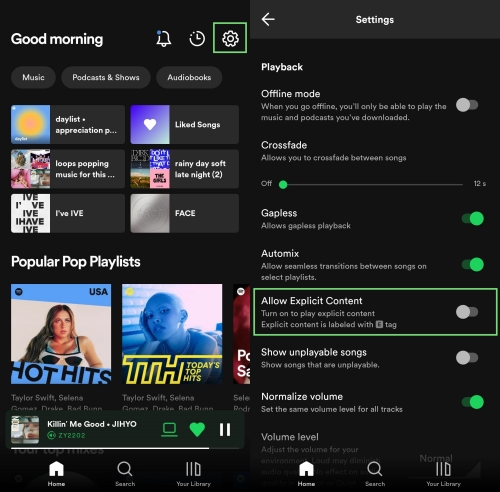 Step 1. Tap the gear icon in the top corner of Spotify.
Step 2. Scroll down to the Playback section.
Step 3. Switch on Allow Explicit Content.
This time, when you dive into the downloaded music selection, you will find the greyed-out downloaded music available for playing.
4. Connect to the Internet to Re–sync Spotify
If you've downloaded many Spotify songs and listened to them offline for a period of time, you may come across the issue. As "if you stay offline for 30 days consecutively, your downloaded music won't play", you'd better connect to the internet once or twice a month and go to online mode. In this case, it is possible to sync and play the downloaded songs again.
5. Re-download Songs
Probably, Spotify not playing downloaded songs iPhone/Android is because of the incomplete or failed downloading process. So it is suggested to redownload the problematic songs for a smoother experience.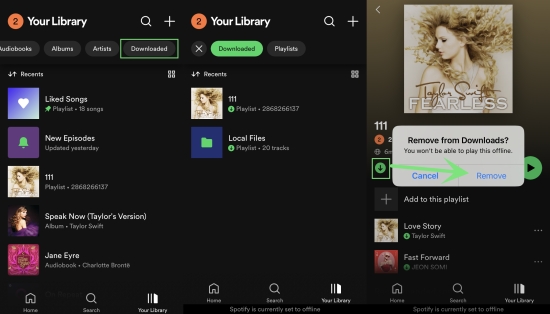 Step 1. Make sure you're in online mode instead of offline mode.
Step 2. Tap the Downloaded filter button to view all your downloaded content.
Step 3. Select the playlist containing the Spotify downloaded songs not playing issue.
Step 4. Hit the green download button to remove downloads first.
Step 5. Highlight the Download button again to re-download.
6. Free Up Storage Space
For a better streaming experience, you're supposed to leave more than 1 GB of storage space for Spotify. If your Spotify won't play downloaded songs, perhaps your device is running out of storage space. To free up storage, please do as follows:
For Android: You can go to Settings > App > Spotify and tap on Clear data and confirm your option to set up.
On iPhone: Under Settings, you can tap on General > iPhone Storage and choose the Spotify app. Then select the Offload App option.
If you don't want to do so, clearing Spotify caches can do the trick. On Spotify Settings, scroll down to the Storage section and tap Clear cache.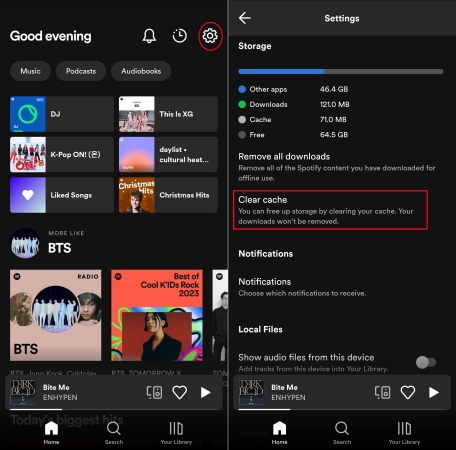 7. Perform a Clean Reinstall of Spotify
You can try this method if the above methods are not workable. You can uninstall the Spotify app and perform a clean and fresh reinstall. A clean reinstall can remove all the corruption of the software and bugs as well because the latter installation is a completely new application.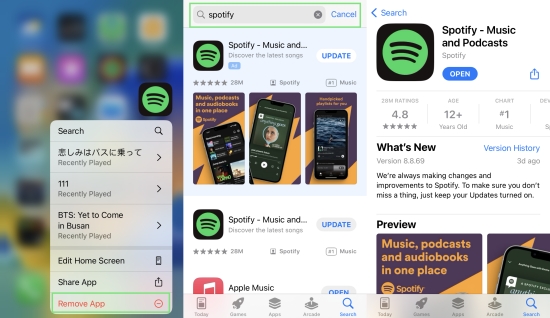 Step 1. On the Home screen of your phone, press and hold the Spotify app icon.
Step 2. Select Uninstall or Remove App, then confirm it.
Step 3. Open Play Store or App Store to search for Spotify.
Step 4. Tap Install or Get to reinstall Spotify on your phone.
---
Part 3. Best Way to Listen to Spotify Offline without Issues
If the above methods don't work to solve downloaded Spotify songs not playing, why not try to play downloaded Spotify music with other players? You can imagine that without Spotify the problem will be solved easily. Here we recommend the best tool to help you download Spotify songs for listening offline.
Tunelf Spotibeat Music Converter is a professional software aiming to download and convert Spotify music to MP3 and other 5 common audio formats. Since it removes Spotify DRM, it's easy to play Spotify downloaded music on any player you like. The conversion won't destroy the audio quality and preserve the original ID3 tags as well. After conversion, you can get your favorite Spotify music with lossless quality. Moreover, even if your subscription is expired, the downloaded Spotify songs with Tunelf are still playable.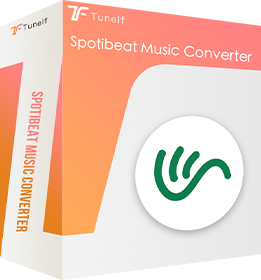 Key Features of Tunelf Spotibeat Music Converter
Download Spotify playlists, songs, and albums with free accounts easily
Convert Spotify music to MP3, WAV, FLAC, and other audio formats
Keep Spotify music tracks with lossless audio quality and ID3 tags
Remove ads and DRM protection from Spotify music at a 5× faster speed
Tunelf Spotibeat Music Converter makes it possible to enjoy Spotify music whenever and wherever you are without issues. All you need is to download and install Tunelf Spotibeat Music Converter.
Step 1 Add Spotify music to Tunelf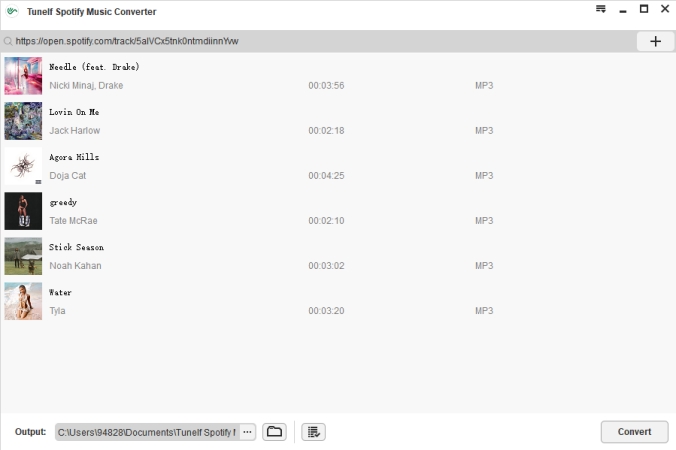 Please make sure you have installed both Tunelf and Spotify on your device. When you launch Tunelf, the Spotify app will work simultaneously. To load the music tracks, you need to copy the link on Spotify and paste it into the search bar of Tunelf. The other simple way is to drag and drop to add music files.
Step 2 Customize the output parameters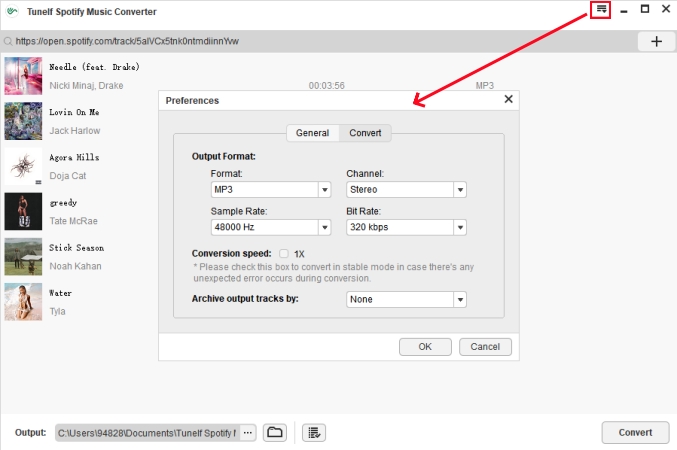 On the top right of the interface, you'll see a three-line menu icon. Click it and a window will pop up, then click Preferences > Convert to change the format, channel, sample rate, bit rate, and archive. The conversion speed is set to 5× as the default. You can also change it to 1× for more stable conversion.
Step 3 Download Spotify music for offline listening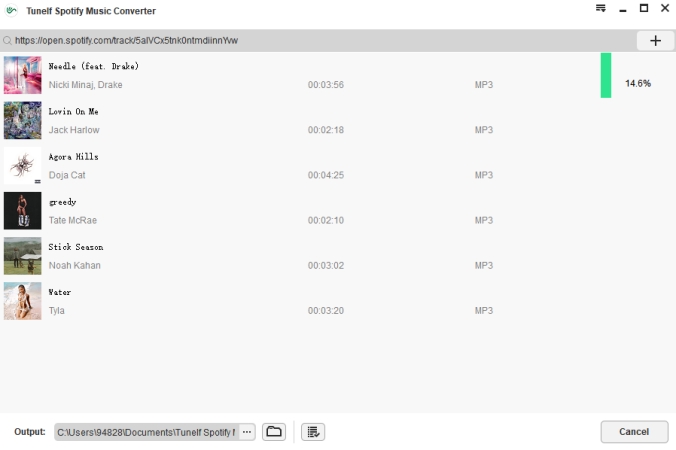 Check the convert list and click the Convert button to start conversion. Just wait for a while, then you can view the converted songs by clicking the Converted icon. Hit on the search icon next to each track, and you can locate them in the local drive. Then double-click any track converted from Tunelf, and it will be played with the built-in media player. Surely, you are free to transfer them to your mobile phone for playing with a USB cable.
---
FAQs about Spotify Downloaded Music
Q1. How to access/play downloaded music on Spotify?
You can enable the offline mode on Spotify with the above tutorial. Or there is another way to give you quicker access: Use the Downloaded button under Your Library to access your downloaded music.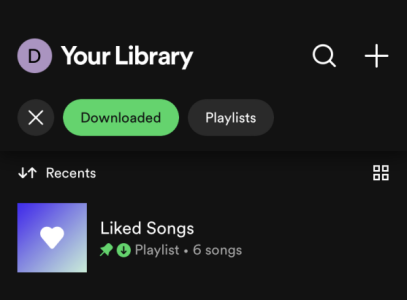 Q2. Does Spotify downloaded music use data?
If you listen to downloaded music in offline mode, Spotify will not use mobile data. But you'd better to turn off the cellular data in case Spotify continues to cost it.
Q3. Where to find Spotify downloaded music location?
There is no way to check the Spotify downloaded music location on iOS devices. But by default, all downloaded Spotify songs are stored on your Android devices through this path: Android/data/com.spotify.mobile.android.ui/files/spotifycache/Storage/. You have to know even if you find where does Spotify downloads go on your device, you cannot listen to them out of the Spotify player due to DRM. Hence, using Tunelf Spotibeat Music Converter to download Spotify songs and get Spotify local files is more recommended.
Q4. How to delete Spotify downloads?
On Spotify, find your downloaded playlist and hit the green download button. Then tap Remove. Alternatively, you can head to Spotify Settings > Storage > Remove all downloads.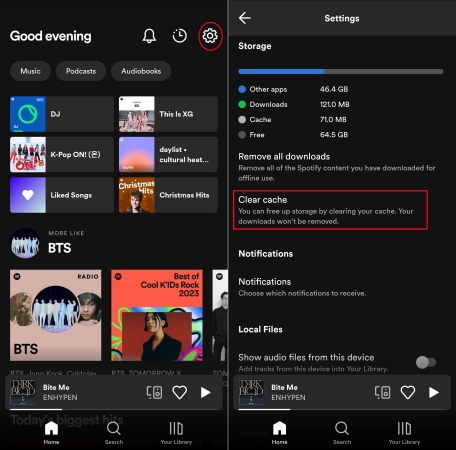 ---
---