Q: "I have Spotify premium and all the songs downloaded, just whenever I select them, they don't play. Why is Spotify downloaded songs not playing and how to fix it?"
When we stream Spotify music online, it's likely to download songs for offline listening. And there are many people are complaining that Spotify won't play downloaded songs. Have you ever met this issue? Well, many factors are proven to be the possible reasons. Here in this post, I'm going to analyze the possible reasons and show you how to fix Spotify not playing downloaded songs in 8 efficient ways.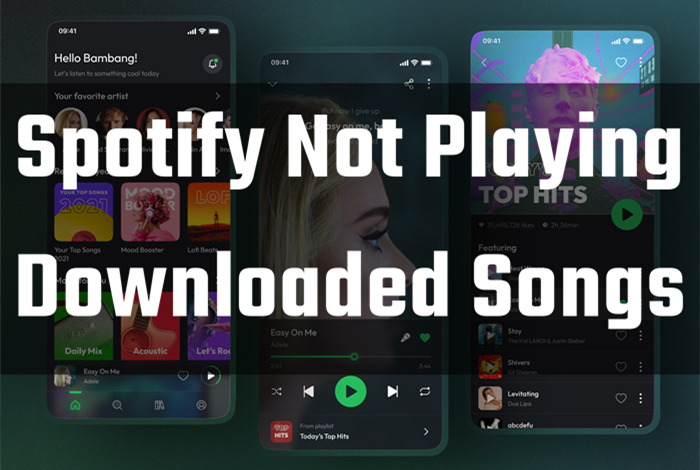 ---
Why Are My Downloaded Songs on Spotify Not Playing
It is annoying when Spotify not playing downloaded songs. You may encounter this problem even if you've downloaded the songs to listen to offline. So why does this happen? Let's analyze the possible reasons first.
1. Spotify account status
If your downloaded songs not playing offline, check your Spotify account status to see if there is s systematic issue on Spotify. And you may go to Spotify's official account on Twitter to consult. If there is, Spotify will release an official notice on its official platforms.
2. Storage Space
Spotify requires 200 MB or more free space to save data when processing and streaming music. If your storage drive is full, you may not enjoy a smooth streaming experience. It is more likely to stop playing songs especially when there is no extra storage space.
3. Spotify Offline mode issue
Spotify has the Offline Mode feature that allows people to stream without a network. Some people just disabled the Offline Mode, so Spotify may not play your downloaded songs.
4. Software bugs
There are sometimes unexpected errors or mistakes on the app or devices. Even a small glitch will lag the speed of your app and your device will malfunction because of this. Therefore, they can influence your user experience when streaming music on Spotify.
5. Spotify device limit
Usually, Spotify will only allow you to stream music on one device. If you're sharing a family plan with your family members, you can stream on 5 devices at a time. While only 10,000 songs can be played offline.
---
What to Do When Spotify Downloaded Songs Not Playing
Considering the possible reasons listed above, we have found and collected some workarounds to fix the problem.
1. Restart the Spotify app
The first and easiest way to fix Spotify won't play downloaded songs is to restart the app. After restarting, you'll get a data refresh on your Spotify app. And most of the small errors or glitches will be removed. Now just close the app and relaunch it.
2. Enable offline mode
On the Spotify app, you're allowed to listen to your downloaded Spotify music only in offline mode. Once the offline mode is turned on, you can enjoy Spotify music when there is no network connection. To enable Spotify offline mode, here's a how-to guide for you.
On Computer: Go to Spotify's official website from any browser and log in to your Spotify account. Then click on the three horizontal dots which are located at the top left of the screen. Now you can click the File > Offline Mode to enable this feature on your Spotify app.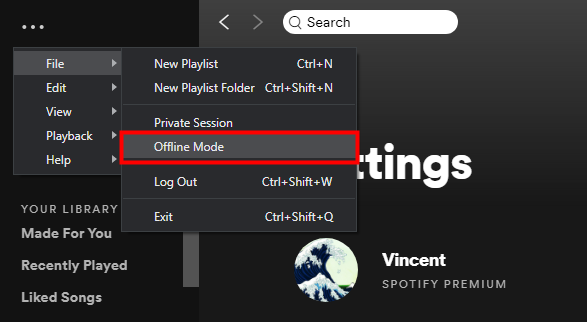 On Mobile Phone: First, open the Spotify app on your mobile phone and tap on the Home icon > Settings icon. And then click on Playback and toggle the Offline mode on.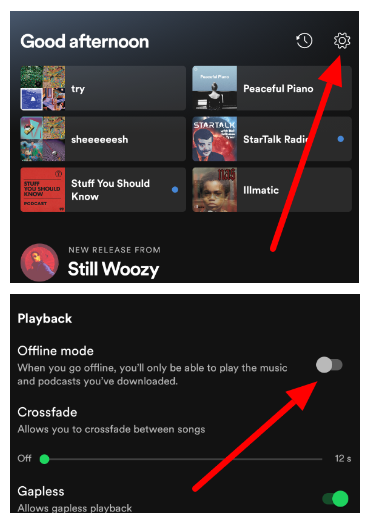 3. Disable battery optimization
When you enable the battery optimization feature, it can restrict you from using some important features and may lead to Spotify downloaded songs not playing issue as well. Usually, it is set as default or done by your device automatically. Now to disable battery optimization, you need to do as follows:
On iOS: go to Settings on your phone and tap on Battery, then toggle off Low Power Mode. Now open Spotify and play downloaded songs again to check if it works.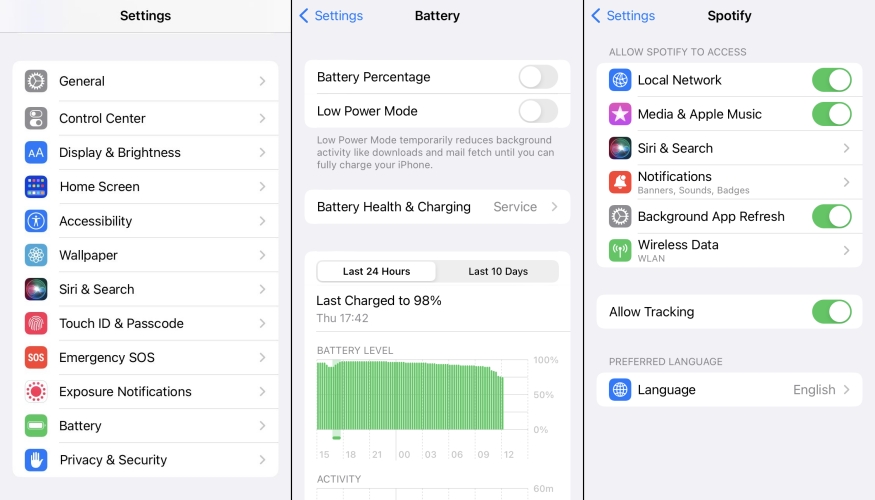 On Android: On your phone, open Settings and tap on the Apps Management or Apps; search for the Spotify app and tap on it. Now tap on the Battery option and disable the settings that make your phone work in a low-battery mode.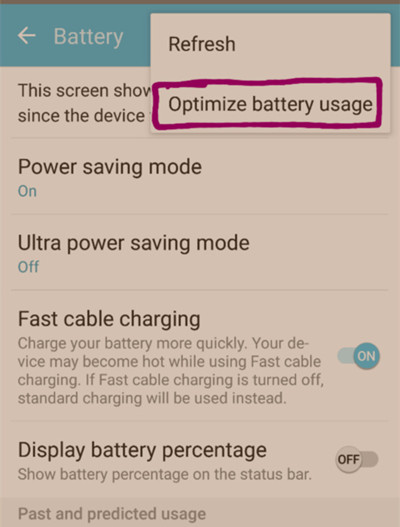 4. Check your storage space
For a better streaming experience, you're supposed to leave more than 1 GB of storage space for Spotify. If your Spotify won't play downloaded songs, perhaps your device is running out of storage space. To free up storage, please do as follows:
On PC: You can go to Settings on your desktop Spotify app, and then click on Local Files and toggle off Show Local Files.
For Android: You can go to Settings > App and tap on Clear data and confirm your option to set up.
On iPhone: Under Settings, you can tap on General > iPhone Storage and choose the Spotify app. Then select the Offload App option.
5. Connect to the Internet to resync Spotify
If you've downloaded many Spotify songs and listened to them offline for a period of time, you may come across the issue. As "if you stay offline for 30 days consecutively, your downloaded music won't play", you'd better open Spotify and connected to the internet once or twice a month. In this case, you'll need to log back in every 30 days and download the songs that won't play again.
6. Enable app permission for Spotify
If you haven't given permission to some features for Spotify, then it may cause a malfunction of the Spotify app and prevent you from playing downloaded music. To enable permissions for Spotify, you can open Settings on your phone and tap on Apps Management or Apps. Next, scroll down and select the Spotify app, and then tap Permissions to allow everything there.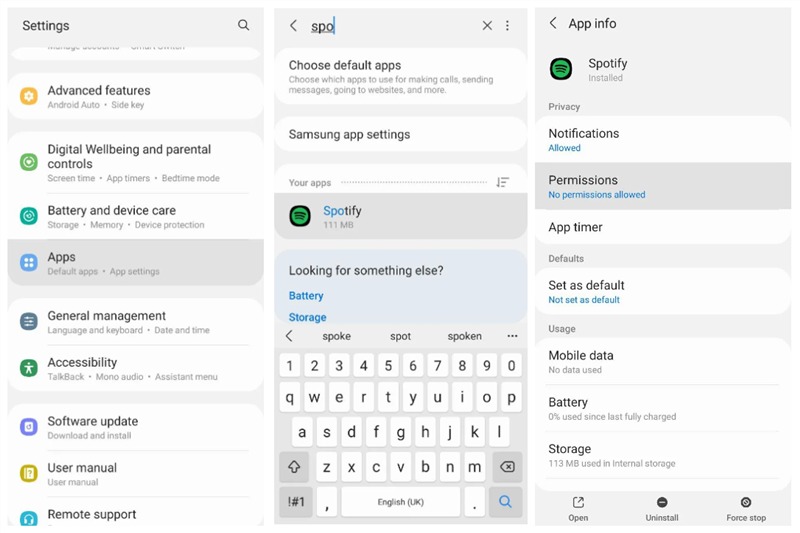 7. Perform a clean reinstall of Spotify
You can try this method if the above methods are not workable. You can uninstall the Spotify app and perform a clean and fresh reinstall. A clean reinstall can remove all the corruption of the software and bugs as well because the latter installation is a completely new application.
For Android:
1) Go to Settings and choose Apps.
2) Search for Spotify and tap Storage > Clear Data.
3) Tap Uninstall to delete the app.
4) Find Spotify in the Google Play Store and install it.
For iOS:
1) Choose the Spotify icon and hold for a few seconds until a quick menu pops up.
2) Select Delete App > Delete.
3) Search for Spotify from the App Store and install it.
---
How to Play Spotify Downloaded Songs without Hassle
Besides the above methods, we also recommend you the best tool to download Spotify songs offline and play them on multiple devices. This tool makes it possible to enjoy Spotify music whenever and wherever you are. All you need is to download and install Tunelf Spotibeat Music Converter. Tunelf Spotibeat Music Converter is a professional and safe software to download and convert Spotify music to MP3 and other 5 common audio formats. The conversion won't destroy the audio quality and preserve the original ID3 tags as well. After conversion, you can get your favorite Spotify music with lossless quality. And it's easy to play Spotify music on various kinds of platforms or players as you like.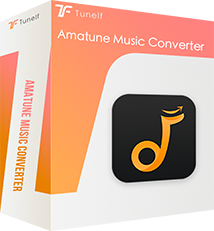 Key Features of Tunelf Amatune Music Converter
Download songs from Amazon Music Prime, Music Unlimited, and HD Music
Convert Amazon Music songs to MP3, AAC, FLAC, WAV, M4A, and M4B
Handle the audio conversion of Amazon Music at a faster speed of 5×
Ensure the output audio quality while retaining ID3 tags and metadata