DJUCED is a good software for your first steps into the world of DJing. With its integrated video DJ Academy, interactive help, and intelligent functions, you're able to create and mix audio files into a quite different world. Tidal music is now available on Djuced, you can now browse and access to an endless music library at the highest audio quality. If you're Tidal subscribers who would like to DJ with Tidal tracks within Djuced for mixing, then good luck to you. Here's the guide you need to add Tidal to Djuced.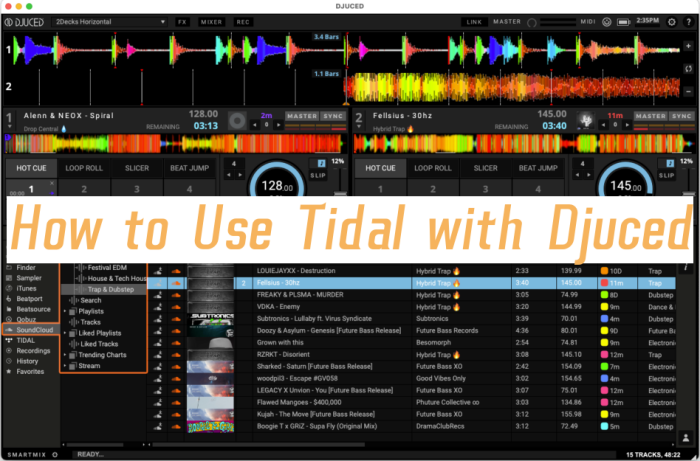 ---
Part 1 How to Add Tidal to Djuced for Mixing [Premium]
Now Tidal is compatible with Djuced, you can add Tidal to Djuced for mixing without a problem as long as you have subscribed to Tidal Premium.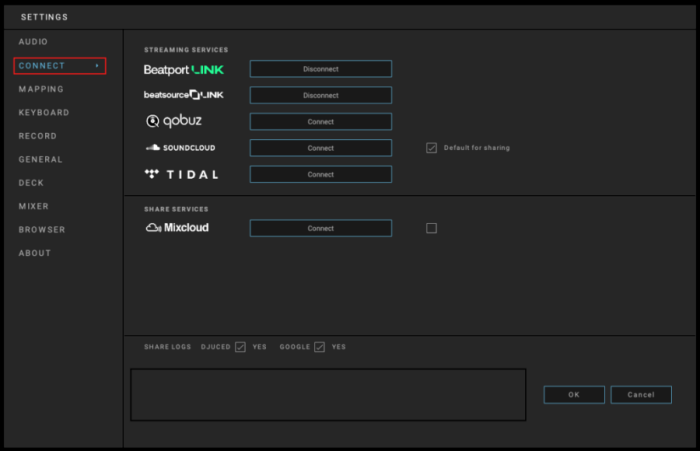 Step 1. Download the latest Djuced software on your PC. Go to Djuced official website and you can install the Djuced program on your computer.
Step 2. Log into your Tidal account on Djuced. Once logged in, Djuced will display a login window automatically If you have subscribed to Tidal Premium, enter the account credentials to log in.
Step 3. Now you can set up and enjoy your Tidal music on Djuced. It's easy to access them for mixing or something else.
---
Part 2 How to Add Tidal Music to Djuced without Premium
With a Tidal premium subscription, you can connect Tidal to Djuced for mixing with ease. However, it seems to be a difficult task to do that if using a Tidal-free account. Due to DRM agreement restrictions, Tidal music is all encoded with special formats to prevent them from using on other platforms without authorization. In this way, it protected its music copyrights, but meanwhile, limited us from using these music tracks in normal ways. If you don't have a Tidal premium account, don't fret! Here's an alternative solution to help you to get Tidal songs without a subscription. All we need is to download Tidal music offline and upload them to Djuced for mixing.
Best Tool Needed – Tunelf Tidal Music Converter
First, we need to figure out what is the key factor that stops us from enjoying Tidal music, which is the DRM-protection format. This kind of format adopts encryption technology on Tidal tracks. Therefore, to break the limit, you'll have to remove the obstacle in the middle of the road, we can resort to some professional tools like Tidal Music downloader or converter to download and convert Tidal music to common audio tracks. Tunelf Tidal Music Converter is the tool you need!
As a dedicated and perfect Tidal music downloader, Tunelf Tidal Music Converter can download songs, playlists, and albums from Tidal to the computer. No matter what kind of your subscription plan is, you can use this tool to download Tidal songs for offline listening. Adopting advanced and innovative technology, the Tunelf program can remove the DRM restriction format from Tidal and convert them to other unprotected audio.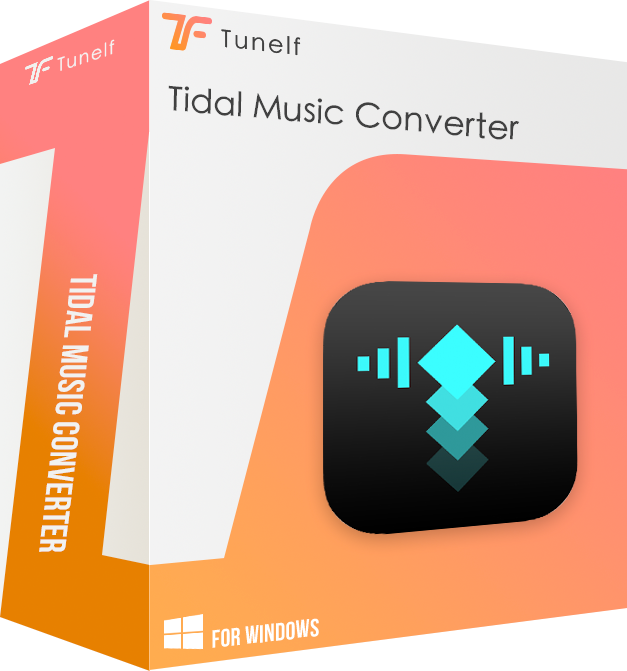 Key Features of Tunelf Tidal Music Converter
Download any Tidal content, including songs, albums, playlists, and artists
Support exporting Tidal music to MP3, AAC, FLAC, WAV, M4A, and M4B
Preserve a whole set of ID3 tag information in the downloaded Tidal songs
Handle the conversion of Tidal music up to 5× faster speed and in batch
How to Download Tidal Songs Offline for Mixing in Djuced
This powerful Tidal music downloader enables you to download HI-Fi and MQA quality Tidal music with original sound quality and ID3 tags. Thanks to the advanced technology, you can convert playlists in batches at 5 faster conversion speeds. Here is a tutorial on how to use the Tunelf Tidal Music Converter.
Step 1. Select Tidal Tracks to Download
Tunelf offers free trial versions, but you can only convert 1/3 of your audio track. To get a better experience and achieve your target, you're supposed to make a purchase and sign up. When you launch Tunelf, the Tidal app will work simultaneously. You can just choose a song by clicking Share > Copy Link and paste the link to the search bar, then click the Add + icon to load music files. The other simple way is to drag and drop the music tracks to the program.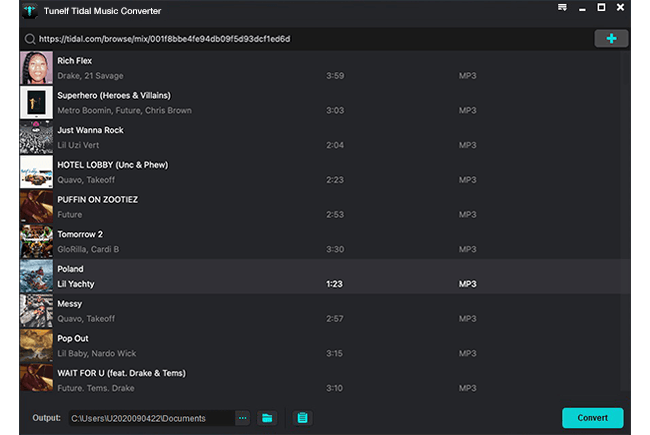 Step 2. Set the Output Audio Formats
The next step is to adjust the output audio parameters. Navigate to the Menu icon (located at the top-right corner) > Preferences > Convert, and select the output audio format from MP3, WAV, M4A, FLAC, M4B, and AAC. For better sound performance, you can also configure other specific parameters like sample rate, bit rate, and channel.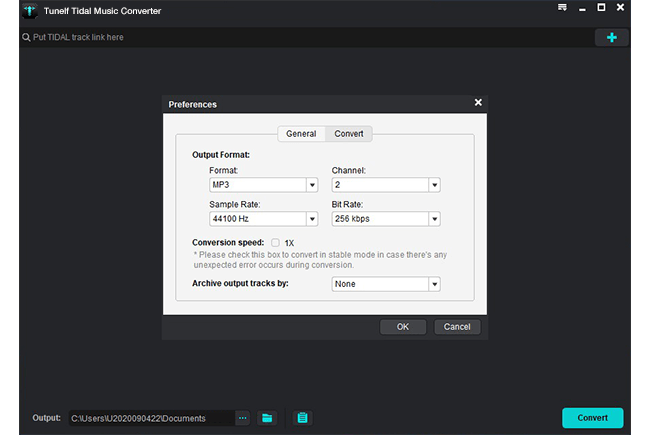 Step 3. Download DRM-free Tidal Music Offline
After setting the formats, you can click the Convert button to start the conversion. It's no problem to convert a batch of music files. You'll only need to wait for a short time till it is finished. When the conversion is over, you can access the converted music files easily in your local folder by clicking the Converted icon. Later on, you can upload or transfer Tidal music to an SD card or other devices for use easily.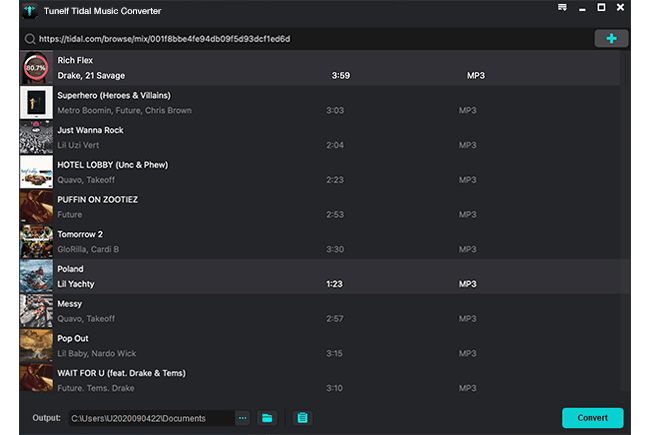 ---
Part 3 Djuced Tidal: How to Import Music to Djuced
Now that you have downloaded and converted Tidal music to common unprotected audio files, you can follow the instructions below to import local converted Tidal music to Djuced for use now. There are two ways available for Djuced to import music.
Option 1. Import Tidal Music to DJUCED from the Local Folder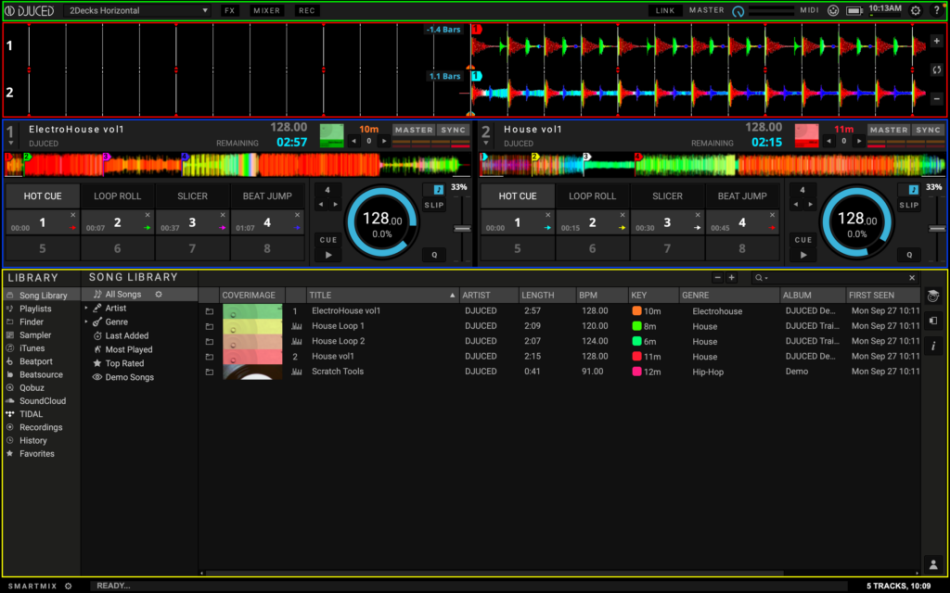 Step 1. Launch DJUCED on your computer, then click the Song Library button in the left column.
Step 2. Under Song Library, select All Songs and click the Import Folder button.
Step 3. Locate the folder where you store the converted music files, then click the Open button to add the folder to DJUCED.
Step 4. Go to drag Tidal songs to the timeline of DJUCED and start creating mixes.
In addition, you can click the Finder button on the left side of the interface. Then go to find music tracks you want to mix and add Tidal music from your computer to the program.
Option 2. Add Tidal Music to DJUCED from the iTunes Library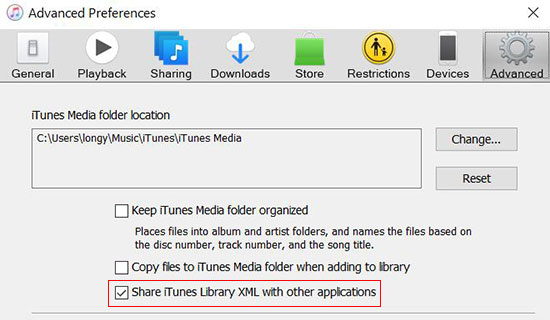 Step 1. Open iTunes and click File > Add File to Library or Add Folder to Library.
Step 2. Find the Tidal tracks you want to mix and upload them into your iTunes library.
Step 3. Then click Edit > Preferences and switch to the Advanced tab, then select Share iTunes Library XML with other applications.
Step 4. Open DJUCED on your computer, then click the iTunes button at the left column to load your iTunes library.
Step 5. Browse your music library and select the music you want to mix on DJUCED, then drag it to add the program.
---
Part 4 Tidal Djuced Integration: What You Want to Know
About adding Tidal music to Djuced, here are more questions you guys may be interested in knowing. Check the below lines to see.
Q1. What DJ Programs Support Tidal Music?
So far, Tidal has integrated with some major popular DJ programs including Serato DJ, djay Pro, Pioneer DJ, edjing, Denon DJ, DJUCED, Virtual DJ, DEX 3, and DJ It! You can use them to mix and create your own great music pieces.
Q2. Is Tidal Free on Djuced Program?
No, you can't use Tidal with Djuced by using a free account. You'll need a premium account and Tidal offers two tiers of memberships:
– Premium which gives you access to the AAC 320Kbps files.
– HIFI which allows the option to use lossless FLAC files or AAC files in Master sound quality.
If you're new to Tidal, you can find Tidal subscription offers and try for one month for free on Tidal official website.
Q3. Why Djuced recording feature is disabled when using Tidal music?
Because Tidal music is protected by copyrights which means you can access it but you can't deal with it. Music streaming services like tidal music are not allowed to be recorded.
Q4. I can't log in to Tidal in Djuced, what should I do?
If you find that Tidal not connecting to Djuced, you can check and try the below ways to find solutions.
Make sure Tidal service is connected to a stable and good network online. If it is offline, it will not work either in Djuced at all.
Check your antivirus or firewall settings and make sure it doesn't block Djuced, otherwise, you can't use Tidal with Djuced.
Download and install the latest Djuced app, and stay updated to the latest version.
Q5. How to download copyright-free music and samples within Djuced?
Yes, there are some Copyright Free music files and Sample Packs within Djuced. So, you can better utilize these resources to enhance your DJ experience. Here's how you can find and download them in the Djuced program.
Open the "Prepare" layout.
Navigate into the "Demos" section in the browser.
Click on any download icon to grab the music or sample pack.
---
In Conclusion
Thanks to Djuced Tidal integration, we're possible to use Tidal with Djuced with premium. Well, if you're a Tidal-free user, don't worry, there is still an alternative method to enable Tidal to work with Djuced. All you need is to download Tidal music offline via third-party tools like Tunelf Tidal Music Converter. Click the download link below to try the Tunelf tool now!
---
---