Can you DJ with Tidal music? Instead of downloading music files for listening offline, streaming music online through some music services has become the major way for us to listen to and discover new music. Now, Tidal has grabbed many people's wallets by offering its superior audio quality with lower tiers, which makes it the first choice for audiophiles or anyone who uses high-end audio gear. And some people who use Tidal for streaming would like to use Tidal songs for mixing great pieces.
If Tidal is your first choice for music streaming services and you'd like to use Tidal music with some popular DJ programs, then you can't miss this post! We'll share with you the quickest and best way to enable Tidal DJ to work well in the next paragraphs.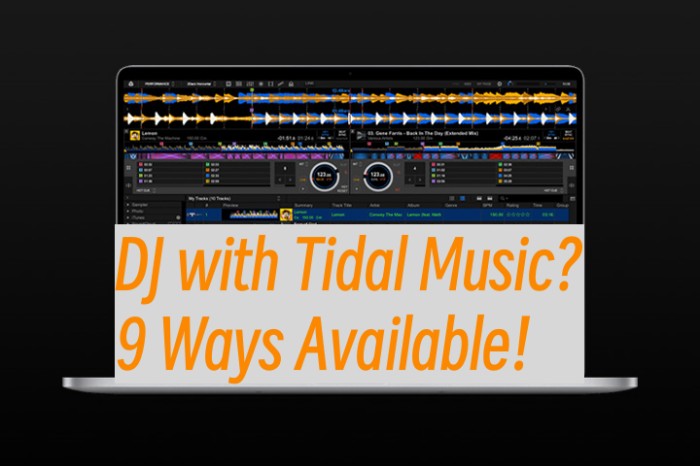 ---
Part 1 How to DJ with Tidal via Tidal DJ Feature
Unlike what we used to say, Tidal has recently offered its Hi-Fi Plus subscribers to DJ with Tidal within its app. Since late 2022, the Tidal app has opened access for Hi-Fi Plus users to join the beta trial version which contains a Live DJ feature. With the toppest Tidal premium plan, you can choose to join the early access program to enjoy the beta version of Djing.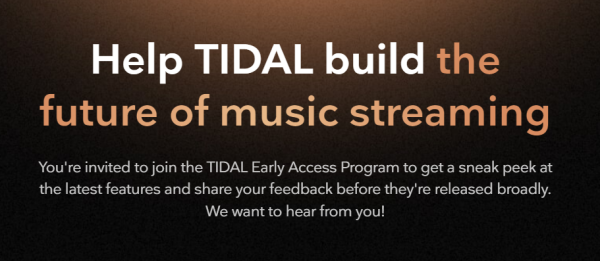 Note
This early access program for the Tidal beta trial version is now only open to Tidal Hi-Fi Plus users, please make sure you have a Hi-Fi Plus account. Otherwise, you need to subscribe to the Tidal Hi-Fi Plus tier (free for 30 days, then $19.99 per month) to try this feature.
Step 1. Sign Up for the Early Access program for Tidal DJ Feature
On iOS devices: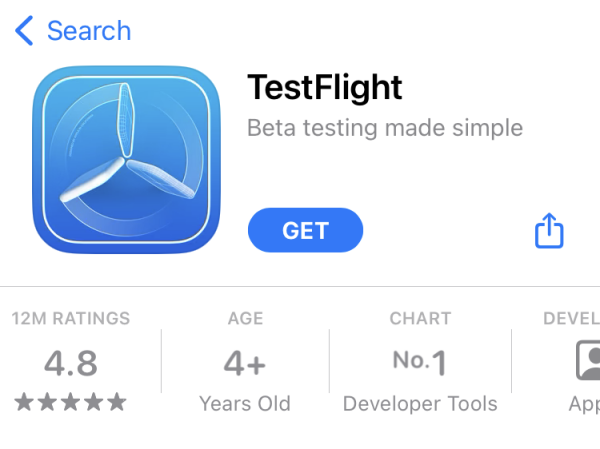 Enter a valid E-mail address on the Tidal profile page so that you can keep in the loop with Tidal.
Go to the App Store and search for TestFlight to download and install.
Visit the Tidal Early Access Program page on your mobile device to join in.
Open the TestFlight app and select Tidal. Here you can toggle the Automatic Updates option to keep using the latest version.
On Android devices: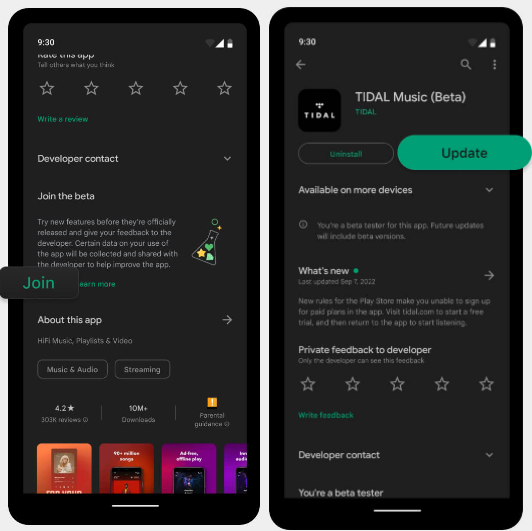 Make sure to check the E-mail address on your profile Tidal so that Tidal can contact you as soon as possible.
From your mobile device, search for Tidal in your Google Play Store. Scroll down to find the Join the beta section, and tap Join.
Scroll up to download the beta version of Tidal, here select Update.
On the same page, tap the More Options icon and select "Enable auto-update" to always test the latest version.
Step 2. Listen to Tidal Music and Test Its Beta Features
Once you installed the TestFlight app and signed up as above, you can enjoy the beta new features and test the performances as well. Now open the app, select a song or playlist to start playing, then tap the DJ button to enable a session and get a link to share with other Tidal users.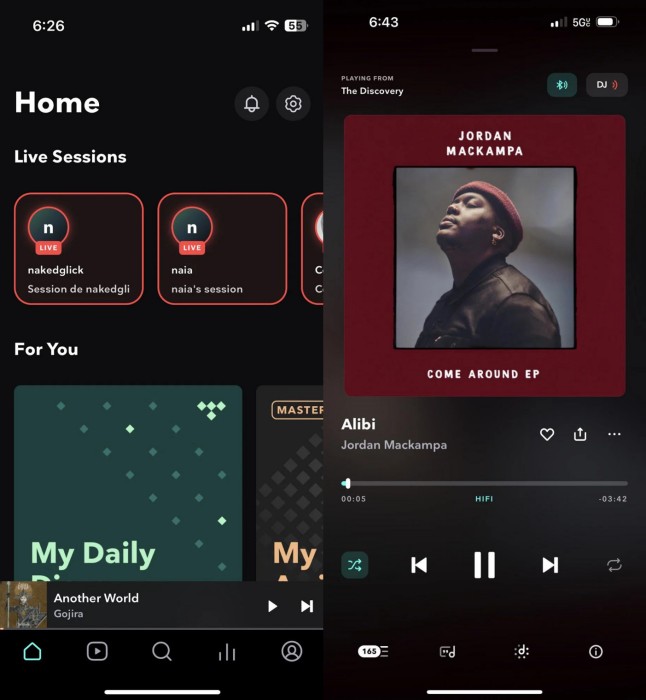 Step 3. Stop Testing the Tidal Beta App
If you decide not to test and use the latest features in the Tidal Beta app, you can choose to stop testing at any time. On iOS devices, Open TestFlight, select Tidal under Apps, then tap Stop Testing. On Android, go to find the Tidal app from the Google Play Store and select Leave beta, then download the regular version of Tidal.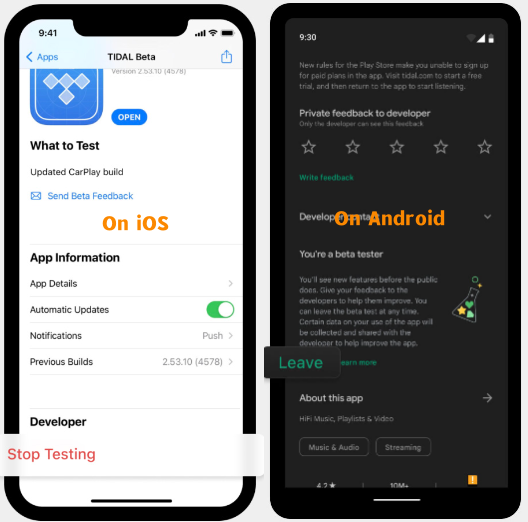 Step 4. Report Anything You Want or Needed
While using it, you may encounter some issues or bugs since it is not the released version, which still needs fixing and amending. If you find something abnormal, broken, or hard to use, you can report these issues to Tidal as soon as possible.
---
Part 2 Top 7 DJ Apps that Work with Tidal
When it comes to DJ Tidal apps, before the new beta releases, people usually use some third-party DJ software for mixing. As you can see, Tidal has already partnered with several DJ programs. Next. I'm going to introduce 7 popular ones for you to apply.
Option 1. Serato DJ
Serato DJ is now one of the most popular DJ programs globally. It allows DJs to mix digital audio files, just like what used to do during the traditional days of vinyl Djing. With its powerful features and intuitive interface, you can mix up to four virtual decks (depending on hardware and setup) and stream everything directly in Serato DJ. Now Serato DJ has integrated with many popular music streaming services, including Tidal, Beatsource, Beatport, and SoundCloud. If you have an active Tidal subscription, you can use Tidal on Serato DJ for mixing.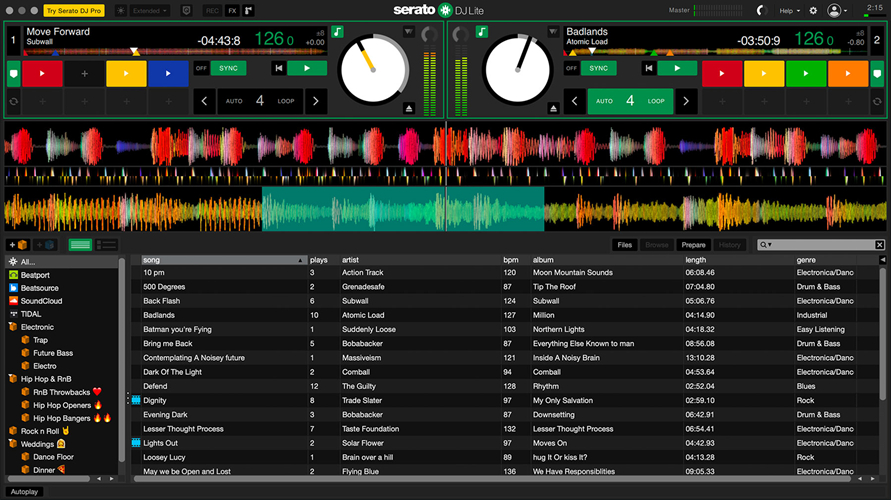 Option 2. Djay Pro
Algoriddim's djay Pro is an excellent digital music mixing software for iOS, Mac, and Windows users. Its interface tries to simulate the concept of "two turntables and a microphone" on a computer, which makes it easier to control the playback or mixing of digital audio files. It now no longer supports Spotify, but you can still use Tidal with it to enjoy high-fidelity quality.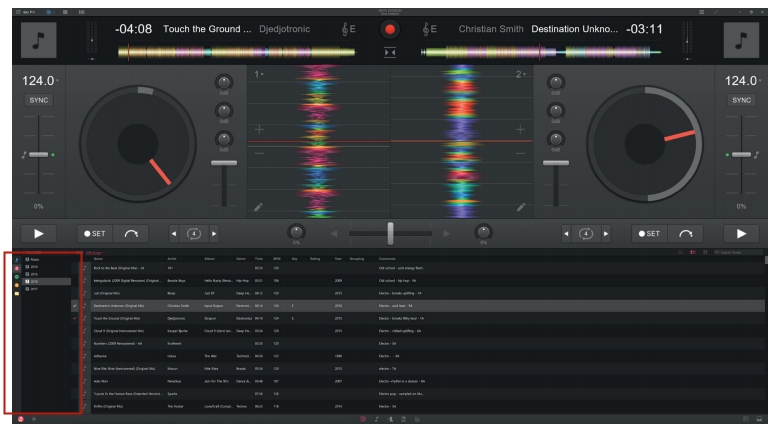 Option 3. Pioneer DJ
Tidal has now partnered with Rekordbox, which is one of the DJ products from Pioneer DJ. Rekordbox is a good DJ app for everyone who loves music to start Djing. It enables everyone, from beginners to professionals, to experience the excitement of DJing. TIDAL and Rekordbox allow users to access playlists, albums, and tracks saved in My Collection — all from inside Rekordbox.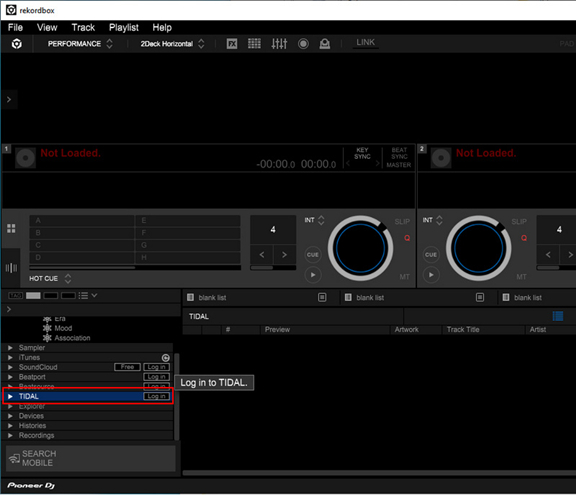 Option 4. Denon DJ
If you're looking for DJ apps that work with Tidal, you shouldn't miss Denon DJ. In addition to the above, Denon DJ is another mainly-used software for Djing. It is one of the first brands that introduce CD technology into Djing and keep producing well-designed DJ controllers, which are all well-regarded with mobile DJs. With the Denon DJ Tidal integration, you can access over 80 million high-quality tracks from Tidal without a laptop.
Option 5. DJUCED
DJUCED is a good software for your first steps into the world of DJing. With its integrated video DJ Academy, interactive help, and intelligent functions, you're able to create and mix audio files into a quite different world. Tidal music is now available on Djuced, you can now browse and access an endless music library at the highest audio quality. Simply download its software from its official website to start mixing.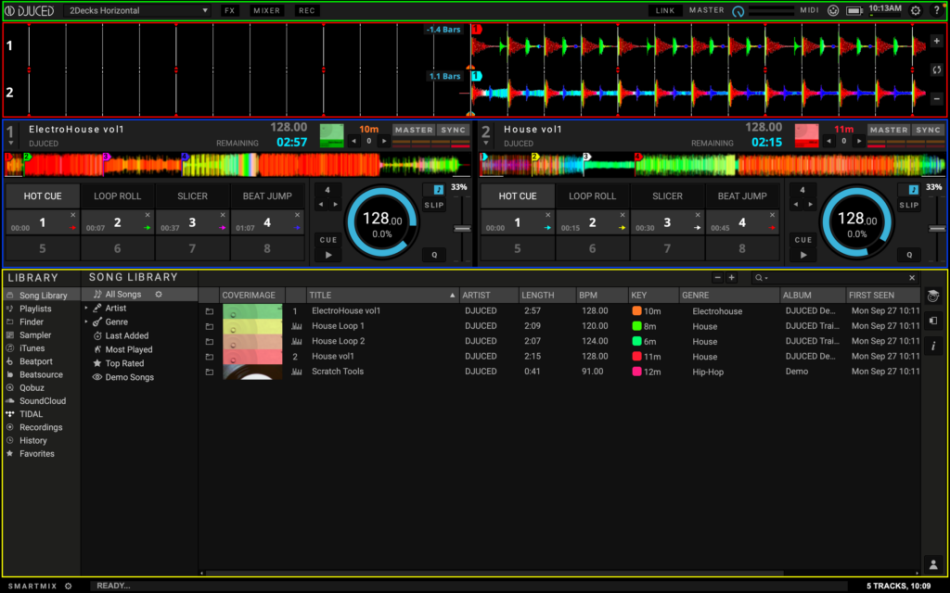 Option 6. Virtual DJ
With more than 150 million users, Virtual DJ is the most widely used professional DJ software on the planet. After undergoing a revolution of digital DJing, Virtual DJ has a bunch of features that are perfect for mid-level enthusiasts and anyone who wants to become a professional DJ. With Virtual DJ, you can mix music, karaoke, or video. Currently, Virtual DJ offers you the ability to access tracks from its partner catalogs, including Deezer, SoundCloud, Beatport, Tidal, and Beatsource. Therefore, you can play millions of high-quality songs via Virtual DJ Tidal integration.

Option 7. Edjing
TIDAL and edjing Mix gives users the ability to import and mix tracks from their extensive music collection, favorite playlists, and the world's top charts. This Edjing Mix Tidal integration is now available on iPhone, iPad, and Android devices. The interface is simple to let you sync your tracks and load music from Tidal. It comes with lots of useful features like Pro DJ FX, Automix, Auto-sync and etc. to help to become a professional DJ.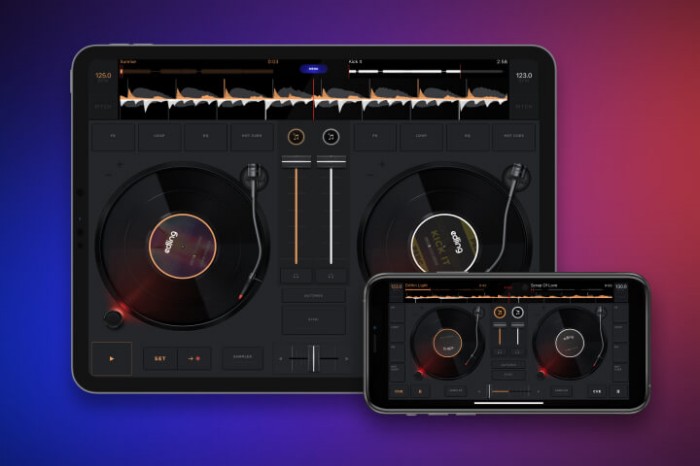 If wonder how to link Tidal to these DJ apps, you can check this page for more information.
---
Part 3 Best Way to DJ with Tidal on Any DJ Software
Thanks to the new beta features as well as the DJ Tidal integrations, we are now able to mix and DJ with Tidal without a problem. However, you're required to subscribe to Tidal Premium to get such features. Moreover, you cannot DJ with Tidal music offline. And for people who use other DJ apps that are unsupported by Tidal, it is still a tricky task to access and mix with Tidal music. I know some of you guys may get involved with these troubles, therefore, this part is going to make something amazing! That is, you can DJ with Tidal music offline on any DJ program without any hassle, and you even don't need a premium account at all.
Since Tidal music is encrypted with encoded DRM format to protect its copyright safety, it is impossible for us to keep Tidal music offline playable, let alone being transferred to other unsupported devices. So, the main task for us is to remove the DRM-protection format on Tidal and download Tidal tracks offline for multiple uses. Tunelf Tidal Music Converter is the best tool you want!
How to DJ with Tidal Music on Any DJ Programs
Tunelf Tidal Music Converter is a professional and powerful software for dealing with DRM-protected tracks on Tidal. It can help you to remove the DRM protection format on Tidal songs and convert them to six popular audio files. Tunelf supports MP3, WAV, M4A, M4B, AAC, and FLAC for you to choose from depending on your personal needs. Meanwhile, the conversion will not destroy the original music quality or the music info metadata like ID3 tags. You can manage your music library in one place together. To DJ with Tidal music, you'll only need three simple steps to get DRM-free Tidal songs downloaded. Here's the tutorial: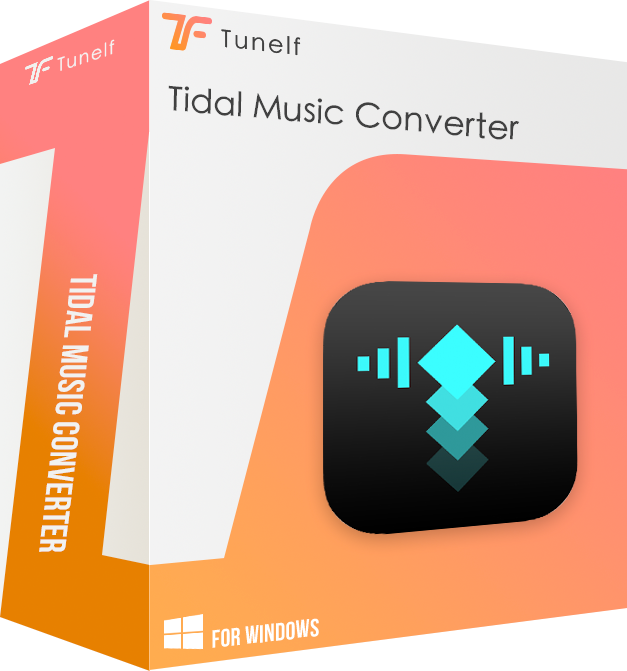 Key Features of Tunelf Tidal Music Converter
Download any Tidal content, including songs, albums, playlists, and artists
Support exporting Tidal music to MP3, AAC, FLAC, WAV, M4A, and M4B
Preserve a whole set of ID3 tag information in the downloaded Tidal songs
Handle the conversion of Tidal music up to 5× faster speed and in batch
Step 1. Select Tidal Music to Download
Tunelf offers free trial versions, but you can only convert 1/3 of your audio track. To get the full features, you're supposed to get registered. When you launch Tunelf, it will run Tidal at the same time. You can just choose a song by clicking Share > Copy Link and paste the link to the search bar, then click the Add + icon to load music files. The other simple way is to drag and drop the music tracks to the program.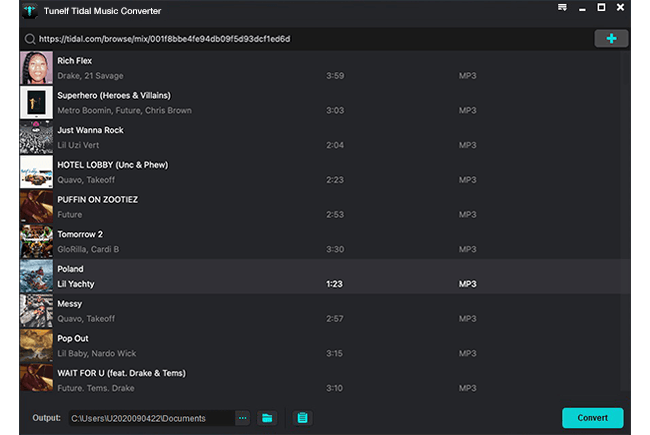 Step 2. Configure Output Audio Parameters
The second step is to configure the output audio parameters as you want. Go to the menu icon > Preferences > Convert to select the output format, bit rate, sample rate, and channel for personal needs. Here you can choose MP3 to convert as it is compatible with most popular players or devices.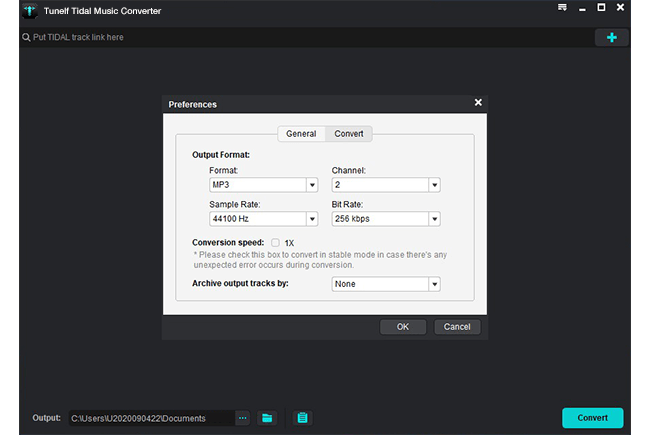 Step 3. Download DRM-free Tidal Tracks Offline
After setting the formats, you can click the Convert button to start the conversion. It's no problem to convert a batch of music files. You only need to wait for a short time till it is finished. When the conversion is over, you can access the converted music files easily in your local folder by clicking the Converted icon.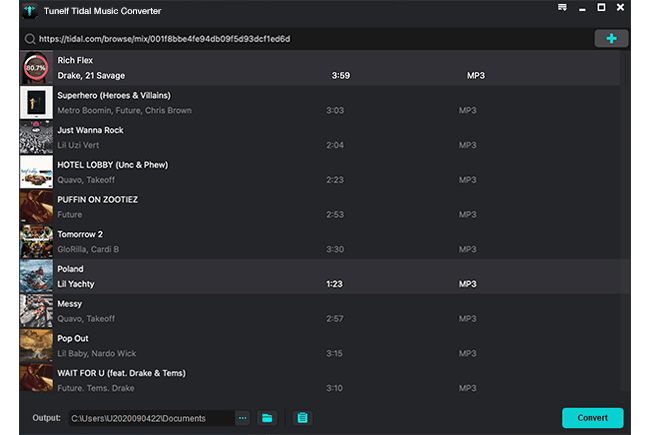 Once done, you can transfer the DRM-free Tidal music to any DJ app for mixing with no limits.
---
Part 4 FAQs: Tidal DJ Apps
Q1. How Can I DJ with Tidal via Tidal Live DJ Beta?
First, you should subscribe to the Tidal Hi-Fi Plus tier to sign up for Tidal Early Access Program. Then go to install the beta version of Tidal. Follow the above procedures in Part 1. to enjoy.
Q2. What Quality Can I Enjoy via Tidal Live DJ Beta?
You may now only listen to Tidal in DJ mode with AAC audio quality instead of high-fidelity audio sounds. According to Tidal, the DJ will hear the quality they selected (depending on their subscription tiers) while listeners will only hear the normal audio quality.
Q3. Is the Same When DJ with Tidal DJ Beta and DJ with Other Apps?
Don't get confused with two of them. Actually, they are quite different. The Beta version allows you to create "Sessions" and share time live with friends or Tidal subscribers worldwide. This is kind of like remote sharing. While Djing with third-party DJ integrations, Tidal allows users to access the whole music library from Tidal via these "professional" DJ apps for mixing.
---
Wrap Up
To DJ with Tidal music, this post shares the latest method with you. You can sign up to enjoy the beta feature of Live DJ on Tidal. Or you can choose to mix Tidal music with 7 popular DJ apps, they are all compatible with Tidal. But to get a better performance of mixing, a Tidal Music downloader or converter is required. You can try Tunelf Tidal Music Converter!
---
---