Tidal Web Player is designed by Tidal, one of the spectacular music streaming providers, which allows you to stream Tidal Music online without installing the app. As the first service to offer hi-res audio streaming, Tidal holds a marketplace for enjoying Hi-Fi or Master quality sounds among audiophiles worldwide. Besides, accessing the music from mobile and desktop applications, you can also stream Tidal online via its web player. Some people who are not willing to download extra apps would like to use this way to listen to Tidal music.
However, do you how to use Tidal Web Player? Can we download Tidal music from the web player? And are there differences between Tidal Music Web Player and applications? Don't worry. Let's take a closer look at these features in the following paragraphs.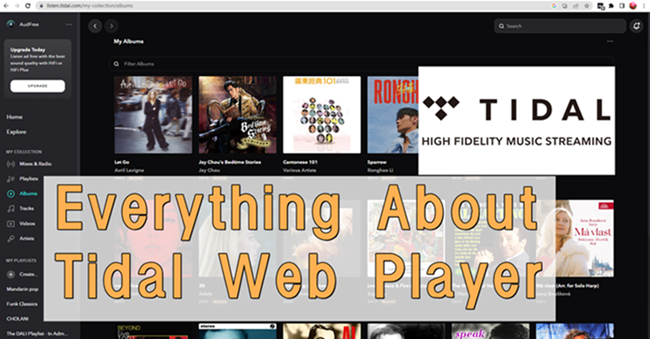 ---
Part 1 A Review About Tidal Web Player
What do you know about streaming online via browsers? For those people who don't know it thoroughly, this part will offer more useful information here.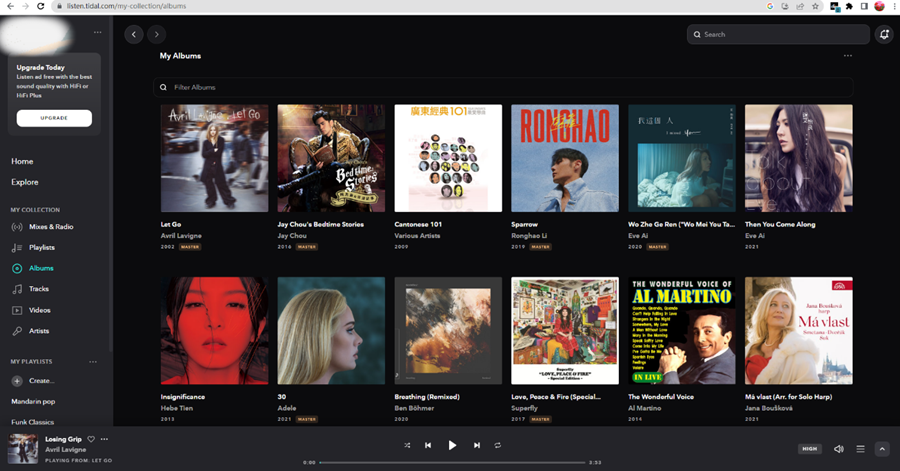 What Is Tidal Web Player?
With access to more than 80 million tracks and 350,000 music videos, Tidal claims to offer the best audio quality for the listening experience. Initially launched in 2014, Tidal Web Player as well as applications on mobile and desktop devices works fine. And in 2015. By adopting the principle of offering the best music streaming service to people around the globe, it cooperated with many famous artists to earn more promotion and the artist-centered philosophy won favor.
Tidal Web Player is in the dark theme and gets partially departed into several simple and clear UI interfaces. You can browse and stream music, playlists, and artists through the web browser with ease. Tidal offers three different subscription plans for you to choose from on the web version, including Tidal Free, Tidal Hi-Fi, and Tidal Hi-Fi Plus. Tidal Free allows you to listen to songs on demand with ads and other limited features.
To enjoy Hi-Fi and even Hi-res audio files on Tidal, you'll have to pay $9.99 or $19.9 monthly for Tidal Hi-Fi and Hi-Fi Plus plan. Tidal provides you with two types of audio files – Hi-Fi and MQA. But it is noted that you can't get MQA audio quality when using Web Player on Safari or Microsoft Edge browser. And you're limited to downloading songs from Tidal Music Web Player.
Tidal Web Player VS Desktop: Audio Quality
When it comes to the differences comparing the Tidal desktop app and its web player, many people are curious about the streaming quality. Is it the same to stream on a web player and on a desktop app? Not the same. Tidal offers Hi-Fi and MQA quality while you may only stream with up to 1411 kbps quality on some web versions of Tidal. The MQA sound quality, aka Master or Studio quality, is only available on desktop apps. It is the RAM that leads to the difference. As lossless hi-resolution sounds need more RAM to proceed and load, web players and mobile phones cannot load such big-sized data simultaneously.
---
Part 2 How to Download Music from Tidal Web Player
Here in the following parts, we're going to share with you how to use and stream Tidal Music on Web Player. In terms of download, the disappointing truth is that you can't download through Web Player, but only in applications. Accordingly, we offer you the best solution as an alternative workaround.
2.1 How to Stream Music from Tidal Web Player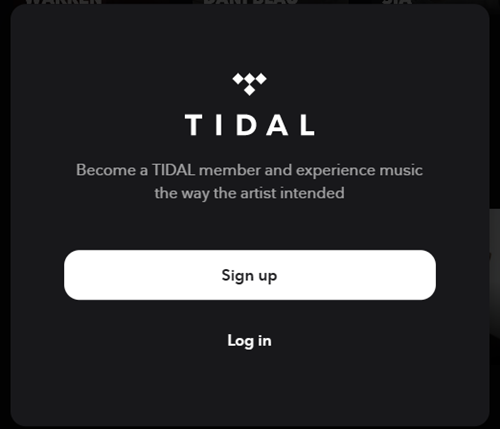 It's simple to play Tidal Music on the Web Player. Just follow these steps to log in to Tidal Web Player.
Step 1. Search for "Tidal Web Player Login" or go to https://listen.tidal.com/ from any of your browsers.
Step 2. It will pop up a page to ask you to Sign Up or Log In.
Step 3. Create an account if you're new here or enter your account credentials to log in.
Step 4. Now you can browse the Tidal Music library and find your favorite songs or playlists to listen to.
2.2 Best Tool to Listen to Tidal Music Offline Without Limits
When streaming Tidal music online, people are wondering how to download Tidal music offline for playback. In some cases when you don't have a good network connection, streaming music online seems to be not so good. Except that, if you want to download Tidal Music for playing offline, a premium account is required. Besides, since Tidal songs are encrypted with DRM protection format, you're not allowed to stream them on multiple players or platforms, which bring much inconvenience to us.
Luckily, here you met with this passage. Let me introduce a great tool to you – Tunelf Tidal Music Converter. Tunelf Tidal Music Converter for Windows is a professional and powerful software for downloading and converting Tidal Music files on a PC. It is applicable for all Tidal users, including Tidal Free, Tidal Hi-Fi, and Tidal Hi-Fi Plus. With this tool, you can download Tidal Music offline and convert them to several popular audio formats like MP3. Plus, with cutting-edge technology, you can keep the original lossless quality and info metadata as well as ID3 tags after conversion. Thanks to 5x faster conversion speed, you can download songs or playlists in batches. Check how to download Tidal music with Tunelf software below.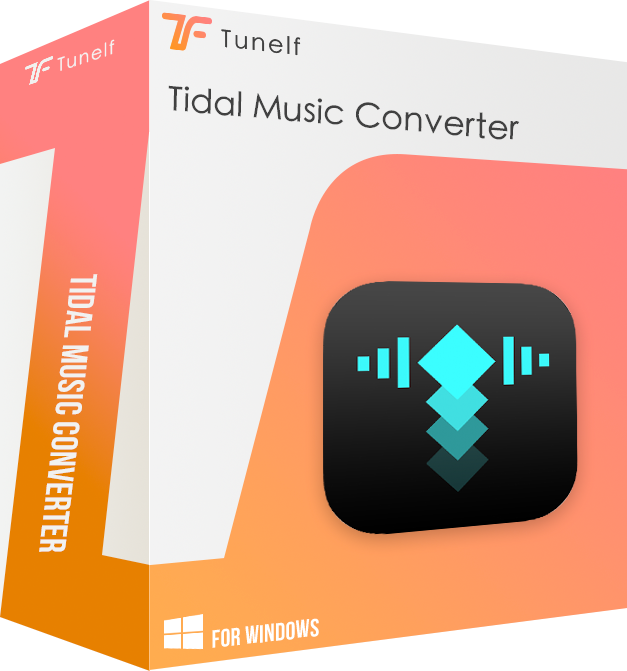 Key Features of Tunelf Tidal Music Converter
Download any Tidal content, including songs, albums, playlists, and artists
Support exporting Tidal music to MP3, AAC, FLAC, WAV, M4A, and M4B
Preserve a whole set of ID3 tag information in the downloaded Tidal songs
Handle the conversion of Tidal music up to 5× faster speed and in batch
Step 1 Import Tidal Music to Tunelf Program
Tunelf software offers your free trial version, but you can only download and convert 1/3 of your Tidal track if not purchased. Thus, you'd better get registered and make a purchase to enjoy the full features. When you launch Tunelf, the Tidal desktop app will automatically run as well. Now go to My Collection to select a song or playlist to download. You can simply load files by a copy & paste or a drag & drop.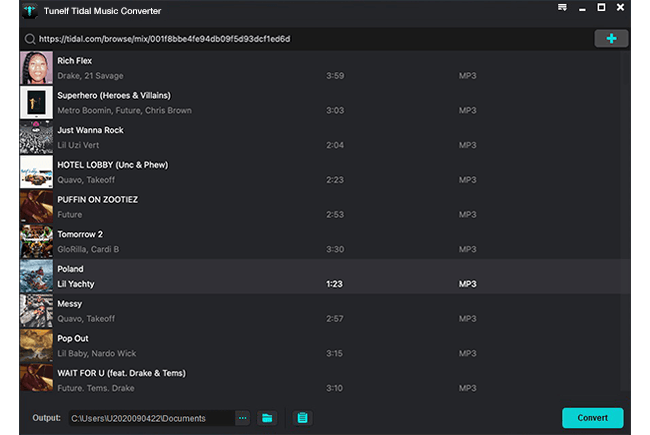 Step 2 Adjust the Output Audio Formats
After importing, you can set the output audio parameters on demand. Click the menu bar at the top right corner and select the Preferences option. There are some audio parameters, such as the output format, bit rate, sample rate, and channel you can personalize. To listen to Tidal on more devices, here you can choose MP3 as the output audio format.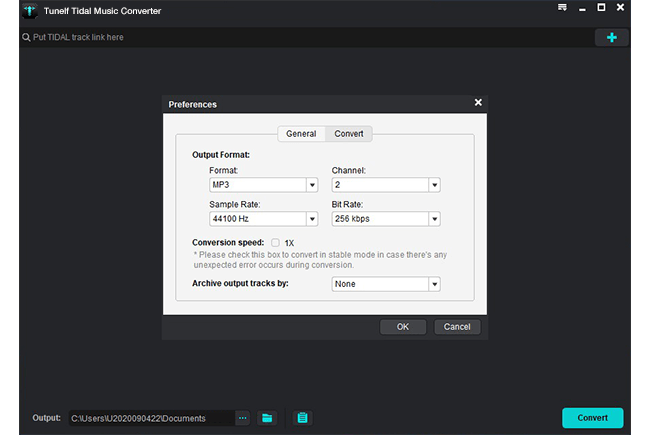 Step 3 Download DRM-free Tidal Tracks Offline
Now confirm your settings, you can click the Convert button to start the conversion of Tidal music. The converted Tidal music will be saved to the default folder or the folder you set in Step 2. Finally, you can click the Converted icon to open the history list where you can browse the converted Tidal music.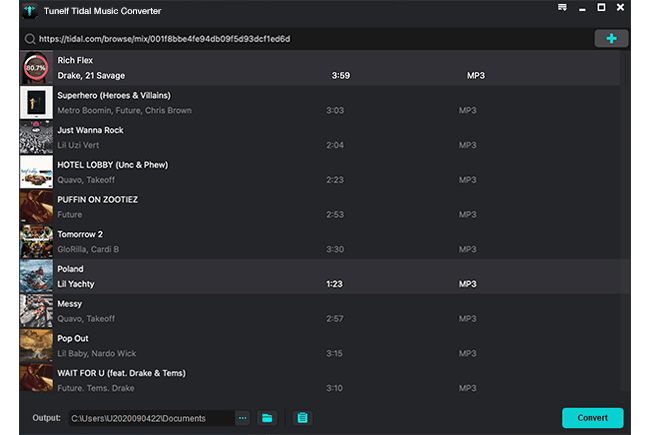 ---
Part 3 Troubleshooting: Tidal Web Player Not Working
"Web version does not work on any browser. I wanted to try Tidal, but I can't use it in the web player. someone solved this problem?"
Some people have reported that they are having issues using Tidal on web browsers. In order to solve the Tidal Web Player not working, here are some tips for you to try.
Method 1 Change A Web Browser to Use
Some people may encounter this case: when you open https://listen.tidal.com/ on your browser and receive a notice saying – The Tidal Web Player is not supported in this browser. Switch the browser or press the button underneath to download the Tidal desktop player. In this case, the simple fix is to change a web browser to try to access the Tidal web version.
Method 2 Check Your Internet Connection
One crucial factor is the internet speed. Since we need a stable and fast network to load data and stream Tidal songs, it is vital to ensure your network availability. When the Tidal web player not loading and you see a network failure, it's possibly due to this reason. Now just reset your network and switch to another workable Wi-Fi connection.
Method 3 Update Your Browser
The next fix available for you is to check your browser's update. Some older web browsers need to be updated to be compatible with Tidal Web Player. So, if you haven't updated your browser for a long time, go to update it at once. Here is how to update the browser with Google Chrome as an example.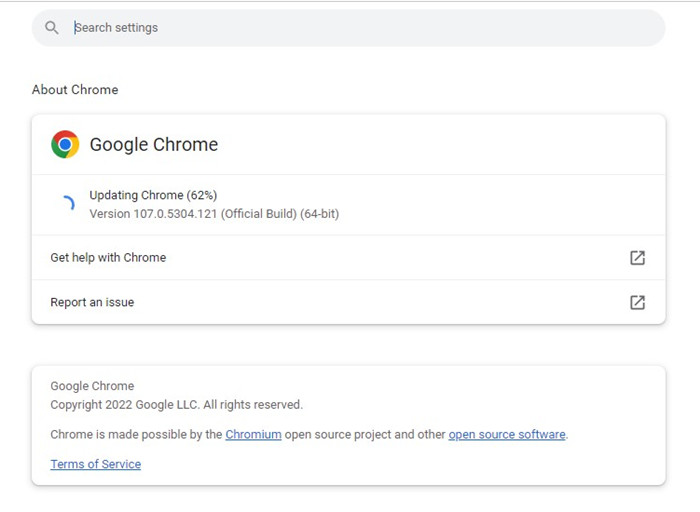 First, open the Chrome browser and click on the three-dot icon located at the upper-right corner to open the menu. Second, in the drop-down menu, select Help > About Google Chrome. It will automatically check the updates of your Chrome. If there is, you can see the Install Now or Relaunch button, and click it to update.
Method 4 Clear Browser Caches or Cookies
Sometimes, cookies and cache data can result in errors like the Tidal web player not working. So, if your Spotify web player fails to work, then you can try resolving it by clearing cookies or cache data on the browser. Here shares how to clear browsing data on your Google Chrome. First. Launch the Chrome browser on your PC, then click on the profile icon at the top-right corner. Next, go to Settings and click on Privacy and security. Here you can clear your browsing data on Chrome browser.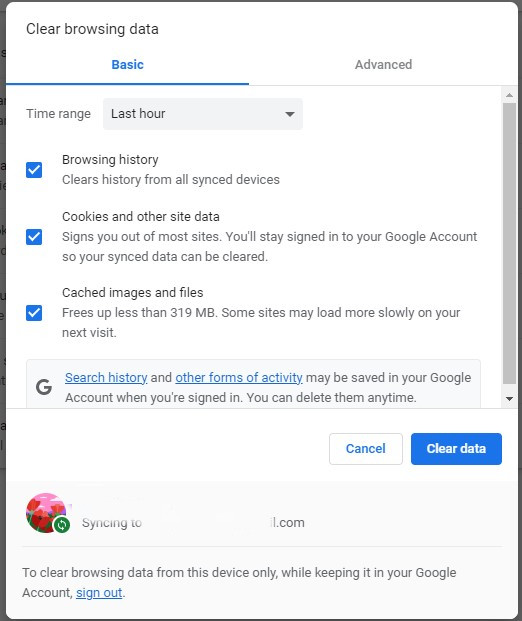 Method 5 Enable Protected Content Playing on Browsers
If you receive the error message that playback of protected content is not enabled, then you may need to check and enable protected content playing on your browsers as follows:
On Chrome: Enter chrome://settings/content in your browser address bar. Under protected content, turn on Allow site to play protected content from Tidal.
On Firefox: Enter about: preferences#content in your browser address bar. Under DRM content, turn on Play DRM.
On Edge: Go to Microsoft download center and select your language then click Download. Choose your platform and click Next to enable the web player.
---
In Conclusion
Tidal is an excellent app for streaming high-resolution sounds, and you can also access Tidal songs within Tidal Web Player on any browser. While the sound quality may be different when using desktop and web versions. To download and enjoy Hi-Fi quality Tidal Music offline and stream them whenever you want, here is the tool that you can't miss – Tunelf Tidal Music Converter. Click the download link below and have a try then!
---
---