Sony PlayStation 5 has been released in America since November 2020. It is an upgraded version of PlayStation 4. Compare to PS4, Sony's newest platform, the PS5 has superseded the PS4 Pro as the company's most powerful offering. With a more powerful CPU, GPU, and an inbuilt NVMe SSD, the gaming experience is greatly improved. One of the most prominent entertainment features of PS5 is that you can enjoy your Netflix and Spotify music on it. Amazon Music is also a popular streaming platform. Sadly, Amazon Music still doesn't have a partnership with PlayStation 5. Fortunately, until the official partnership announcement comes out, we can play the Amazon Music playlist by converting Amazon Music to MP3. Don't worry, we will introduce the best method to play Amazon Music on PS5.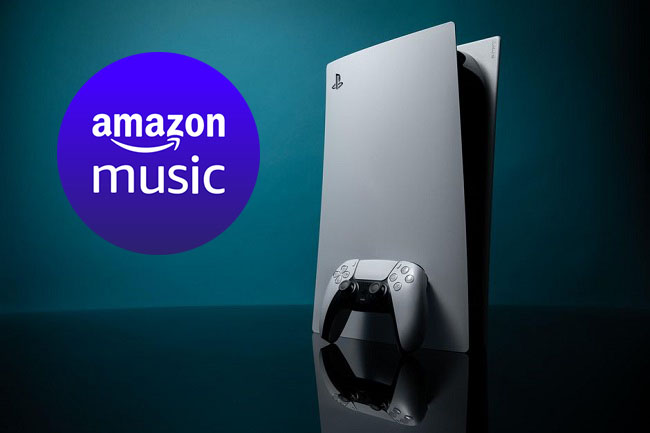 ---
Part 1. FAQs about Amazon Music on PS5
In case you may be overwhelmed by huge quantities of online information, here we collected some frequently asked questions as follow.
Q1. Is Amazon Music on PlayStation5?
A: No, there is no official news released about the integration of Amazon Music and PlayStation5. Even though you can't directly access Amazon Music on PS5, you can draw support from Tunelf Amatune Music Converter to download PS5-supported songs from Amazon Music, and then transfer them to PS5.
Q2. What type of audio formats does PlayStation5 support?
A: The PS5 is compatible with FLAC, MP3, and AAC. Moreover, it will not play copyright-protected music files, like downloaded Amazon Music files which are protected by DRM.
Q3. Can I get Amazon Music on PlayStation5 via a web browser?
A: No, the PlayStation5 doesn't have a dedicated web browser like PS4. You can stream Amazon Music on PS4 via a web browser, but this way can't work on PS5.
Q4. What music streaming services are available on PlayStation5?
A: Only Spotify and Apple Music that PS5 supports officially.
---
Part 2. How to Make Amazon Music Compatible with PS5
Amazon Music files are not allowed to be played on other devices due to the encryption feature of the streaming service. Even if you are a premium user, you can only play Amazon Music offline in the Amazon Music application. PS5 allows users to transfer their local audio on it by USB drive. So, you can try to convert your Amazon Music to MP3 to be compatible with PS5.
Fortunately, you can use a third-party tool to convert Amazon Music to MP3, and then stream them to your PS5 for offline playing. Tunelf Amatune Music Converter is a shortcut for you. It is a professional Amazon Music downloading and converting tool. You can use Tunelf to download and convert Amazon Music to MP3, AAC, FLAC, and other popular formats without much effort. It will also maintain the high quality of Amazon Music and the ID3 tags will be preserved. The faster conversion speed can help you download an album in a few minutes.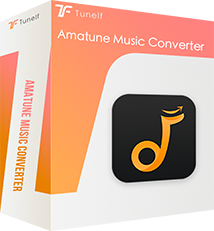 Key Features of Tunelf Amatune Music Converter
Download songs from Amazon Music Prime, Music Unlimited, and HD Music
Convert Amazon Music songs to MP3, AAC, FLAC, WAV, M4A, and M4B
Handle the audio conversion of Amazon Music at a faster speed of 5×
Ensure the output audio quality while retaining ID3 tags and metadata
We will show you how to download and convert Amazon Music to MP3 with Tunelf through the detailed guide below.
Step 1 Upload Amazon Music to Tunelf
Click the link above to select and download the correct version of Tunelf Amatune Music Converter on your computer. Then, open the Tunelf program and it will launch the Amazon Music app simultaneously. Log in to your Amazon account to access your library. Then share the song or playlist you want to obtain the link. Copy the link to Tunelf and click the + icon to upload it. Alternatively, you can drag the track or playlist to the software.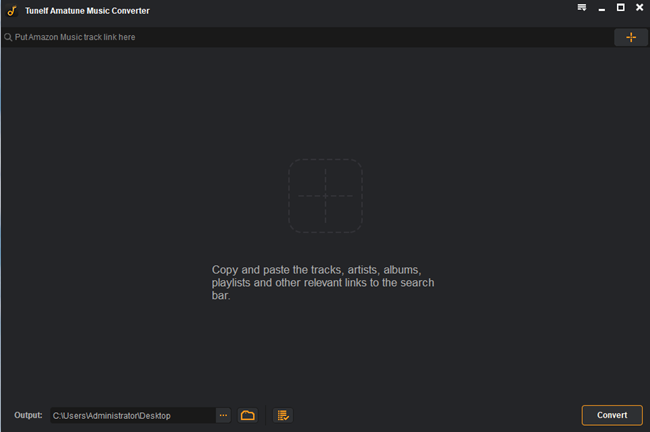 Step 2 Adjust Output Format and Parameters
Now, on the top right corner, click the Menu bar to pick the option that states Preferences. Next, switch to the Convert tab, and arrange MP3, FLAC, or AAC as the output format. Also, you can adjust some parameters like channel, bit rate, and sample rate. Don't forget the OK button to save the changes. Before conversion, if you prefer a certain output folder, then change the output location for the converted songs by clicking the Output panel on the bottom left corner.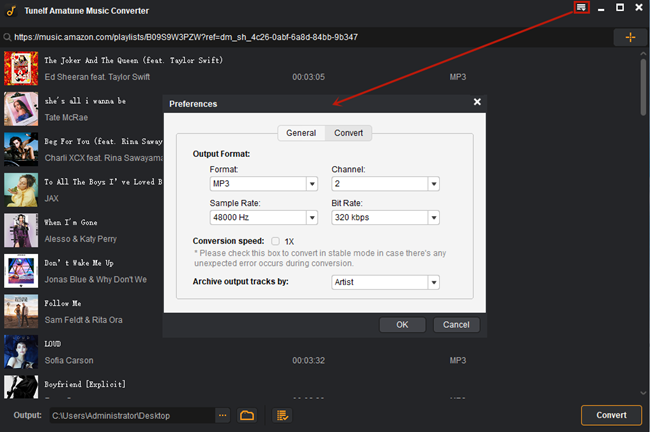 Step 3 Start the Process of the Conversion
Confirm the songs loaded in the window. Now click the Convert button on the bottom right corner, and Tunelf Amatune Music Converter will download and convert the Amazon tracks at a fast speed to the default folder or the location you set on your computer. You are allowed to see the converted music by clicking the Converted icon.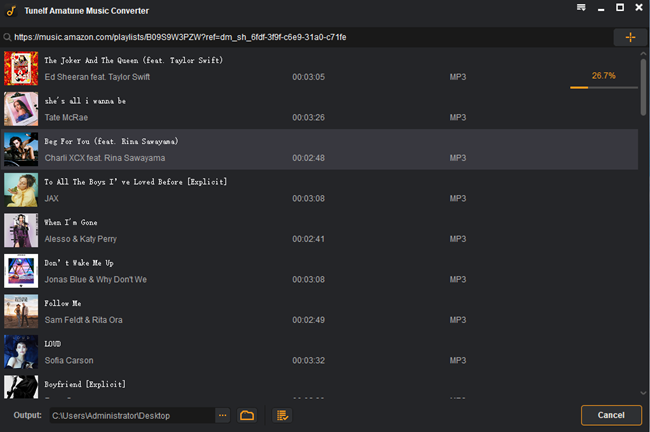 ---
Part 3. How to Listen to Amazon Music on PS5
Through the guide above, you may know how to convert Amazon Music to the PS5-supported format. The next step is to transfer Amazon Music to PS5 and finally stream Amazon Music on PS5. What you need is a USB drive.
How to Move Amazon Music Files to PS5
1) Plug your USB drive into a computer. Open the folder of the converted Amazon Music.
2) Create a new folder in your USB drive for the converted Amazon Music.
3) Copy and paste or drag and drop the converted Amazon Music to the new folder in your USB drive.
4) Unplug your USB drive from your computer.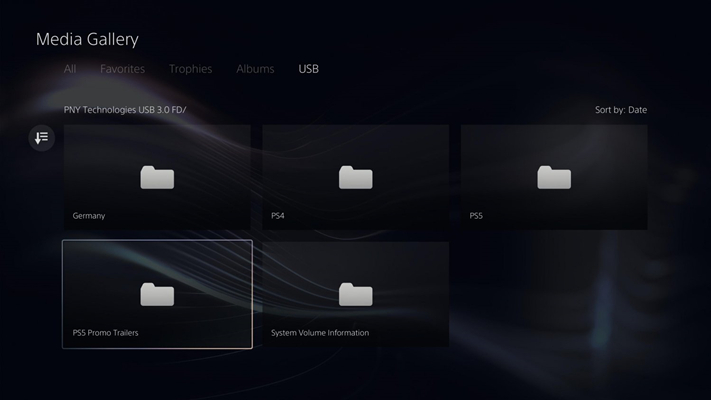 How to Play Amazon Music on PS5
1) Connect the USB cable to PS5.
2) To play audio, press the PS Button once to open up the Control Center quick bar.
3) Then select the Music icon. Here, pick any downloaded Amazon Music songs to start playing.
Music can be played in the background when you playing games. Once music is playing, you can pause it and change tracks right from the Command Center.
---
Wrap Up
Although PS5 has not yet announced whether it will work with Amazon Music, with the Prime Video application going live on PS5, I believe that day will come soon. But don't worry, now you can use Tunelf Amatune Music Converter to play Amazon Music on PS5. After you used Tunelf, you will be surprised to find that you can add Amazon Music to any device and application you like. Welcome to leave your comments about the article and the converter. We would love to reply to you for the first time.
---
---