Becoming a DJ is not a difficult thing nowadays, but to be a great DJ is not an easy thing. A great DJ should have good DJ skills, enough performance experience, and a rich music library. And the music library is the basis of all these factors. To satisfy users' needs, more and more DJ software has integrated with music streaming platforms, such as Spotify, Deezer, and Tidal. You may want to know how to DJ with Apple Music.
As one of the biggest streaming services, Apple Music has over 90 million songs, including playlists, podcasts, and albums. It is a great resource for getting music. If you want to know how to DJ with Apple Music, just follow this article and you will find the answers.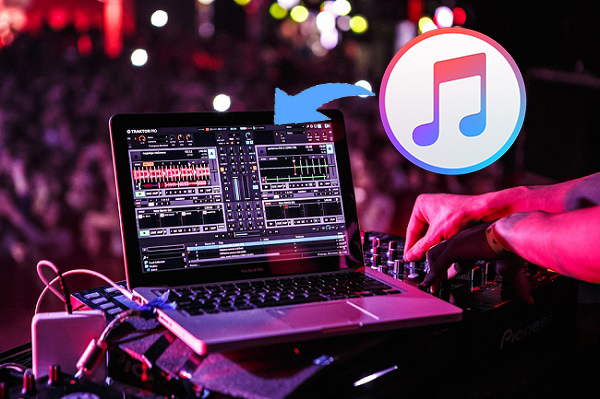 ---
Part 1. What DJ Apps That Work with Apple Music
To expand the music library of DJs, these days, much DJ software has built a partnership with streaming services. Musicians are allowed to use music from other streaming platforms which are convenient for adding music to mix. However, unlike other streaming services, Apple Music now only supports a few DJ apps, such as MegaSeg.
MegaSeg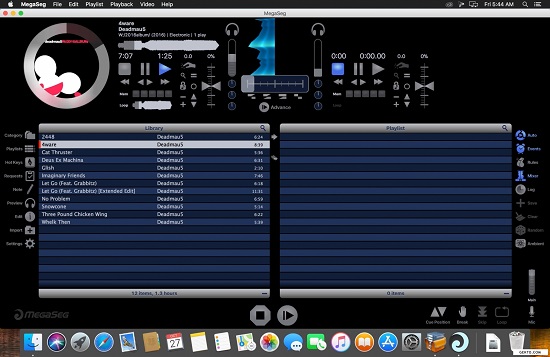 Fidelity Media's MegaSeg is a DJ application that takes a different approach to DJ software than its competitors. Instead of importing tunes from Apple Music, the program can operate the iTunes app on your macOS devices, including play, stop, cue, and a few other capabilities. It also supports additional DJ-related capabilities including looping, key locking, and pitch bending.
The flaw here is that MegaSeg can only play Apple Music that has been downloaded. So, you should plan your DJ sets ahead of time by downloading all of the Apple music you'll need to your devices via iTunes and then choosing them within MegaSeg to play. You also can't play two Apple Music tunes at the same time and transition between them. The other track will need to be from another music library outside of iTunes.
Note: MegaSeg is only working with macOS.
---
Part 2. How to DJ Apple Music with all DJ Software
Except for MegaSeg, there are many other professional DJ programs, like Serato DJ, Pioneer DJ, and Ableton Live. Sadly, Apple Music is not supported by these DJ apps. Due to the encryption of Apple Music, you can't import the downloaded Apple Music to other inauthoritative apps. To get Apple Music on other DJ apps, you'd need to convert Apple Music to a supported format of the DJ apps. Now you need a powerful audio converter.
Here Tunelf Audio Converter is your best choice. As a leading audio converter, it can decrypt the encoded Apple Music file and convert it into a universal file from MP3, WAV, FLAC, AAC, M4A, and M4B. With the advanced technology, Tunelf can convert and download Apple Music at 30 times faster speed with lossless quality. And the metadata of the music will be preserved, you can edit it as your need.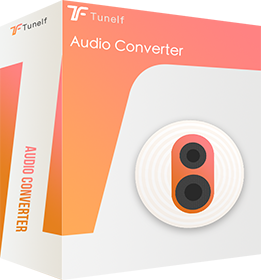 Key Features of Tunelf Audio Converter
Convert Apple Music to MP3, WAV, FLAC, AAC, and other audio formats
Remove DRM from Apple Music, iTunes audios, and Audible audiobooks
Preserve the converted audio with lossless audio quality and ID3 tags
Support the conversion of audio format at a 30× faster speed in batch
2.1 Guide to Converting Apple Music for DJ Apps
Make sure you have installed iTunes and Tunelf Audio Converter on your desktop. Here's the guide on how to convert Apple Music for DJ apps.
Step 1 Select Apple Music Songs You Need to Mix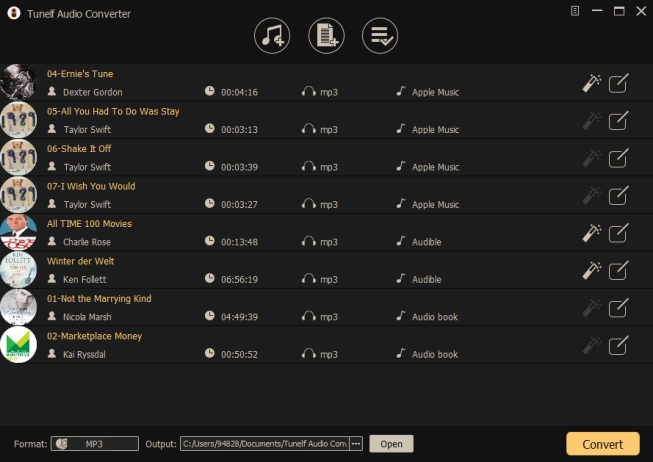 Double-click to open Tunelf Audio Converter on your desktop and the iTunes app will be launched at once. To add local Apple Music files from your computer, click the Add Files option in the middle. Click the Load in Library button to access your Apple Music library. You can also simply drag the downloaded Apple Music files to the Tunelf interface.
Step 2 Modify the Audio Parameters for Apple Music Tracks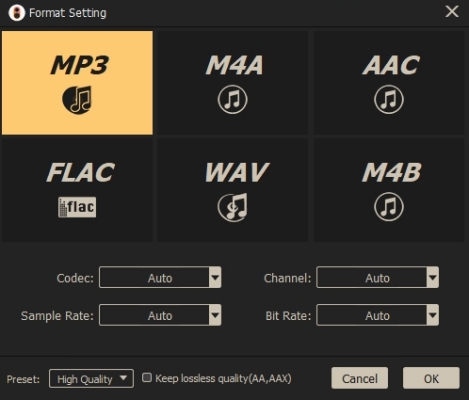 When Apple Music was added to the converter. You may rename the song's data, such as title, collection, specialists, and so on, by selecting the Edit icon. Then, under the Format box, make any necessary changes to the output quality. You may change the parameters such as codec, channel, and bit rate for DJing. We recommend that you pick MP3 as the output format here. Finally, click OK on the right to save your changes.
Tip: For better audio quality, you can also set 320kbps AAC as the output format.
Step 3 Remove the Encryption of Apple Music for DJ Apps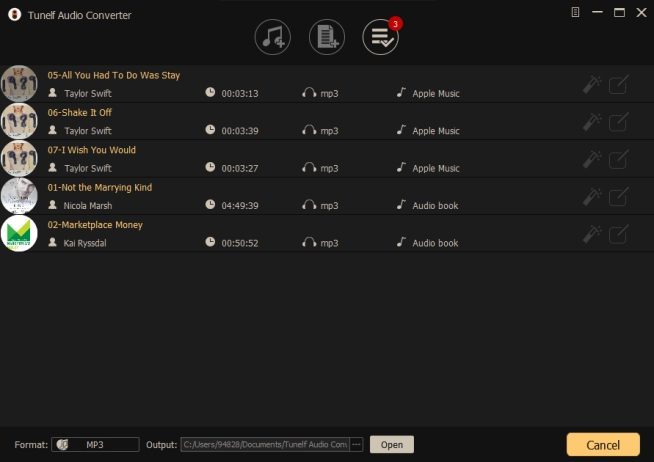 Finally, once you've imported the Apple Music tracks and saved all of your preferences, navigate to the right side and click the Convert button. Tunelf will begin converting the music to MP3 or any other format you set in batch. The audio will be saved to your Mac device's default location, and you can access the converted Apple Music tracks by tapping the Converted icon on the right. 
2.2 How to DJ with Apple Music on Any DJ Software
When your Apple Music is in an MP3 or WAV format, you can import the converted Apple Music files to any DJ app you like. Here is an example of adding Apple Music to Serato DJ.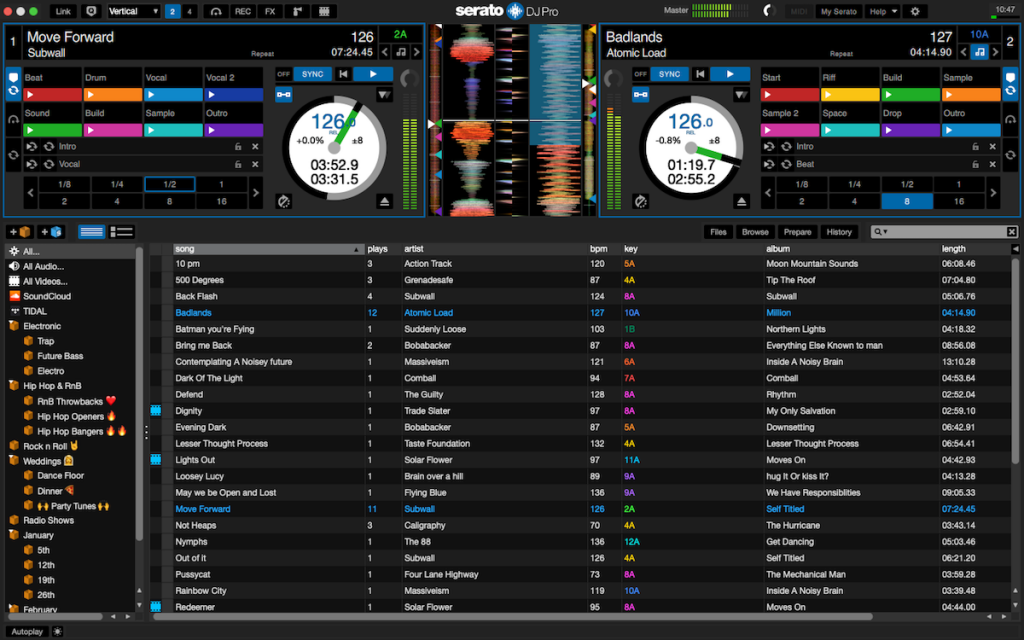 Step 1. Click the Files button to access the files panel. The left side of this window displays a list of locations on your computer's hard disk. To find your music, navigate your computer by clicking on these sections.
Step 2. Once you've located your music, drag the folder or files you want to import into the All… button. This is at the top of the crates and playlist window on the left side of your screen.
---
Part 3. Hit DJ Software You Should Know
There're many excellent DJ tools on the internet for you to choose from. To become a professional DJ, you should be familiar with the popular DJ software and choose the best for you. Here we collect some famous DJ programs for you.
Serato DJ
Serato DJ is one of the most popular DJ software which rising from New Zealand and it costs $149 or $9.99 per month for a subscription. It is easier to learn how to mix with, making it ideal for a newbie. You can get everything from the essential filters, echos and delays, to complex and creative noise synths, dubbed out tape echos, and retro 8-bit audio-bending effects.
djay Pro is a fantastic piece of digital music mixing software for all music fans. It includes a comprehensive toolset for DJs of all skill levels. djay Pro is designed specifically for your smartphone and interacts smoothly with your music collection, allowing you fast access to millions of tunes. Spotify has been incorporated into this software. This DJ program has a lot of capabilities, such as the ability to play live, enable Automix mode, and record mixes on the go.
VirtualDJ is audio and video mixing software released by Atomix Productions for Microsoft Windows and macOS. You may combine the various components of your tracks in real time. This allows for new techniques of mixing that were previously unthinkable, and will permanently alter the way DJs mix.
---
Part 4. FAQs: DJ with Apple Music
After reading the above paragraphs, you got to know the methods of how to DJ with Apple Music. In this part, I'm going to discuss some frequently asked questions. Check below if you're in need.
Q1. Can I DJ with Apple Music?
Unfortunately, now many major DJ apps like Serato DJ and Traktor do not support mixing with Apple Music. Still, there are a few apps you can try like MegaSeg. And to import to other DJ software, try the tool that I shared above.
Q2. Is It Legal to DJ with Apple Music or iTunes Music?
It is known that streaming content like Apple Music is protected by copyrights. Since Apple Music is strictly restricted by the DRM agreement system, it is not allowed to rip audio files from Apple Music, nor upload them or create CDs. It is also prohibited to use the tracks for commercial purposes. Well, it's okay to listen to and DJ the songs you've purchased at home. That is to say, you can take it as a practice to mix with Apple Music by using DJ apps, but only limited to personal usage. It is not recommended to use it for professional DJ work.
---
Summary
Although Apple Music only supports a few DJ software now. But you can use Tunelf Audio Converter to convert Apple Music for the DJ apps you like. Tunelf also supports converting Audible audiobooks in MP3 and you can split the audio into chapters. If you are interested in Tunelf Audio Converter, you can click the download button to try it now.
---
---