After all, Apple's Logic Pro is one of the world's ridiculously powerful, and seriously creative music production software. In fact, it is one of the known DAWs, offering all the power you need in controlling and transforming sounds into anything you need. So the question is: is it possible to add Spotify music into Logic Pro for editing?
On the flip side, Spotify is a home of music – a huge catalog that might serve your entire lifetime music need. It is an ideal place to find enough music that matches the power of Logic Pro. The only means one thing. Using Spotify with Logic Pro is a combination that can create a dynamic way to create and arrange beats in real-time.
But how to import Spotify music into Logic Pro for mixing new tunes? The process to reach this combination of Spotify and Logic Pro entails only two processes: convert Spotify music to a playable format, then add Spotify songs into Logic Pro. Here's a quick and easy guide on how to download Spotify music to Logic Pro for use.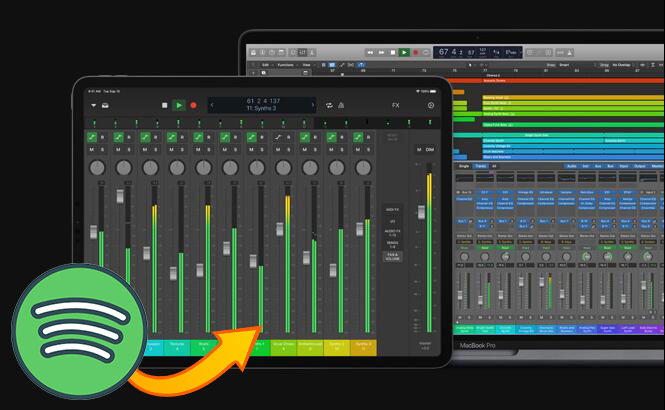 ---
Part 1. Spotify & Logic Pro: What You Need
Logic Pro is a digital audio workstation and MIDI sequencer software application only for Mac users. After Ableton Live, it is the second popular DAW that provides software instruments, audio effects, and recording facilities for music synthesis. However, it doesn't support accessing music resources from any music streaming platforms, including Spotify and Apple Music.
Certainly, you might be wondering why it is impossible to use Spotify with Logic Pro even after downloading music from Spotify with a premium account. It is because Spotify uses special encryption technology to protect its music resources, which prevents users from using the music on other platforms directly.
So, to integrate Spotify songs to Logic Pro, you first need to convert Spotify songs to a format compatible with Logic Pro by using a third-party tool. That's where Tunelf Spotify Music Converter comes in handy. It is a powerful Spotify downloader and converter targeting both Windows and Mac users to download Spotify music for offline listening – even when you have a free Spotify account.  Here's a highlight of things you'll achieve with the tool.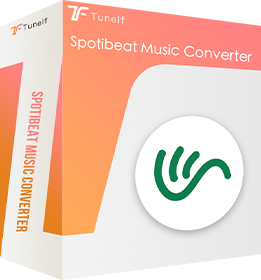 Key Features of Tunelf Spotibeat Music Converter
Download Spotify playlists, songs, and albums with free accounts easily
Convert Spotify music to MP3, WAV, FLAC, and other audio formats
Keep Spotify music tracks with lossless audio quality and ID3 tags
Remove ads and DRM protection from Spotify music at a 5× faster speed
---
Part 2. How to Extract MP3 from Spotify on Mac
You can use the Finder on Mac to upload compressed audio files into a Logic Pro project. The file types include MP3, Apple Lossless, AAC, WAV, and AIFF. With Tunelf software, you can download and convert Spotify music to MP3, AAC, or WAV for use. That said, here's a step-by-step guide on how to save Spotify songs in the format of MP3 using Tunelf software.
Step 1 Drag Spotify songs to Tunelf interface
By default, starting Tunelf Spotibeat Music Converter initiates the Spotify app. So head over to Spotify and select songs, albums, and playlists you desire. Then right-click the item you desire on Spotify and copy the URL of the track or playlist to the search bar on the Tunelf interface. Alternatively, you can drag and drop your favorite songs from Spotify to the Tunelf interface.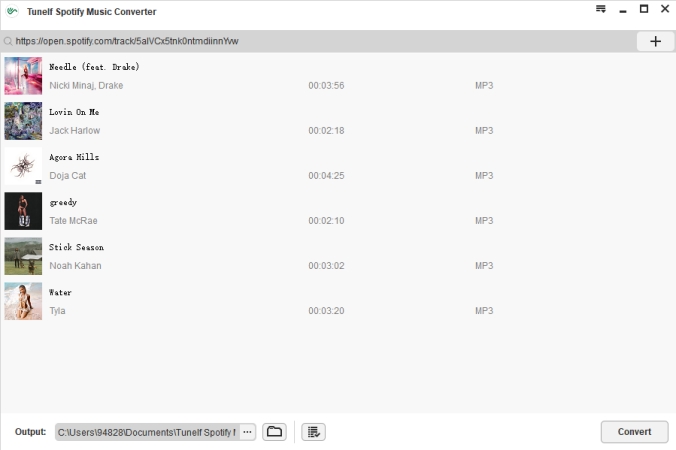 Step 2 Configure the output parameter for Spotify
After adding your favorite items to the Tunelf app, just select the output format. Head over to the menu tab and choose the Preference option. Then you will see a pop-up window where you can set the output format. There are six audio formats for you to choose from, and you could select one. For better audio quality, just adjust the bit rate, sample rate, and channel.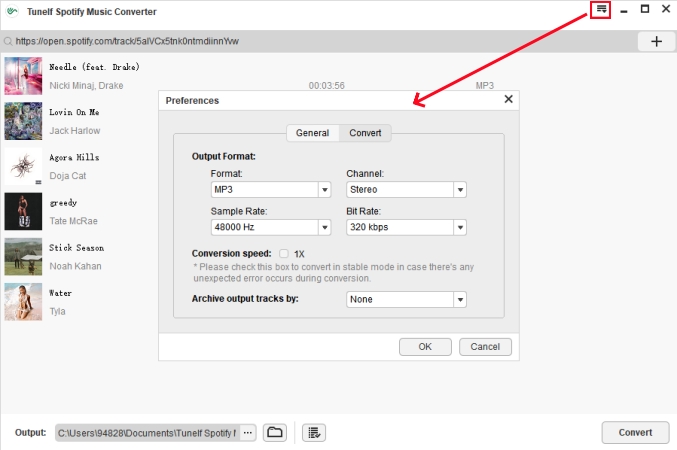 Step 3 Start to download music from Spotify to MP3
Finally, initiate the download and conversion by clicking the Convert button. After some minutes, Tunelf app will save them to your computer, and you'll have Spotify music in a format compatible with Logic Pro X. But here is the next question that brings everything into perspective: how to add Spotify tracks to Logic Pro X after the process. And the next part is a definitive guide.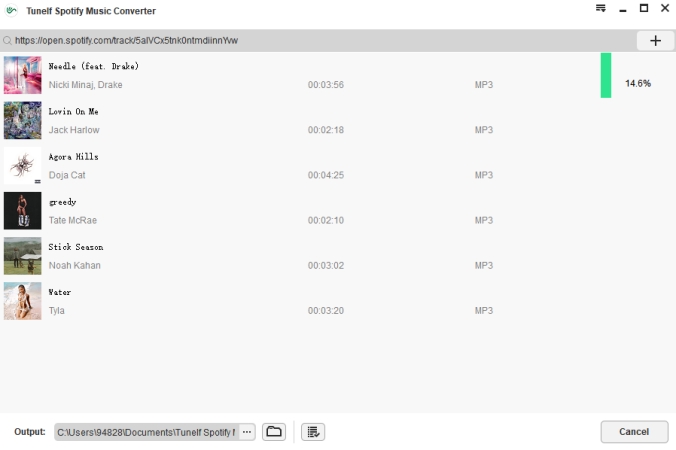 ---
Part 3. How to Upload Spotify Music into Logic Pro
The next step after completing the conversion is importing Spotify music to Logic Pro. Then you can bring DJ-style effects to those songs. You can add an audio file to your project in Logic Pro directly. Here's how to add Spotify audio files in Logic Pro.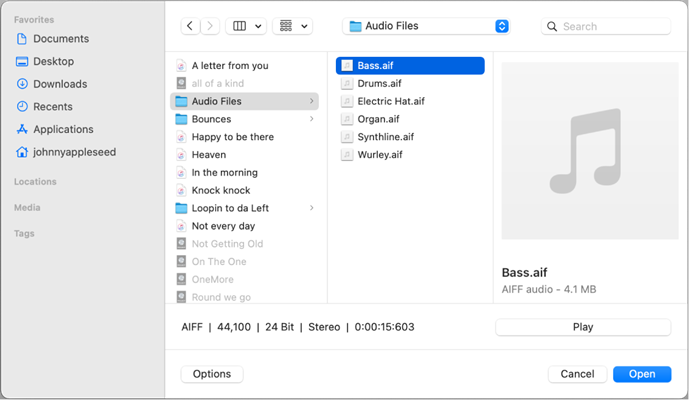 Step 1. Start by activating Logic Pro on a Mac then go to add audio tracks from the Tracks area.
Step 2. To import audio files, you can choose File > Import > Audio File. Or you can click the Import Audio button in the toolbar.
Step 3. In the pop-up window, locate the folder where Spotify music files are stored and select the audio file you want to add.
Step 4. Select an audio file you want to add and click the Open button to add it into Logic Pro.
Now the selected audio file is added to the Project Audio Browser. Then you're set to transform sound into a sophisticated variation with a range of creative functions from Logic Pro.
---
Part 4. How to Sync Spotify from iTunes & GarageBand to Logic Pro
Apple's GarageBand comes installed on Mac computers. As another application built on Logic's audio engine, it allows you to sync music to Logic Pro. So, you can use GarageBand to sync Spotify music to Logic Pro. Alternatively, you can add Spotify music to Logic Pro X using iTunes — a utility that allows managing music.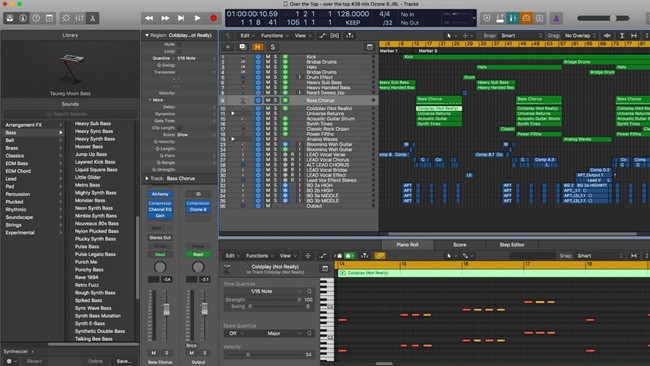 Use GarageBand to Upload Spotify Music into Logic Pro
Step 1. Open the GarageBand utility and add your local Spotify music files from your computer to GarageBand.
Step 2. Next, start the Logic Pro app and open or create a project.
Step 3. Then tap on the Browser icon on the top right and select the Audio option to locate your Spotify music folder.
Step 4. Click on the folder to use Spotify music with Logic Pro.
Use iTunes to Add Spotify Music into Logic Pro
Step 1. Launch the iTunes app, then drag a playlist from Spotify you've downloaded using Tunelf software to the iTunes library to execute importation.
Step 2. Next, open the Logic Pro app and create or open a project.
Step 3. Then, tap the Browser icon on the top right corner of the Logic Pro app to open two media-importation options.
Step 4. Select the Audio option, locate the Spotify playlist you uploaded on iTunes and select it to upload it to Logic Pro.
---
Conclusion
If you were wondering about how to use Spotify with Logic Pro, you should be familiar with it by now. And it is easy – all you need is to download Spotify music to a format compatible with Logic Pro and then upload the music files to Logic Pro. Better yet, Tunelf Spotibeat Music Converter gives you the chance to save Spotify songs to the format required by Logic Pro. Then you can freely upload those music tracks into Logic Pro for remixing and creation.