As a music streaming platform, Spotify is striving to provide great service for its users. There are 50,000+ hours of content uploaded to Spotify every day. So you can find various genres of music from all over the world. For music lovers, Spotify is home to a variety of tracks for mixing and djing.
It's time to initiate Spotify DJ Mode. No matter whether you want to DJ at a party or enjoy some music tracks at home, Spotify DJ Mode enables you to experience your favorite music with ease. How about the ability to DJ with Spotify music? In this guide, we'll show you how to DJ with Spotify even though there is no DJ software that works with Spotify.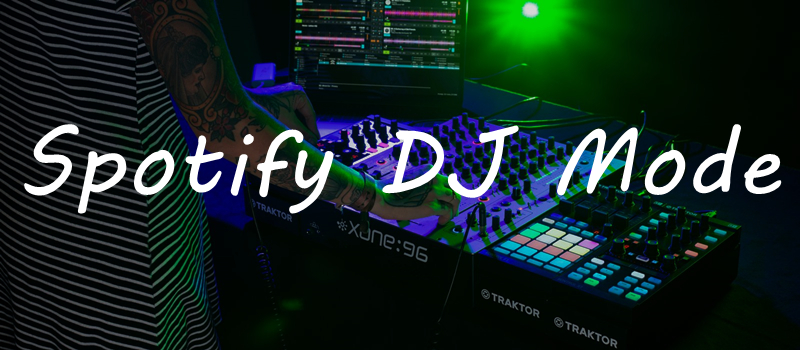 ---
Part 1. What is Spotify DJ Mode
What is Spotify DJ Mode? Spotify DJ Mode means that you can play songs in a playlist seamlessly. It is not the same thing as Djing with Spotify. So, under Spotify DJ Mode, you only can enjoy a simple music party at home. If you want to play and remix multiple tracks from Spotify in real time, you do need the help of those DJ programs.
However, for crossfade songs or beat matching, Spotify DJ Mode can meet your demand. At house parties and simple events, you can easily achieve a great experience of listening. So, how to use Spotify DJ Mode to play some music on Spotify for you? In the next part, we'll teach you how to use this mode.
---
Part 2. How to Use Spotify to DJ at a Party
There are two methods to help you use Spotify DJ Mode to start a party with your friends or to enjoy music while you're alone at home.
Method 1: Set up a Group Session on Spotify
Group Session is a new feature that only allows premium users in the same vicinity to share DJ duties. By setting up a Group Session, you are able to have a party-like mode to listen to Spotify music with your friends even though you are in an indifferent place.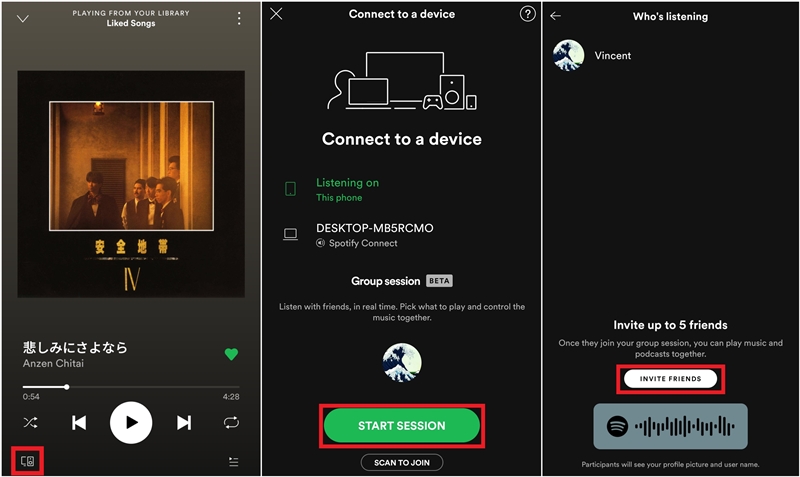 1) Open Spotify on your iPhone or Android phone and then select a playlist to play.
2) Touch the Connect icon at the bottom of the screen.
3) Under Start a group session, choose the START SESSION option.
4) Tap INVITE FRIENDS and send the invite link to your friends to invite them to join your party.
See More: Spotify Group Session: How to Host a Remote Listening Party
Method 2: Use built-in Spotify DJ Mode
Crossfade is a classic Djing technique that allows you to switch the upcoming track without any gap in the audio. So, you are able to use the feature of Crossfade songs to initiate Spotify DJ Mode with the following steps.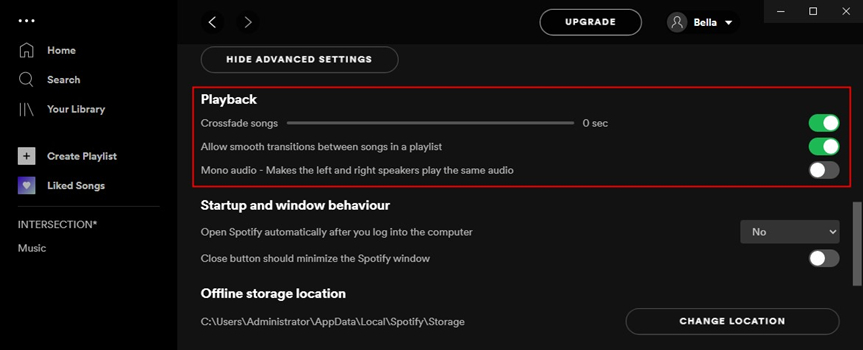 1) Launch Spotify on your computer then sign in to your Spotify account.
2) Click the profile picture and then select Preferences from the drop-down menu.
3) Scroll down to the bottom of the app and click SHOW ADVANCED SETTINGS.
4) Find Crossfade songs under the Playback section and then toggle it on.
5) Adjust the crossfade time between songs in a playlist according to your demand.
6) Go to use Spotify Equalizer by tapping Music Quality > Equalizer to modify the sound.
Note: Spotify Equalizer is only available on Spotify for Android or iPhone.
See Also: Spotify Equalizer: How to Make Spotify Music Sound Better
---
Part 3. What DJ Software is Compatible with Spotify
Although Spotify DJ Mode can meet your basic demand of listening to music, those DJ software programs can upgrade your listening to a new level by remixing music with various elements. But it is difficult to find DJ software that works with Spotify. Let's check what software now supports Spotify streaming directly.
#1. djay Pro (discontinued)
djay Pro is a brand-new DJ software developed by Algoriddim, allowing DJs to play and remix singular elements from multiple tracks in real time. Once it supported syncing music from Spotify for mixing, Algoriddim announced in March 2020 that Spotify is pulling support for its popular Djay software as of 1st July 2020.
Thus, you are not able to sync music from Spotify to djay Pro. It currently allows users to access tracks from Tidal and SoundCloud streaming services. In fact, djay Pro could be one of the best DJ apps for streaming services like Spotify. But you cannot directly mix Spotify music with djay Pro now.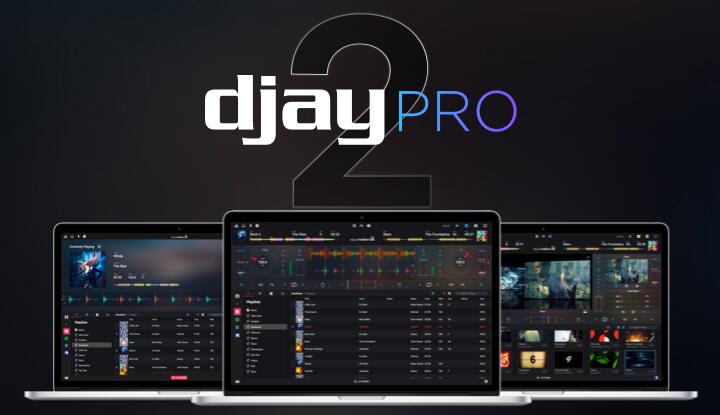 #2. Virtual DJ (suspended)
Virtual DJ is by far the most used DJ software on the planet. And most DJs are familiar with Virtual DJ and likely have used Virtual DJ at some point. It was one of the DJ apps that offer Spotify integration, but now the integration with Spotify has been suspended. This means that you cannot use Spotify music in Virtual DJ now.
As a music streaming service, Spotify allows you to download Spotify music for offline listening, but those downloads cannot be played in Virtual DJ due to DRM protection. Fortunately, you can still access broader generalist catalogs like Deezer, Beatport, and SoundCloud.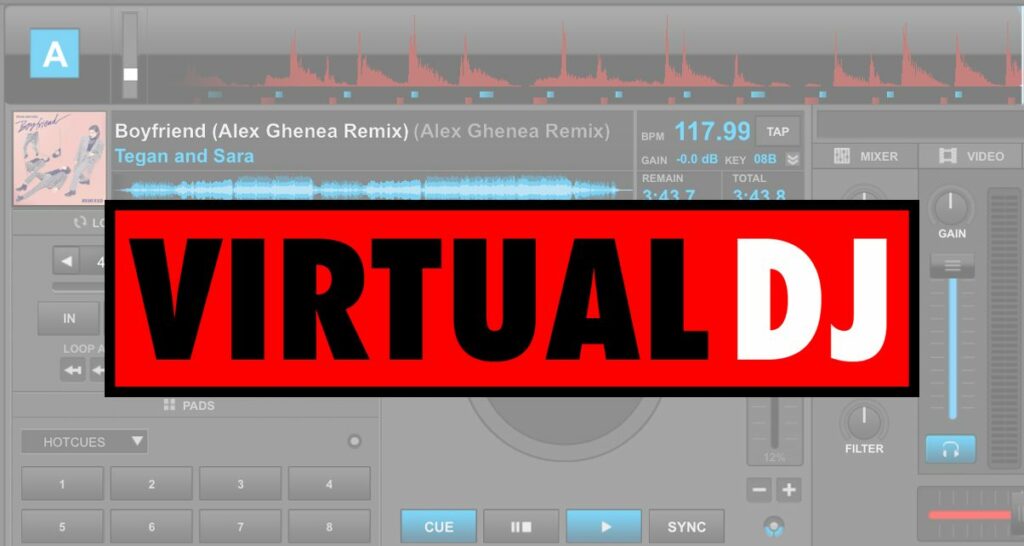 #3. Pacemaker
Pacemaker is only designed for those iOS users, and with this tool, you can auto-mix with Spotify on your iPhone and iPad. Pacemaker provides an easy-to-use DJ app for all DJs and gives you instant access to millions of tracks and simple sync to your Spotify and Apple Music playlists. So, you can create mixes by selecting tracks on Spotify.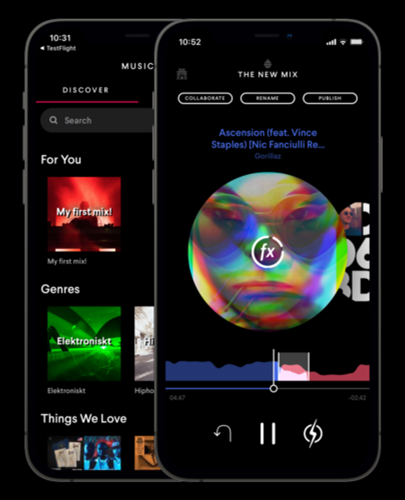 #4. JQBX
Except for Pacemaker, JQBX is another option for you to mix music from Spotify. JQBX lets you play and listen to Spotify music in sync with friends or strangers from all over the world in real time. With a Premium account, you can hook into your Spotify account on JQBX and then access your music library or browse various music tracks on Spotify.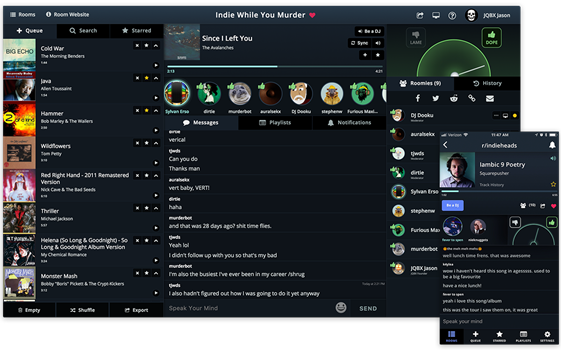 ---
Part 4. How to DJ with Spotify on More DJ Software
It is worth noting that most DJ software is not compatible with Spotify. So, you can use those professional DJ apps like Virtual DJ, rekordbox, Serato DJ, or others to mix Spotify music. Unfortunately, Spotify still doesn't have any plan to cooperate with those DJ apps. So you don't find any official way to use Spotify with those DJ apps.
The reason why you cannot directly apply Spotify music to those DJ apps is that Spotify is a subscription-based service. Both free and Premium users are only allowed to listen to Spotify music within their own app. So, is it impossible to DJ with Spotify by using those programs? The answer is no, and you still have the ability to DJ with Spotify.
The method is to remove DRM from Spotify and download Spotify music to a playable format. To complete this special task, you need the help of a third-party tool like Tunelf Spotibeat Music Converter. It is a professional and powerful audio converting and downloading tool for all Spotify users.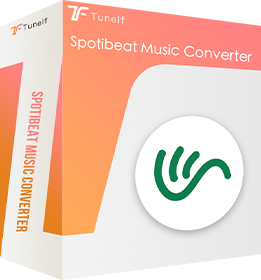 Key Features of Tunelf Spotibeat Music Converter
Download Spotify playlists, songs, and albums with free accounts easily
Convert Spotify music to MP3, WAV, FLAC, and other audio formats
Keep Spotify music tracks with lossless audio quality and ID3 tags
Remove ads and DRM protection from Spotify music at a 5× faster speed
Step 1 Drag your chosen Spotify songs to Tunelf interface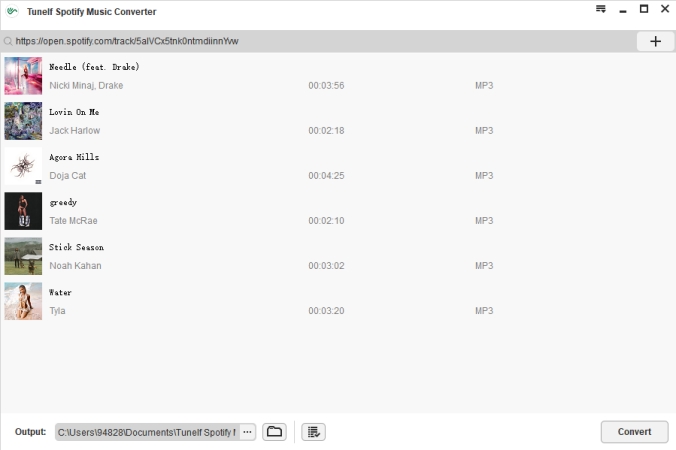 Launch Tunelf Spotify Music Converter on your computer then Spotify will automatically open. Navigate to the Music Library on Spotify and select songs you want to use with DJ software. Then drag and drop your preferred songs from Spotify to the interface. Or copy the URI of the track or playlist into the search box.
Step 2 Set the output parameter depending on DJ software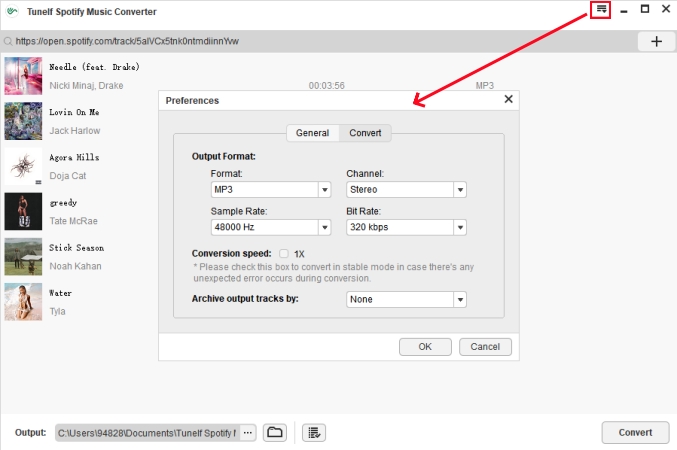 Once you've added your desired songs to the tool, you can go to set the output parameter by clicking the menu bar > Preference. In the Convert window, you can choose the output format, and click on the Format arrow to select the MP3 option from the list of audio formats. From there, you can also change the bit rate, sample rate, and channel.
Step 3 Download and convert Spotify music to DJ software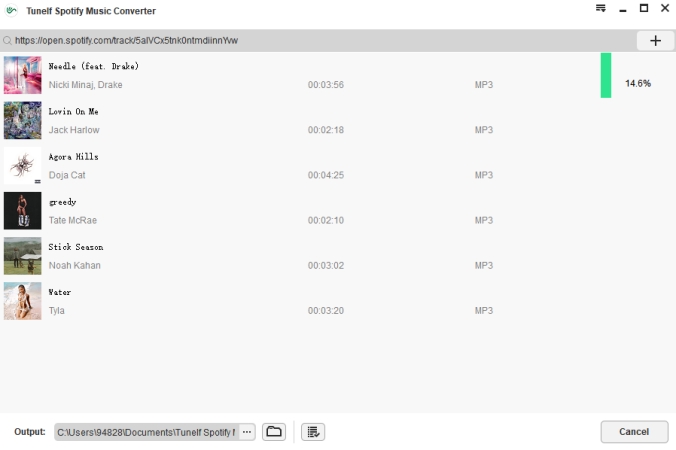 After you save the settings, you can click the Convert in the bottom right corner. When the download and conversion process finishes, your Spotify music files will be available for you to use. By clicking on the Converted icon, you can go to browse the converted songs in the conversion list and locate the folder where you save those converted tracks.
---
Part 5. FAQs about DJ with Spotify via Software or Hardware
Q1. Can I use Spotify with Serato DJ?
A: It is impossible to add Spotify music to Serato DJ for mixing. Currently, you can only access music from Tidal, Beatport, SoundCloud, and Beatsource. If you want to mix Spotify music with Serato DJ, you could try Tunelf Spotibeat Music Converter.
Q2. How do I play Spotify through Traktor DJ?
A: What a pity that you cannot play Spotify through Traktor DJ. Since Spotify doesn't offer its service to Traktor DJ, you can route Spotify with Traktor DJ unless you use a Spotify ripper.
Q3. Can I DJ with Spotify rekordbox?
A: rekrodbox also doesn't support mixing music from Spotify due to DRM protection. If you want to use Spotify with rekordbox, you need to convert Spotify music to MP3 first.
Q4. Is it legal to DJ with Spotify?
A: It is hard to say whether it is legal to DJ with Spotify or not. In fact, Spotify users including Premium Spotify users are not able to use Spotify music even though they have downloaded them.
---
Conclusion
The exclusive music library of Spotify gives you more chances to find your favorite tracks. So, it could be the best place to get tracks for mixing with DJ software. After reading this post, you'd know how to use Spotify DJ Mode. Also, by using Tunelf Spotibeat Music Converter, you can start your remixing with Spotify music in those DJ apps.
---
---